No need to turn on the oven to make this Slow Cooker Caramel Apple Pie Chex Mix! Full of apple pie spices and caramel bits, this snack mix is a fall twist to a classic favorite!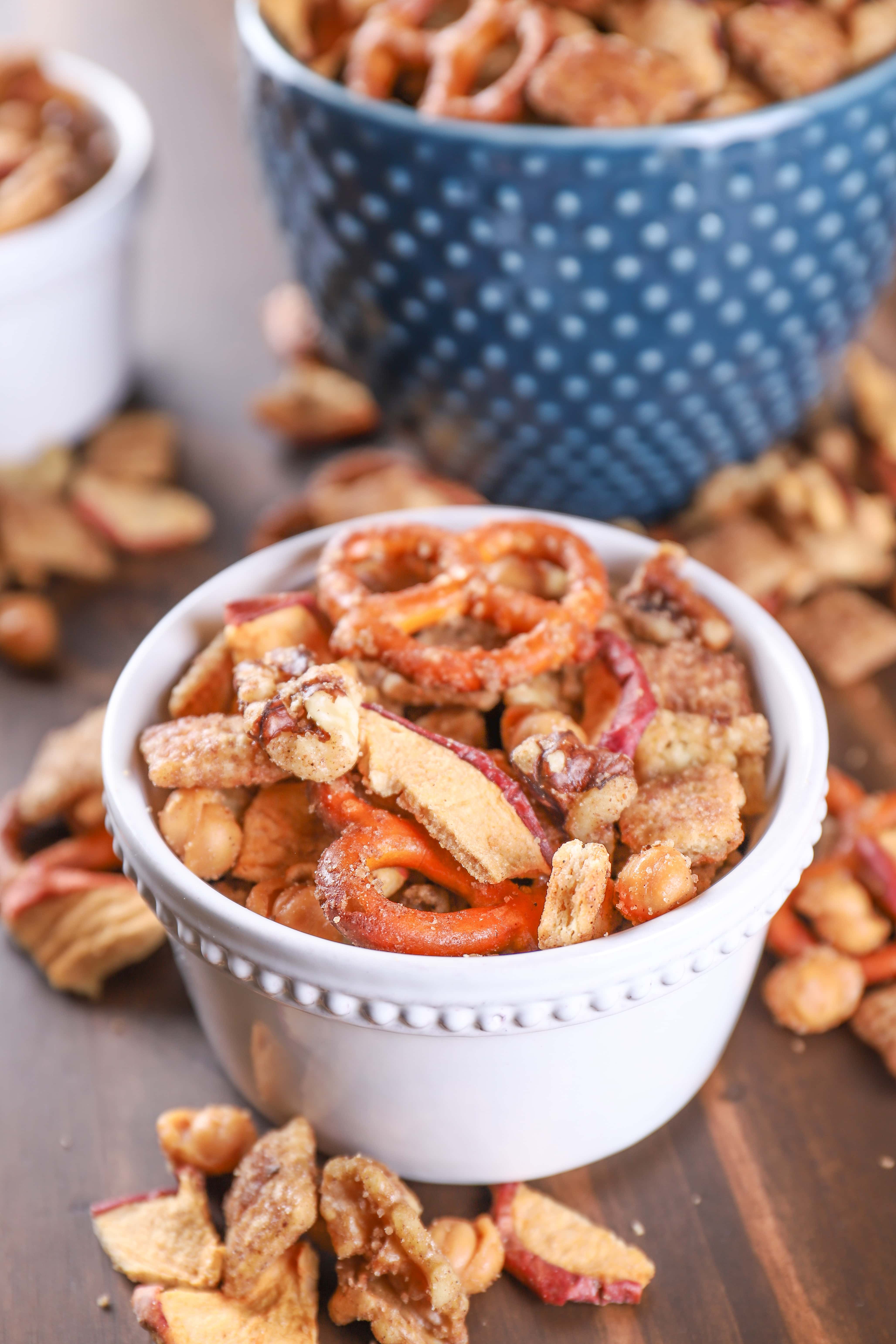 Believe it or not, Thanksgiving is less than a month away! I know some of you already have your entire menu planned, but there are some of us that may be in slight denial that Thanksgiving is so close.
Honestly, I usually have so many ideas floating around in my head of what I want to make that I never have it planned out that far in advance. There are just too many good recipes to try!
So while you may not want to think about your dinner menu (or can't decide what to leave off your dinner menu!), here is a snack idea to keep on hand for that weekend.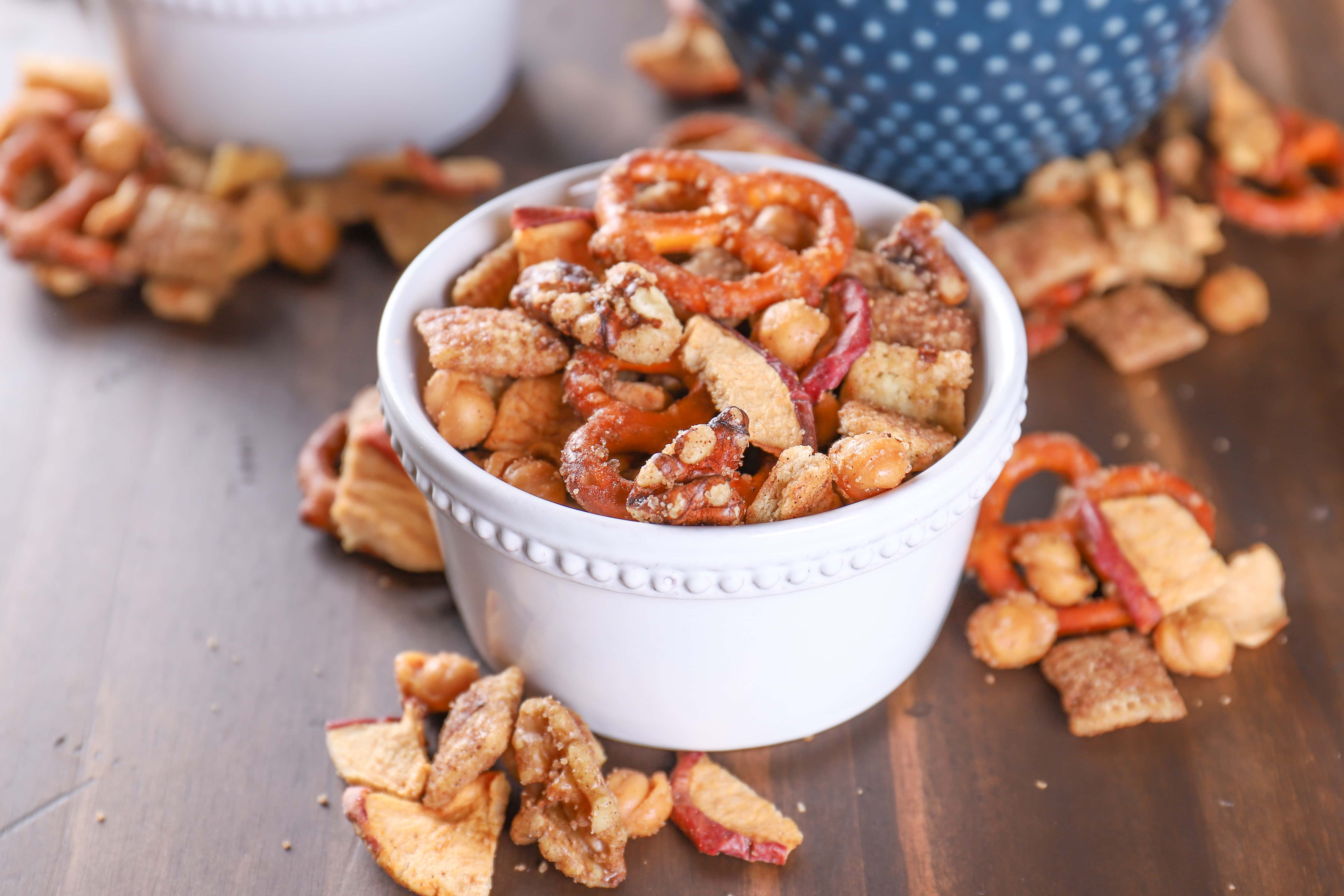 This super easy snack is low maintenance and makes a lot! Just what you need when you have a house full of guests to keep happy. Or you just want to have plenty on hand for yourself!
Apple pie spices, caramel bits, and maple syrup are the main flavors in this slow cooker chex mix recipe. All the makings of an irresistible snack, and an irresistible scent!
This mix smells better than a candle as it cooks in your crock pot. Since you leave the lid off during the baking time, it's hard to not cut the cooking time short and dig in! A delicious tasting snack and a delicious smelling house. It's a win-win!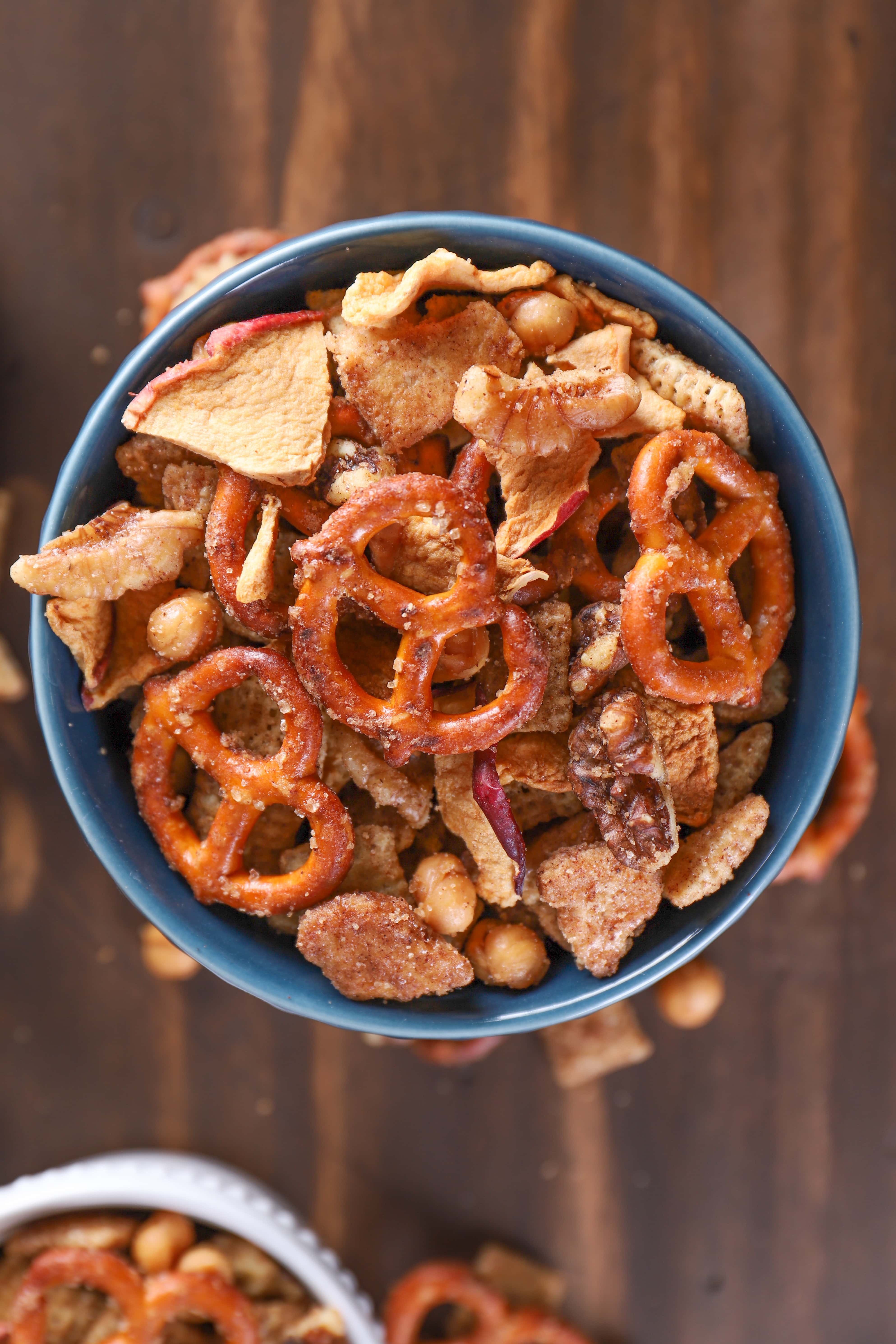 Tips for making Slow Cooker Caramel Apple Pie Chex Mix
I don't keep apple pie spice on hand, because I usually have all the necessary spices and don't want yet another container of spice in my cupboard! But since most of you probably aren't spice hoarders, you can use 1 tablespoon of apple pie spice in place of all of the spices.
Cooking time is going to vary depending on the type/brand of slow cooker you own. That is why there is an hour of fluctuation in the directions. You will notice when you first check the mix that there is moisture on the bottom of the slow cooker from the butter and maple syrup. As the mix cooks, that moisture will go away. That is how you can tell the mix is done. The bottom of the slow cooker should be mostly dry, and you'll notice that the mix is no longer sticky.
Can't find or don't like Vanilla or Cinnamon Chex cereal? You can use rice or corn in their place.
Same goes for the walnuts. Don't like walnuts? Use a nut that you and your family like.
Store the snack mix in an airtight container to keep it fresh.
Slow Cooker Caramel Apple Pie Chex Mix
Author:
A Kitchen Addiction
Ingredients
3 C Vanilla Rice Chex cereal
3 C Cinnamon Rice Chex cereal
1½ C mini pretzel twists
1½ C coarsely broken graham crackers
1½ C walnuts (or nuts of your choice)
½ C maple syrup
½ C butter, melted
¼ C brown sugar
1 tbsp vanilla extract
1 tbsp cinnamon
2 tsp nutmeg
1 tsp allspice
½ tsp ginger
¼ tsp cardamom
1 C coarsely crushed apple chips
1 C caramel bits
Instructions
In a six (6) quart slow cooker, combined cereals, pretzel twists, broken graham crackers, and walnuts.
In a medium bowl, whisk together maple syrup, melted butter, sugar, vanilla extract, cinnamon, nutmeg, allspice, ginger, and cardamom. Pour over cereal mixture and stir until coated.
Cook uncovered on high for 1½ - 2½ hours, stirring every 25-30 minutes, until excess moisture is gone (You will notice the moisture on the bottom of the slow cooker starting to disappear more every time you check) and mixture is only somewhat sticky. (You may be tempted to skip the stirring, but you want to make sure that the bottom pieces don't scorch and that the mixture cooks evenly!)
Stir in apple chips and caramel bits.
Spread mixture out onto cookie sheets, and allow to cool completely.
Serve. Store leftovers in an airtight container.