Somehow Thanksgiving is already this week! I need to remember to take the turkey out the freezer and get it into the fridge. Well, first I have to remember to make sure that there is space in the refrigerator for the turkey! Anyone else have that problem?? Then I need to decide which side dishes I want to make. I always have a ton of ideas and can never decide until the last couple of days what I'm going to make. Fortunately, I have all of the ingredients on hand, so I can change my mind right up until Thanksgiving. 🙂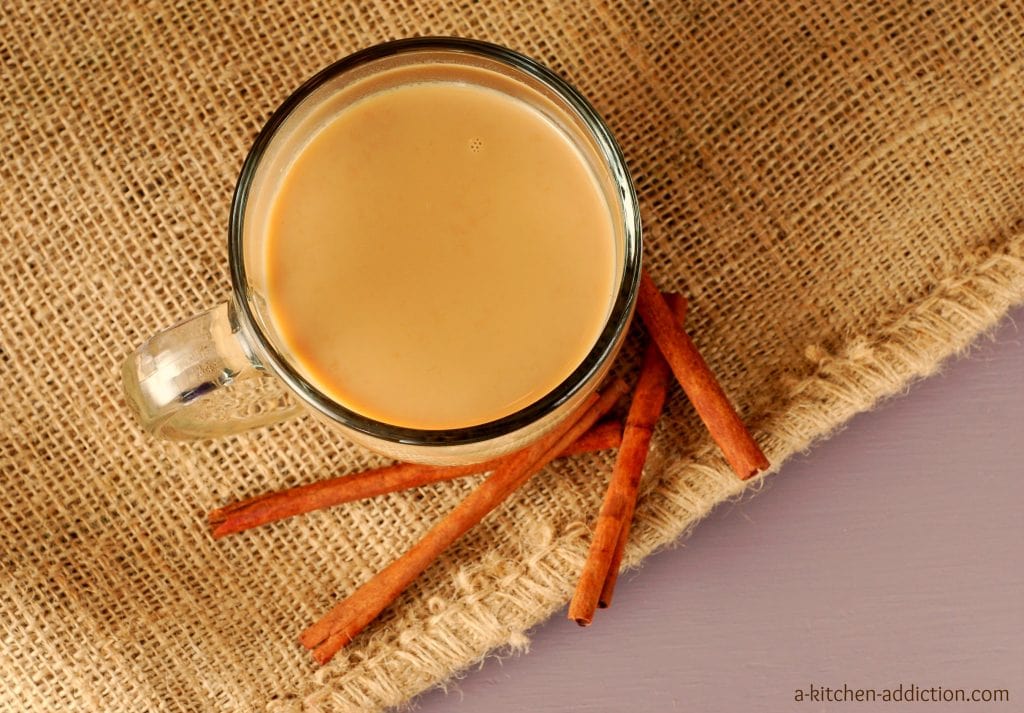 One drink that I know will for sure be offered will be this pumpkin eggnog chai. Perfect to serve with dessert or in the evening down time when everyone is too full to move! This drink allows you to get pumpkin into one more aspect of the meal, which makes me and my love for pumpkin quite happy. 🙂 The hint of pumpkin comes through the spices of the chai and ties it to the hint of spice from the eggnog making for a warm, comforting drink that is perfect for relaxing after a big day of cooking (and eating!).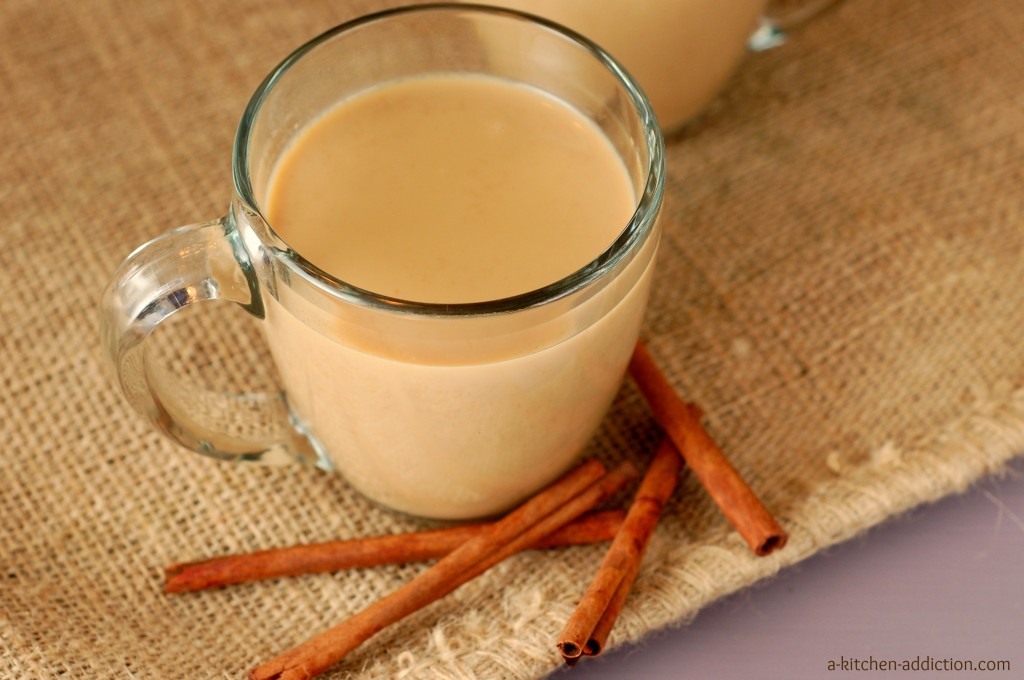 As I mentioned before, I'm not a huge fan of eggnog by itself, but dress it up in a warm, cozy drink like a chai (with pumpkin, of course!), and I'll be the first in line to get it! I'll probably be snacking on some Eggnog Muffins with Gingersnap Streusel while I wait!
Pumpkin Eggnog Chai
Yield: 2 servings
Ingredients
2 C water
2 C lite eggnog
1/4 tsp ground cardamom
1/4 tsp ground ginger
1/4 tsp cloves
1/2 tsp cinnamon
1/8 tsp ground black pepper
2 tsp vanilla extract
2 tbsp maple syrup
2 tbsp honey
4 black tea bags
1/4 C pumpkin
Directions
In a small saucepan, stir together water, eggnog, spices, vanilla, maple syrup, and honey until combined. Add in tea bags.
Bring mixture to a simmer over medium heat. Lower heat to medium-low and simmer for 10-12 minutes, stirring occasionally.
Remove from heat. Pour chai through a fine strainer into a heat-safe container. Stir in pumpkin until combined.
Divide chai into two mugs and serve.
This recipe is adapted from La Casa De Sweets.
This recipe is linked with Crazy Sweet Tuesday, Trick or Treat Tuesday, Wonderful Food Wednesday.