Tomorrow is Thanksgiving! Let the baking and cooking begin! 🙂 I'm looking forward to getting most of the food prepped today so that I don't have to spend much time in the kitchen tomorrow.
What are your plans? Do you still need ideas?
Well, if you're looking for an easy dessert, I highly recommend you give these creamy pumpkin cheesecake bars with a chai spiced cream cheese swirl a try!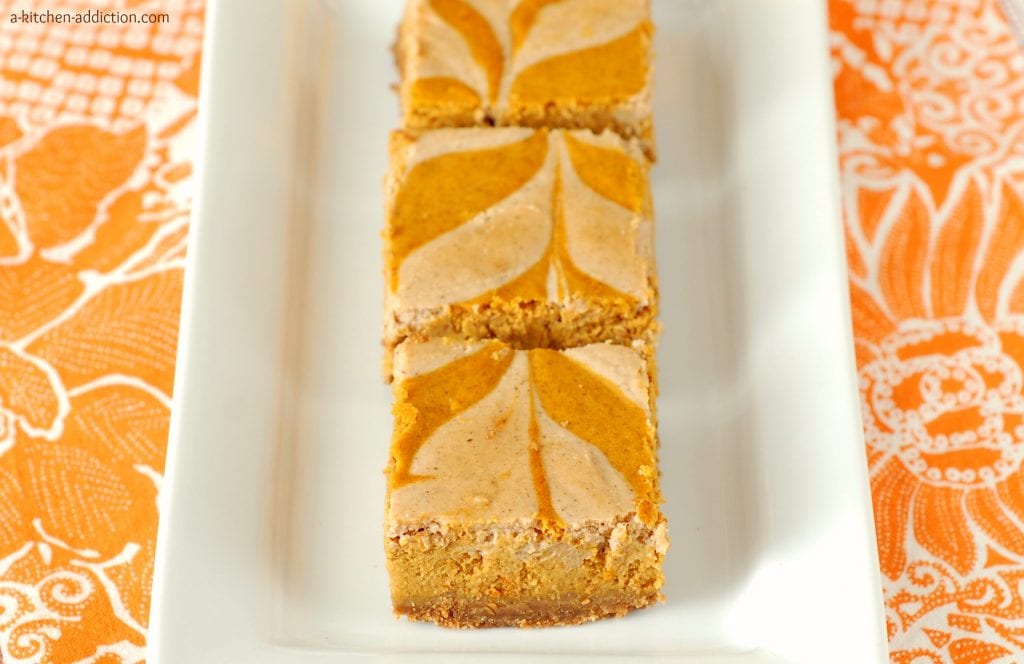 These cheesecake bars are a great way to serve something that is different from plain old pumpkin pie without straying too far from tradition. Don't want to upset the pumpkin lovers. 🙂
If you or your guests aren't a huge fan of gingersnaps, graham crackers can easily be substituted to make it more like pumpkin pie. They are also really easy to make!
With only 20 minutes of prep work, you can have these baked and cooling while you work on getting the rest of the meal together. These also are a perfect dessert to make the day before and have ready to serve for Thanksgiving dessert.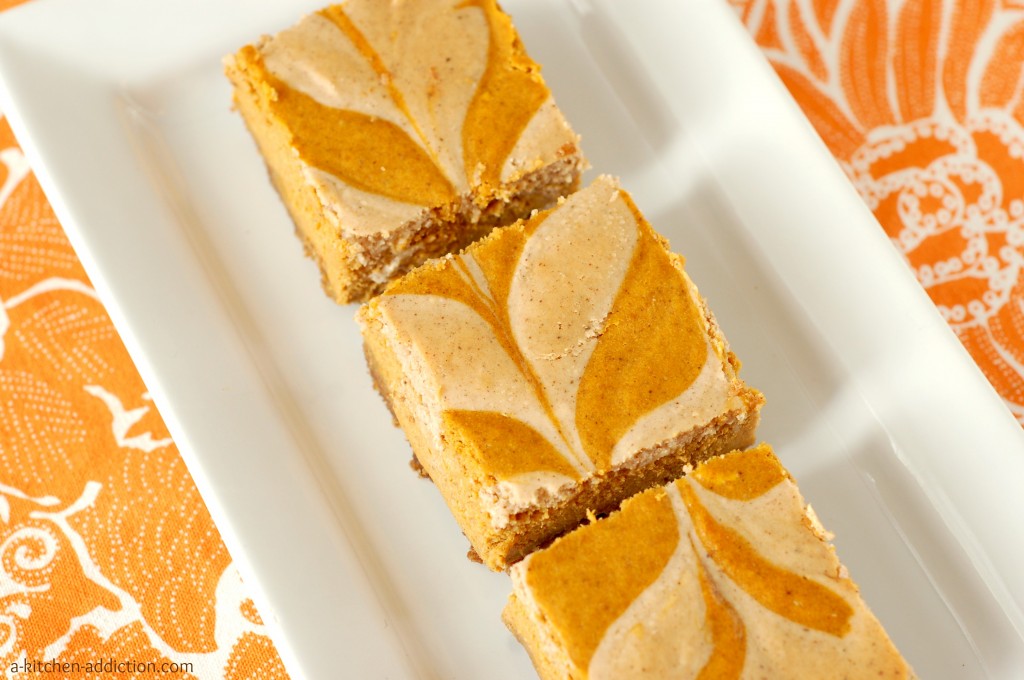 I hope all of you observing Thanksgiving have a wonderful day with family and friends. . .and, of course, good food!
Chai Spiced Pumpkin Cheesecake Bars
Yield: 8 servings
Ingredients
For the Crust
2 C crushed gingersnaps
1/4 C melted butter
For the Filling
2 (8 oz) packages 1/3 of the fat cream cheese
1/2 C brown sugar
1/2 C sugar or sugar substitute
3 tbsp flour
2 tsp + 1/2 tsp cinnamon, divided
1/2 tsp + 1/4 tsp nutmeg, divided
1/2 tsp + 1/4 tsp ginger, divided
1/2 tsp + 1/4 tsp cloves, divided
1/4 tsp + 1/8 tsp cardamom, divided
1/8 tsp fresh ground pepper
1 (15 oz) can pumpkin puree
3 eggs
2 tbsp milk
Directions
Preheat oven to 350.
In a small bowl, stir together crushed gingersnaps and melted butter. Press mixture in the the bottom of a 9×9 baking dish. Bake for 8 minutes. Remove to a wire rack.
In the bowl of a stand mixer, beat together cream cheese, sugars, and flour until creamy. Beat in 2 tsp cinnamon, 1/2 tsp nutmeg, 1/2 tsp ginger, 1/2 tsp cloves, 1/4 tsp cardamom, and 1/8 tsp pepper until well-combined.
Remove half of mixture to a small bowl and set aside.
Add in pumpkin and eggs. Beat until smooth. Add in the remaining amounts of spices and stir until combined.
Pour pumpkin mixture over the top of the crust.
Stir in milk into the cream cheese mixture. Drop mixture by spoonful over the top of the pumpkin mixture. Using a knife, swirl the cream cheese mixture through the pumpkin mixture.
Bake for 35-40 minutes or until center is set and top starts to turn light golden brown.
Remove to wire rack to cool for 30 minutes before placing in the refrigerator for 2 hours or until completely cooled.
This recipe is loosely adapted from Betty Crocker.
This recipe is linked with What's Shakin' Link Party.