With Christmas a little over a month away and Thanksgiving just next week (!!), seasonal drinks, baking items, and the traditions that go along with them are in full swing! One of those seasonal drinks that is just about everywhere is eggnog. Confession . . .I actually don't really like the stuff without it being "watered" down with milk. (Yay for MilkNog!) I love to bake with it though!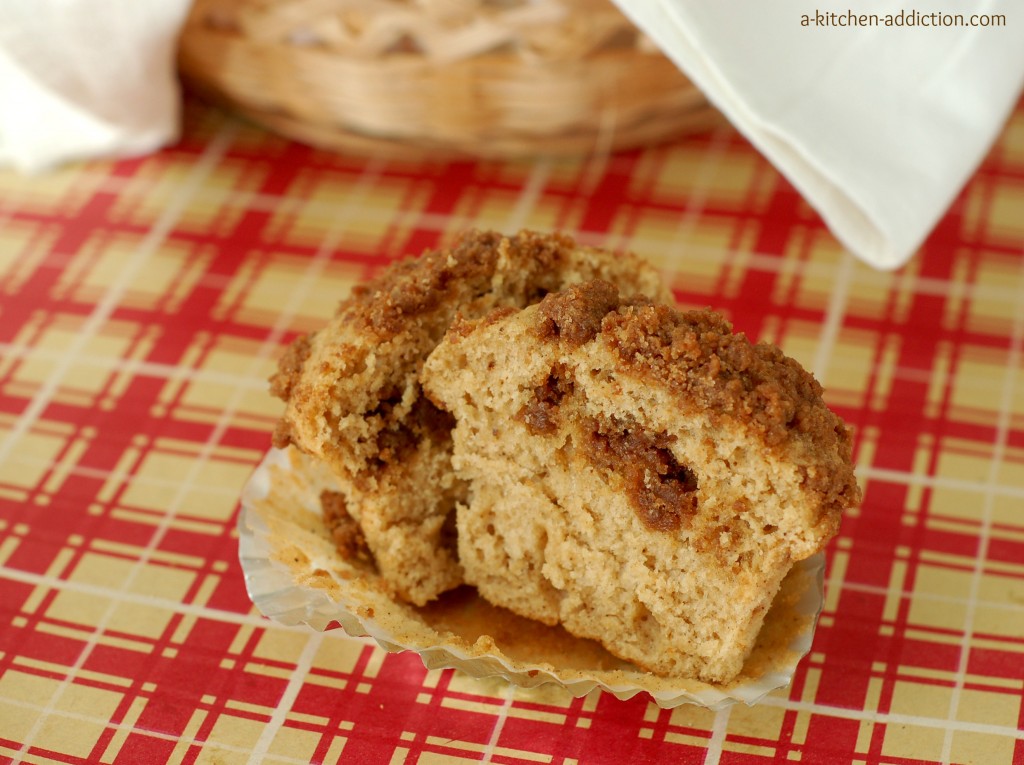 There is something about the rich, creamy spiciness that lends itself perfectly to just about any muffin, scone, bread, or candy! The warmth of the spices brings both a wonderful smell to the house and a cozy feeling to the one enjoying it. Because of this, eggnog is a great holiday baking substitute for milk. That is exactly what I have done with these muffins. I also made a gingersnap streusel that is stuffed in the inside and sprinkled on top to pack in maximum seasonal flavors! 🙂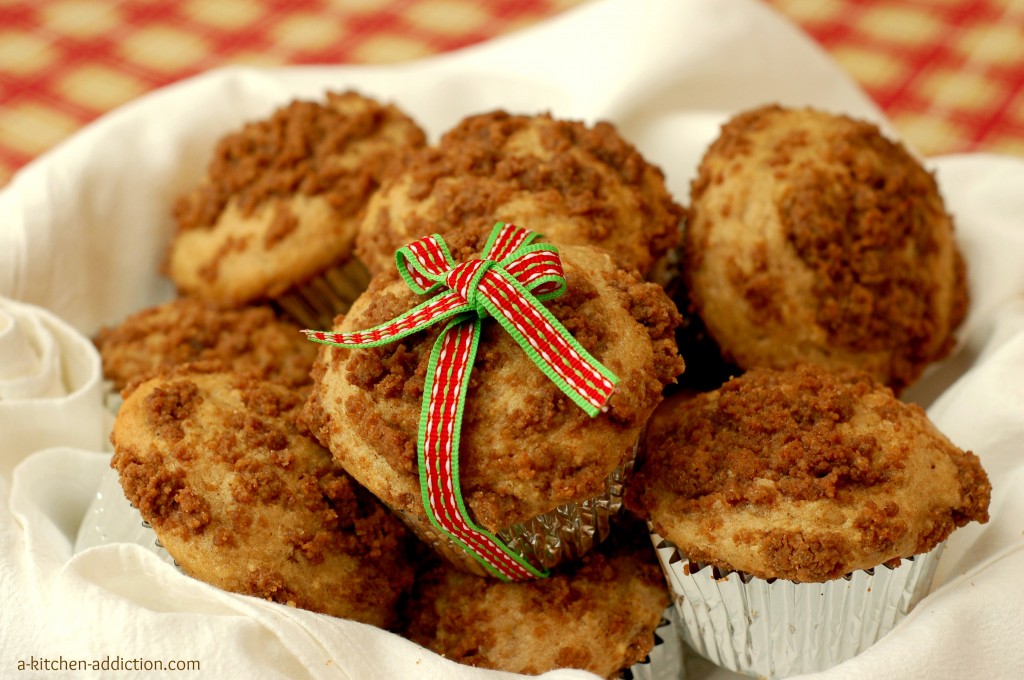 Let's just say that with the eggnog and gingersnap combination, your house will smell amazing while these are baking making it very hard to wait the 20 short minutes for them to finish! These muffins stay tender and fresh the next day, lending themselves as great presents or additions to your next holiday gathering!
Eggnog Muffins with Gingersnap Streusel
Yield: 12 muffins
Ingredients
For the Muffins
1 C white whole wheat flour
1 C all-purpose flour
1 tsp baking powder
1/2 tsp baking soda
1/2 tsp salt
1 tsp nutmeg
1/2 tsp cinnamon
1/4 tsp cloves
1/4 C brown sugar
1/2 C sugar or sugar substitute
1/4 C plain Greek yogurt
1 egg
1 1/4 C lite eggnog (I used Anderson Erickson)
1 tsp vanilla extract
For the Streusel
1 1/4 C crushed gingersnaps
1/2 tsp cinnamon
2 tbsp brown sugar
2 tbsp all-purpose flour
3 tbsp butter, melted
Directions
Preheat oven to 350. Line muffin tin with cupcake liners or lightly spray with non-stick cooking spray.
In a large bowl, whisk together flours, baking powder, baking soda, salt, spices, and sugars. Add in yogurt, egg, eggnog, and vanilla extract. Stir until just combined.
In a small bowl, stir together crushed gingersnaps, cinnamon, brown sugar, flour, and melted butter until combined.
Spoon one tablespoon of batter into the bottom of each cup. Sprinkle about 1/2 tablespoon of streusel over the top. Top streusel with remaining batter (about one tablespoon). Sprinkle remaining streusel over the top and lightly press down into batter.
Bake for 15-20 minutes or until a toothpick inserted into the center comes out clean.
Remove to a wire rack to cool.
Store in an airtight container.
This recipe is linked with Crazy Sweet Tuesday, Sweet Treats and Swanky Stuff, Trick or Treat Tuesday, Weekend Potluck.