This easy Peanut Butter S'mores Cereal Bars recipe lets you skip the prepackaged cereal bars and make your own! Great for a quick breakfast or snack, these cereal bars give you a wholesome option to feed your family!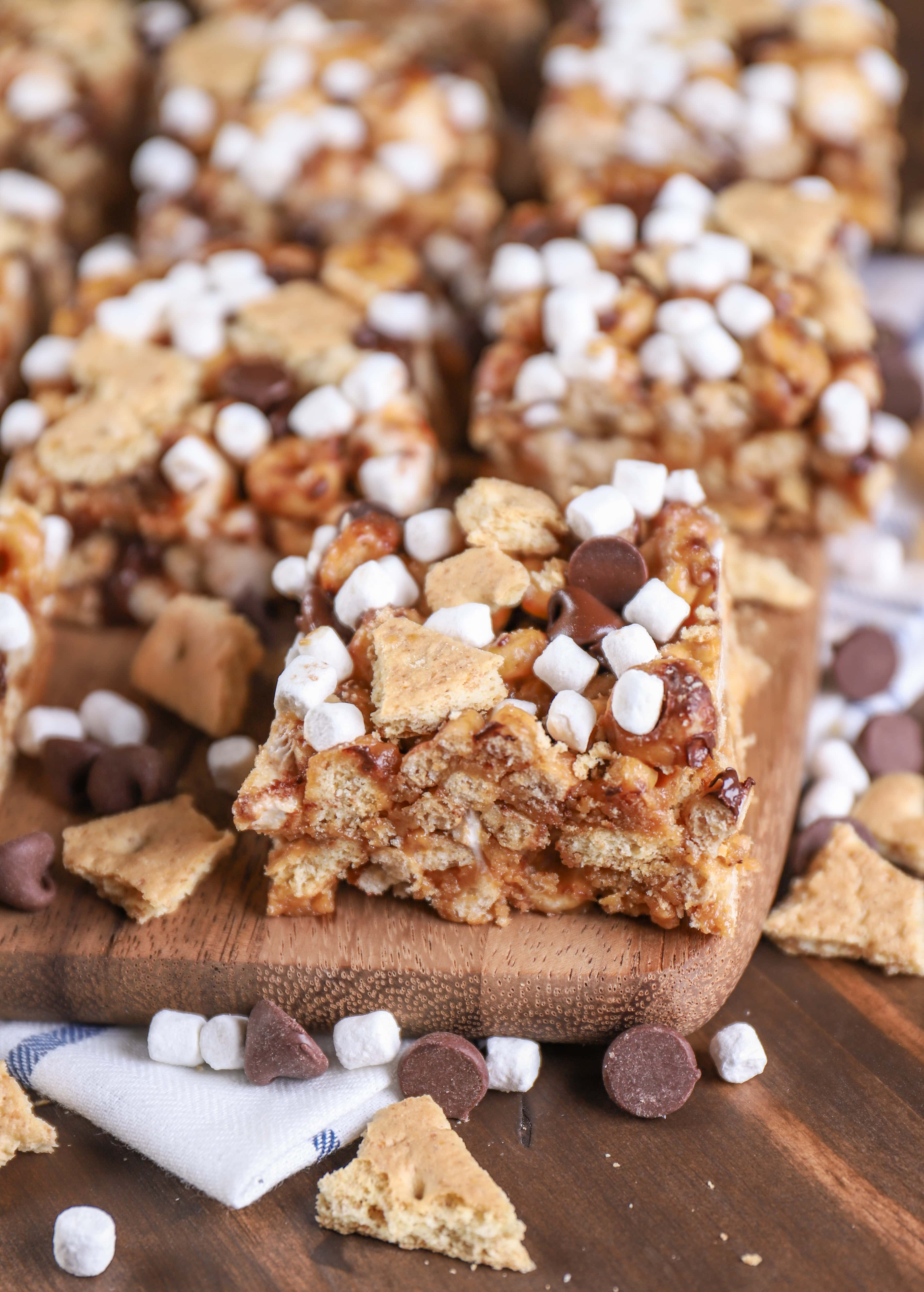 Schools have started. Apples are being harvested. Thanksgiving decorations are out in stores. And some trees around our house are already starting to turn color!
But summer isn't over yet! And we had to get one more s'mores recipe in before it turns to all things apple, maple, and pumpkin.
More specifically, a s'mores recipe that you don't have to feel bad about enjoying and that doesn't require a lot of time to throw together.
Peanut butter s'mores cereal bars! Based off of our Chocolate Peanut Butter Honey Oat Cereal Bars, this s'mores variation is a great way to savor the last days of summer.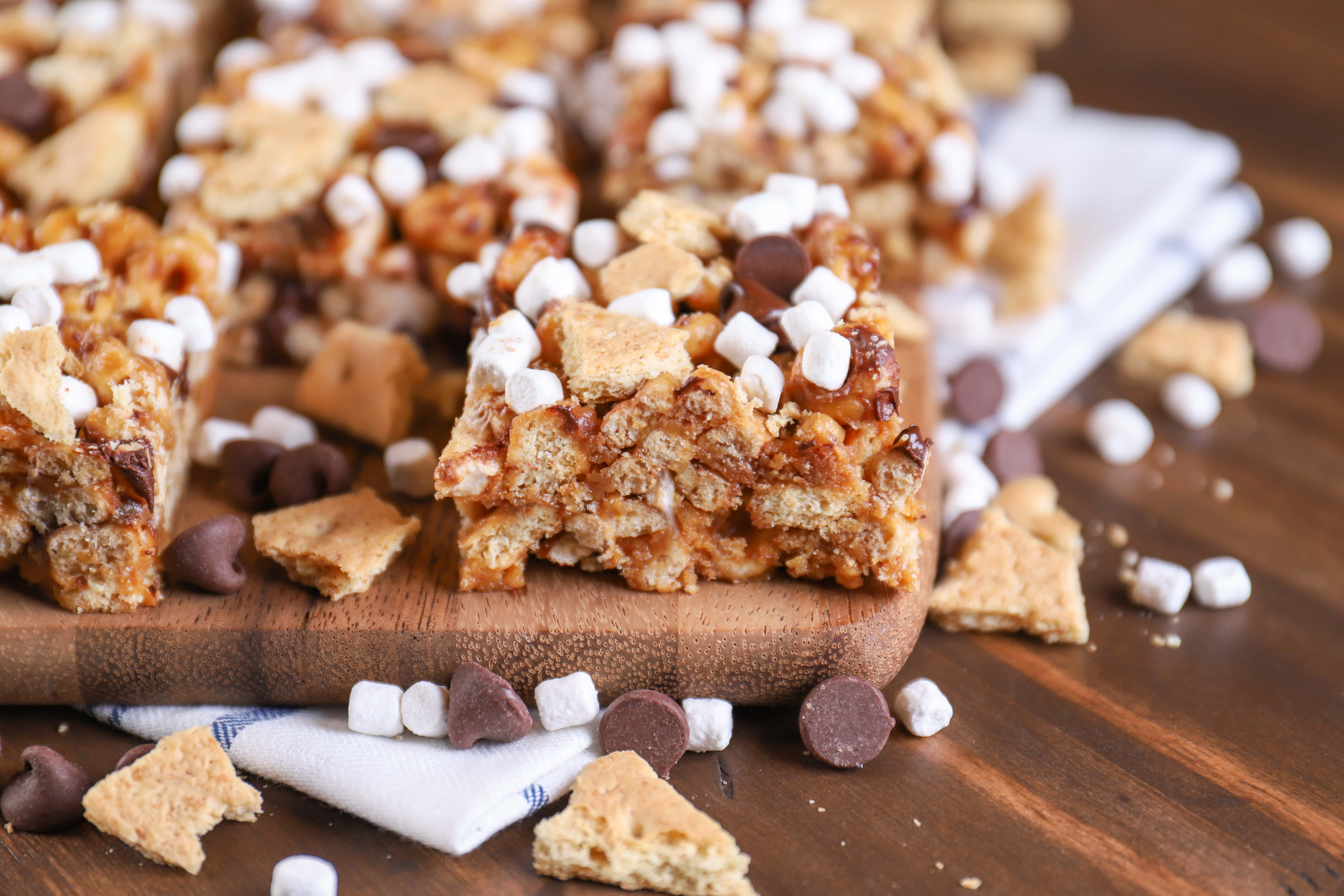 The base of these easy bars is oat cereal and crushed graham cracker pieces. Mini marshmallows and chocolate chips combine with the graham cracker pieces to give you the classic, gooey s'mores combination.
And since we love peanut butter with our s'mores around here, it only seemed natural to add in peanut butter to these cereal bars, too! A few more graham cracker pieces and chocolate chips combine with some marshmallow bits to round out the s'mores flavor.
We found ourselves grabbing one for a quick snack after working out or snitching one in the afternoon when we wanted something a little sweet. Easy, versatile, delicious!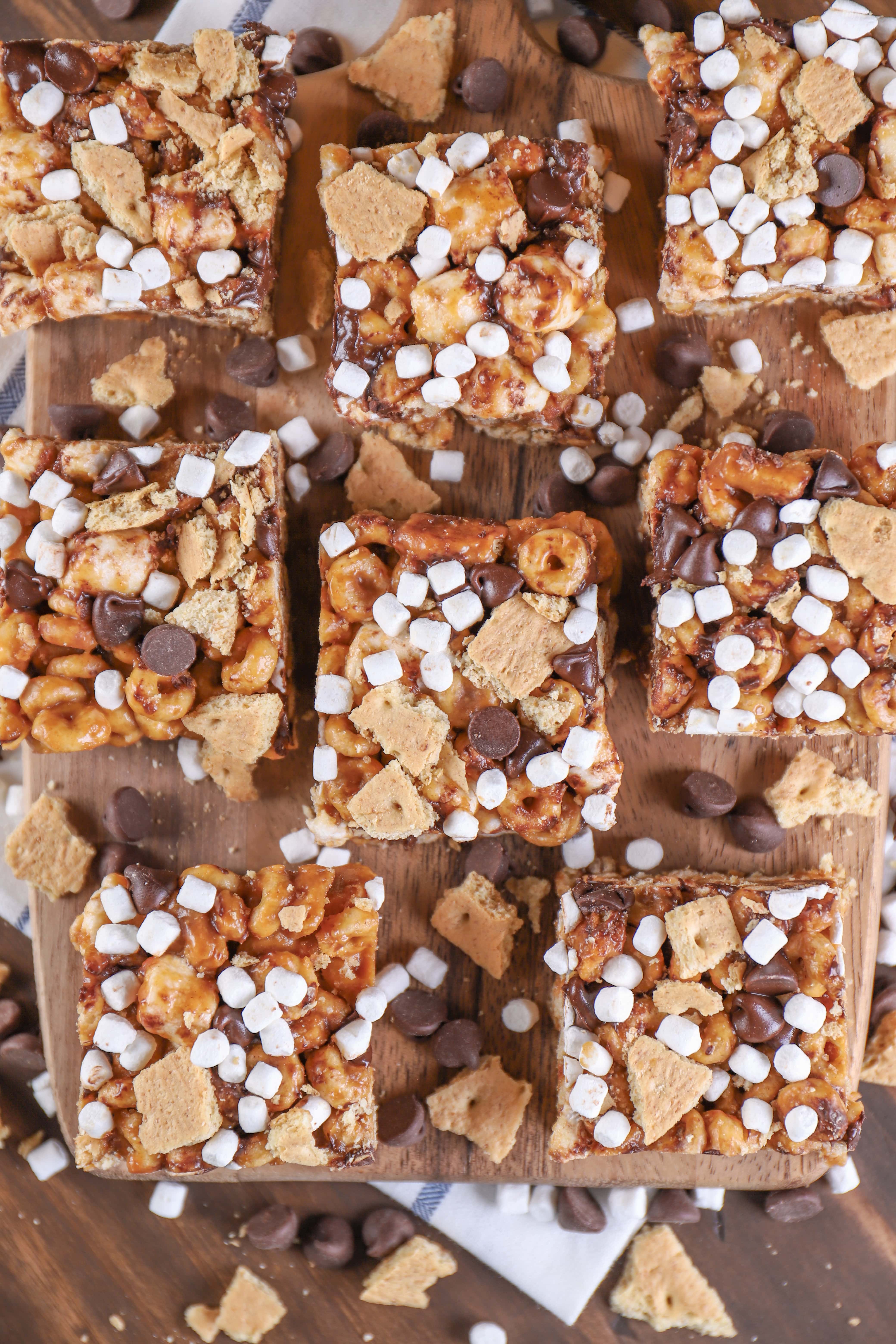 Tips for making Peanut Butter S'mores Cereal Bars
Make sure to stir constantly while the peanut butter honey mixture is boiling. The mixture will scorch if it is left alone.
To avoid messy, sticky hands when pressing the mixture into the prepared pan, use the bottom of a glass or a spatula. I find that covering the bottom of a glass with some parchment paper and then using the glass works well to avoid any sticky messes.
Use whatever kind of chocolate chips you like best! We prefer using semi-sweet or dark chocolate, but if you want the classic s'mores combination with milk chocolate, go for it!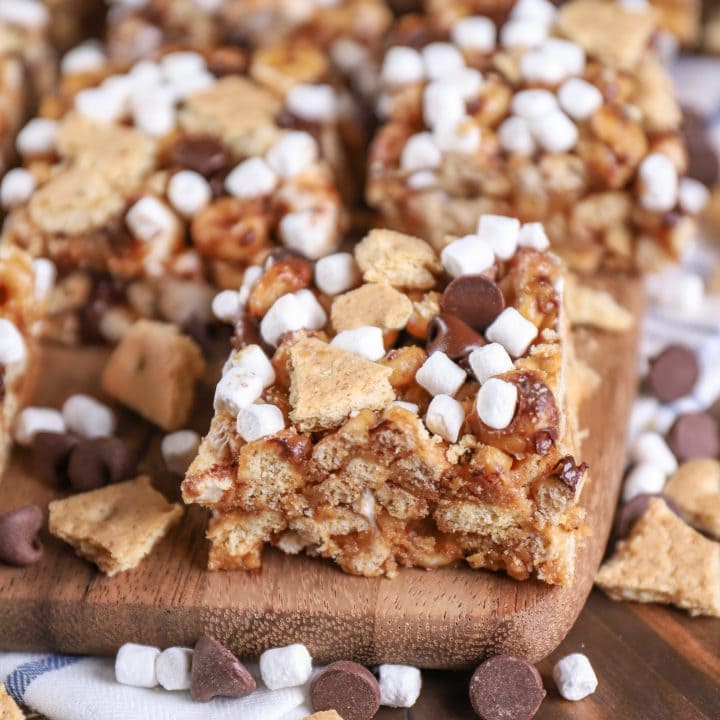 S'mores Cereal Bars
Yield: 16 cereal bars

Prep Time: 15 minutes

Refrigeration Time: 1 hour

Total Time: 1 hour 15 minutes
Ingredients
3 C Cheerios or oat cereal
1 1/2 C coarsely broken graham cracker pieces
1/2 C + 2 tbsp no-stir natural creamy peanut butter
1/2 C honey
3 tbsp coconut sugar or granulated white sugar
3 tbsp coconut oil, measured solid
1 tsp vanilla extract
1 C mini marshmallows
1/3 C chocolate chips
For the Topping, Optional
1/4 C marshmallow bits
1/4 C crushed graham crackers
3 tbsp chocolate chips
Instructions
Line a 9x9 inch baking dish with aluminum foil and spray with non-stick cooking spray.
In a large, heat safe bowl, combine Cheerios and crushed graham crackers. Set aside.
In a medium saucepan, combine peanut butter, honey, sugar, and coconut oil. Bring to a boil over medium heat. Boil for one minute, stirring constantly to prevent scorching. Remove from heat and continue to stir until mixture stops boiling, about an additional minute. Carefully stir in vanilla extract until combined.
Carefully pour mixture over the top of the cereal mixture. Stir to coat. Gently stir in mini marshmallows and chocolate chips just until combined.
Spread into prepared baking dish. Gently press mixture into pan. (The bottom of a glass or a spatula works well.)
Sprinkle with optional topping ingredients. Press topping into the bars. (The bottom of a glass or a spatula works well.)
Refrigerate for one hour or allow to cool completely at room temperature before cutting into bars.
Store in an airtight container. If your coconut oil is on the runny side at room temperature, you may need to store the bars in the refrigerator.
Recommended Products
As an Amazon Associate and member of other affiliate programs, I earn from qualifying purchases.