Great for breakfast or a snack, these Chocolate Peanut Butter Honey Cereal Bars are a wholesome option that you can feel good about feeding to your family!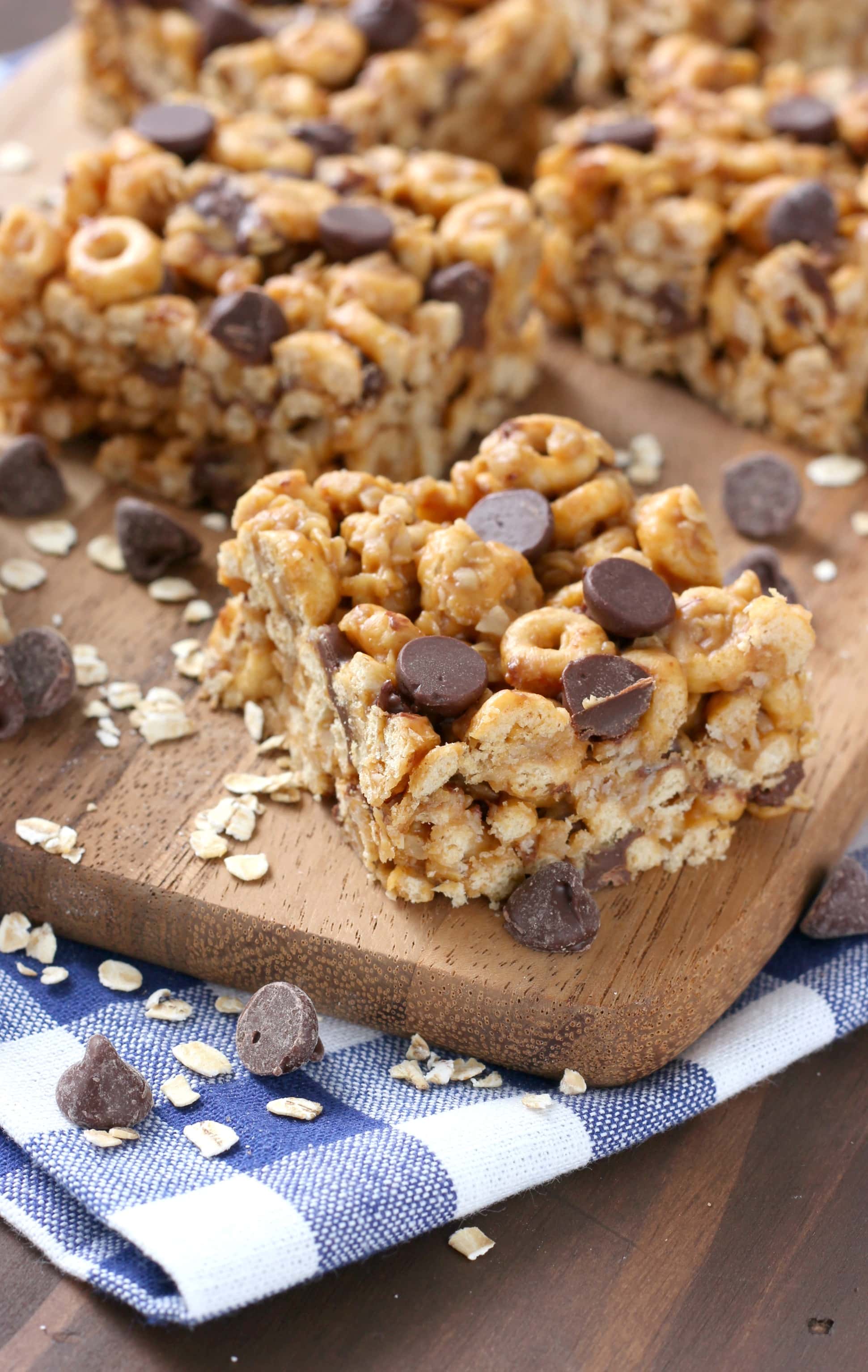 I wanted to apologize again for being absent for this past month in case you didn't see my end of year round-up. I've been fighting pneumonia, a sinus infection, and a weird inflammatory virus, and it's taking way longer than I thought it would to fully recover.
At least now with the recipes that I wasn't able to get posted last month I'm already ahead of schedule for next year's holiday season!
Since I've been really tired and weak lately, easy recipes have been the name of the game around here. No bake is even better. That means these no bake chocolate peanut butter honey cereal bars were an instant hit for both how good they tasted and for how easy they were to make!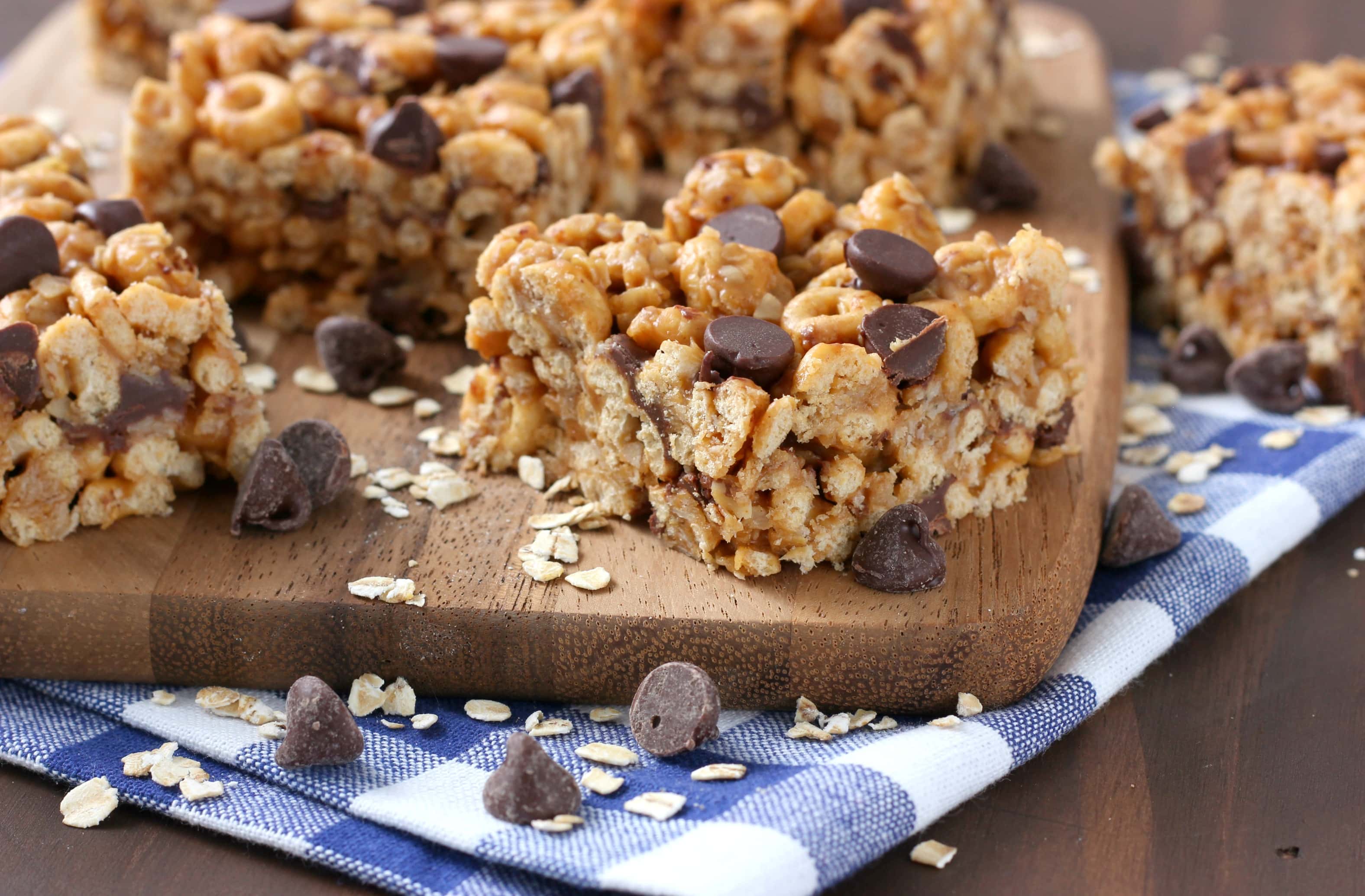 We aren't big cereal eaters. Usually we have other food for breakfast, but occasionally we pick up a box of cereal. And that box of cereal often sits on the shelf about half full for quite awhile.
If you end up with the same problem, I have a solution! Chocolate peanut butter honey cereal bars.
Cereal, oats, and peanut butter. A wholesome breakfast (or snack) all wrapped up in a convenient cereal bar. You can eat healthy while still having convenient food on hand!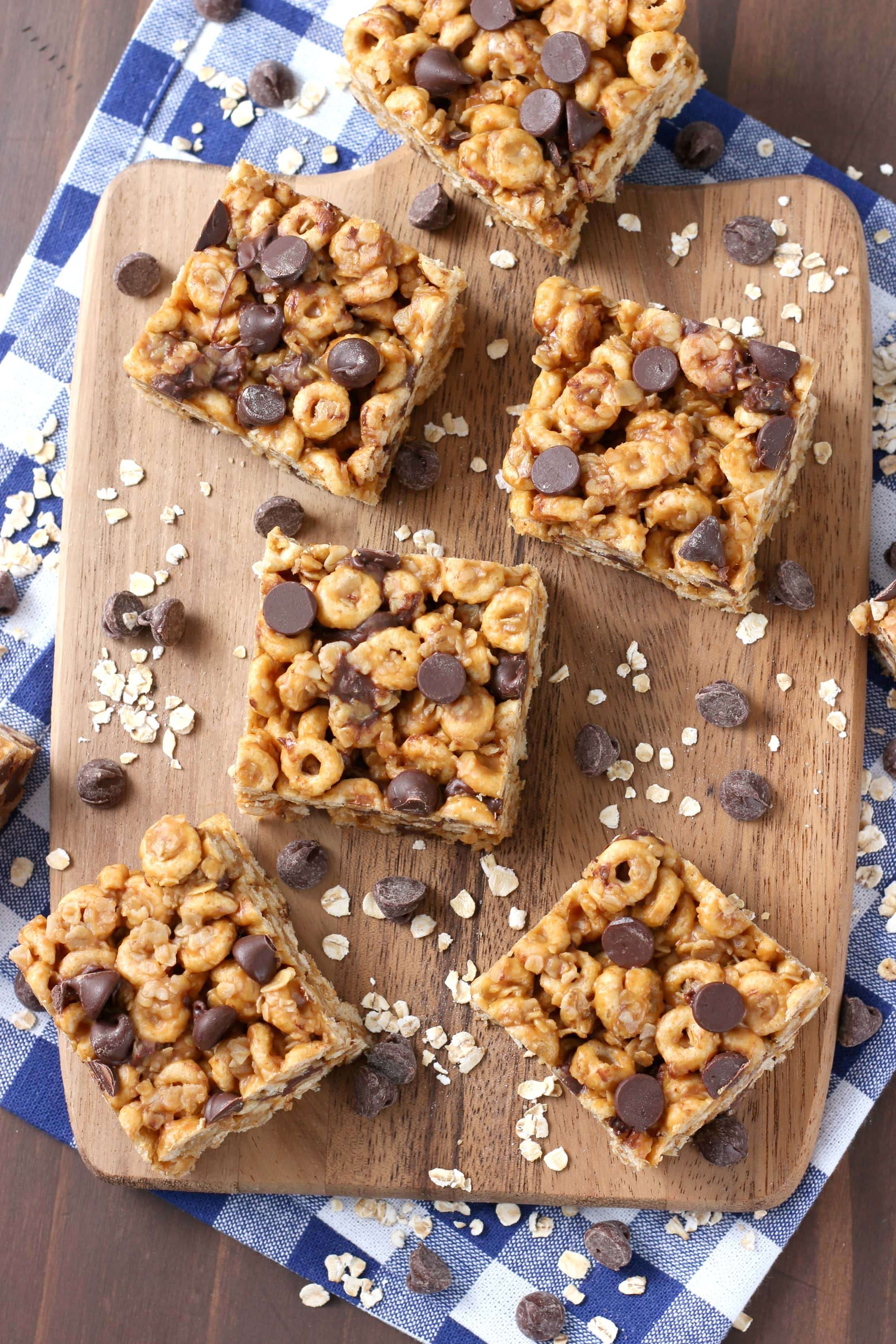 Great for a snack or breakfast, these bars are sweetened with honey and coconut sugar. Peanut butter and coconut oil act as the binding agents. The only other ingredients are Cheerios, oats, vanilla extract, and a handful of chocolate chips.
You can always leave out the chocolate chips, but I'm usually a fan of a bit of chocolate!

Chocolate Peanut Butter Honey Cereal Bars
Ingredients
4 C Cheerios or oat cereal
1 C quick oats or regular oats
½ C + 2 tbsp no-stir natural crunchy or creamy peanut butter
½ C honey
3 tbsp coconut sugar or granulated white sugar
3 tbsp coconut oil
1 tsp vanilla extract
⅓ C chocolate chips
Instructions
Line a 9x9 inch baking dish with aluminum foil and spray with non-stick cooking spray.
In a large, heat safe bowl, combine Cheerios and oats. Set aside.
In a medium saucepan, combine peanut butter, honey, sugar, and coconut oil. Bring to a boil over medium heat. Boil for one minute, stirring constantly to prevent scorching. Remove from heat and stir in vanilla extract.
Carefully pour mixture over the top of the cereal mixture. Stir to coat. Stir in chocolate chips.
Gently press into prepared baking dish. (Do not press mixture too hard or the bars will be hard when cooled.)
Refrigerate for one hour or allow to cool completely at room temperature before cutting into bars.
Store in an airtight container.