These simple Blueberry Cream Cheese Danishes get some help from pre-made puff pastry and are filled with a sweet cream cheese layer and topped with a homemade blueberry filling! Finish them off with a sprinkling of fresh lemon zest right before serving!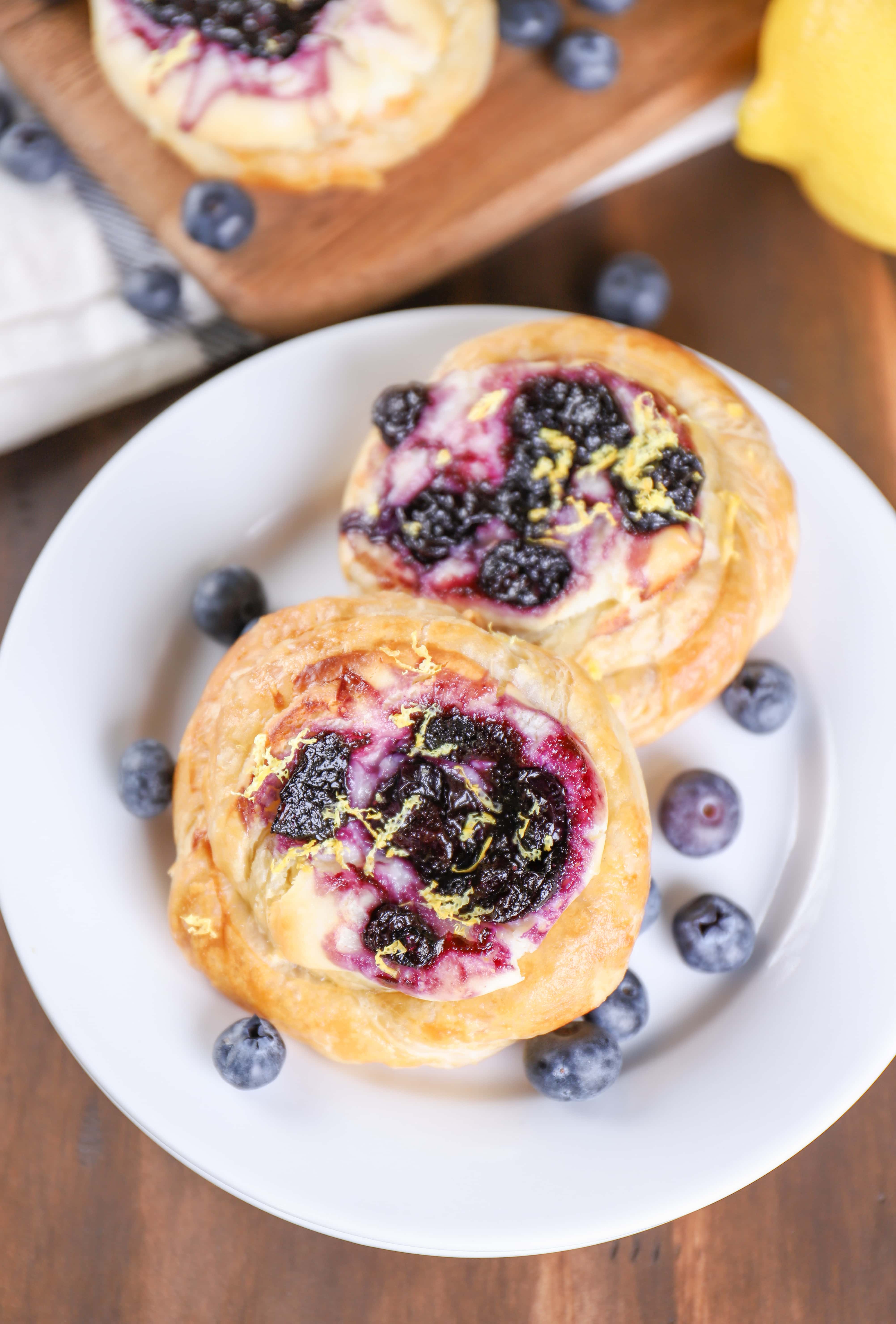 We're still on a berry binge over here. I'm buying way too many berries for us to eat fresh. Which means I'm finding myself looking for ways to bake with them, so they don't all end up in the freezer! It's been awhile since danishes have made an appearance in our house.
And since I had all of the ingredients in the house at the time the blueberries needed to be used, it was time to make a variation of our favorite danishes.
Ever since I first tried making danishes using puff pastry, I haven't looked back! These strawberries and cream danishes were both easy to make and didn't require many steps. Both pluses at our house!
Sure you can make your puff pastry from scratch, but I won't tell if you just run to the store and buy a package of pre-made dough!
These danishes start with a package of frozen puff pastry that have been thawed. I pulled mine out of the freezer right as I started making the filling, and they were ready to use by the time it came around to do the cutting and shaping of the dough.
The rest of the ingredient list is really quite simple. Blueberries, cream cheese, sugar, lemon juice, cinnamon, and vanilla extract. That's it.
An easy homemade blueberry filling showcases all of the fresh berries that are available this time of year and is worth the time it takes to simmer down. All you have to do is stir together the filling ingredients and let it simmer away.
While the filling is cooling, beat together the cream cheese, sugar, and vanilla extract. Then all you have to do is assemble, and let them bake.
At the last minute I topped them with a bit of fresh lemon zest for a pop of color and burst of lemon to pair with the blueberry filling.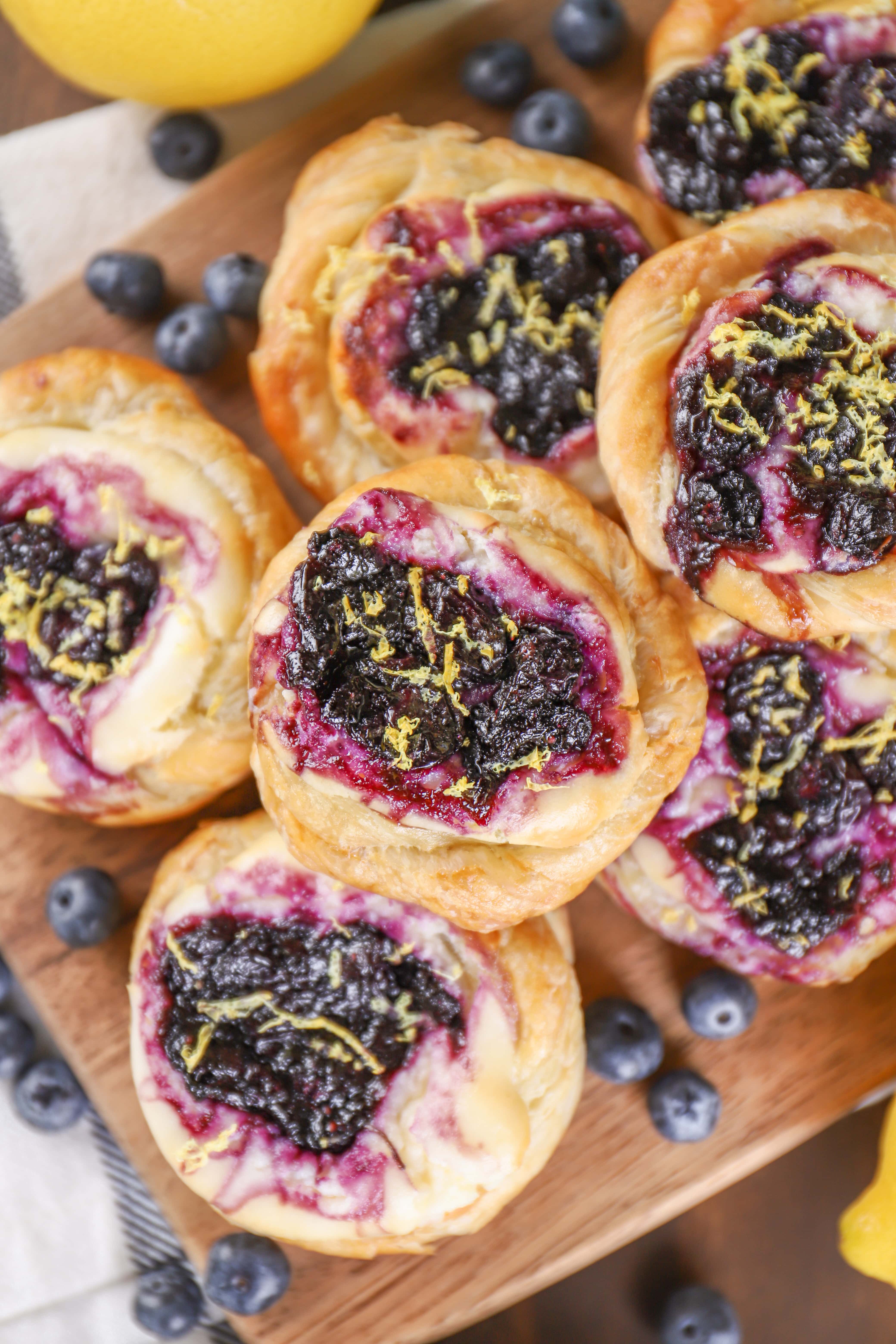 The end result is a golden, flaky pastry that you will want to enjoy any time of day!
Tips for making these puff pastry danishes:
Make sure your puff pastry is completely thawed.
Allow your blueberry filling to cool before using. If it is still hot, it won't set up when baking. You'll end up with more blueberry filling on your pan than in your danishes. 🙂
Did you end up with too thick of a blueberry filling? Put it back on the stove top on low and stir in a little water until desired consistency is reached.
Don't forget to press down and score the center of the pastry before filling it. If you don't, the center will puff and your filling will run out all over your pan.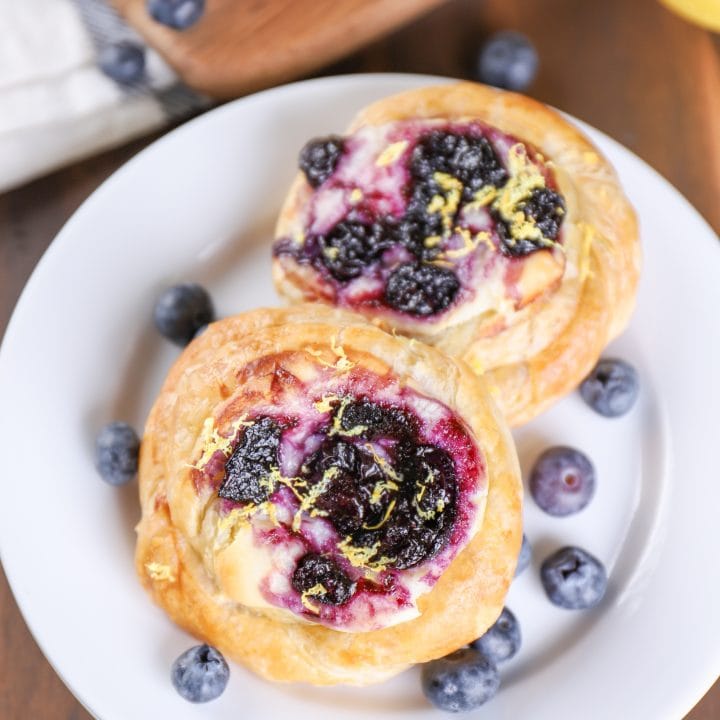 Blueberry Cream Cheese Danishes
Yield: 12

Prep Time: 1 hour

Cook Time: 25 minutes

Total Time: 1 hour 25 minutes
Ingredients
For the Blueberry Filling
1 1/2 C blueberries, rinsed
2 tbsp sugar
1 tbsp fresh lemon juice
1/8 tsp cinnamon
For the Cream Cheese Filling
4 oz cream cheese, softened
2 tbsp sugar
1 tsp vanilla extract
For the Danish
2 sheets puff pastries, thawed
1 egg
1 tbsp water
Fresh lemon zest, optional
Instructions
Combine blueberries, sugar, lemon juice, and cinnamon in a small saucepan over medium heat. Bring mixture to a boil. Reduce heat to medium-low and allow mixture to simmer for 25-35 minutes or until blueberries soften and mixture thickens. Stir occasionally to prevent scorching. Remove from heat and allow to cool.

Beat together cream cheese, sugar, and vanilla extract until creamy. Set aside.

Preheat oven to 400. Line a baking sheet with a silicone baking mat or parchment paper.

Place sheets of puff pastry on a lightly floured surface. Cut 6 strips lengthwise per sheet. Take each strip and gently twist. Take each twist and coil it into a spiral. Tuck the end piece under the spiral. Press down the center of the pastry leaving about ¼ inch all around on the sides. Score the pressed down center with a knife. Poke a few holes in the center with fork or knife. This will keep the center from rising too much. Place on prepared baking sheet.

Fill each center with about 1 tablespoon of cream cheese filling. Top with a heaping teaspoon of blueberry filling.

Whisk together egg and water. Brush the edges of the danish with egg wash.

Bake for 20-25 minutes, or until edges are golden brown.

Remove from oven and allow to cool slightly on a wire rack. Serve warm.
Recommended Products
As an Amazon Associate and member of other affiliate programs, I earn from qualifying purchases.