Have you ever picked out the big pieces from the rest of the granola? Or have you ever left behind the little pieces because it was inconvenient to eat at the office or in the car? These bites solve those problems!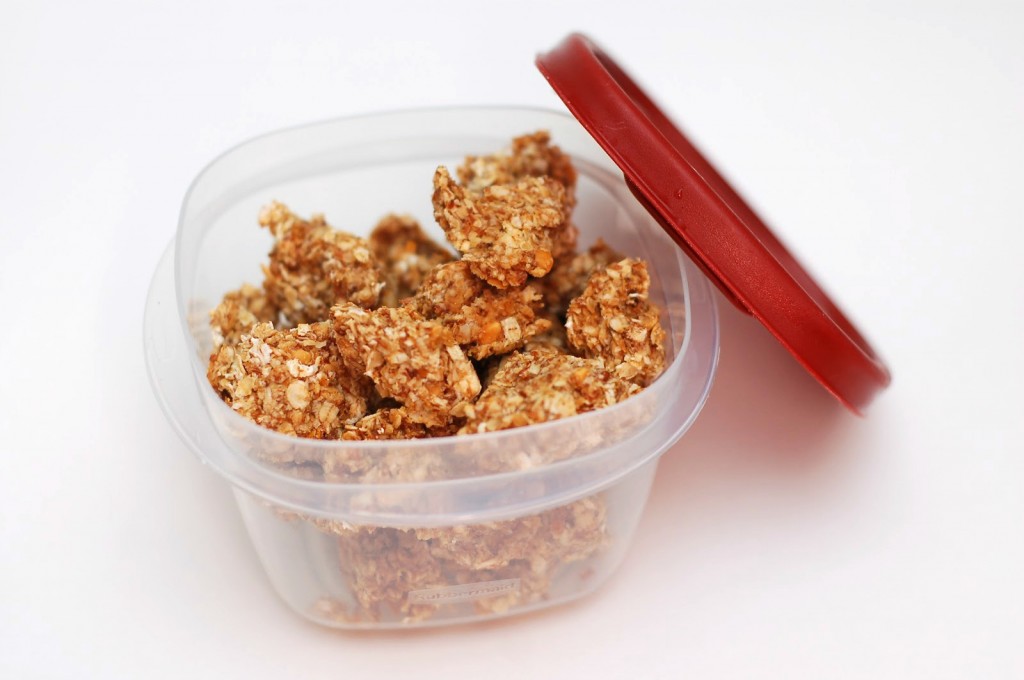 No little pieces, just perfect bite-sized pieces to take with you wherever you are. This granola is full of protein, fiber, and complex carbs making them a good pick me up for you and your kids!
Need a more substantial snack for the family? Try making a trail mix by adding pretzels, nuts, unsweetened banana chips, dried fruit, chocolate chips, or anything else that sounds good!


Peanut Butter Granola Bites

Yield: 6 1/4 C servings
Ingredients
1/2 C regular oats
1/4 C ground flaxseed
1/4 C oat bran
1/8 tsp salt
3 tbsp peanut butter
3 tbsp honey
1 tsp vanilla extract
1 1/2 tbsp unsweetened applesauce (may need less depending on moistness of your peanut butter)
Directions
Preheat oven to 325.
In a medium-sized bowl stir together the oats, flaxseed, oat bran, and salt. Set side.
In a small bowl mix together peanut butter and honey. Microwave for 8-10 seconds or until peanut butter melts. Stir in vanilla.
Pour peanut butter mixture over oats and stir. Add in unsweetened applesauce and stir until completely moistened. Form the mixture into large chunks, using your hands. Break the larger chunks into desired bite-size pieces. Repeat until entire oat mixture is used.
Place bites onto baking sheet and bake for 10-15 minutes or until granola starts to brown.
Remove pan and place on wire rack. Let cool completely and store granola bites in airtight container.