It's Monday morning again, and I hope you all had a good weekend! We spent a lot of ours outside in the 80(!!) degree weather! We also made creamy chicken enchiladas and they were amazing. 🙂
This recipe is scaled down for two people and one meal of leftovers, but I have included directions for doubling.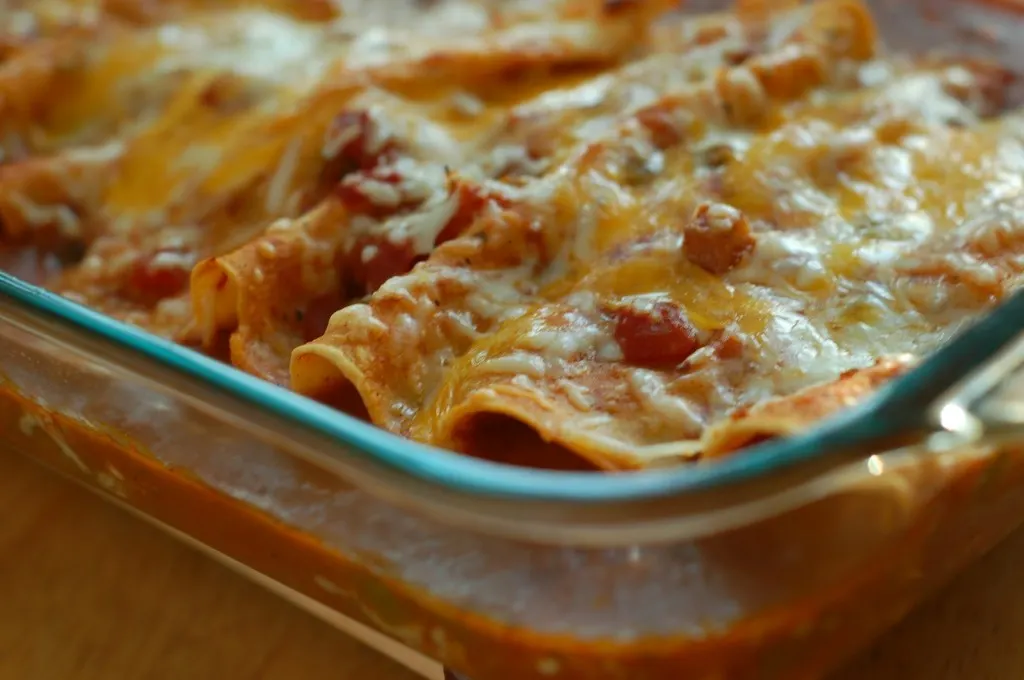 Mmm, a taste of spring with fresh tomatoes and lettuce!
Don't be alarmed by all of the ingredients. Most of them are spices and it really is easy to throw together. Plus, you can make up the chicken and sauce the night before to make it easier for the next day! I used small tortillas because I was only making this for two people. This recipe can easily be adapted for large tortillas to feed more people. Just double the ingredients in the "For the Meat Section" and use a larger can of enchilada sauce. The way the recipe is now, there is plenty of sauce left in the dish. My husband thinks it goes great with tortilla chips. 🙂


Creamy Chicken EnchiladasPin It
Adapted from The Pioneer Woman
Yield: 10 6-inch enchiladas
Ingredients
For the Sauce
1 tbsp olive oil
1 tbsp all-purpose flour
1 15oz can red enchilada sauce
2 C reduced-sodium chicken broth
1 C salsa of your choice
1/2 tsp salt
1/4 tsp pepper
1/4 tsp garlic powder
1/4 tsp onion powder
1/2 tbsp dried cilantro
For the Meat
2 tsp olive oil
1 lb boneless, skinless chicken breast with excess fat removed
1 medium onion, finely chopped
2 garlic cloves, minced
1/2 tbsp chili powder
1/4 tsp salt
1/4 tsp pepper
For Tortillas
10 6-inch round tortillas
2 tbsp olive oil – may need more depending one how long you cook the tortilla
For Condiments
3 C of your favorite reduced-fat cheeses, shredded (I used a combination of mozzarella and sharp cheddar)
Lettuce, optional
Chopped tomatoes, optional
Reduced-fat sour cream, optional
Directions
In a large saucepan, whisk together oil and flour over medium heat to make a paste, about one minute. Pour in red sauce, chicken broth and salsa. Bring to a boil and reduce to a simmer. Add the salt, pepper, garlic powder, onion powder and cilantro. Simmer for 35-40 minutes to allow sauce to reduce and thicken.
While sauce is cooking, add olive oil, onions, garlic and chicken to a skillet. When chicken is just about done cooking, remove and shred. Put shredded chicken back in skillet and add chili powder. Finish cooking chicken.
Preheat oven to 350. Heat the two tablespoons of olive oil in a small skillet over medium heat. Using tongs, cook tortillas one by one until soft, not crisp, about 15 seconds per side. Drain excess oil and place on a paper towel-lined plate. Proceed with all ten tortillas.
Pour 1/2 C of sauce on the bottom of a 9×13 baking dish. Spread to even out.
Dip each tortilla, one at a time, into the red sauce and remove to another plate. Spoon meat and shredded cheese in the center of the tortilla. Roll up and place seam down in baking dish. When all tortillas a filled, pour extra red sauce over the top. Top with remaining cheese.
Bake for 20 minutes or until bubbly. Serve with lettuce, tomatoes, sour cream, etc.