No need to turn on your oven to make this Peanut Butter Banana Bread Granola! This healthier granola is made in a skillet on the stovetop and is filled with all the warm, comforting flavors of banana bread!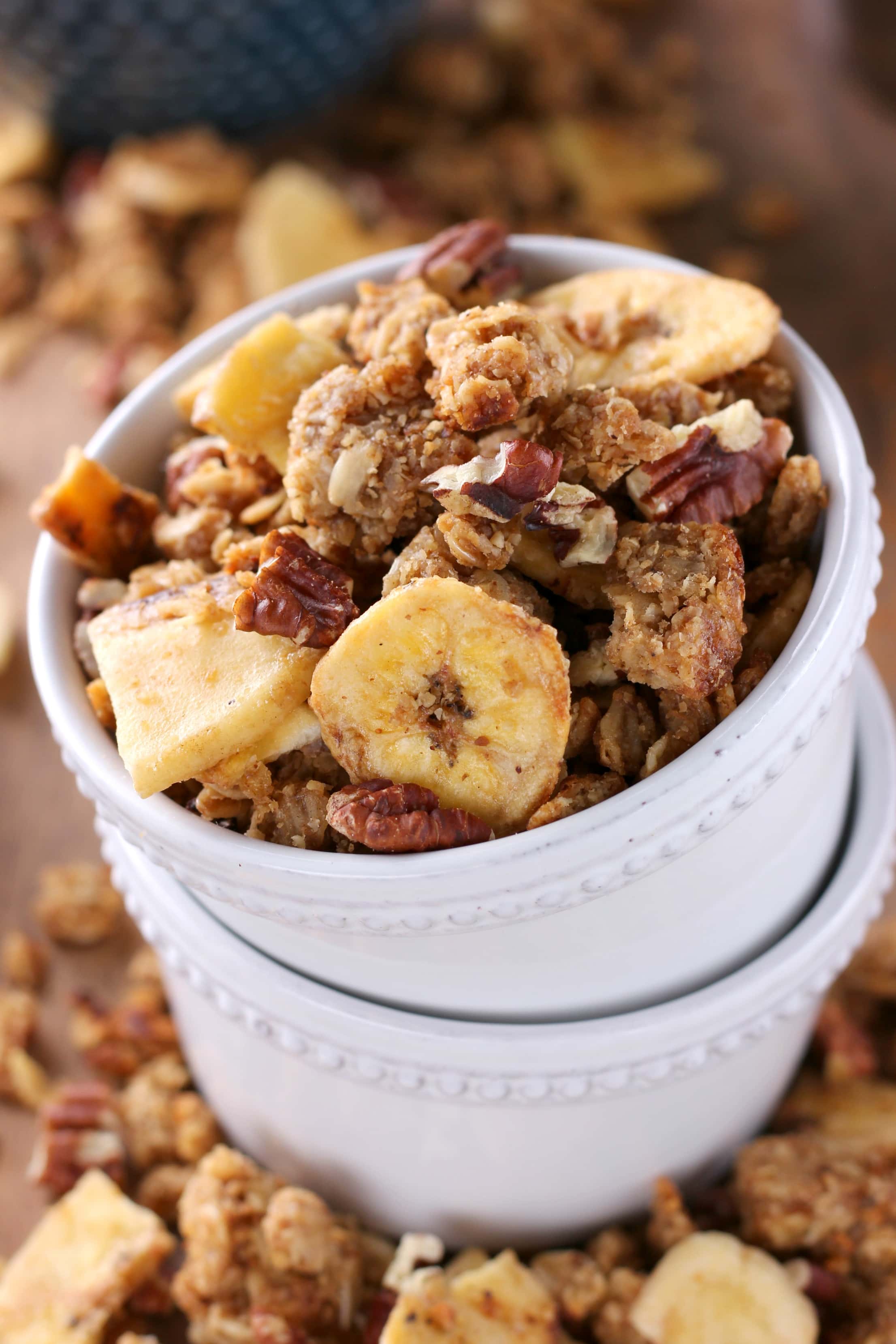 Do you ever stumble on to recipes as a result of trying to modify a different recipe to suit your current situation? What's in the pantry, temperature in the house, flavors that you like, etc.?
Sometimes those experiments don't turn out too great for me, but other times, they taste so good that I have to make them again so I can take the time to write down exactly what I did!
One of the most popular recipes on the blog is for this peanut butter banana bread baked oatmeal. It's been one of our favorites and one of yours for a couple of years now! But sometimes I find myself wanting that oatmeal without wanting to turn my oven on to make it.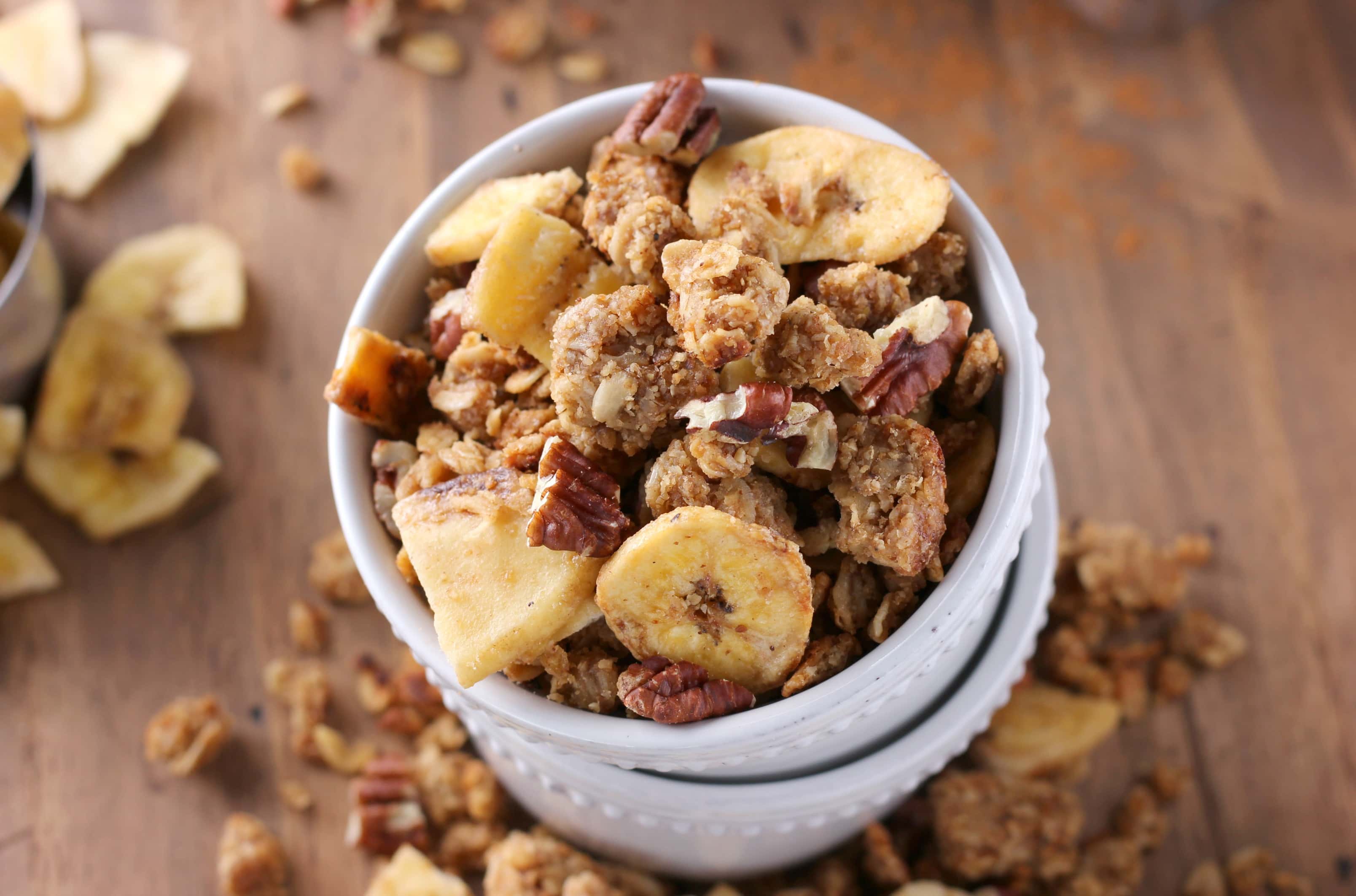 So, I decided to come up with a solution for enjoying the peanut butter banana bread oat flavor in the summer when most of us have no desire to bake!
Enter peanut butter banana bread granola made in a skillet! I've made granola before in skillet, like this cherry vanilla nut skillet granola, but I find myself usually turning to the oven to make my granola. I don't know why.
Aside from having to stir it more often, granola made in a skillet is just as easy!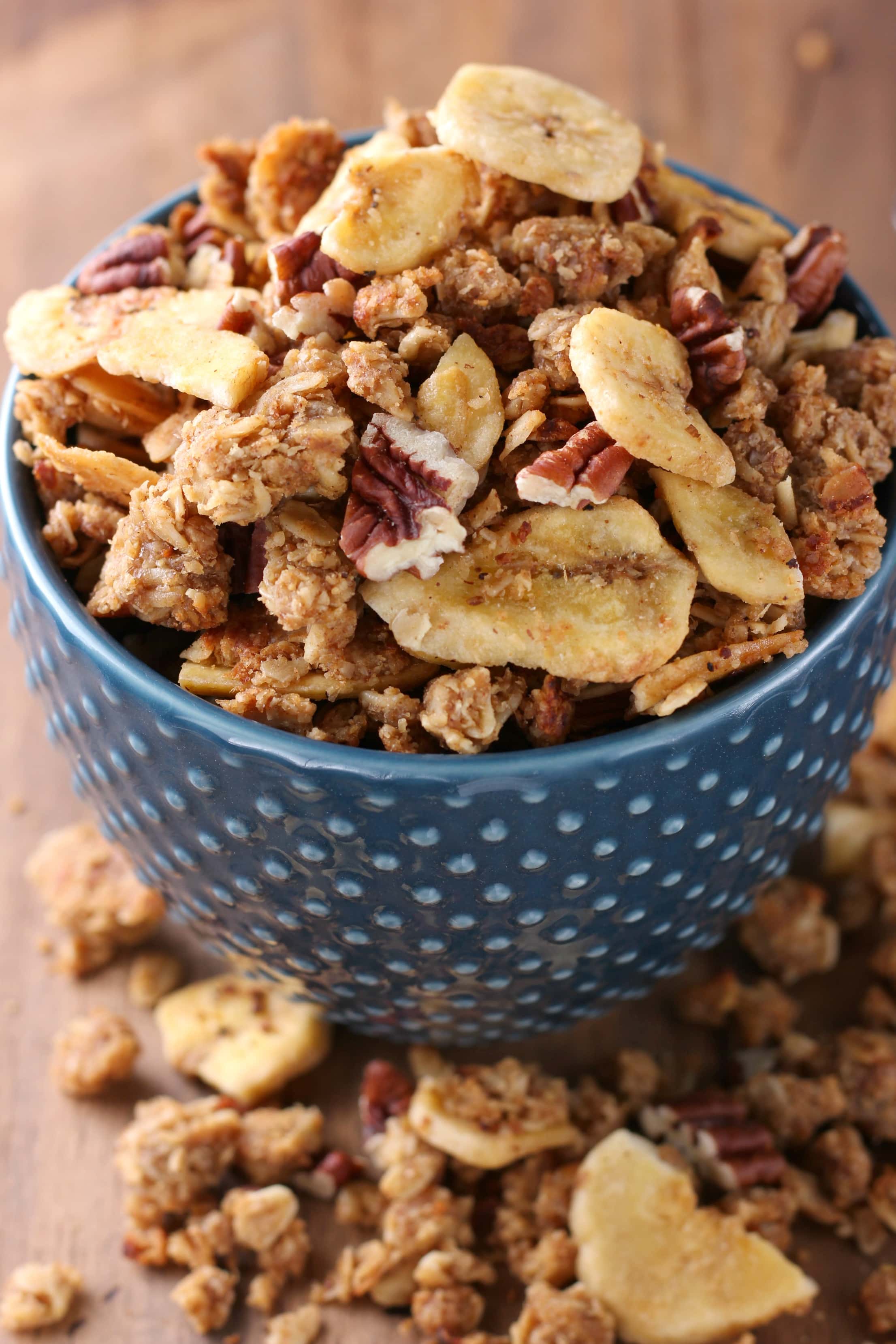 This one is no different. And you only dirty fewer dishes. Always a plus in my book! You toast the nuts, mix the wet ingredients and the dry ingredients all in the same pan. Easy.
Peanut butter, pecans, mashed banana, banana chips, cinnamon, and nutmeg combine with oats, oat bran, and flaxseed to not only give you that banana bread flavor but also to give you a hearty, healthy granola that's great for breakfast or by snacking on by the handful!

Peanut Butter Banana Bread Granola (Skillet Style!)
Author:
A Kitchen Addiction
Ingredients
½ C coarsely chopped pecans
½ C pure maple syrup or honey
¼ C creamy peanut butter
2 tbsp coconut oil (measured solid) or butter
¼ C mashed banana
1 tbsp vanilla extract
2 C old fashioned oats
½ C oat bran
2 tbsp ground flaxseed
1 tsp salt
1 tsp cinnamon
¼ tsp nutmeg
1 C coarsely crushed banana chips
Instructions
Place nuts in a large skillet. A skillet with high sides works best (I used a 3 qt high sided skillet). Toast nuts over medium heat for 7-10 minutes or until nuts just start to turn light golden brown, they will toast more as granola cooks. Remove nuts to a small bowl/container.
Whisk together maple syrup, peanut butter, and coconut oil in skillet over medium heat. Stir in mashed banana and vanilla extract until combined.
Stir in oats, oat bran, flaxseed, salt, cinnamon, and nutmeg until oat mixture is evenly coated. The granola will kind of all stick together at this point. As it cooks and you stir it, you can break it into the size of chunks that you want.
Cook for 25-45 minutes or until oats turn golden brown. Stir every 5 minutes or so to prevent granola from burning. At 20 minutes, stir in banana chips and toasted pecans.
Spread granola out on paper towels and allow to cool completely.
Store in an airtight container. (If your house is humid in the summer and you don't store it in airtight container, the granola will get soft.)
Notes
The reason for such a large difference in baking time (25-45 minutes) is that there will be a variance based on the size of the skillet you use. The smaller the skillet, the longer it will take for the granola to cook and brown. There is also a difference in stove tops gas/electric/etc., so start checking your granola at 20 minutes to make sure it's not done early. If it seems like it's cooking too quickly without drying out, lower your heat to medium-low.