This hearty, healthy Chicken Caprese Quinoa Salad is filled with juicy tomatoes, creamy mozzarella, and fresh basil! To make this easy salad more filling, shredded chicken is added!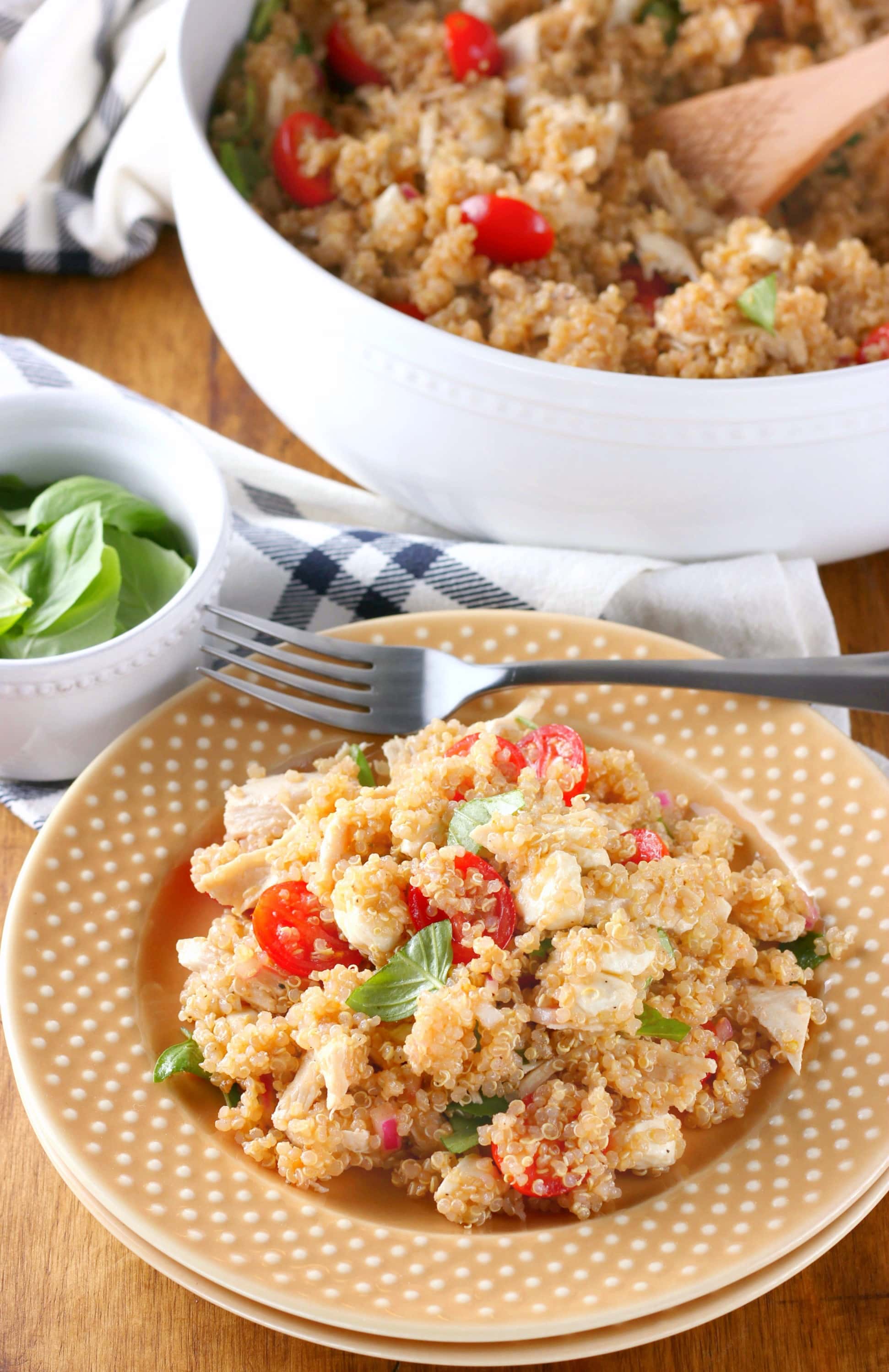 It's that time of year when our gardens and farmer's markets are overflowing with all kinds of good produce! We love walking out to our garden before meals to pick produce to use.
As kids start to head back to school and stores are showcasing all things fall, we're clinging to summer by trying to spend as much time as possible outside and trying to eat as much fresh produce as we can!
One way we've being doing that is making salads. Sometimes they're lettuce based, sometimes they're pasta based, and sometimes they're quinoa based. Like this chicken caprese quinoa salad!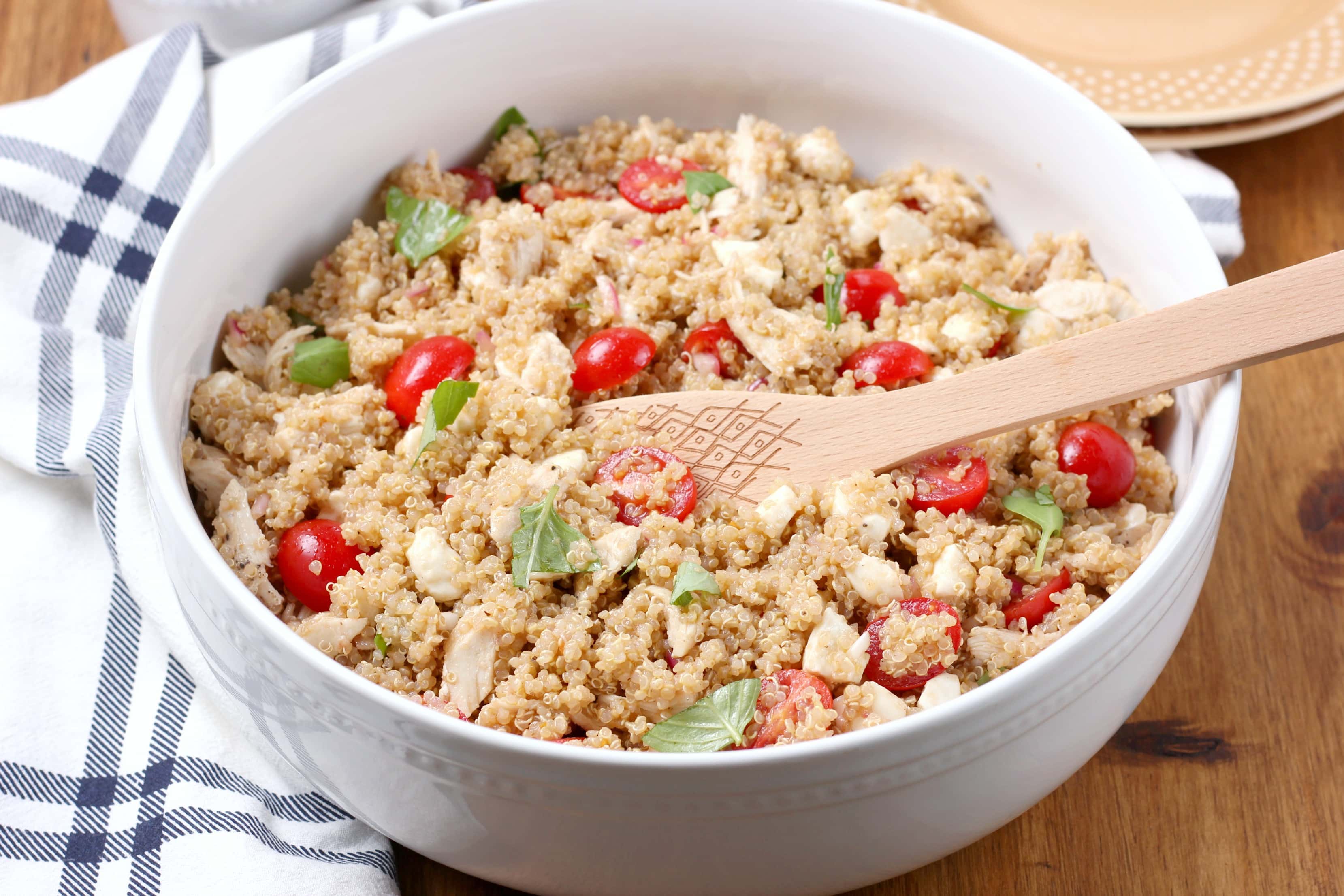 This salad is all about fresh flavors. Fresh tomatoes, fresh basil, fresh mozzarella! Since we have both tomatoes (and they're kind of out of control!) and basil in our garden, we've been enjoying this combo frequently.
To make this salad a little heartier, we added in some shredded chicken. If you have leftover chicken that you don't know what to do with, throw it in this salad! Or use rotisserie chicken! We like to keep it simple.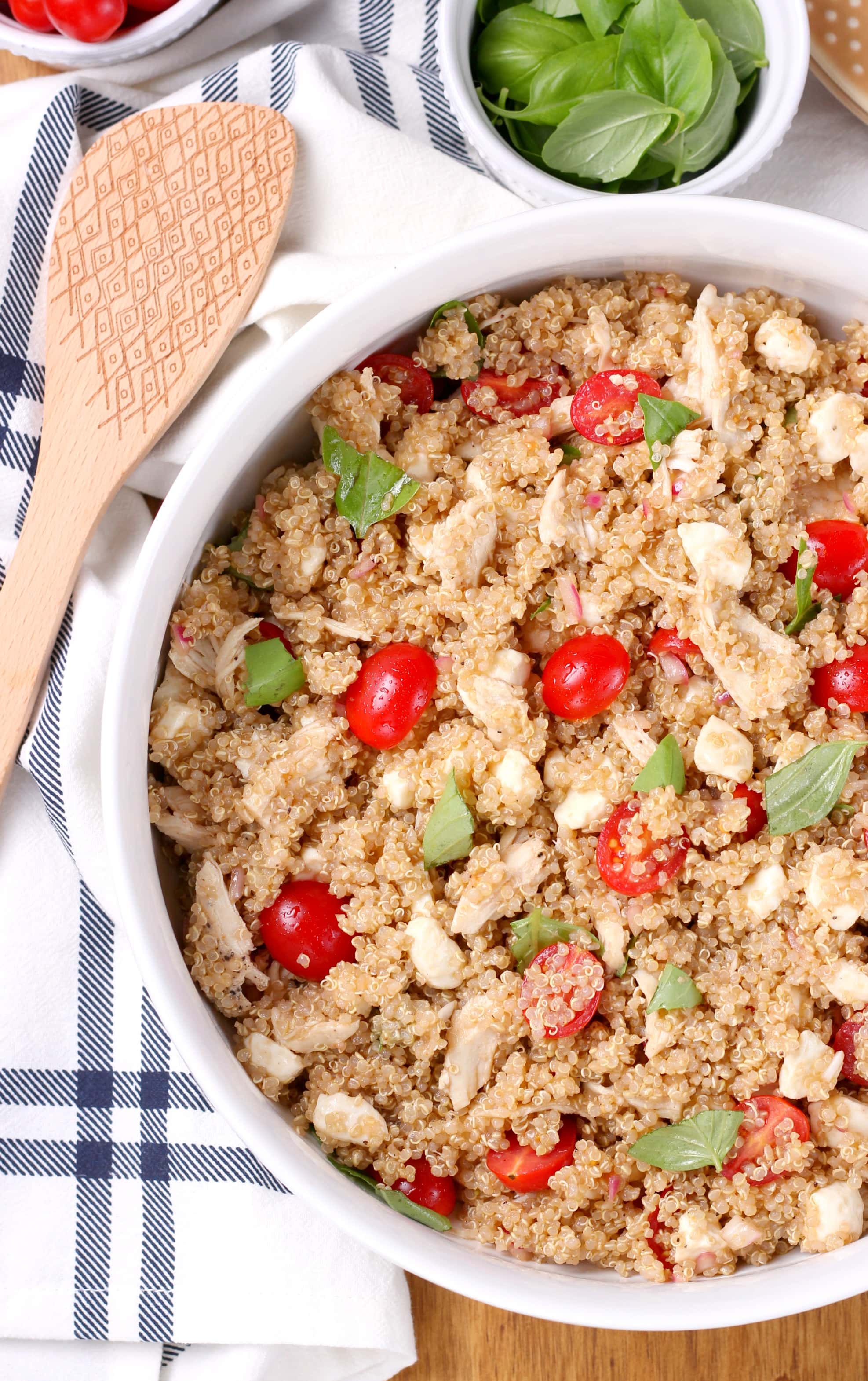 The dressing is made up of olive oil, balsamic vinegar, fresh lemon juice, and minced garlic. Just enough flavor to add something to the salad without over powdering the fresh ingredients.
This salad is perfect for busy weeknights. And now that school is starting back up for a lot of people, I'm sure we could all use some new easy recipes!
Healthy, hearty, and best of all, delicious, your family will love this!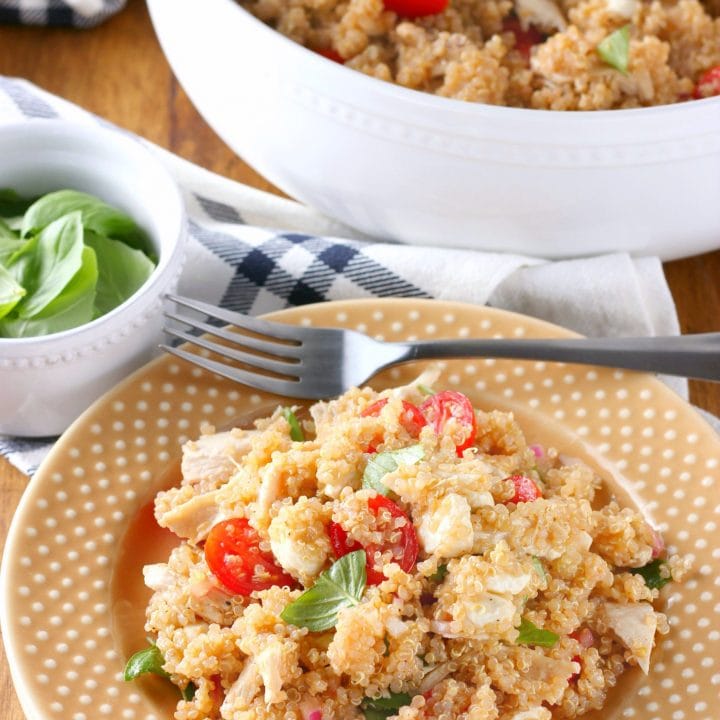 Chicken Caprese Quinoa Salad
Ingredients
For the Salad
1 C uncooked quinoa, cooked according to package instructions
2 C cooked, shredded chicken (rotisserie chicken works well)
1 C cherry tomatoes, halved
8 oz mini fresh mozzarella balls
¼ C fresh basil leaves, torn
¼ C red onion, chopped
For the Dressing
¼ C olive oil
3 tbsp balsamic vinegar
2 tbsp fresh lemon juice
3 garlic cloves, minced
salt and pepper to taste (start at ½ tsp salt and ¼ tsp black pepper)
Instructions
Place quinoa in a large bowl.
In a small bowl, whisk together all ingredients for the dressing until well-combined. Pour over quinoa and stir until quinoa is completely covered. Stir in shredded chicken, cherry tomatoes, mozzarella, basil, and red onion until combined.
Serve immediately, or refrigerate until ready to serve.
Recommended Products
As an Amazon Associate and member of other affiliate programs, I earn from qualifying purchases.