I love creamy, cheesy dishes. I could eat them all the time. I just don't think my body would thank me for it! 🙂 That is one reason why I started making this side dish. I wanted something just as creamy and cheesy as potatoes au gratin but without all of the fat and starch that came along with it.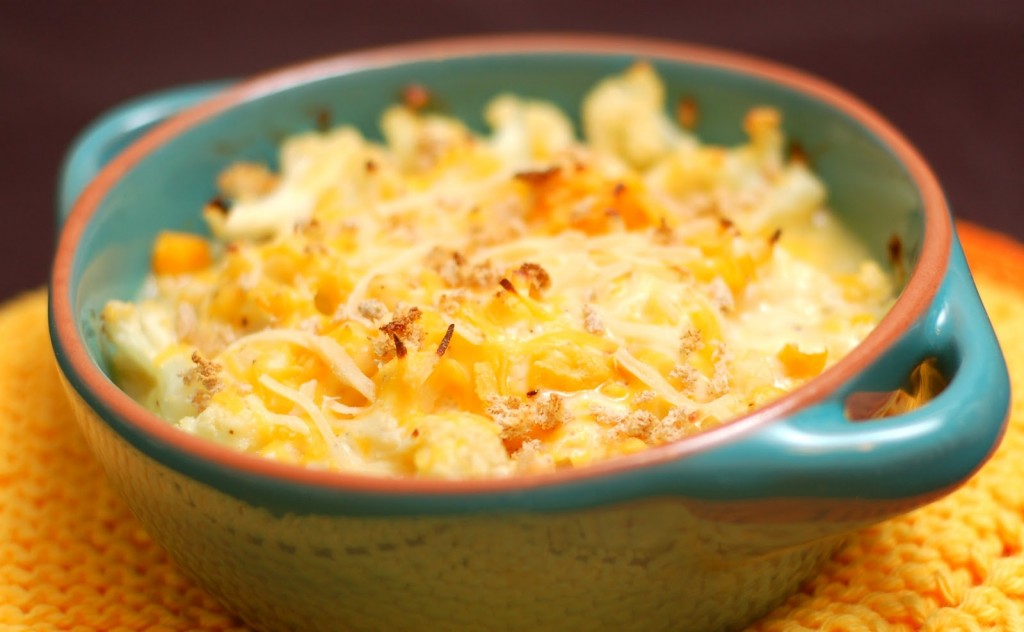 The cauliflower adds fiber and the Greek yogurt gives just as much creaminess as heavy cream.
Because I find cauliflower to be somewhat bland, I spice it up a little by adding sweet peppers, pepper jack cheese, and white pepper to give it a little kick.
All of the same cheesy, creamy deliciousness without all of the unhealthy ingredients!


Zesty Cauliflower Au Gratin

Yield: 6 servings
Ingredients
1 head cauliflower, washed and broken into florets
2 garlic cloves, minced
1 small onion, coarsely chopped
1/4 C sweet pepper, coarsely chopped
olive oil, for sauteing
1/2 C shredded reduced-fat cheddar cheese, reserve 2 tbsp for topping
1/2 C shredded pepper jack cheese, reserve 2 tbsp for topping
1 C plain Greek yogurt
1/4 tsp ground black pepper
1/4 tsp ground white pepper
1/4 C fresh wheat bread crumbs
Directions
Preheat oven to 375. Spray casserole dish with non-stick cooking spray.
Steam or boil cauliflower until almost fork tender, about 7-8 minutes.
Drain cauliflower, rinse with cold water, and set aside.
In a small skillet, drizzle olive oil and saute onions, garlic, and sweet peppers over medium heat until tender and just starting to turn light brown. Remove from heat and set aside.
In a large bowl, stir together the cheeses, yogurt, black pepper, and white pepper. Add in the onion mixture and cauliflower. Stir just until combined.
Pour into casserole dish. Sprinkle bread crumbs and reserved cheese over the top.
Bake for 30 minutes or until topping turns brown and filling starts to get bubbly.
Serve warm.