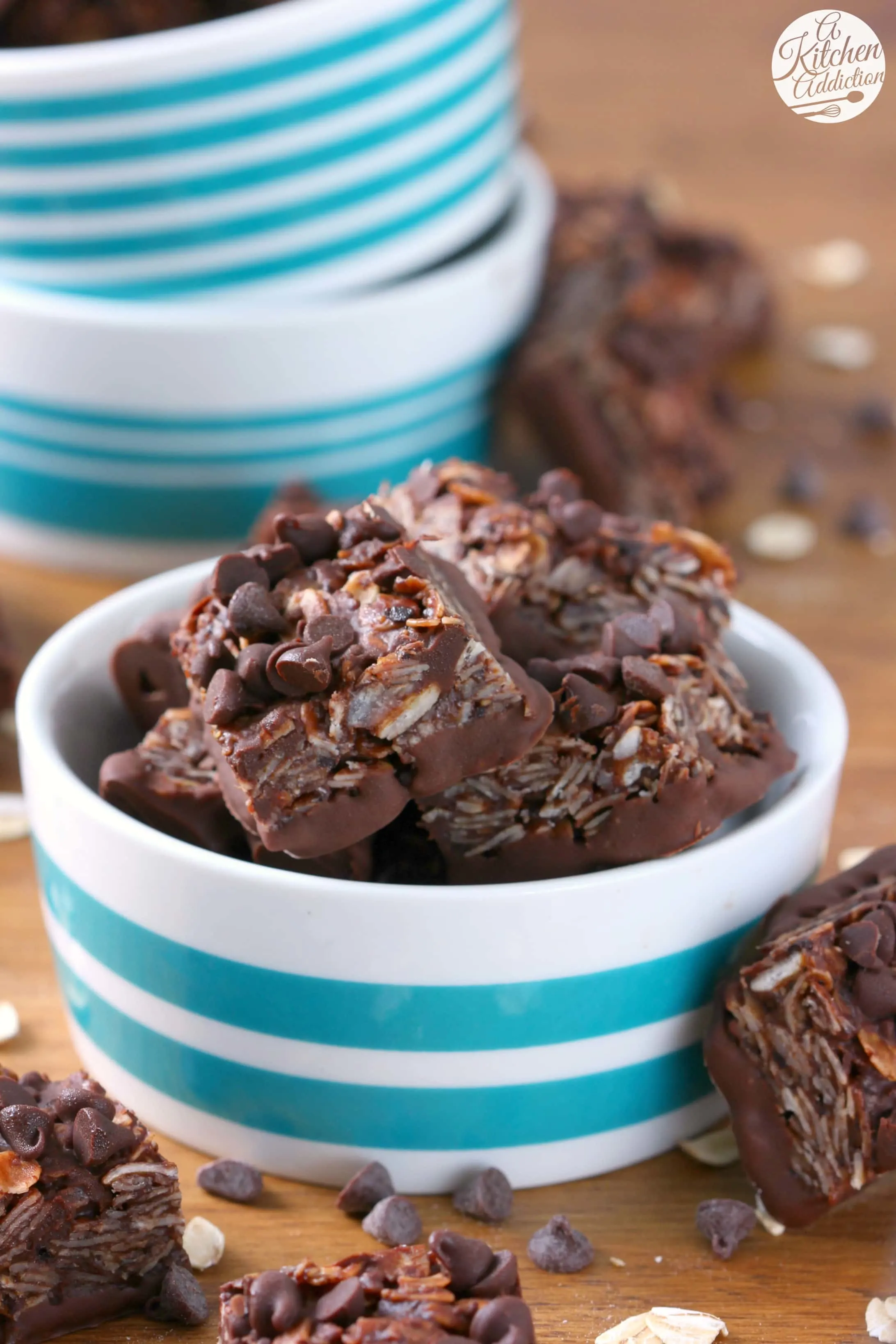 I'm seeing signs of the end of summer slowly creeping up on us all around me. Whether it's the back to school posts of family and friends or the Thanksgiving and Christmas sections that we've seen while out shopping, there's no denying that eventually the lazy days of summer are going to come to an end.
I, however, plan on hanging on to them as long as possible! Most likely that means I'll be found in our hammock with a few of these mocha chip granola bites!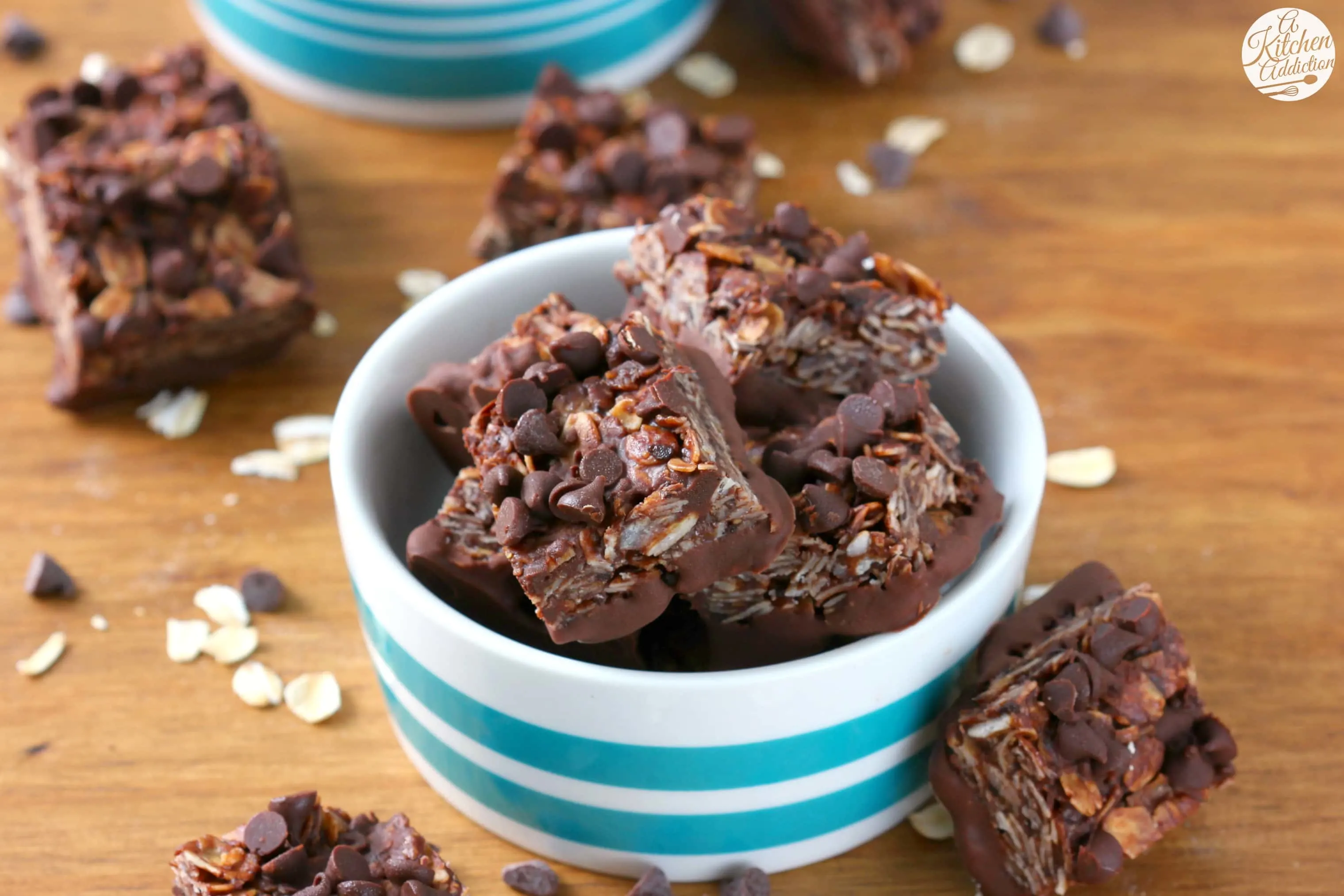 When I was walking through the grocery store the other day looking for one specific item (only to discover that due to the current remodeling they were carrying a reduced stock and didn't have the item I was looking for!), I wound up going through the cereal/granola aisle.
Since I rarely go down that aisle, I figured I'd take a look at the granola to see if there were any flavor combinations that I should try at home.
I came across a bag of granola bites dipped in chocolate. My first thought was, "How have I never made my granola bites by pressing the batter into a pan and cutting them into bites?!"
I always make them by rolling them into balls. This seemed much easier! So, of course, my next thought was, "I need to try this at home!"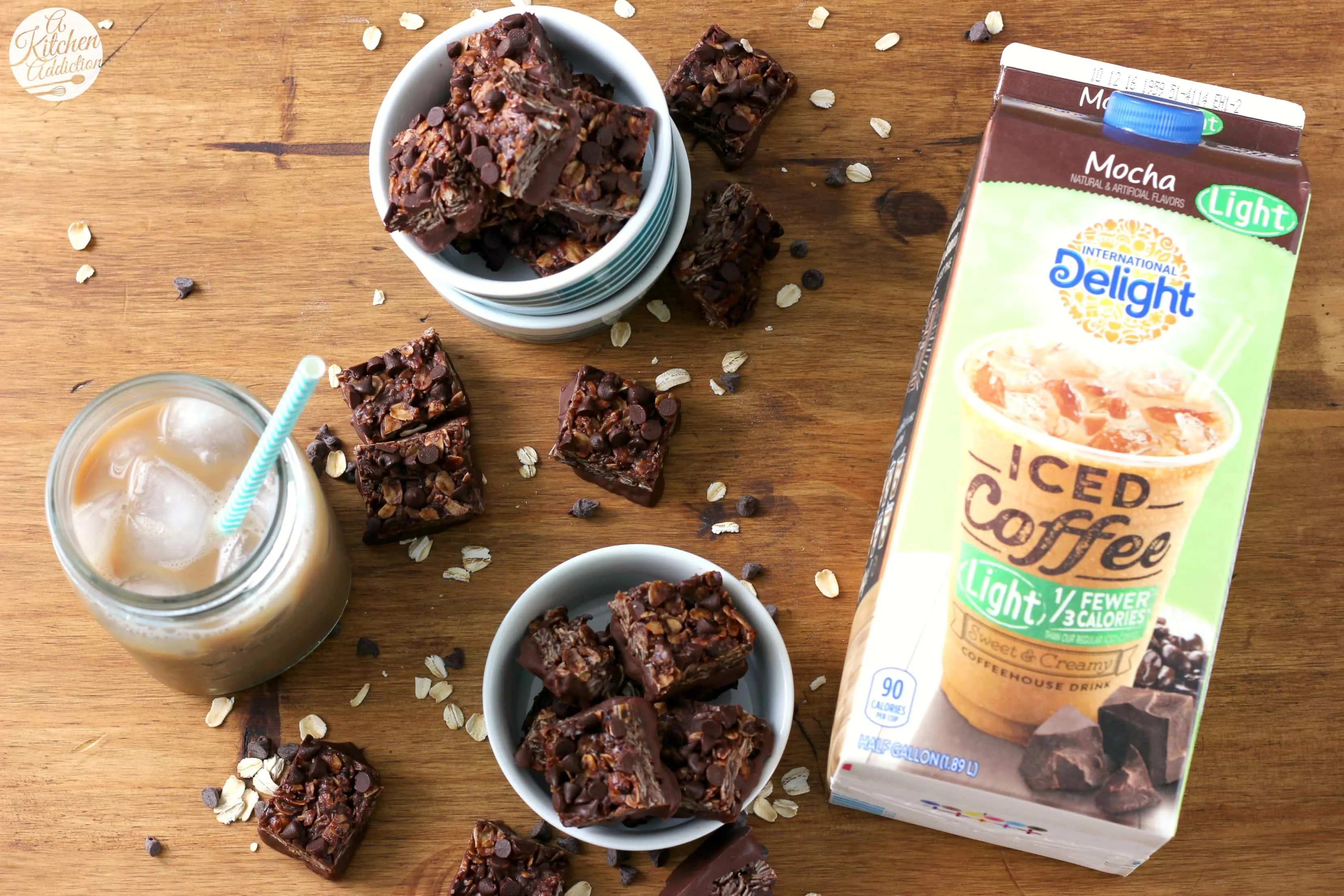 Since about 99% of us are living in heat and humidity right now and don't want to turn on our ovens, I made my granola bites no bake. Based off of our white chocolate blueberry maple granola bites, these mocha chip granola bites are loaded with chocolate and a bit of coffee.
Perfect for an afternoon boost of energy! And the perfect pairing to a couple of these granola bites? A cup of iced coffee!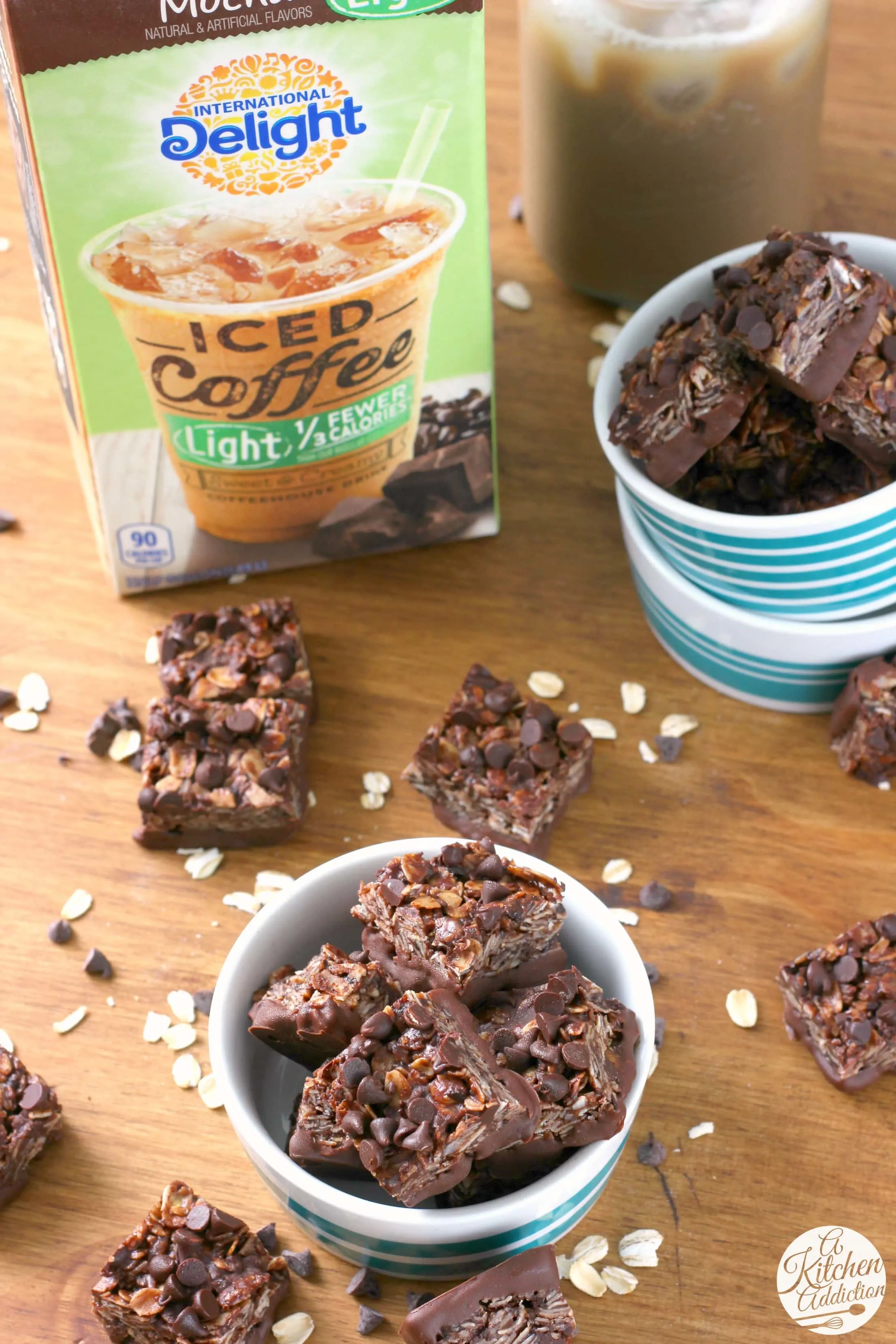 As strange as it is to a lot of people, I'm a hot coffee drinker in the morning. I don't know why, but I prefer a steaming mug of coffee in the morning over a glass of iced coffee.
In the afternoon? I'm all about the iced coffee. I love to take a break and sneak away from work outside for a few moments to soak up the sun and fresh air all while enjoying some iced coffee!
International Delight makes it easy. Made with coffee, skim milk, and cane sugar, all you have to do is pour it over ice and you're done.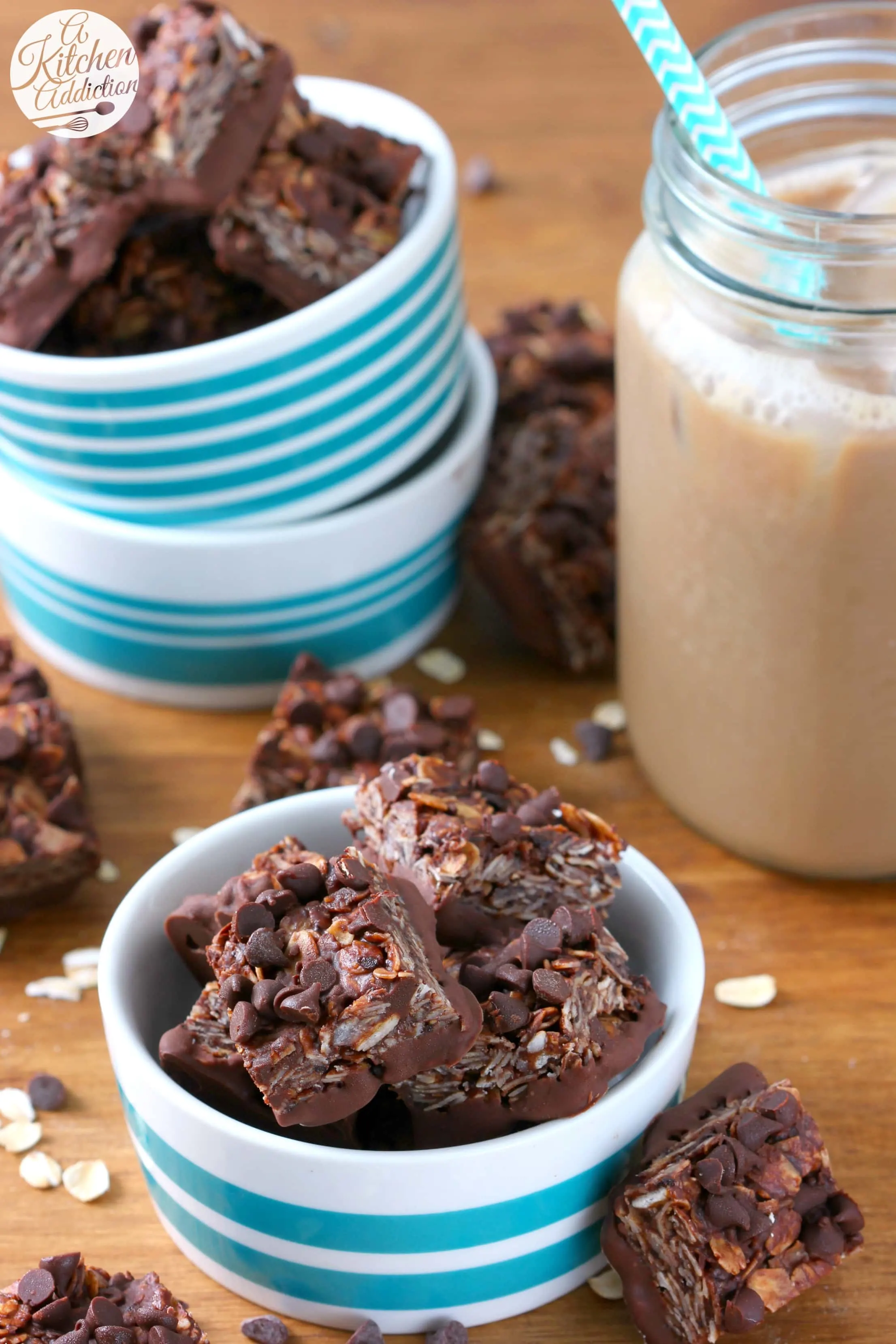 Summer is all about making your time in the kitchen as easy as possible so you can make the most of your summer days.
Whether that's no bake granola bites that you press into a pan and cut instead of rolling in to balls, or iced coffee that you don't have to remember to make ahead of time and instead just grab it from the fridge already made for you.
Use those extra moments to savor the last days of summer!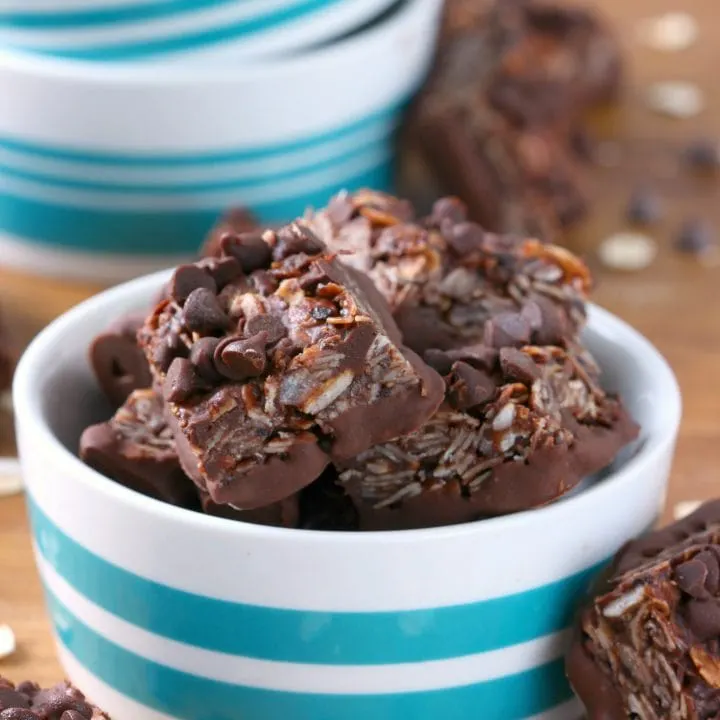 Mocha Chip Granola Bites
Ingredients
For the Granola Bites
2 1/2 C regular oats
1/4 C unsweetened baking cocoa
2 tsp instant coffee/espresso powder
1/3 C honey
1/4 C sugar
1/4 C coconut oil
1/4 C butter
1/4 C + 2 tbsp mini chocolate chips
For the Chocolate Coating
1/2 C chocolate chips
1 tsp coconut oil
Instructions
Line an 8x8 inch baking dish with parchment paper so the edges hang over the sides of the dish.
In a large bowl, whisk together oats, baking cocoa, and instant coffee/espresso powder. Set aside.
In a small saucepan, bring honey, sugar, coconut oil, and butter to a boil over medium heat. Boil for 3 minutes, stirring constantly. Remove from heat.
Pour over oat mixture, and stir to combine. Stir in 1/4 cup mini chocolate chips. Press into the bottom of prepared baking dish. Sprinkle remaining 2 tablespoons of mini chocolate chips over the top. Gently press into oat mixture.
Allow to cool completely. Cut into bite-sized pieces.
Add coconut oil to chocolate chips in a microwave safe bowl and melt according to package instructions. Dip bottoms of granola bites into melted chocolate and place on a piece of parchment paper or wax paper. Refrigerate until chocolate is set.
Serve.
Recommended Products
As an Amazon Associate and member of other affiliate programs, I earn from qualifying purchases.
Looking for more ways to enjoy International Delight Iced Coffees? Sign up for their newsletter! Also be sure to check out their social media channels for more inspiration –>> Facebook
I
Instagram
I
Twitter
I
Pinterest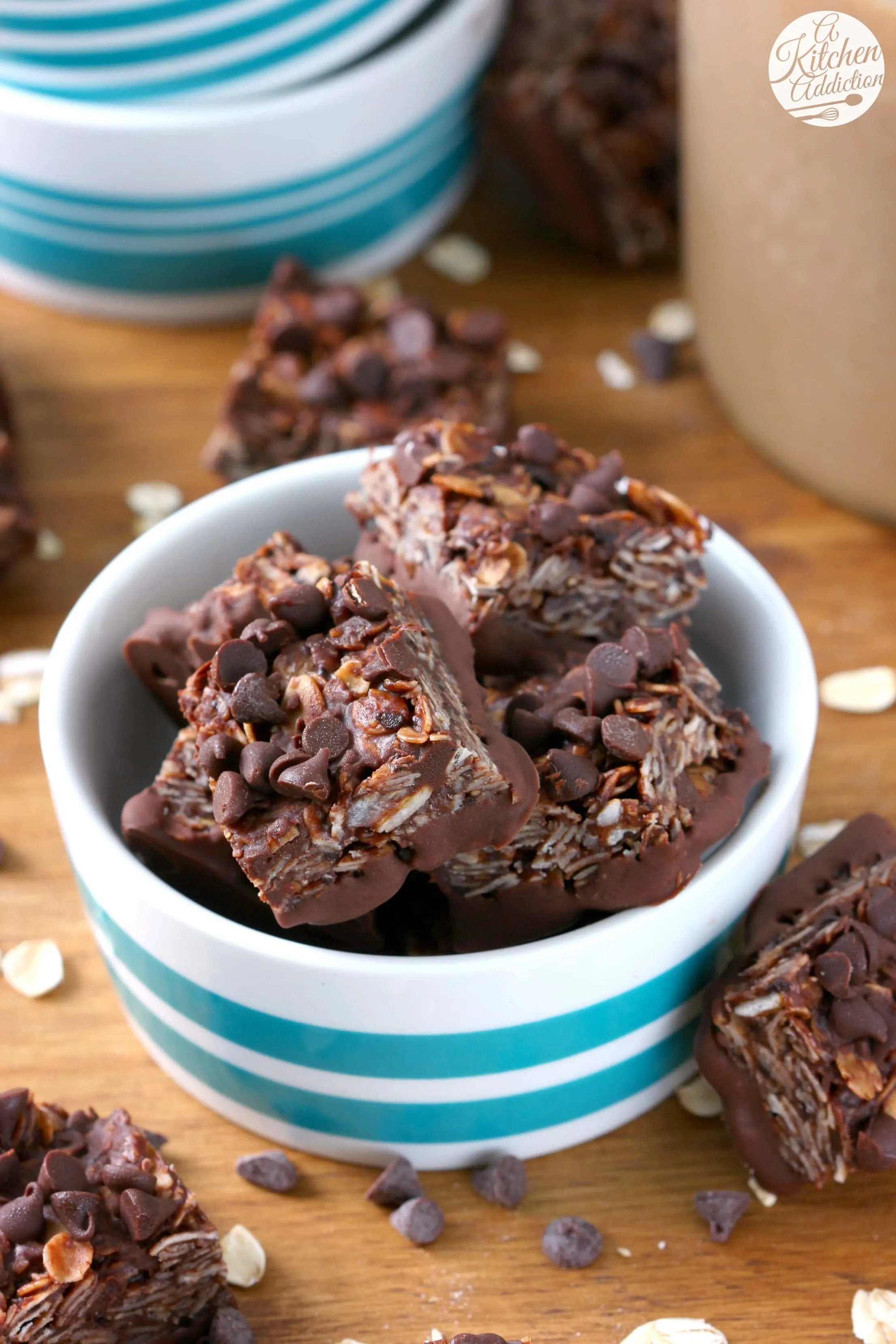 This is a sponsored conversation written by me on behalf of International Delight. The opinions and text are all mine.