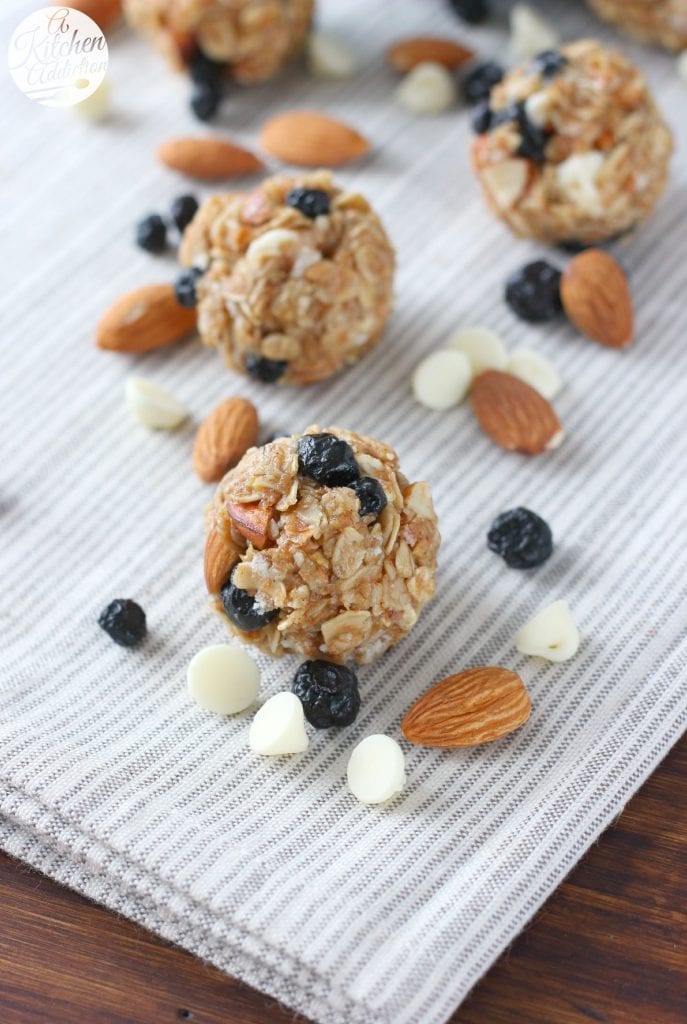 Let me introduce you to one of my new favorite flavor combinations. . .blueberry maple. I was staring in my pantry the other day wondering what to do with a big bag of dried blueberries that I had picked up from Costco.
They had already found their way into pancakes, oatmeal, and waffles, so it only seemed logical to stick them in granola bites next.
But I couldn't decide what to pair with them. That's when I saw my bottle of maple extract. Before long a batch of white chocolate blueberry maple granola bites was sitting on the counter.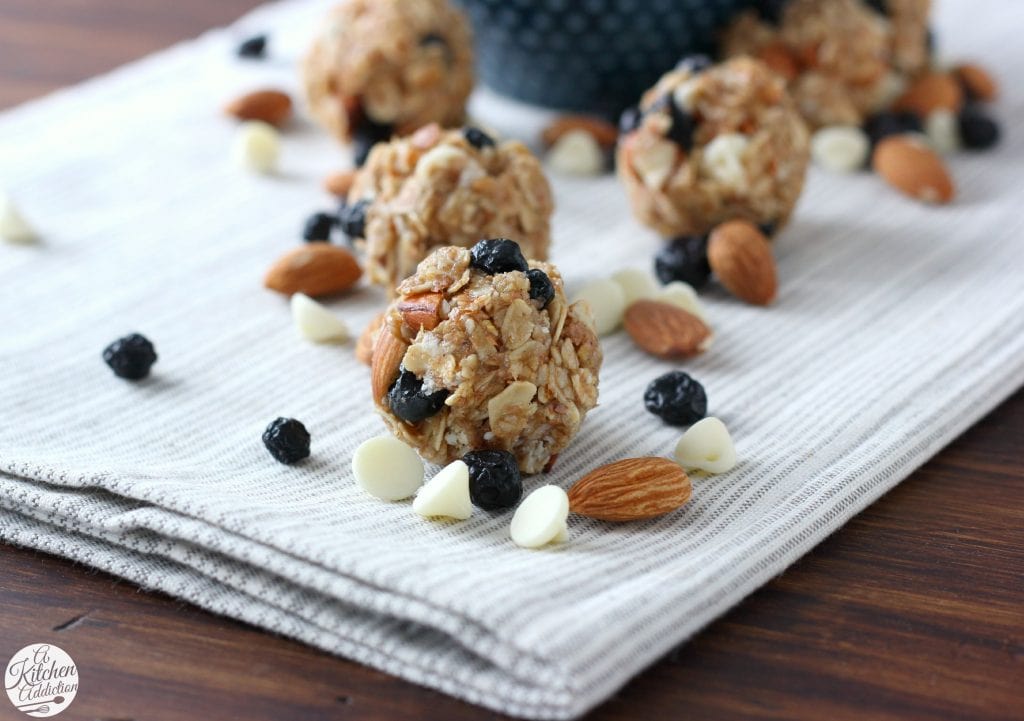 While I love blueberry maple syrup, I've never really combined the two flavors for anything other than breakfast. After tasting these granola bites, I feel like I've been missing out on a great combination!
Cookies, cake, bars. . .so many possibilities that need to be explored!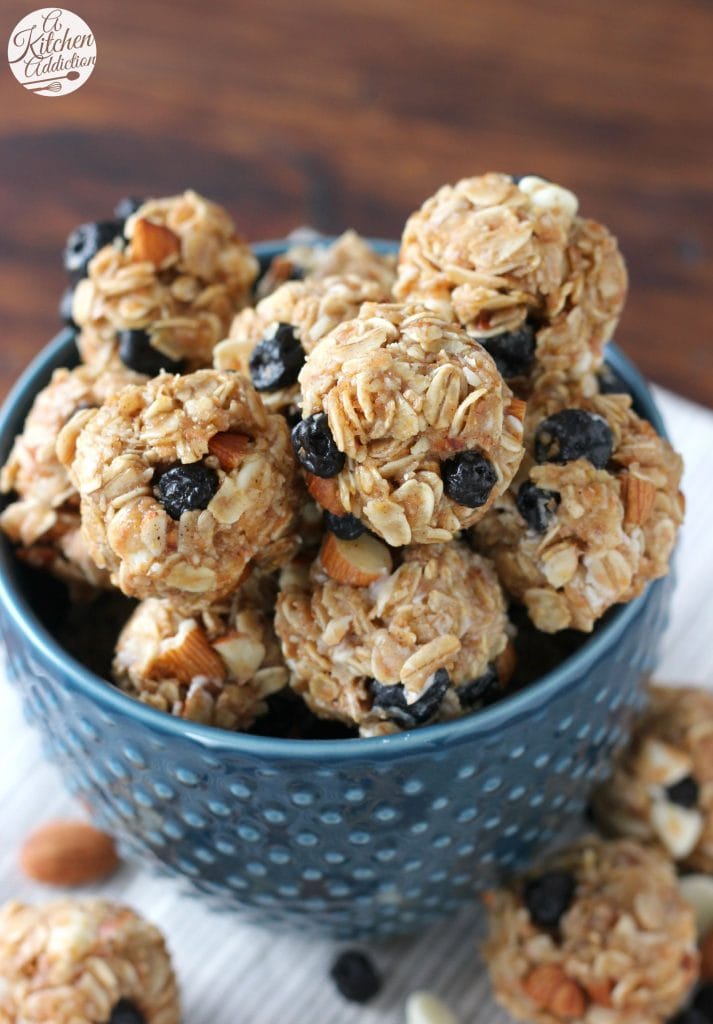 The dried blueberries and maple syrup combine with honey, white chocolate, chopped almonds, and a hint of cinnamon for a snack that inspires both thoughts of late summer and early fall.
Add to that some coconut oil to help hold them together along with some wholesome oats, oat bran, and flaxseed for a super easy way to enjoy a bit of sweetness when mid-afternoon hunger hits without going overboard with fat and sugar.
If you haven't given blueberry maple a try, you won't regret trying it for the first time in these granola bites!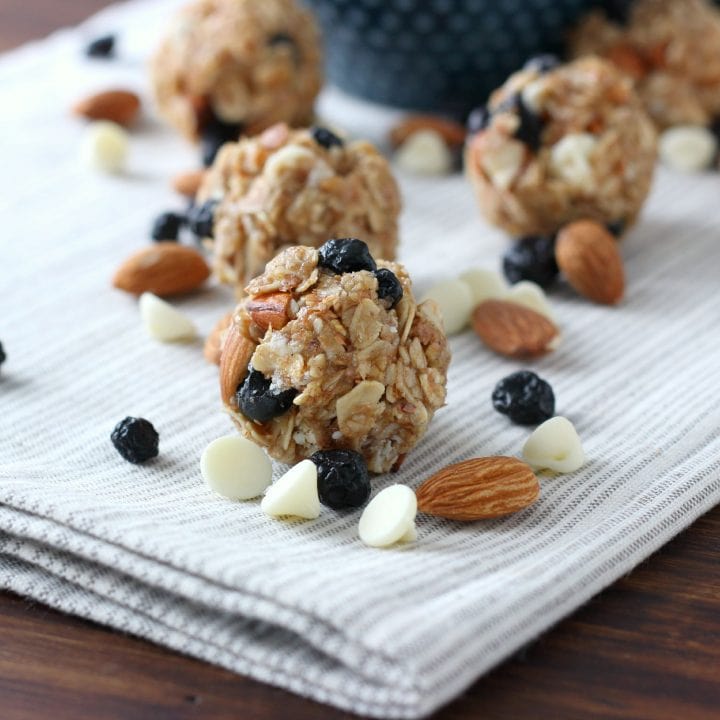 White Chocolate Blueberry Maple Granola Bites
Yield: 24 granola bites

Prep Time: 20 minutes

Refrigeration Time: 1 hour

Total Time: 1 hour 20 minutes
Ingredients
2 1/4 C regular oats
1/4 C oat bran
1/4 C ground flaxseed
1 tsp cinnamon
1/2 tsp salt
1/2 C honey
1/3 C maple syrup
1/4 C coconut oil
1 tsp vanilla extract
1/2 tsp maple extract
1/2 C dried blueberries
1/2 C white chocolate chips
1/2 C chopped almonds
Instructions
In a large bowl, stir together oats, oat bran, flaxseed, cinnamon, and salt.
In a small saucepan, heat together honey, maple syrup, coconut oil, vanilla extract, and maple extract over medium heat until coconut oil is melted. Bring to a boil, stirring constantly for 4 minutes. Remove from heat.
Pour over oat mixture. Stir until completely combined. Let sit for 5 minutes. Stir in dried blueberries, white chocolate chips, and chopped almonds. If you don't mind the white chocolate melting, form mixture into 1 inch balls. Or cover and place in refrigerator for 30 minutes to allow the white chocolate to harden and then form into 1 inch balls.
Refrigerate for 1 hour or until completely cooled and set.
Recommended Products
As an Amazon Associate and member of other affiliate programs, I earn from qualifying purchases.