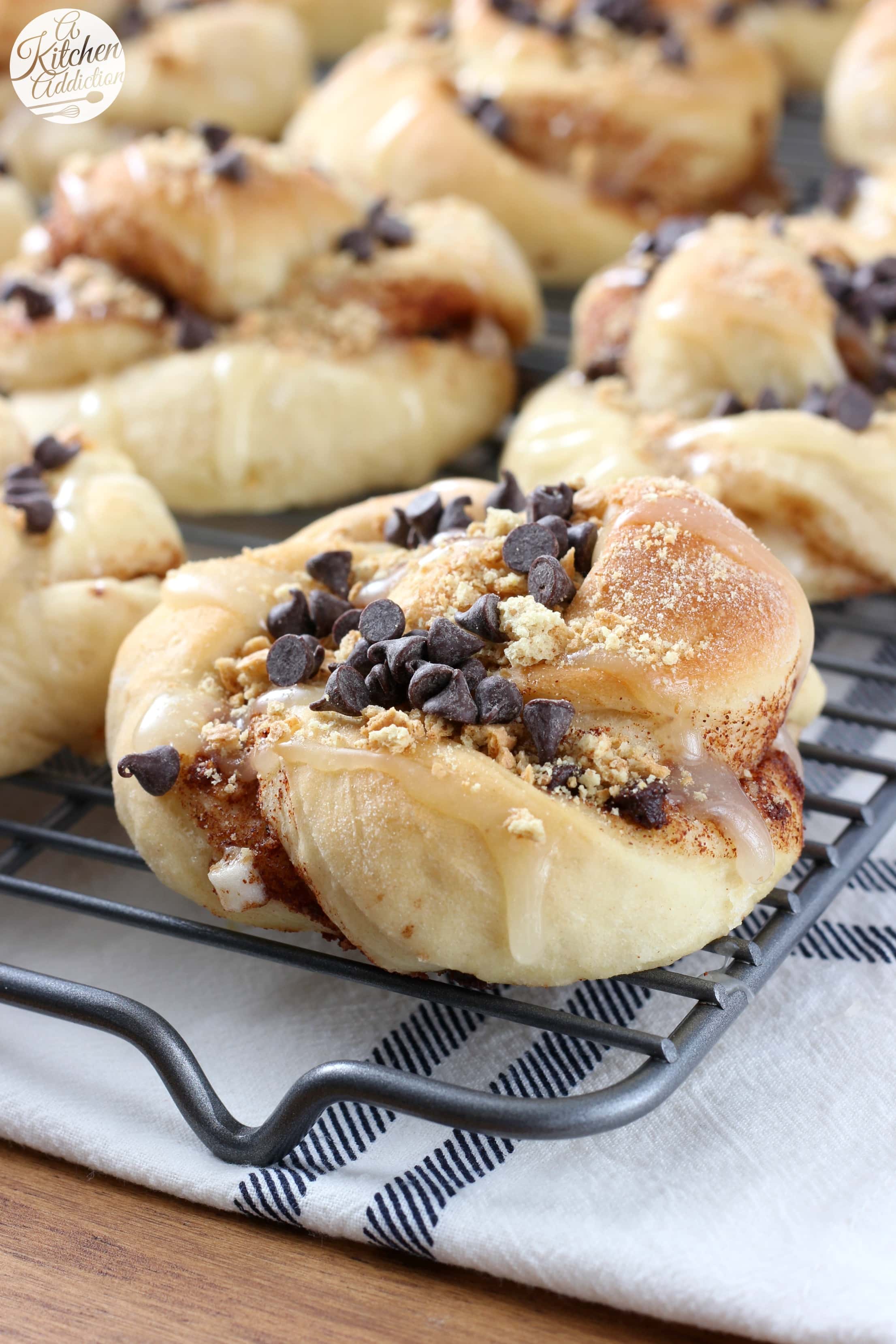 By now I'm sure that you've figured out how much we like all things s'mores! While we love the traditional way of making them over an open fire, we also enjoy them as snacks and in other desserts.
Really the only way we didn't eat them was for breakfast. That has all changed. Now we can all enjoy s'mores for breakfast with these s'mores cinnamon twists!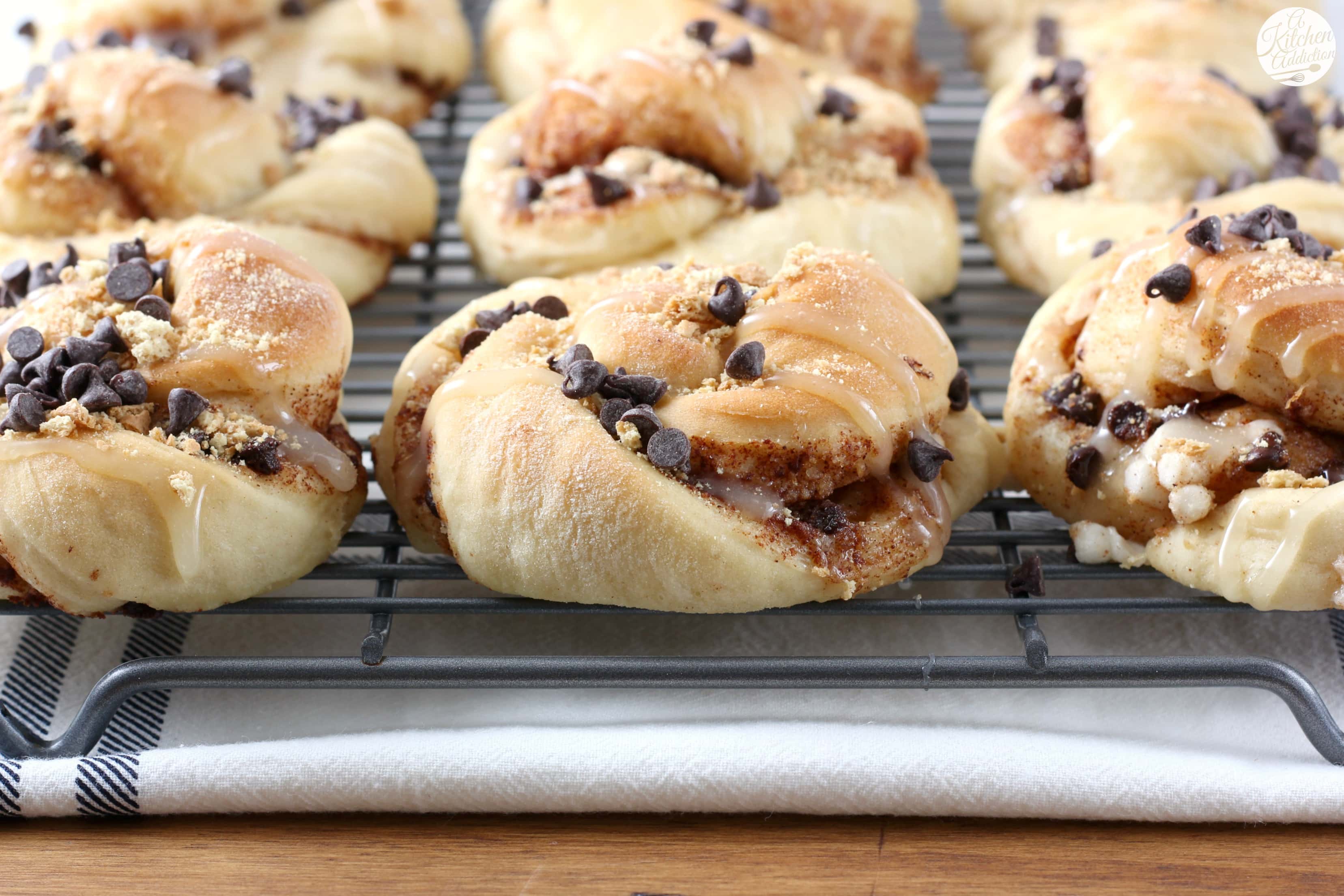 Soft, tender cinnamon twists are filled with graham cracker crumbs, mini chocolate chips, and marshmallow bits.
And while that would be good enough to eat as is, we've also added a simple marshmallow glaze that gets drizzled over the twists while they're still warm.
Top with a few more mini chocolate chips and a sprinkling of graham cracker crumbs for an even greater s'mores flavor!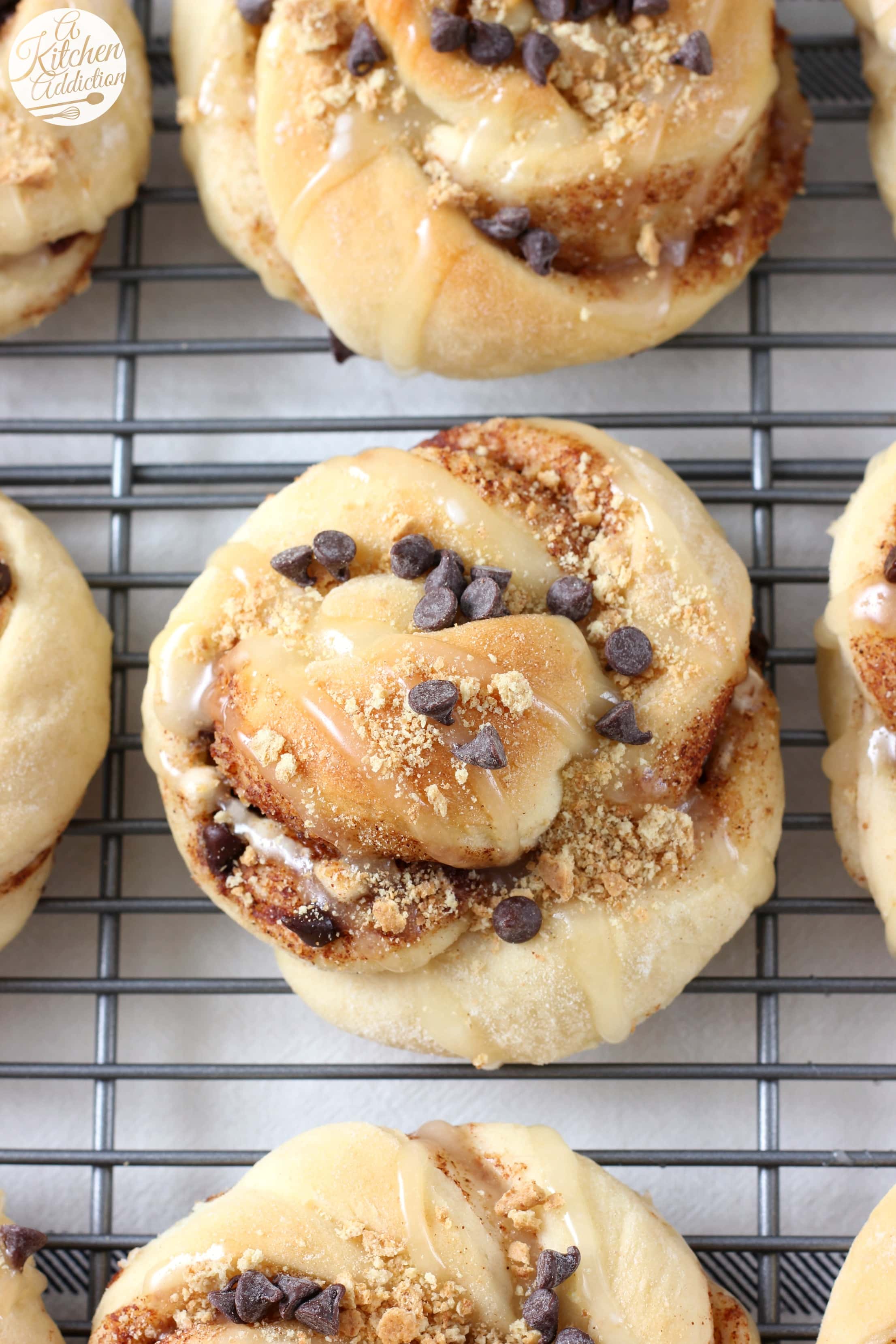 Don't let the the shape and longer instructions scare you. The actual process isn't that hard and the results are well worth the work!
The actual shaping of the twists is simple. All you have to do is take each of your dough ropes and give it a twist. Then you'll take the twist and form it into a spiral.
And that's it! Soon you'll be wondering why you haven't been having s'mores for breakfast more often.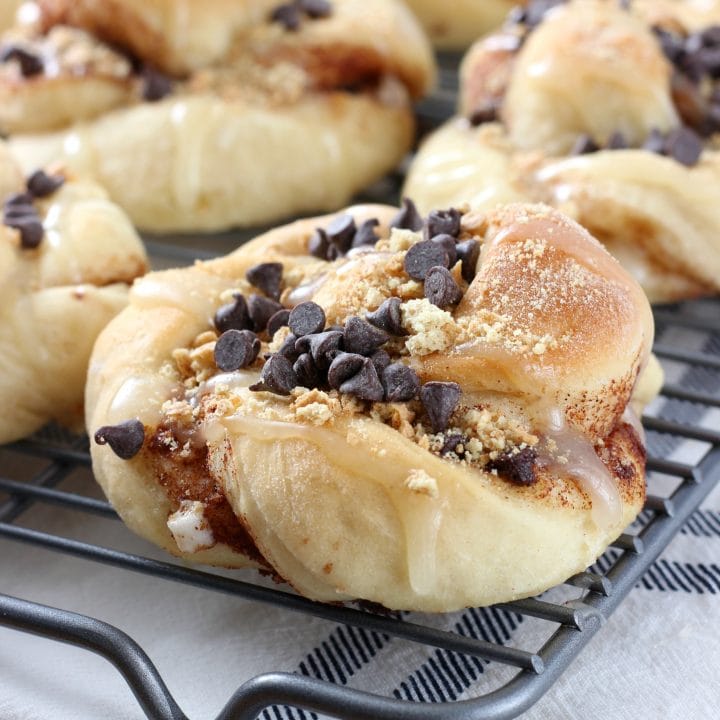 S'mores Cinnamon Twists
Rise Time:
1 hour
30 minutes
Total Time:
2 hours
27 minutes
Ingredients
For the Twists
3 C bread flour
2 1/2 tbsp sugar
3/4 tsp salt
2 1/4 tsp instant dry yeast (I used Red Star)
1 egg, room temperature
2 tbsp butter, melted and cooled
1 C milk, warmed to 120-130 degrees F
For the Filling
3 tbsp butter, softened
1 1/2 tbsp sugar
2 tsp cinnamon
2 tbsp graham cracker crumbs
2 tbsp marshmallow bits
2 tbsp mini chocolate chips
For the Glaze
1 tbsp butter
1½ tbsp water
½ C mini marshmallows
½ C confectioner's sugar
⅛ tsp salt
For the Topping
3 tbsp graham cracker crumbs
3 tbsp mini chocolate chips
Instructions
In the bowl of a stand mixer, beat together 2 cups flour, sugar, salt, and yeast. Add in egg, butter, and milk. Beat until just starting to combine. Add remaining cup flour.
Replace paddle attachment with dough hook and knead on medium speed for 5 minutes or until dough is smooth and starts to pull away from edges of bowl. Dough will be soft and somewhat sticky.
Transfer to a large bowl that has been greased. Roll dough around bowl to coat. Cover with a clean towel and allow to rise until doubled in size, about 45 minutes.
Turn dough out onto floured surface and punch down. Roll out into an approximate 12x10 inch rectangle. Spread dough with softened butter. Sprinkle with sugar and cinnamon. Top with graham cracker crumbs, marshmallow bits, and mini chocolate chips.
Gently fold dough in half width wise. Gently press dough down. This will help keep the filling in when twisting the dough. Cut dough into 12 strips. Twist each strip and shape each twist into a ring.
Place twists on a baking sheet lined with parchment paper or a baking mat. Cover with a clean towel and allow to rise for 30 minutes or until puffed.
Preheat oven to 375 while twists are rising.
Bake for 10-12 minutes or until twists just start to turn golden brown. Remove to a wire rack.
Whisk together confectioner's sugar and salt for glaze. Melt butter and water together over medium low heat. Add in marshmallows and stir until melted. Add to sugar mixture and whisk until combined and smooth. Drizzle over warm cinnamon twists. Top with graham cracker crumbs and mini chocolate chips. Allow glaze to harden and serve.
Recommended Products
As an Amazon Associate and member of other affiliate programs, I earn from qualifying purchases.