I am always looking for a healthy snack to have on hand. Those hunger attacks seem to sneak up on me at the most inconvenient times! So, I feel the need to be prepared. 🙂 I love granola because I can pack some in a bag and munch on it plain or pair it with yogurt. However, most granola is either high in sugar or fat, or both. This granola is perfect for me because it isn't high in either but it still have that nice sweet and nutty flavor that I love!
Fill some containers for the week.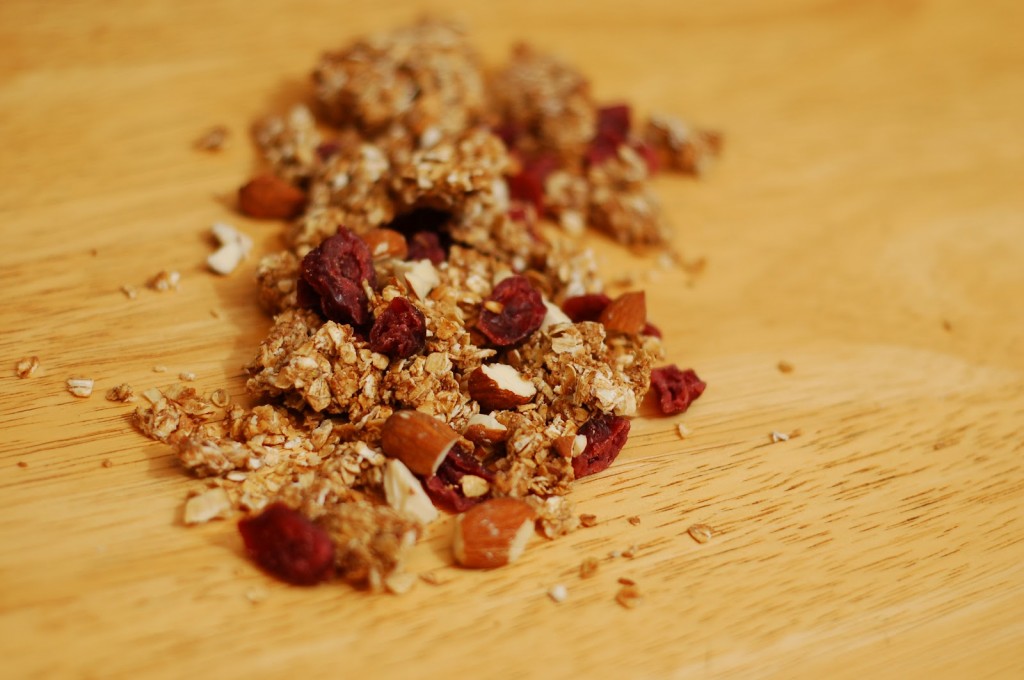 Some didn't make it into containers for the week. . .


Healthy Homemade GranolaPin It
Yield: about 5 cups
Ingredients:
4 cups of rolled oats
1/4 C flaxseed meal
2 tbsp honey
2 tbsp maple syrup
2 tbsp canola oil
4 tbsp water
1 tsp vanilla extract
1/4 tsp salt (optional)
1 C chopped almonds (I like to have my almonds chopped so that I get both big pieces and the fine crumbs that spreads out the flavor through the granola.)
2/3 dried fruit
Directions:
Preheat oven to 275
Mix the honey, syrup, oil, water, and vanilla together in a small bowl.
In a large bowl mix together the oats, flaxseed meal, and salt. Drizzle the wet ingredients over the oats mixture.
Stir until thoroughly combined. It works best to get your hands dirty and mix it making nice clumps. 🙂 If you want more chunks in your granola, you may need to add more water.
Spread mixture out on a large baking pan and place in the oven for about 2o minutes, stirring every 10 minutes so that it cooks evenly.
After 20 minutes, stir in the almonds and cook for another 15 minutes. Remove from oven and stir in dried fruit while granola is still warm.
Allow granola to cool completely and store in an airtight container. Enjoy plain, in yogurt, or with a splash of milk/non-dairy milk. 🙂