What is your idea of the perfect morning? Mine involves a freshly ground cup of coffee, sun streaming in the window, and a healthy home-baked item. In fact it kind of looks like this:
These scones have all of the flavor and texture of a full-fat, full-sugar bakery item. However, these are made out of whole wheat flour, yogurt, and little sugar making it possible to have the perfect morning more often. 🙂 Let's have another look: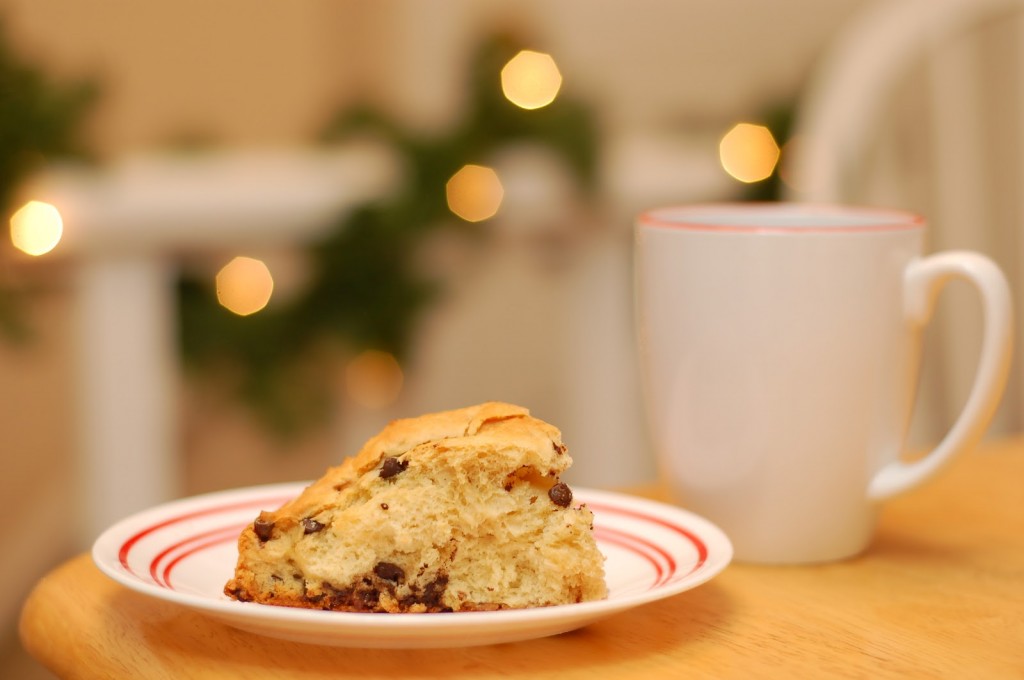 This recipe is stress free. Stick all of the ingredients in the food processor (Have I ever mentioned how much I love my food processor?!) and let it do the work for you! In 10-15 minutes you will be enjoying your own perfect start to the day. 🙂
Whole Wheat Mini Chip SconesPin It
Yield: 8 scones
Ingredients:
2 1/2 C White Whole Wheat Flour
1/2 tsp salt
1/4 C sugar
1/4 C sugar substitute
1 tbsp baking powder
1 tsp baking soda
6 tbsp cold, unsalted butter, cut into small pieces
1 egg beaten
1 C low-fat plain Greek yogurt
2 tbsp fat-free milk (If you are substituting all-purpose flour for the whole wheat, do not add the milk. The whole flour requires more liquid.)
1 tbsp pure vanilla extract
1/2 C mini chocolate chips
Directions
Preheat oven to 425
In a food processor, mix together the flour, salt, powder, soda, and sugar.
Add the butter and pulse until dough resembles a course meal.
Add the egg, yogurt, milk, and vanilla. Mix until a dough ball forms. If your batter is still dry, add another tablespoon of milk.
Remove from food processor onto a floured surface. Knead in the chocolate chips. You may need to add more flour if your dough is really sticky.
Flatten the dough into roughly an 8-inch round. Use a sharp knife to cut into 8 pieces.
Arrange on a cookie sheet lined with parchment paper.
Bake for 10-15 minutes or until the scones puff and turn light brown.
Cool on a wire rack for 5 minutes. Best served warm.