It's the first official game of spring training for the Minnesota Twins! In honor of such an important day, I have made ice cream, a food that reminds me of being at the games. I know that ice cream probably isn't the first food that pops into your head when thinking of baseball, but for me ice cream is the food. Why? Because ice cream just tastes SO good in those cool little plastic helmets cups! 🙂 You know the little helmets that have your team's logo on it?
This ice cream, however, is much healthier than the kind you get at the ballpark! Made with bananas, this "ice cream" is non-dairy, gluten free, low fat, low sugar, and vegan. If baseball memories aren't enough to get you to try it, maybe the fact that it's ridiculously easy and healthy will! 🙂
Whip it before freezing to give it a lighter texture.

Ridiculously Easy Ice Cream
Pin It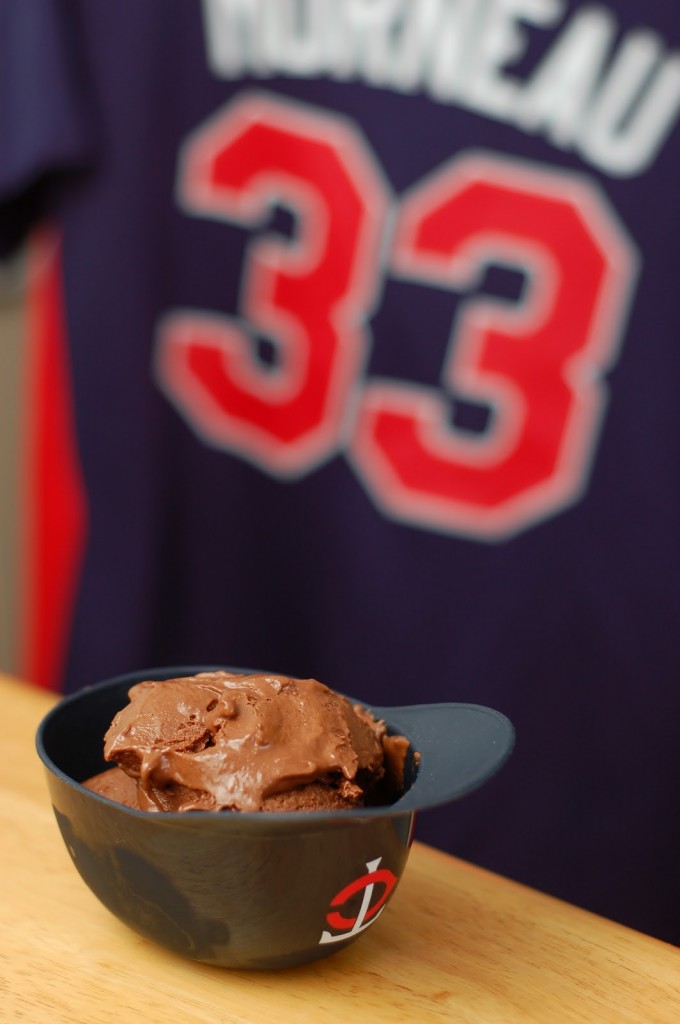 Ingredients:
3 bananas, sliced and frozen (slice before freezing in order to make it much easier for yourself)
4 tbsp unsweetened cocoa powder
4 tbsp creamy peanut butter
2 tsp vanilla extract
agave nectar to taste or other sweetener
Directions:
Place all ingredients in a food processor. Pulse until smooth.
Bananas may become crumbly depending on how frozen they are. Scrape down sides and continue to blend until mixture smooths out.
Once mixture is smooth, scrape into another bowl. Using a hand mixer, beat until mixture starts to appear fluffy.
Put mixture into plastic container and freeze for two hours. (If you just can't wait and don't mind a pudding-like texture, you can eat right away.)
Enjoy and cheer on your favorite baseball team!