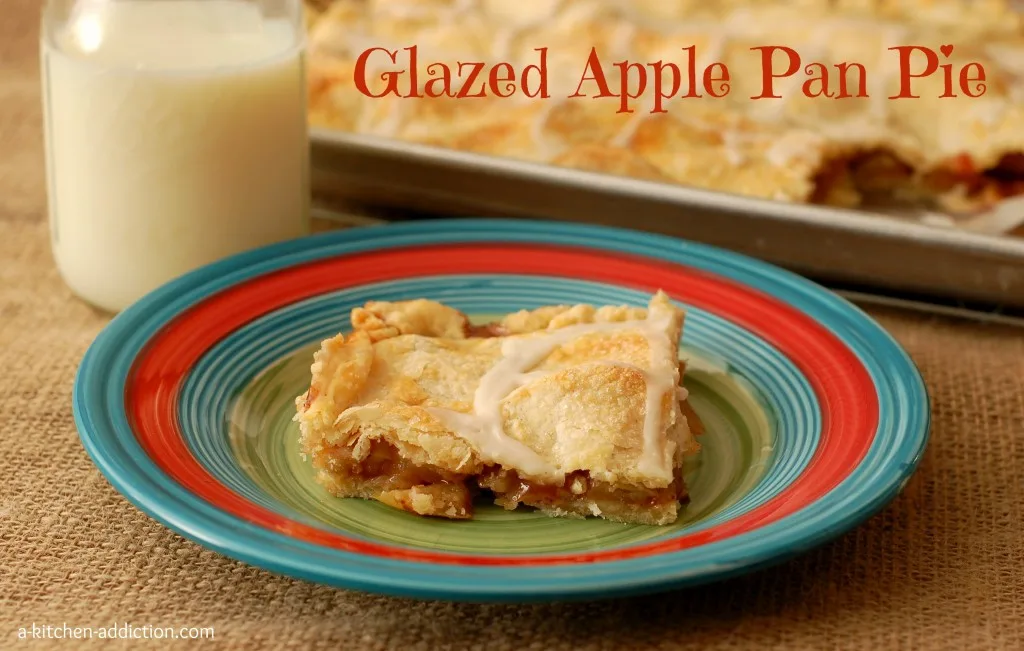 Ever since the first of November rolled around I have been thinking about Thanksgiving and menu planning. Oh, and I've even thought about Christmas goodies, yes I know, it's over a month away. There's just something about the first of November that makes me start thinking about all of the good food I can cook and bake over the coming weeks!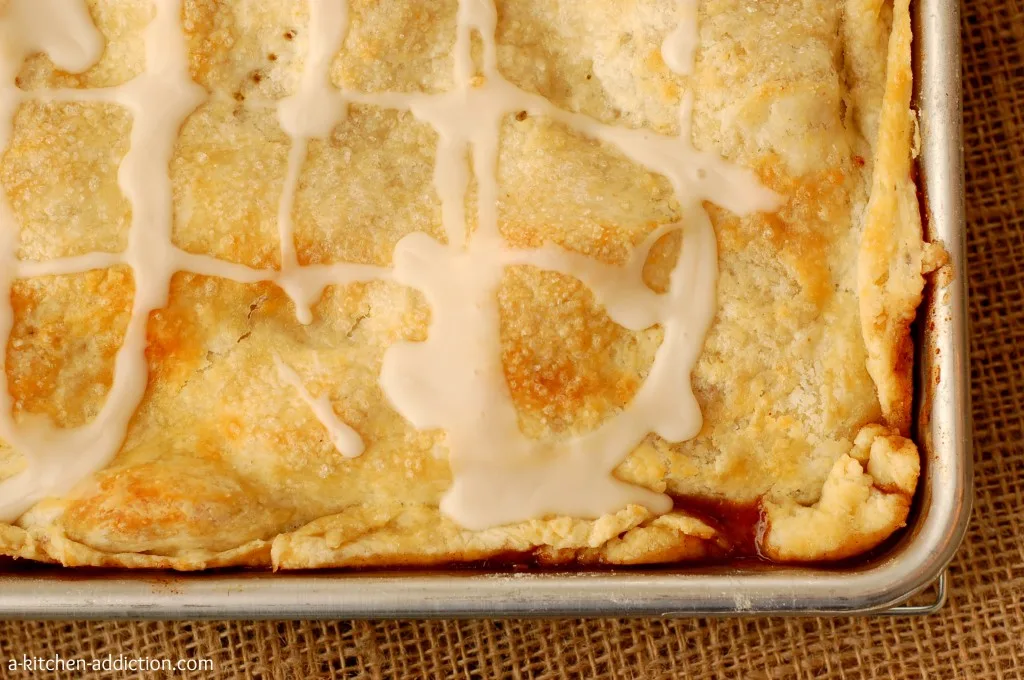 One of my favorite Thanksgiving foods is plain ole' apple pie. I've always liked it and often requested it for my birthday growing up. This pan pie is a play off of a favorite traditional. Two layers of buttery, flaky crust encasing a layer of tart and spicy apples. Using more brown sugar than white sugar gives the filling a hint of caramel taste. All of this is topped with a light vanilla infused glaze that is sweet enough to make this pie stand alone with no need for whipped topping or ice cream. Though ice cream is rarely a bad thing! 🙂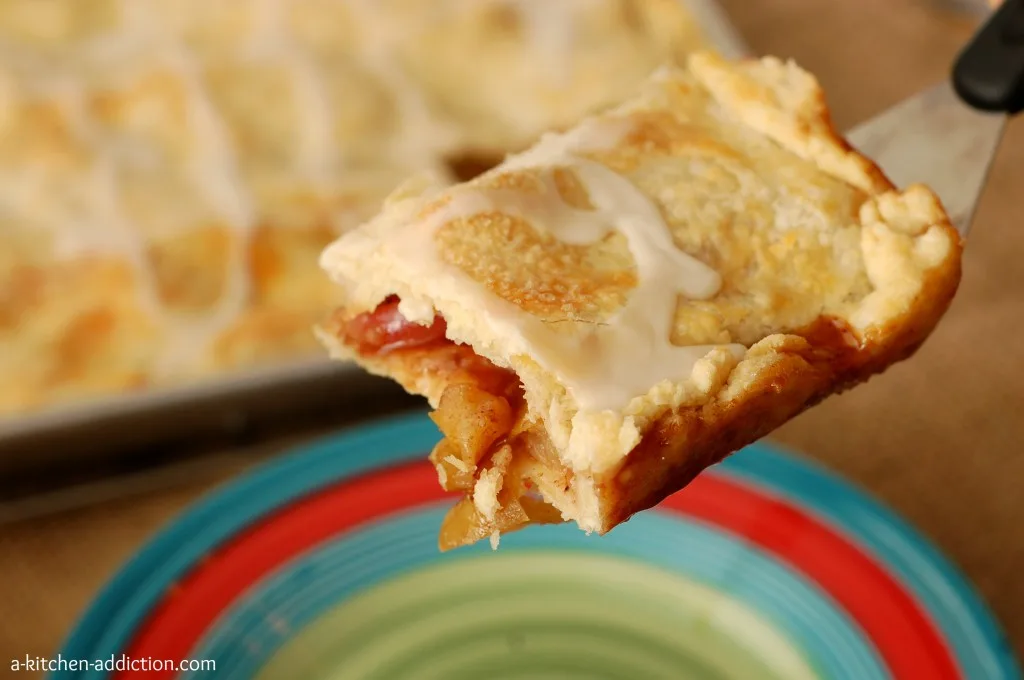 This pie is perfect for feeding a large group of people. You can go through the same amount of work as a regular pie and feed almost twice as many people. Also, this recipe doubles well to fit a 15 x 10 x 1 baking sheet. If you're looking for a way to reduce the stress and work of a get together, give this pie a try!
Glazed Apple Pan Pie
Yield: 12 servings
Ingredients
For the Crust
2 1/2 C all-purpose flour
1 tbsp sugar
1/4 tsp baking powder
1/2 C non-salted butter, cold
1 egg, lightly beaten
1/3 + 1/4 C water, as needed to form dough
1 tbsp milk
For the Filling
6 1/2 C thinly sliced apples
2 tbsp lemon juice
1/2 tbsp vanilla extract
1/2 C brown sugar
1/4 C sugar
1 1/2 tsp cinnamon
1/2 tsp nutmeg
1/4 tsp allspice
1/4 tsp ginger
For the Glaze
1/4 C confectioner's sugar
1/2 tbsp water
1/8 tsp vanilla extract
Directions
Preheat oven to 375.
In a large bowl, combine apples, lemon juice, vanilla, sugars, cinnamon, nutmeg, allspice, and ginger. Set aside.
Stir together flour, sugar, salt, and baking soda in another large bowl. Cut in butter with a pastry blender or two forks until mixture resembles coarse crumbs. Add in 1/3 cup water and egg. Toss with a fork just until dough forms a ball. Add additional 1/4 cup water as needed to make dough come together.
Divide dough in half. Roll out one half to fit the bottom and sides of a quarter-sized sheet pan (about a 9×13 ). Press dough into the bottom of pan.
Spread apples and juices that have formed over the top. Roll out the other half of the dough to fit over the top and place over the filling. Crimp edges. Brush with milk and sprinkle with coarse sugar.
Bake for 40-45 minutes or until golden brown and filling bubbles.
Remove pan to a wire rack to cool for ten minutes.
Combine glaze ingredients and drizzle glaze over the top.
Serve warm.
Store leftovers in the refrigerator.
This recipe is linked with Cast Party Wednesday, Crazy Sweet Tuesday, Tastetastic Thursday, Trick or Treat Tuesday, Weekend Potluck.
This recipe is linked with Crazy for Crust's Pi Day Party.