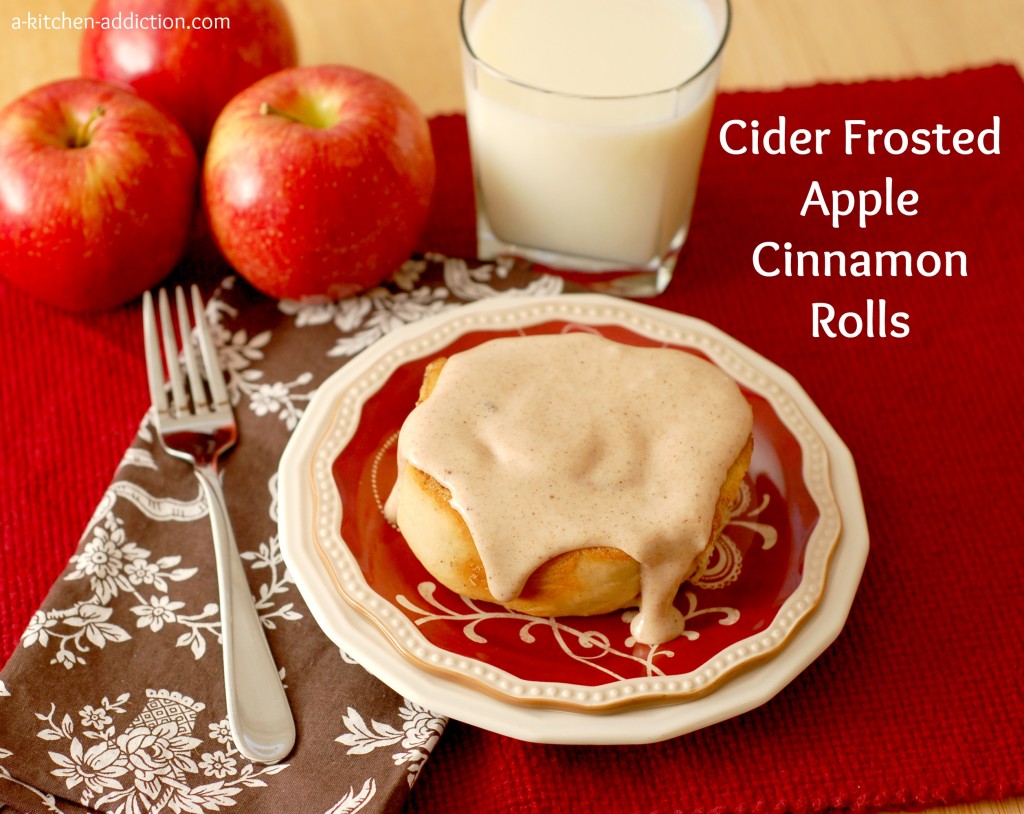 Sorry for my lack of posting, commenting, etc. the end of last week. I promise to get caught up soon! I was busy coughing my way through a bottle of cold medicine, a family size bag of cough drops, a box of tea, and two boxes of ultra-soft tissues. I didn't trust my brain to think of anything coherent while in my cold medicine fog! Can I just say that ultra-soft tissues are the way to go?! It's amazing how much better a raw nose feels when it uses a thicker, softer tissue than just a regular one! 🙂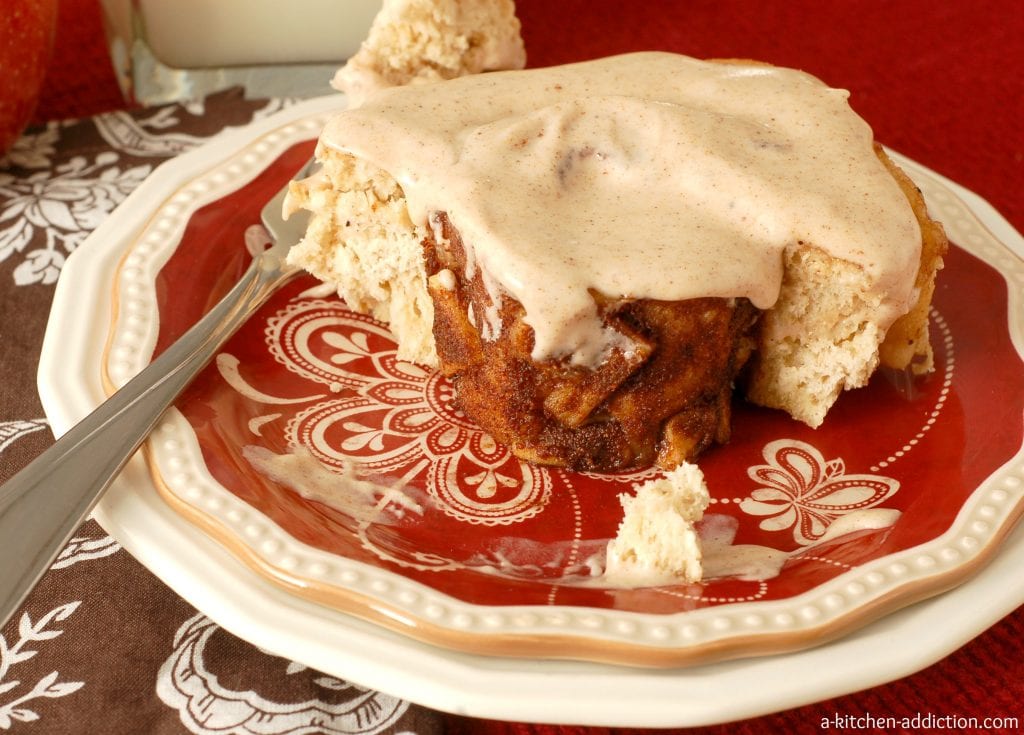 Anyways, you didn't come here to hear about what works and what doesn't when it comes to having cold/sinus infection/whatever it was I had! You came to hear about these fall flavored cinnamon rolls! 🙂 I really only ever use one recipe for cinnamon rolls at my house and then just mix up the filling and frosting. That is what I did with these. The rolls have a hint of apple pie spice in them, and the filling is packed with spices, brown sugar, and apples!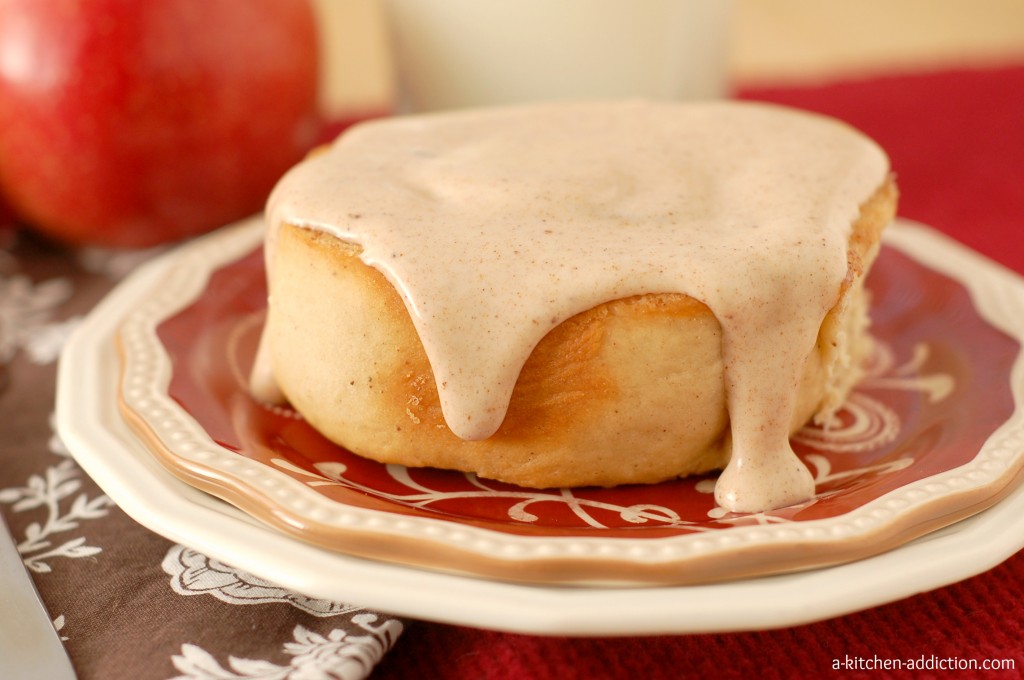 Cover them in a cream cheese frosting infused with apple cider and more apple pie spices and you have a warm, cozy fall breakfast that makes getting up in the morning just a little easier!
Apple Cinnamon Rolls with Cider Cream Cheese Frosting
Yield: 12 rolls
Ingredients
For the Rolls
1 C warm non-fat milk (about 110 F)
2 eggs, room temperature
1/3 C butter, melted
2 C white whole wheat flour
2 1/2 C all-purpose flour
1 tsp salt
1 tsp cinnamon
1/2 tsp nutmeg
1/4 tsp allspice
1/4 tsp ginger
1/2 C sugar
2 3/4 tsp instant dry yeast
For the Filling
1/4 C butter, softened
1/2 C brown sugar
1/4 C sugar
1 tbsp cinnamon
2 tsp nutmeg
1 1/2 tsp ginger
1 tsp allspice
1 1/2 C chopped apples or about 1 large apple
For the Frosting
8 oz 1/3 of the fat cream cheese
1/4 C butter, softened
1/8 tsp salt
1 1/2 tsp cinnamon
1 tsp nutmeg
1/2 tsp allspice
1/2 tsp ginger
2/3 C apple cider
1 1/3 C confectioner's (add more if you prefer a thick frosting)
Directions
Place ingredients for ROLLS in bread pan according to manufacturer's instructions. Select dough cycle and start.
After dough cycle has completed of dough has doubled in size, turn dough out onto well-floured surface. Cover with a clean towel and let rest of 10 minutes. If you machine has this built into the cycle, you can skip this step.
Roll dough into a 16×22 inch rectangle. Spread dough with softened butter. Sprinkle with sugars and spices. Spread chopped apples evenly over top. Roll dough up length-wise and cut into 12 rolls.
Place rolls in a lightly greased 9×13 pan. Cover and let rise for 45 minutes or until doubled in size. Meanwhile, preheat oven to 400. (If you plan on making these the next morning, place covered rolls in the refrigerator after allow them to rise. The next morning, place rolls in a cold oven and preheat oven to 400. When oven has preheated, bake for 12 minutes or until light golden brown.)
Bake rolls for 15 minutes or until light golden brown. Remove rolls to a wire rack to cool.
While rolls are baking, prepare frosting. Beat together cream cheese and butter until smooth. Add in salt and spices and beat until combined. Slowly add in apple cider and confectioner's sugar and beat until smooth. Frosting will be somewhat runny. If you prefer a thicker frosting, you will want to add more confectioner's sugar.
Frost rolls while still slightly warm.
Store leftovers in the refrigerator.
This recipe is linked with Back for Seconds Link Party, Cast Party Wednesday, Crazy Sweet Tuesday, Totally Tasty Tuesday, Trick of Treat Tuesday, Tuesday Talent Show, Wednesday Extravaganza, Weekend Potluck, Wonderful Food Wednesday.