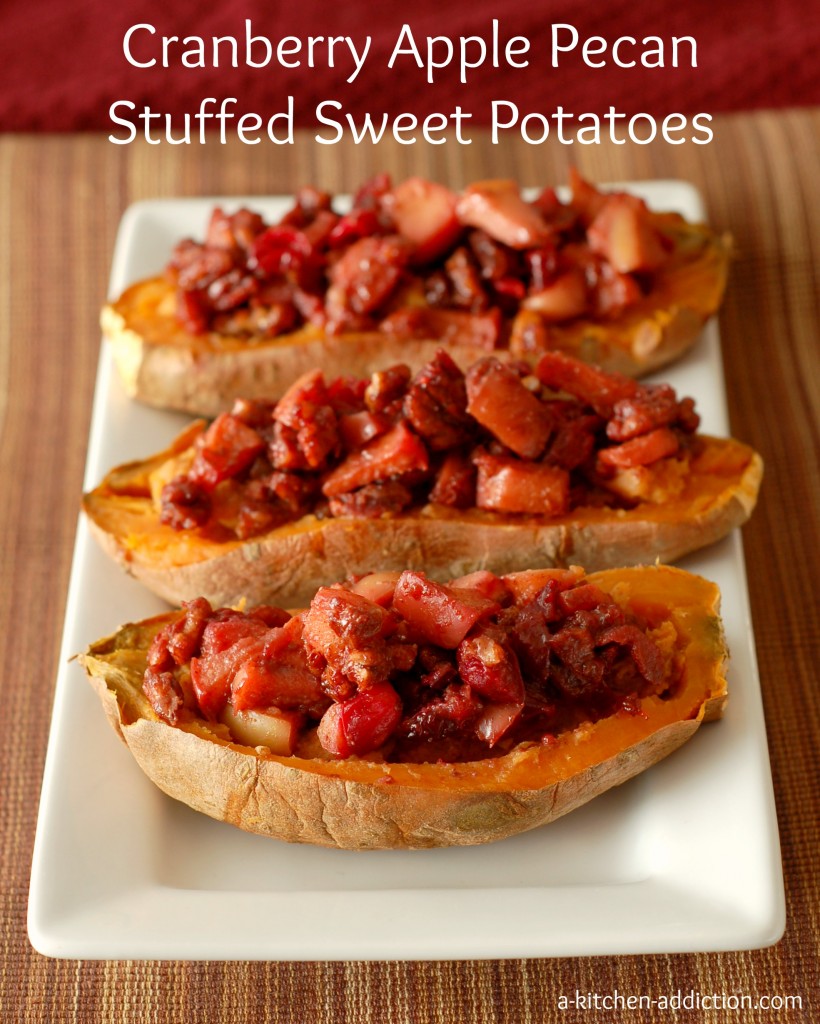 I noticed that I seem to have an apple week going on here! In keeping with this week's unofficial apple theme and the fact that Thanksgiving is right around the corner, I thought I would share this easy recipe for cranberry apple pecan stuffed sweet potatoes. It's kind of a mouthful to say, but all of the main ingredients play a key role in the overall flavor of these sweet potatoes.
I'm not a fan of the traditional sugar laden Thanksgiving sweet potato dishes. I actually like the taste of sweet potatoes and don't need them to be drowned in brown sugar and marshmallows. So with these sweet potatoes, I let the actual flavor of them and the fruit stand out. I added just a hint of honey, cinnamon, and ginger to help accent the flavors and tie in the nuttiness of the pecans.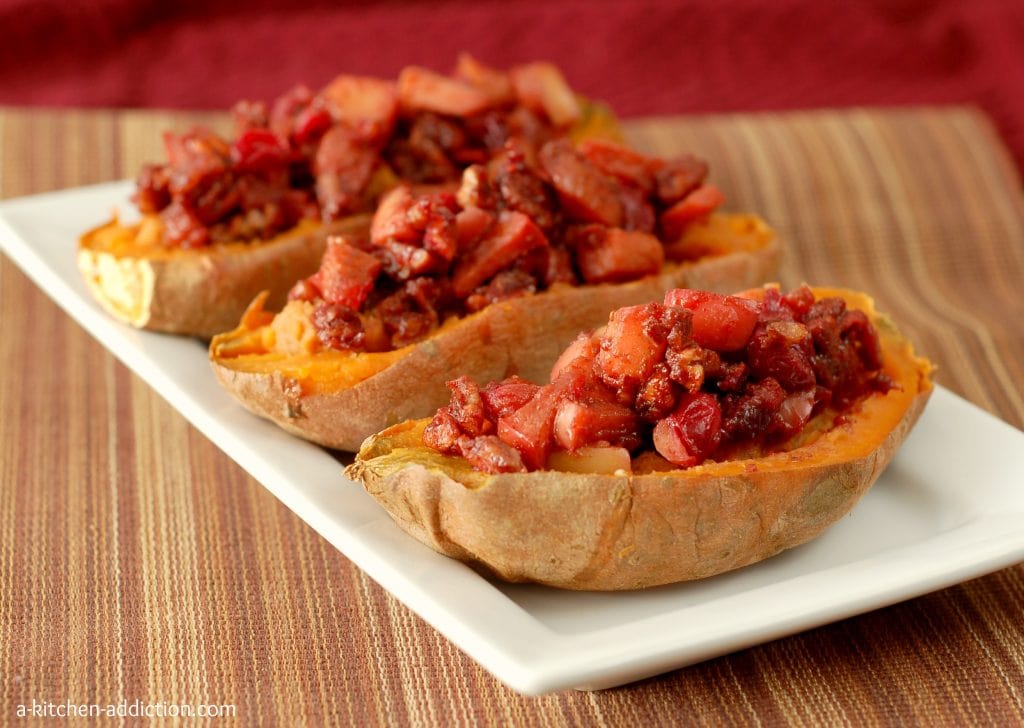 Oh, and I mentioned above that these are easy. . .they really are! If you don't have time to cook the sweet potatoes in the oven, pop them in the microwave. The filling only takes 10 minutes and can be made ahead of time and stored in the refrigerator if you want to wait to assemble the potatoes.
Have a great weekend!
Cranberry Apple Pecan Sweet Potatoes
Yield: 4 servings
Ingredients
2 medium sweet potatoes, scrubbed clean
1/8 tsp salt
1 + 1/2 tsp cinnamon, divided
1/2 tsp allspice
1/2 tsp ginger, divided
1 tbsp butter
1/2 tbsp milk
1 C chopped apples
1/2 C chopped fresh cranberries
1/4 C chopped pecans
1 tbsp honey
Directions
Preheat oven to 375. Pierce sweet potatoes several times with a fork. Place on a baking sheet and bake for 50-55 minutes or until tender.
Remove baking sheet to a wire rack to cool slightly in order to handle.
While sweet potatoes are cooling, prepare filling. Add the apples, cranberries, and butter to a small skillet. Cook over medium heat for 5-7 minutes or until apples start to brown and become tender. Stir in the chopped pecans, 1/2 teaspoon cinnamon, 1/4 tsp ginger, and honey. Cook for another 5 minutes. Remove from heat.
When the potatoes are cool enough to handle, cut each sweet potato in half length-wise. Scoop out the inside of each half into a bowl leaving about 1/4 inch along the edges.
Mash sweet potatoes with salt, 1 teaspoon cinnamon, 1/4 tsp ginger, butter, and milk until smooth. Scoop mashed potato back into potato skins dividing it evenly into the four.
Top each of the four potato skins with the cranberry apple mixture.
Return potato skins back to the oven for 10 minutes or until heated thoroughly.
Serve warm.
This recipe is linked with Thanksgiving Blog Hop.