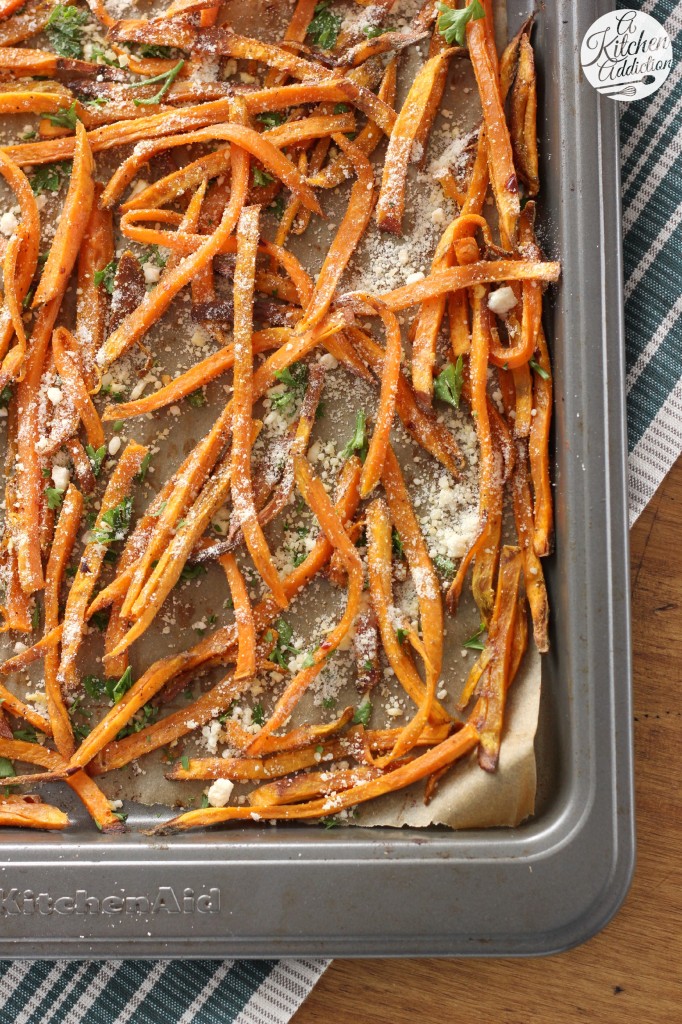 Sweet potato fries. Do I even need to describe how good they are? Slightly sweet, a little salty, nice and crispy. . .all wrapped up in a fry.
Nine times out of ten (okay, more like 10 out of 10), if we're at a restaurant where sweet potato fries are an option, one of us will get them.
Sometimes they come with a light coating of brown sugar, sometimes they're spicy, it doesn't matter. We like them!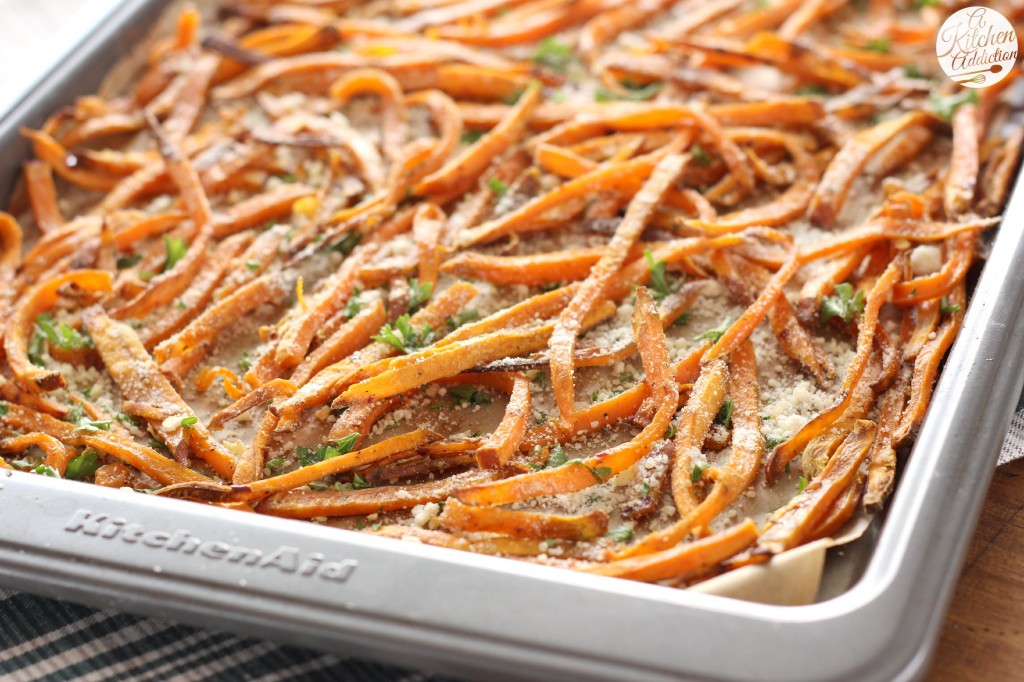 Sadly, there are only two recipes for sweet potato fries on the blog. Until now, now there are three! And these garlic and herb sweet potato fries definitely need to be shared.
Crispy, garlicky, herby, and cheesy. These sweet potato fries will give your favorites a run for their money!
We tend to like our sweet potato fries with a bit of spice, as in these buffalo sweet potato fries. However, the garlic and herb combination may become my new favorite.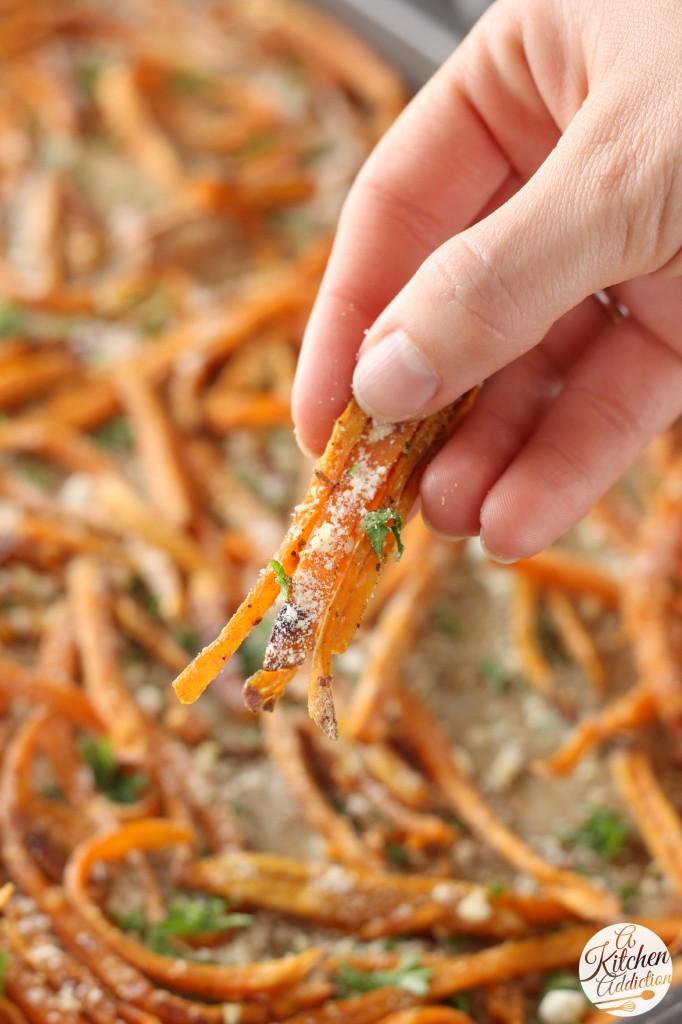 The fries start out with a coating of onion powder, salt, pepper, thyme, and crushed red pepper flakes. At the very end they are tossed with fresh garlic, parsley, and grated parmesan.
The combination is one that proved to be irresistible for us, and I think it will be for you, too!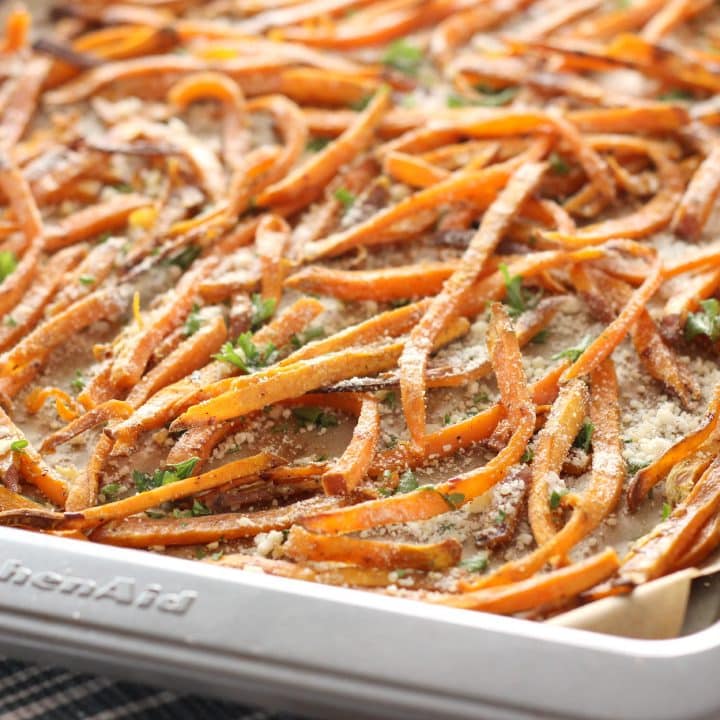 Garlic and Herb Sweet Potato Fries
Ingredients
3 sweet potatoes, peeled and sliced into thin, even strips
2 tbsp olive oil
2 tbsp corn starch
1 tsp onion powder
1/2 salt
1/4 tsp pepper
1/4 tsp dried thyme
1/8 tsp red pepper flakes
3 cloves garlic, minced
2 tbsp fresh parsley, chopped
3 tbsp grated parmesan cheese
Instructions
Preheat oven to 400. Line a baking sheet with parchment paper or a baking mat.
In a small bowl, whisk together cornstarch, onion powder, salt, pepper, dried thyme, and red pepper flakes.
In a large bowl, toss sliced sweet potatoes with olive oil. Sprinkle with cornstarch mixture and toss to coat. Spread in an even layer on prepared baking sheet.
Bake for 20-30 minutes or until golden brown. (The time may vary depending on how thin you slice your fries) Remove from oven and stir in garlic, parsley, and parmesan cheese.
Serve immediately.
Recommended Products
As an Amazon Associate and member of other affiliate programs, I earn from qualifying purchases.