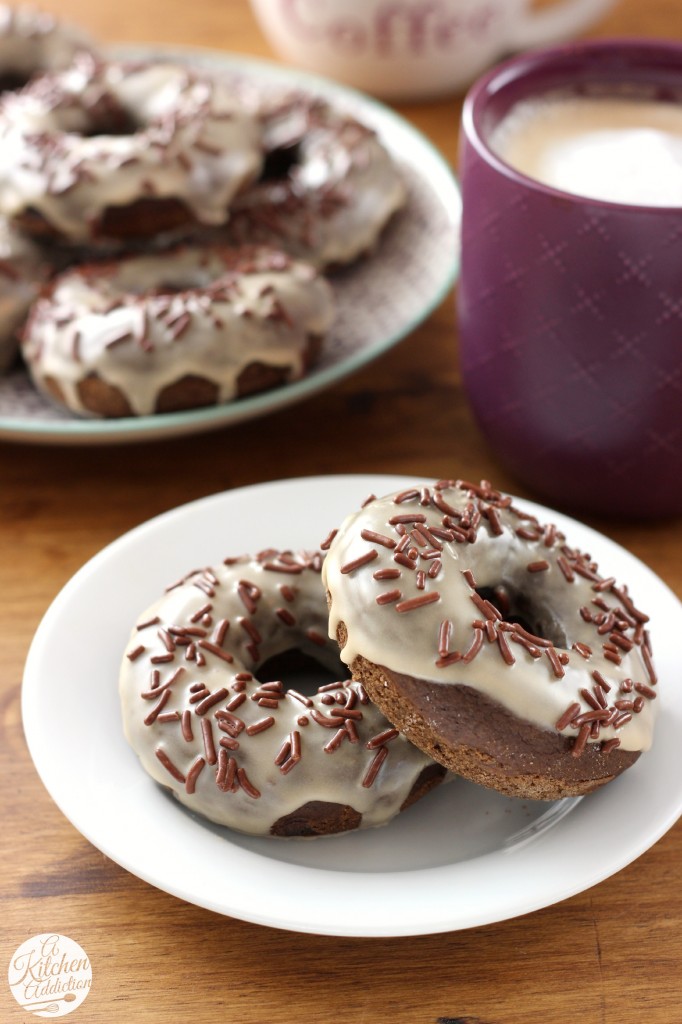 It's National Coffee Day! I have to share my enthusiasm with you, because my husband doesn't like coffee. And he thinks that such a day shouldn't be celebrated.
It's no surprise to you that I like coffee. I mention it frequently. However, I don't have many coffee drinks or baked goods on the blog. Mainly because of the aforementioned husband!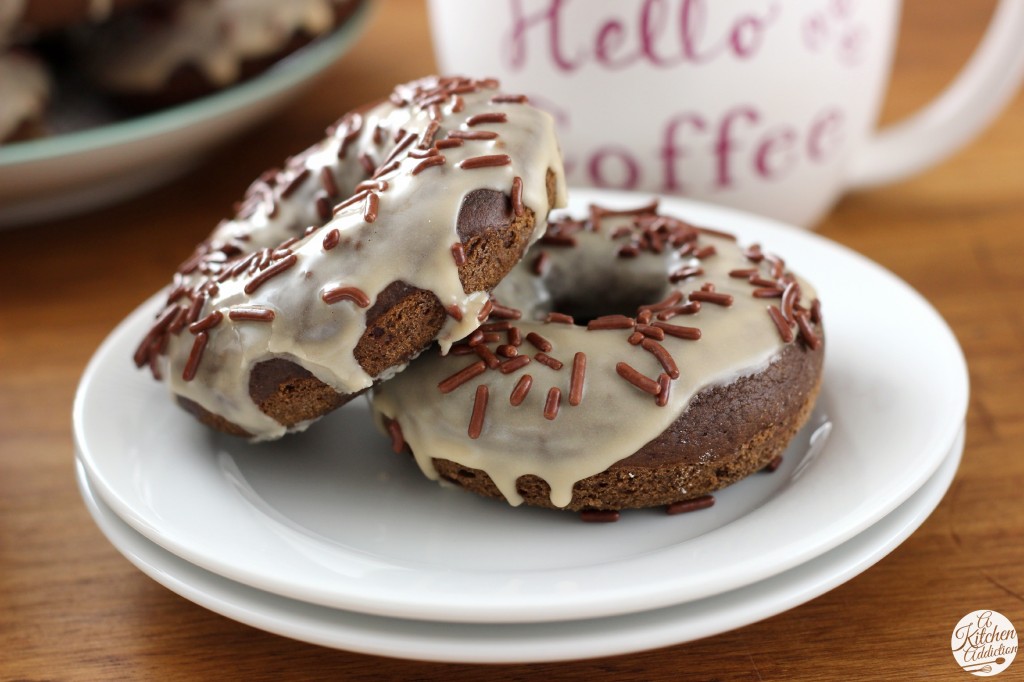 If I make something, I either have to pawn it off on someone or eat it all myself. Not that I mind eating delicious food, I just shouldn't be eating entire batches of donuts, cookies, etc.!
Conveniently for me, we took a trip up to my parents the day I made these mocha chip donuts. I got to enjoy some, and then I could share them with my family.
Since these donuts were made in honor of National Coffee Day, it only seemed right to load them up with coffee.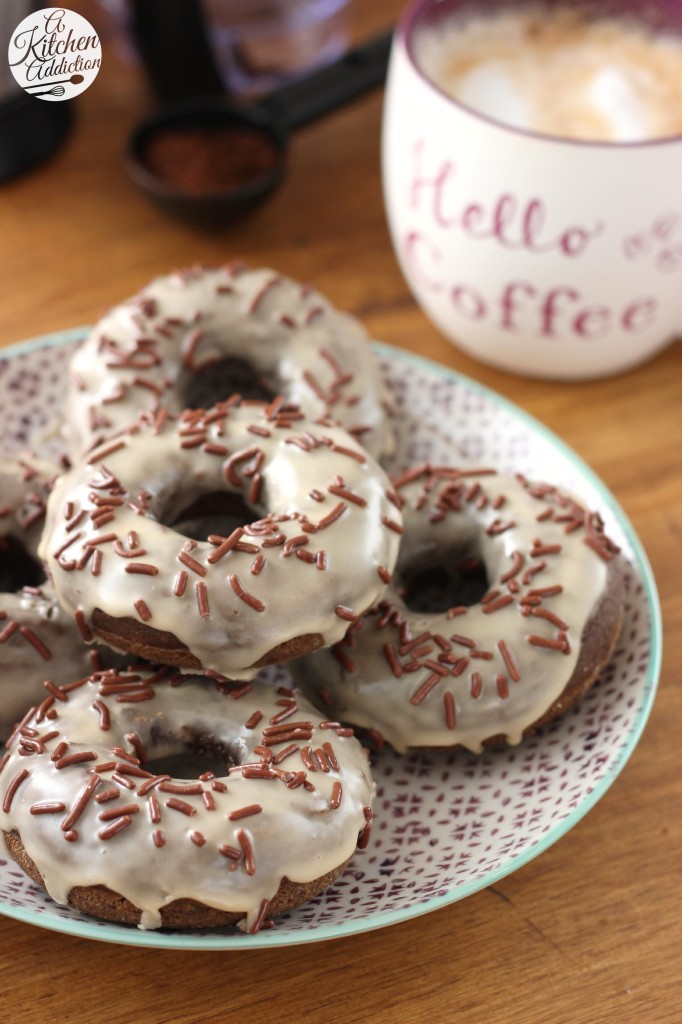 Mochas are some of my favorite drinks to get when I want something more than plain coffee, so I figured I should make that chocolate and coffee flavor into a donut.
The donut itself has coffee, cocoa powder, and chocolate chips in it while the glaze is made with more coffee and the sprinkles are chocolate! Perfect for enjoying with your favorite coffee drink!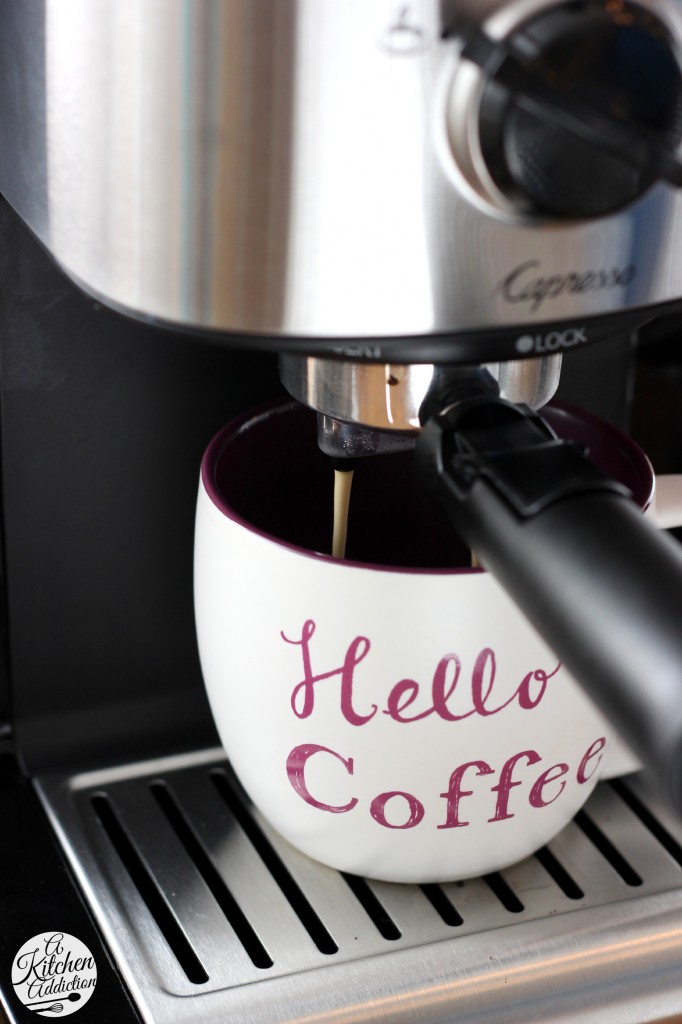 See that espresso machine above? Thanks to Staples, I'm giving away three (3) of those machines, along with a bunch of other goodies, on twitter today! Join me for Pick Me Up Hours at 8am, 12pm, and 2pm (CST), for a chance to win an espresso machine of your own!
I will be tweeting out a prompt at the beginning of each hour and you will have one hour to enter. You may enter all three hours, however, you may only win once. Good luck!!
Mocha Chip Donuts
Author:
Ingredients
For the Donuts
1 C white whole wheat flour
3 tbsp unsweetened cocoa powder
1 tsp baking powder
1/4 tsp baking soda
1/4 tsp salt
1/3 C sugar
1 egg
1/3 C milk
1/4 C strongly brewed coffee, cooled
1 1/2 tsp vanilla extract
3 tbsp butter, melted
1/4 C chocolate chips
For the Glaze
1 C confectioner's sugar
1 tbsp strongly brewed coffee
1/2 tbsp milk
1/4 tsp vanilla extract
Instructions
Preheat oven to 350. Spray a donut pan with non-stick cooking spray.
In a medium bowl, whisk together flour, cocoa powder, baking powder, baking soda, salt, and sugar.
In a small bowl, whisk together egg, milk, coffee, vanilla extract, and butter. Add wet ingredients to dry ingredients and stir until just combined. Stir in chocolate chips.
Transfer to a pastry bag or plastic bag with corner cut off. Pipe batter into donut pan filling each cavity about 2/3 full.
Bake for 8 minutes. Transfer to a wire rack to cool.
While donuts are cooling, stir together all ingredients for the glaze. You may need to add up to another 1/2 teaspoon of milk to reach desired consistency. Dip the tops of the donuts into glaze.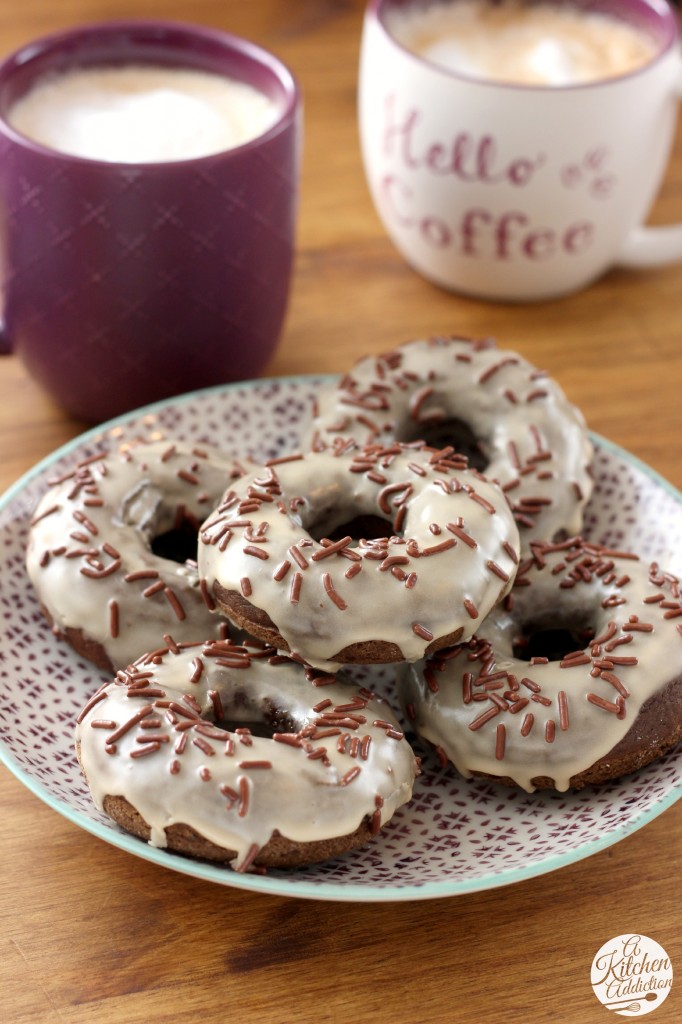 Disclaimer: I was not compensated for this post. I received product from Staples to help with the recipe development of this post. All opinions are my own.