With the classic crusty outside and the soft, chewy inside, this French Toast English Muffin Bread is sweetened with maple syrup and is swirled with streusel pieces! Soon to become your new morning favorite!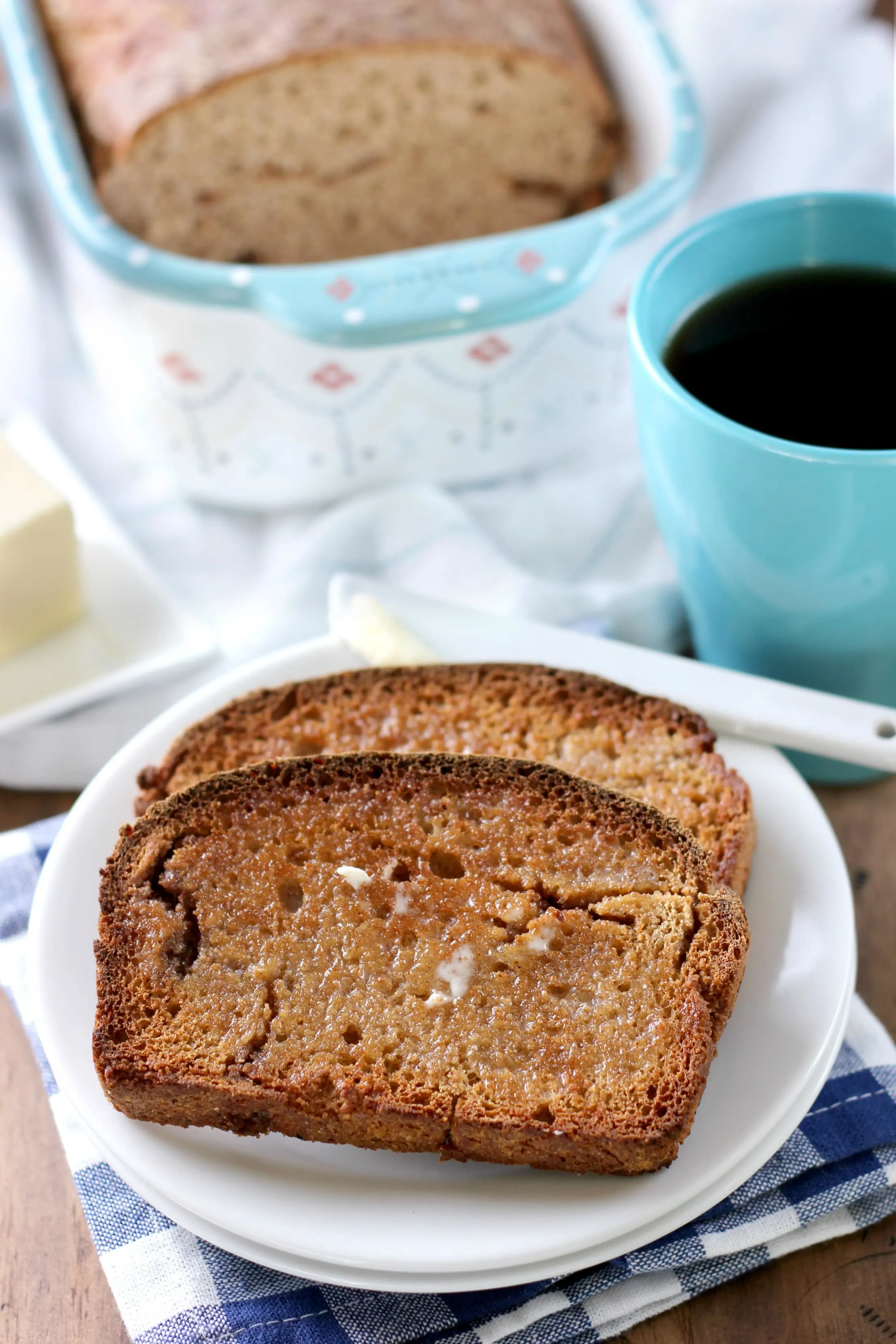 Do you have a morning go-to? Oatmeal, cereal, granola bar? Well, for me, it's toast. I could eat toast every morning. While I don't have toast every morning, it's definitely one of my favorites when I need something quick to eat. Especially if it's toast made with homemade bread!
While there are lots of bread options for toast, toast made with english muffin bread is always a good idea!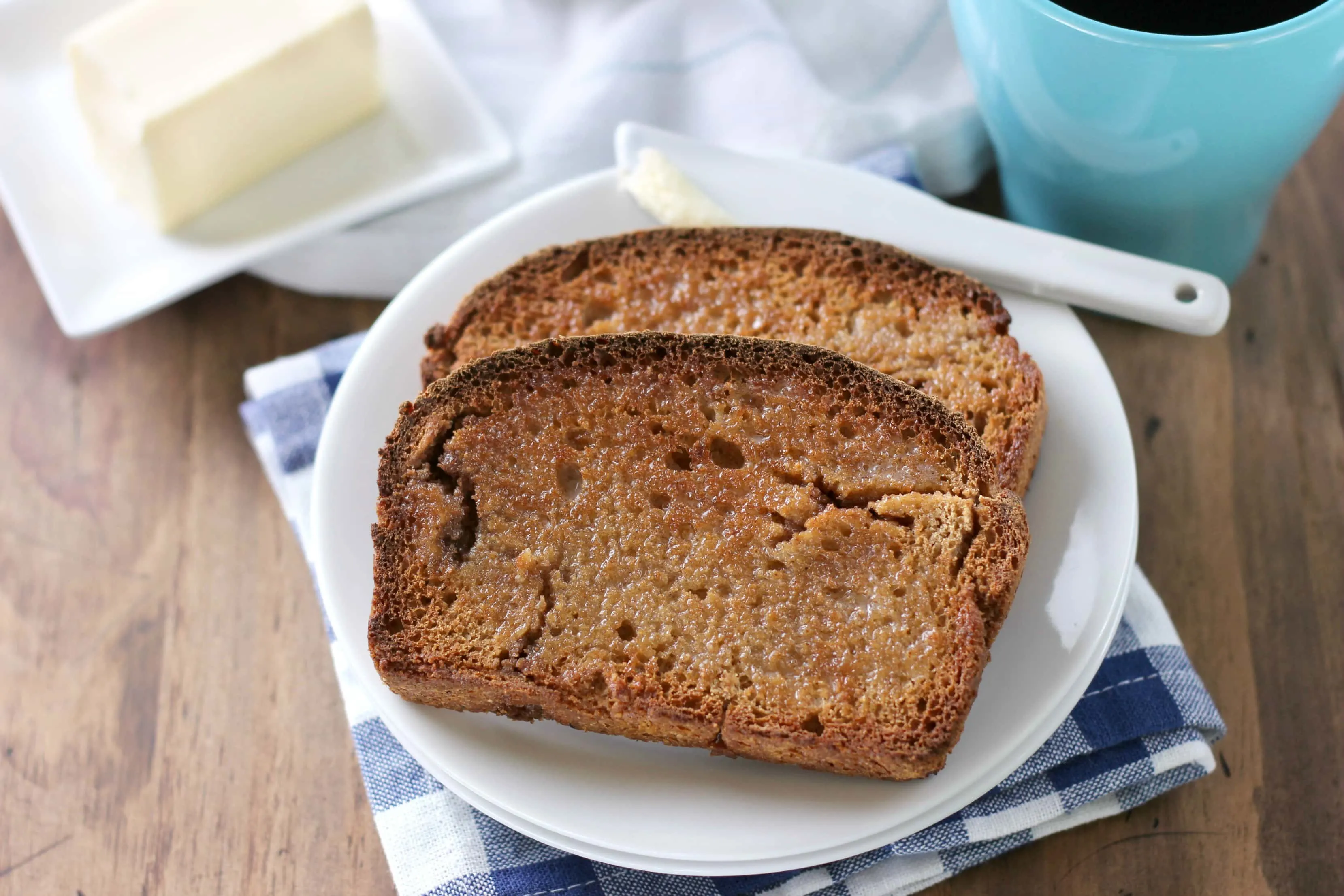 English muffin bread is one of my favorite breads to make. The prep work is super easy and you don't even have to knead the dough! Just mix it all together and spread it in the pan to rise. Once risen, pop it in the oven, and your work is done.
See why it's a favorite? Because it's so easy, I've tried lots of different variations depending on what I have on hand when I have the urge for a slice of english muffin bread toast!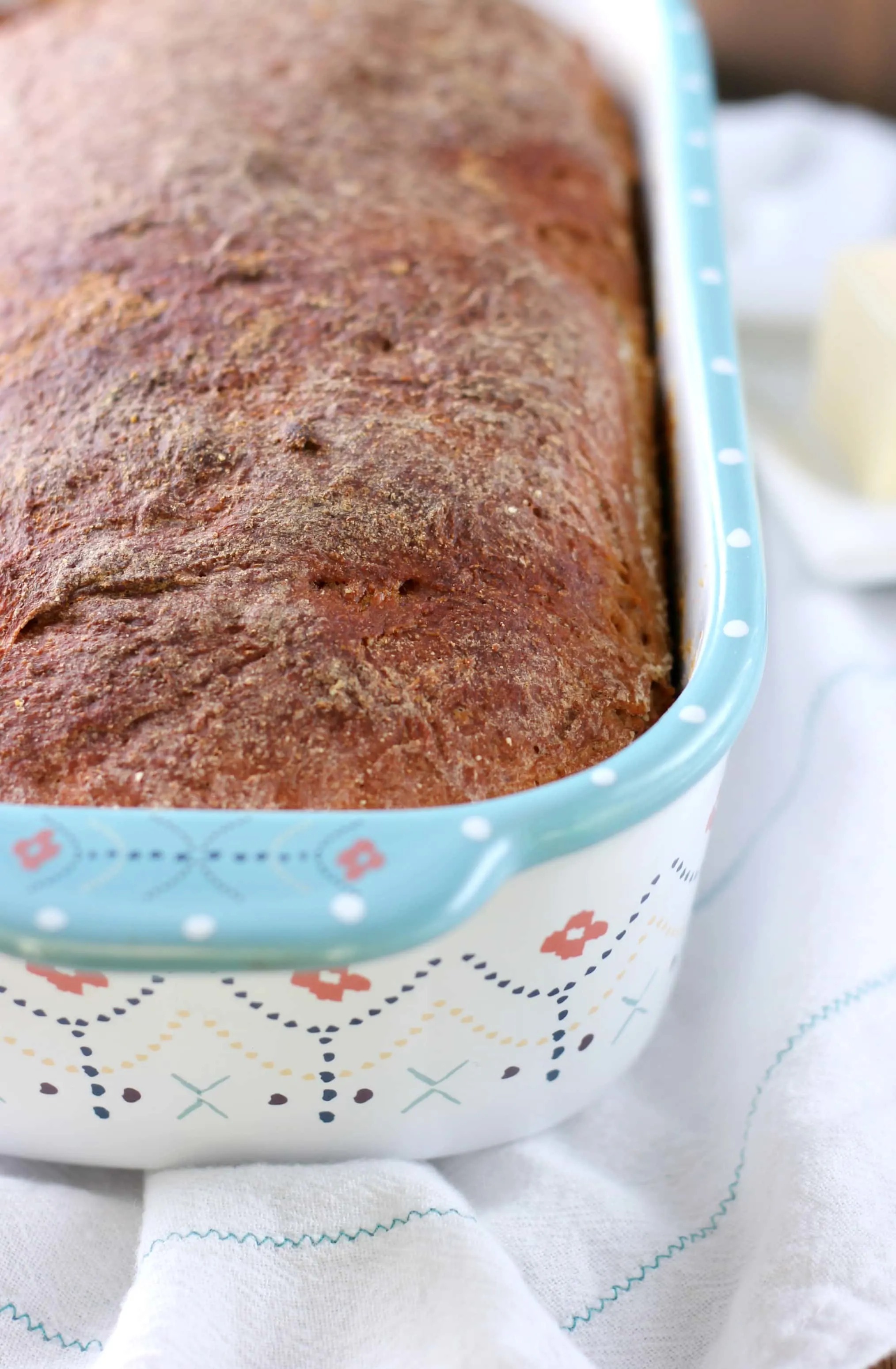 This french toast flavor is a variation of our favorite cinnamon honey wheat english muffin bread. Instead of honey, this bread is sweetened with maple syrup to give it more of that french toast flavor.
And the best part? Pieces of french toast streusel that leave little pockets of flavor swirled throughout the bread. (Those same streusel pieces get melty when toasted!)
Add to that cinnamon, nutmeg, and a hint of allspice, and you have a new morning toast favorite!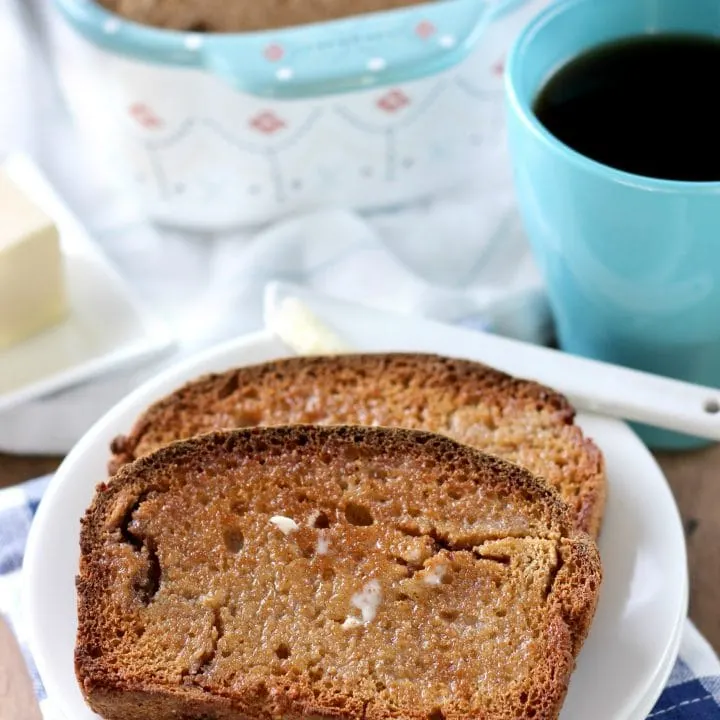 French Toast English Muffin Bread
Ingredients
For the Bread
1 1/2 C bread flour
1 C whole wheat flour
1 1/2 tsp cinnamon
1/2 tsp nutmeg
1 1/2 tsp salt
1/4 tsp baking soda
1 pkg (2 1/4 tsp) instant dry yeast (I used Red Star)
1 C milk, warmed to 120-130 degrees F
1/4 C pure maple syrup, warmed to 120-130 degrees F
For the Streusel Pieces
2 tbsp brown sugar
1 1/2 tbsp whole wheat flour
1/2 tsp cinnamon
1/4 tsp nutmeg
1/8 tsp allspice
1/8 tsp salt
1 tbsp cold butter
Instructions
Lightly spray a 9x5 inch loaf pan with non-stick cooking spray. Sprinkle and coat bottom and sides of loaf pan with cornmeal.
In a small bowl, whisk together brown sugar, flour, cinnamon, nutmeg, allspice, and salt. Cut in butter until mixture resembles coarse crumbs. Set aside.
In the bowl of a stand mixer, combine flours, cinnamon, nutmeg, salt, baking soda, and yeast.
With mixer on low, slowly add in warmed milk and maple syrup. Increase speed to medium, and beat until dough forms and pulls away from sides of bowl.
By hand, gently incorporate streusel pieces. Do not over stir/mix as the streusel pieces will break down. You will still get the flavor, just not the pockets of streusel.
Gently spread dough into prepared loaf pan. Cover with a clean towel and allow to rise in a warm, draft-free spot for an hour, or until doubled in size. (If your house is cold, this could take up to 1½-2 hours, depending on how warm your house is.)
Preheat oven to 400. Bake for 25 minutes or until golden brown. Allow bread to cool in pan for 10 minutes before removing to a wire rack to cool completely.
Recommended Products
As an Amazon Associate and member of other affiliate programs, I earn from qualifying purchases.