This Easy Chocolate Zucchini Cake only dirties one bowl and is made with white whole wheat flour and yogurt, but you'd never guess it from the rich, chocolaty flavor! Put all that zucchini to good use and make this simple chocolate zucchini cake!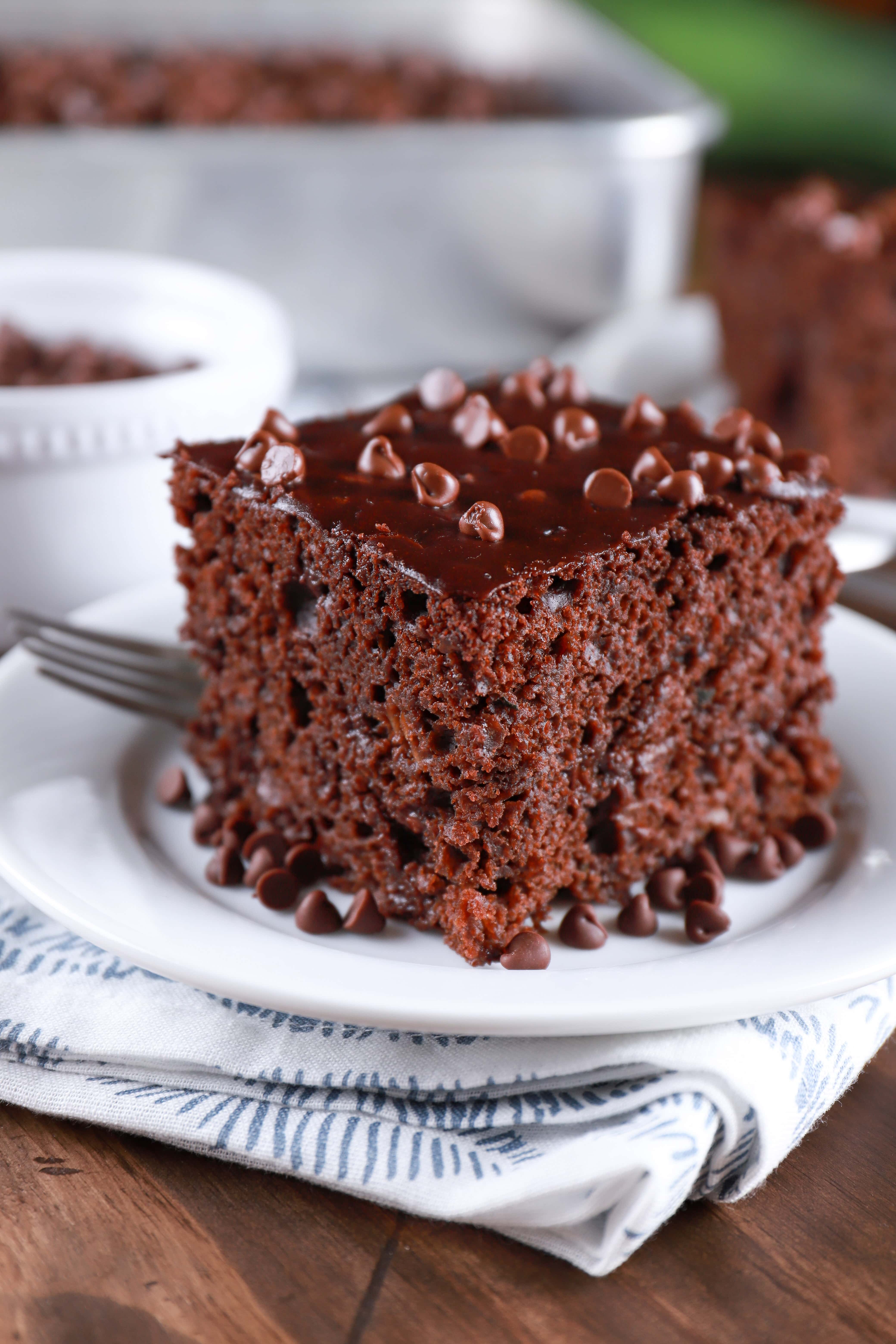 This is the first year that we haven't found ourselves with loads of zucchini on our hands trying to come up with as many ways as possible to use it up before it goes bad.
Something got to our zucchini plants pretty early on, and we only ended up with a handful of zucchini this year. Fortunately, we at least got something so we could make this easy chocolate zucchini cake.
It's one of my favorite ways to use zucchini. This chocolaty cake is made with white whole wheat flour and yogurt, but still gives you that rich chocolaty flavor and tender, moist texture!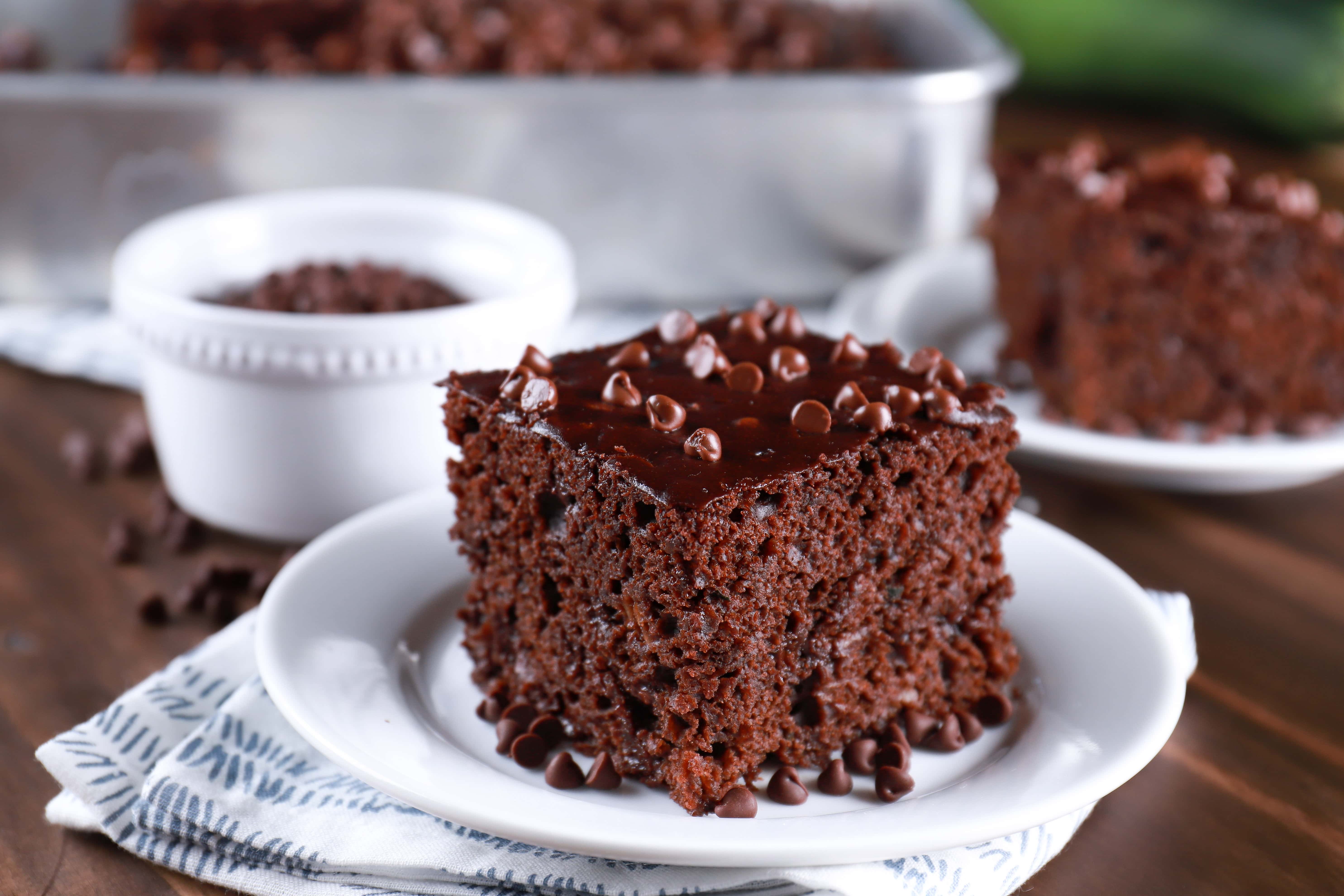 I like to top the cake with a sprinkling of mini chocolate chips, but the no-fail fudge frosting from our chocolate wacky cake would be the perfect topping to this zucchini cake if you want something a little sweeter and richer.
With mini chocolate chips throughout the cake and a smattering more on top, each bite is loaded with chocolate!
Perfect for a dessert or a snack, this cake is great for those who are wary about chocolate and zucchini being in the same name! (I like to make the zucchini finely shredded for those who are skeptical about zucchini being in a dessert so that not only can they not taste it, they can't see it. 🙂 )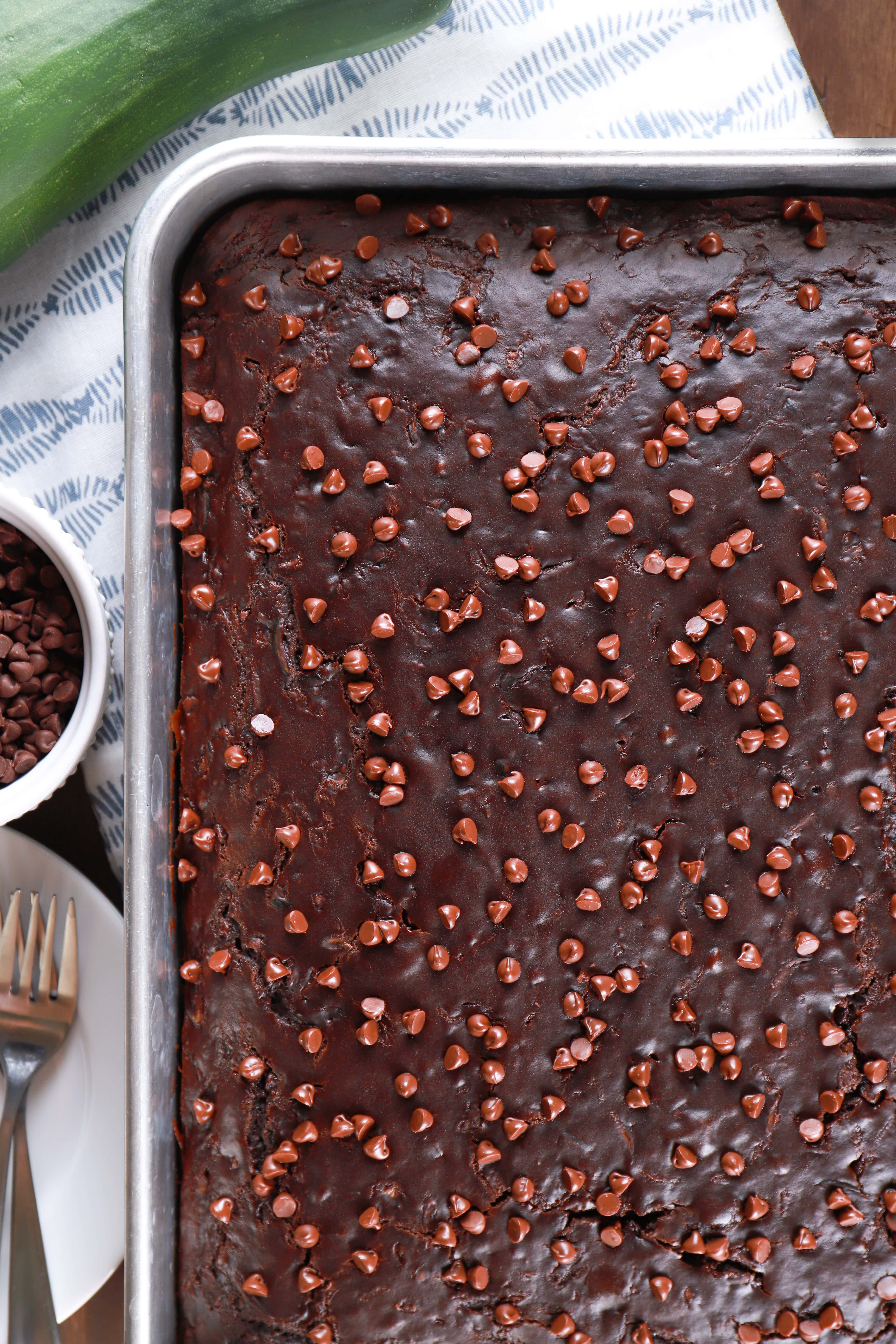 Tips for Making Easy Chocolate Zucchini Cake
I like to use mini chocolate chips so that you can use less while still getting chocolate chips in each bite. However, feel free to use regular chocolate chips if you don't have mini chocolate chips on hand.
I've listed using either white whole wheat flour or all-purpose flour for this cake. You can use whole wheat flour, but you will notice a change in texture and flavor.
Shred the zucchini onto a clean kitchen towel and then lightly squeeze the zucchini in the towel. You don't want to squeeze out all of the moisture.
I like using whole milk yogurt or low-fat plain yogurt, but not fat-free, for this recipe for the best flavor and texture.
If you don't want a full 9×13 inch chocolate cake sitting on your counter tempting you, you can easily halve this recipe to fit into a 9×9 inch baking dish. Just start checking for doneness at 20 minutes.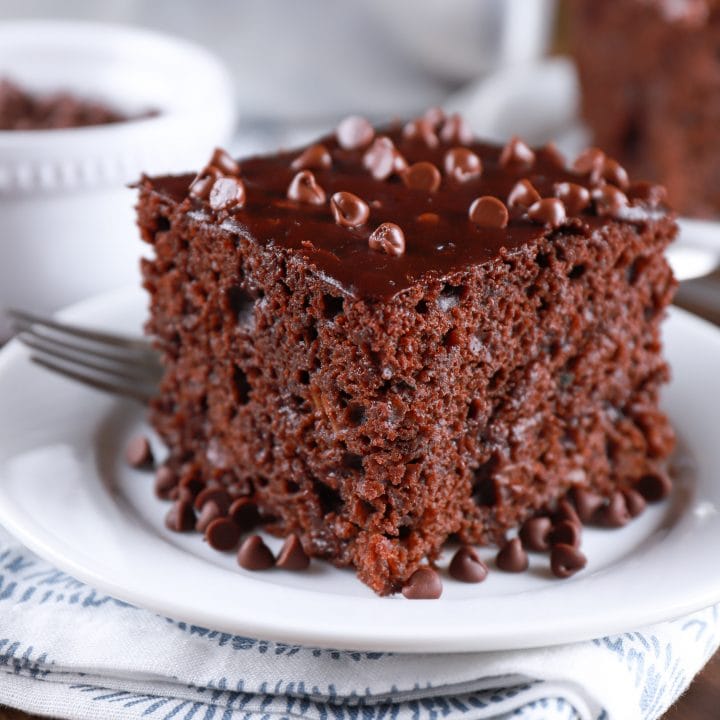 Easy Chocolate Zucchini Cake
Yield: 24 pieces of cake

Prep Time: 20 minutes

Bake Time: 25 minutes

Total Time: 45 minutes
Ingredients
2 1/2 Cups white whole wheat flour or all-purpose flour
1 Cup unsweetened baking cocoa
1 Cup sugar
1/4 Cup brown sugar
2 teaspoons baking soda
1 teaspoon salt
1 Cup plain yogurt
1 Cup milk
2 teaspoons vanilla extract
2 eggs
1/4 Cup melted coconut oil (measured in the liquid state), melted and cooled butter or canola oil would also work
2 Cups shredded zucchini **
3/4 Cup mini chocolate chips + additional for garnish, if desired
Instructions
Preheat oven to 350 degrees Fahrenheit. Lightly spray a 9x13 inch baking dish with non-stick cooking spray. Set aside.
In a large bowl, whisk together white whole wheat flour, unsweetened baking cocoa, sugar, brown sugar, baking soda, and salt.
Stir in plain yogurt, milk, and vanilla extract until just starting to combine. Add in eggs and melted coconut oil. Stir until combined.
Gently fold in shredded zucchini and mini chocolate chips.
Pour batter into prepared baking dish. Bake for 15 minutes. Carefully remove from oven and top with additional mini chocolate chips, if desired. Return to oven and bake for an additional 10-20 minutes, or until a toothpick inserted in the center comes out clean.
Remove to a wire rack to cool before serving.
Notes
**Shred zucchini onto a clean kitchen towel and gently squeeze to remove some of the moisture. Do not squeeze all of the moisture out.
Recommended Products
As an Amazon Associate and member of other affiliate programs, I earn from qualifying purchases.
Nutrition Information:
Yield: 24 Serving Size: 1
Amount Per Serving: Calories: 191Total Fat: 6gSaturated Fat: 4gTrans Fat: 0gUnsaturated Fat: 2gCholesterol: 18mgSodium: 217mgCarbohydrates: 30gFiber: 3gSugar: 14gProtein: 5g