First of all, I want to apologize for the sporadic posts this past week and a half. My husband and  I were able to take a somewhat spontaneous vacation to Florida! It was amazing! Warm and sunny, all the time. 🙂 Much different from the 51 degree house to which we returned! So, now that the bags are unpacked and the loads of laundry washed, I am back to the kitchen. 🙂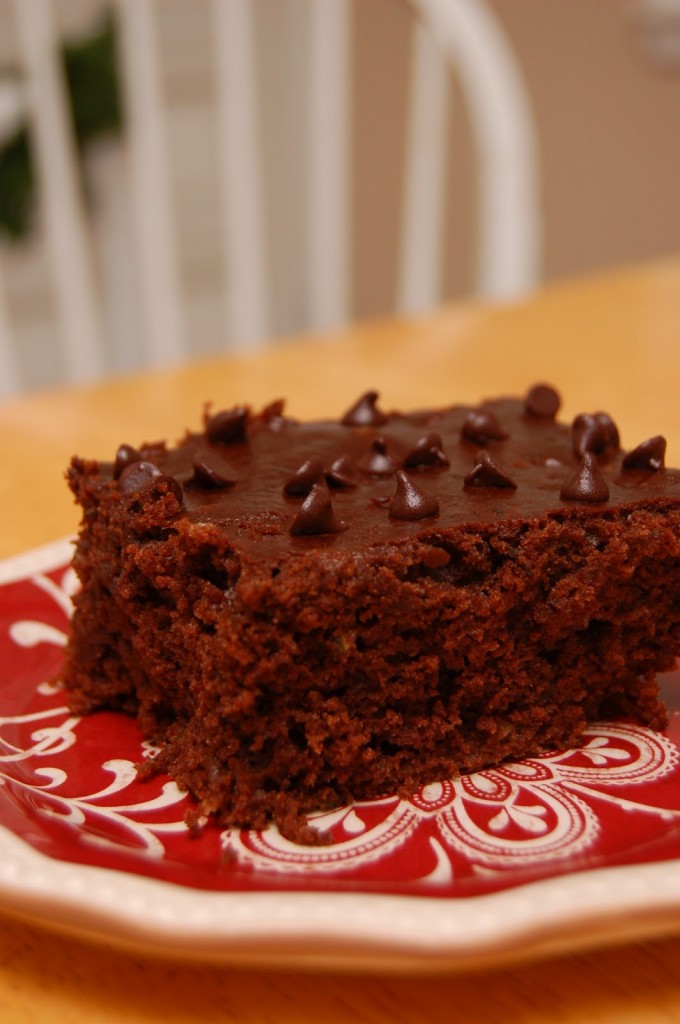 This cake is moist, chocolaty, and yes, healthy! Perfect for a dessert or a snack. I have made this cake many times and am constantly switching out the ingredients to work with what I have on hand. Some of those variations are seen in the ingredient list. I like to make the zucchini finely shredded for those who are skeptical about zucchini being in a dessert so that not only can they not taste it, they can't see it. 🙂
Easy Chocolate Zucchini Cake

Yield: 18 pieces
Ingredients
1 C sugar substitute
2/3-3/4 C sugar
1/2 C light sour cream, non-fat plain yogurt, or canola oil
2 eggs, lightly beaten
2/3 C unsweetened applesauce
1 tsp vanilla extract
2 1/2 C unbleached all-purpose flour or half whole wheat, half all-purpose
1/2 C unsweetened baking cocoa
1 tsp baking soda
1/2 tsp salt
1/2 C low-fat buttermilk
2 1/4 C shredded zucchini
mini chocolate chips for sprinkling, optional
Directions
Preheat oven to 350. Grease 9×13 baking pan.
In a large mixing bowl, beat sugar substitute, sugar, and sour cream on medium speed for one minute. Add eggs, applesauce, and vanilla; beat one minute longer.
Combine the flour, baking cocoa, baking soda, and salt. Add to sugar mixture alternately with buttermilk, beating just until blended. Stir in zucchini.
Transfer to pan. Bake for 20 minutes. Sprinkle with chocolate chips. Bake 10-15 minutes longer or until toothpick inserted near the center comes out clean. Cool on wire rack.