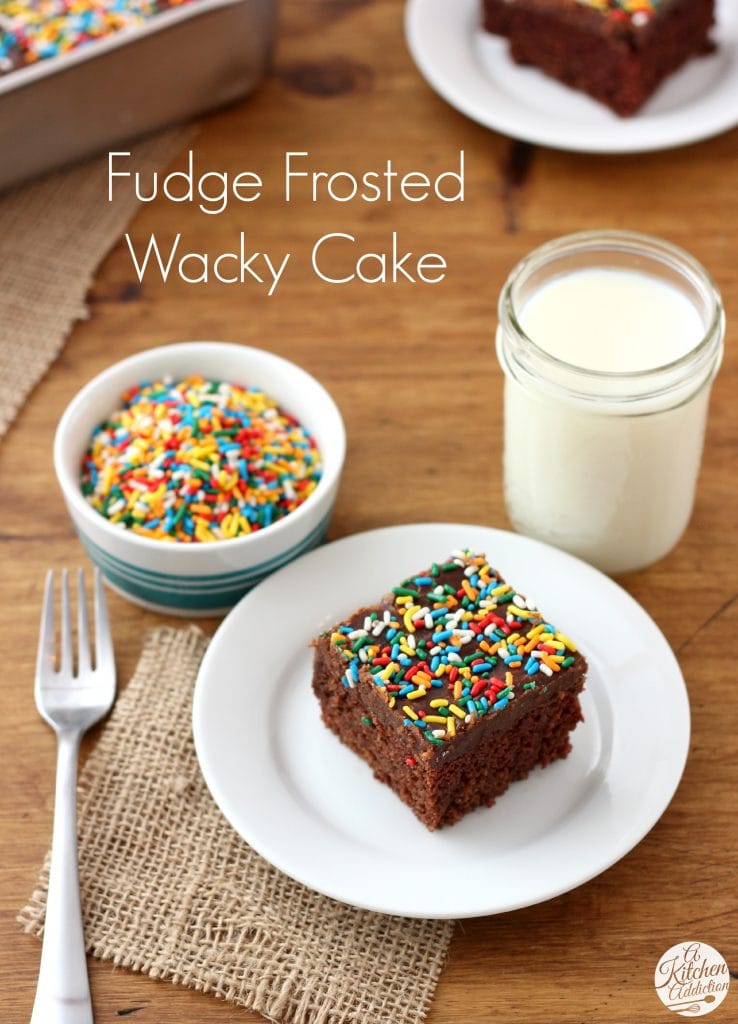 Do you have a recipe that holds a special meaning to you or you vividly remember learning how to make? For me, it's Wacky Cake. Wacky cake was the first cake that I learned to make from scratch.
My mom taught me how to make it when I was in middle school, and it's been one of my favorites to make ever since!
From sifting the ingredients together to licking the spoon at the end (Don't worry, there aren't any eggs!), I still remember making this cake when I was young.
Wacky cake is a simple, classic cake that is easy for anyone in the family to make!
One of my favorite things about this cake is that it is somewhat of a mash up between both sides of my family. I discovered that both of my grandmothers had a recipe for wacky cake in their recipe boxes, and the cake that I make is a mixture of both.
It is a neat way to carry on the tradition of both of them in one cake.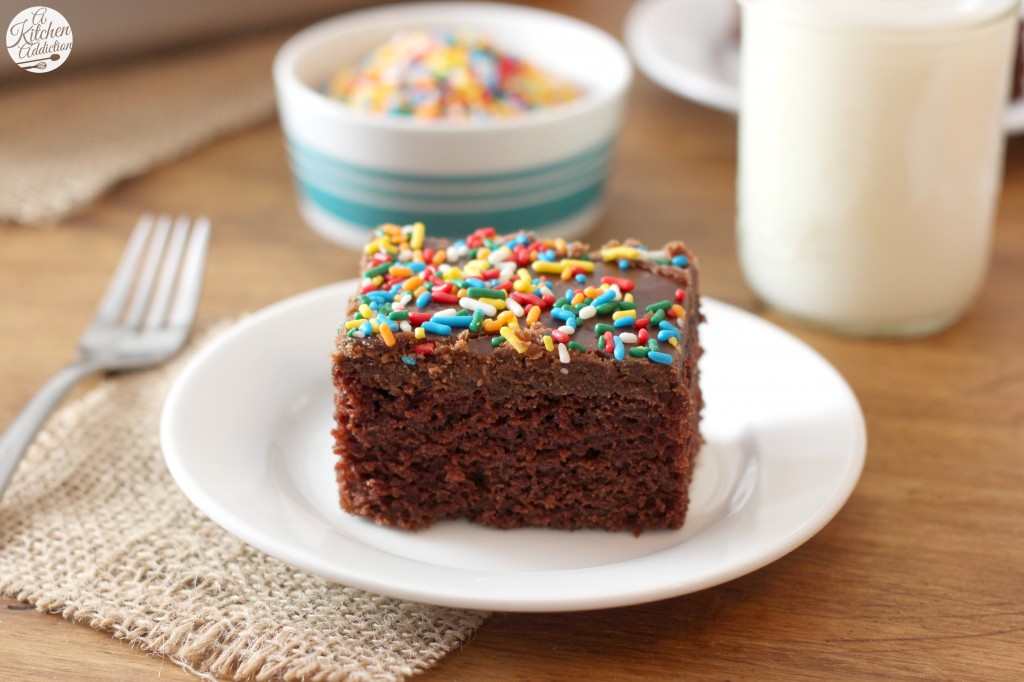 The name "Wacky Cake" comes from the fact that the cake doesn't have eggs, butter, or milk in it. The recipe was developed around World War II when common baking ingredients were hard to come by. Don't worry. You won't miss the eggs or butter!
This rich, chocolaty cake is perfect for celebrating anything from birthdays to good grades to holidays!
Once I learned how to make it, it somehow became somewhat of a tradition that I made this cake for my mom's birthday.
I suppose it was about time that someone made her a cake! Not that I minded, I wouldn't pass up an opportunity to have a slice of wacky cake.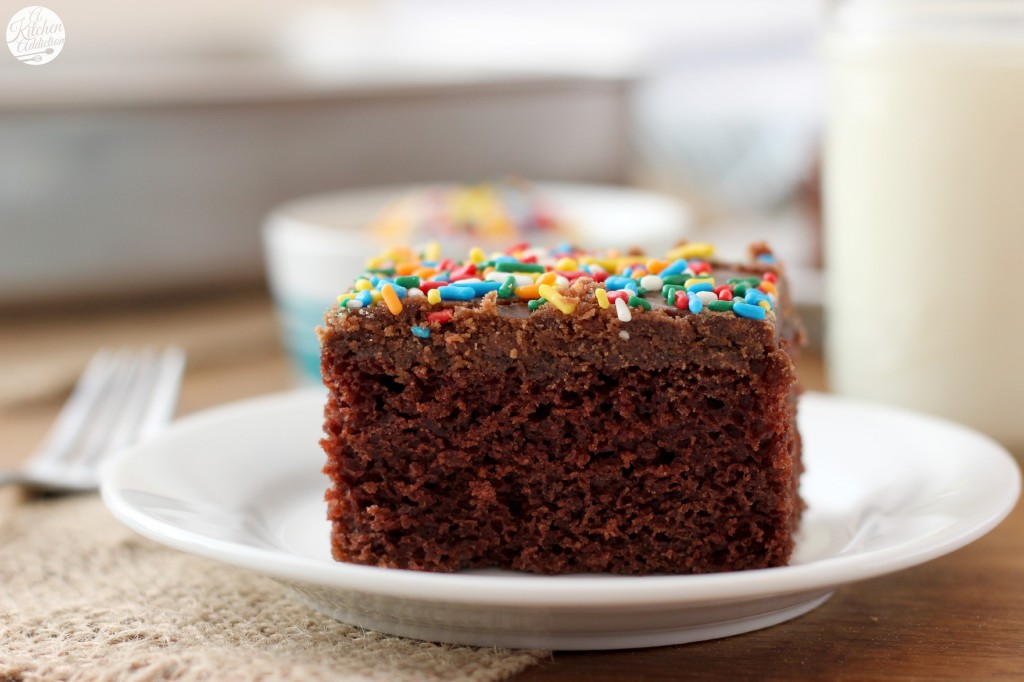 Topping the wacky cake is what is labeled as "no-fail fudge frosting" on my mom's recipe card. And, it proves to be exactly that. If I could learn how to make homemade fudge frosting in middle school, anyone can make it!
The frosting tastes just like a thin layer of fudge has been spread across the top of the cake. Using McCormick's pure vanilla extract ensures that the frosting has a rich, subtle vanilla flavor making it completely irresistible!
My mom and I always made sure that we scraped out all of the frosting out of the saucepan with a spoon and spatula, because it just wouldn't do to have any of it go to waste!
Top with sprinkles that match the occasion, and you have a festive cake ready for any celebration!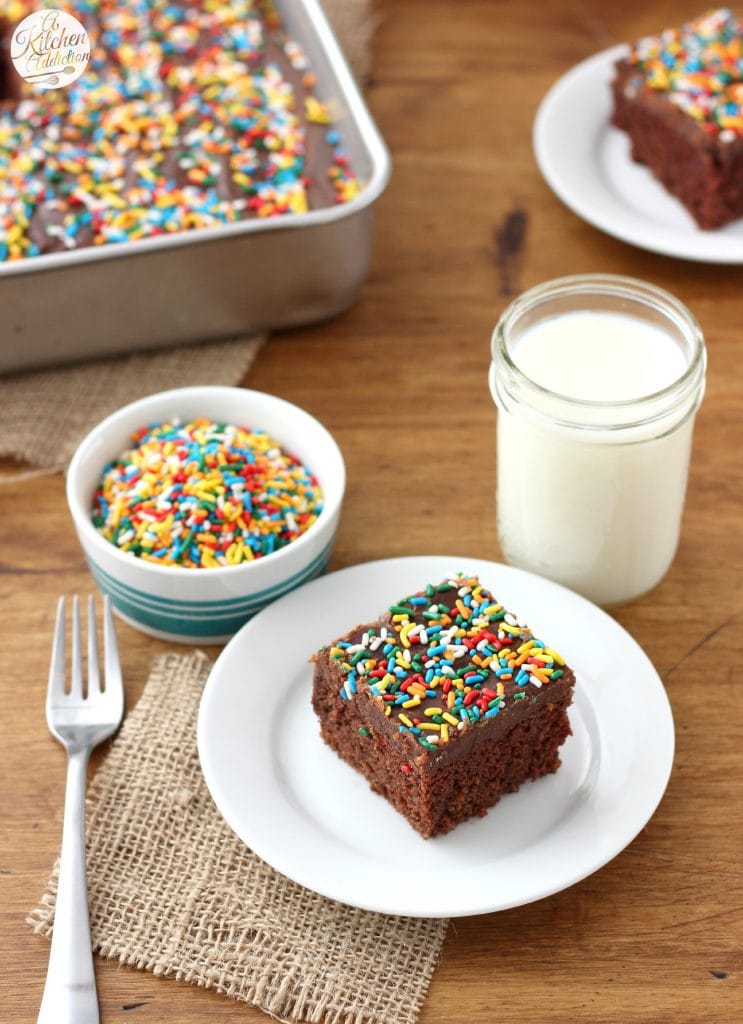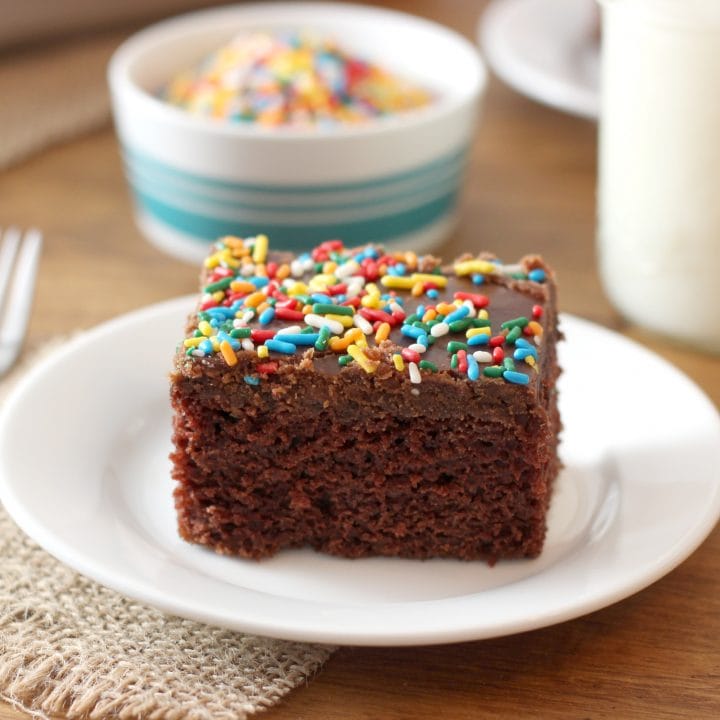 Wacky Cake with No Fail Fudge Frosting
Yield: 24 pieces of cake

Prep Time: 15 minutes

Bake Time: 30 minutes

Total Time: 45 minutes
Ingredients
For the Cake
3 C all-purpose flour
2 C sugar
1 tsp salt
2 tsp baking soda
1/3 C unsweetened baking cocoa
2 C water
3 tbsp canola oil
2 tbsp white vinegar
1 tsp vanilla extract
For the Fudge Frosting
1 1/2 C sugar
3 tbsp unsweetened baking cocoa
1/3 C milk
1/3 C butter
1 tsp vanilla extract
Instructions
Preheat oven to 350 degrees Fahrenheit. Lightly spray a 9x13 inch baking dish with non-stick cooking spray.
Sift together flour, sugar, salt, baking soda, and baking cocoa into a large bowl.
In a medium bowl, stir together water, oil, vinegar, and vanilla extract. Add wet ingredients to the dry ingredients and stir until completely combined.
Pour batter into prepared baking dish. Bake for 30 minutes or until toothpick inserted in the center comes out clean. Remove from oven to a wire rack to cool completely.
While cake is cooling, begin preparing frosting.
In a medium saucepan, combine sugar, baking cocoa, milk, and butter. Bring to a rolling boil over medium heat.
Boil for 5 minutes, stirring constantly to prevent scorching.
Remove from heat. Add vanilla and beat with a sturdy spoon until frosting is glossy and starts to thicken. This will take a few minutes.
Pour frosting over the top and smooth across the top of the cake with the back of a spoon or spatula. Frosting will harden as it cools, so work quickly.
Allow frosting to set. Cut into pieces and serve.
Recommended Products
As an Amazon Associate and member of other affiliate programs, I earn from qualifying purchases.
Nutrition Information:
Yield: 24 Serving Size: 1 piece of cake
Amount Per Serving: Calories: 218Total Fat: 5gSaturated Fat: 2gTrans Fat: 0gUnsaturated Fat: 2gCholesterol: 7mgSodium: 225mgCarbohydrates: 42gFiber: 1gSugar: 29gProtein: 2g

Nutrition information shown is an estimate provided by an online calculator and may not always be accurate. It should not be considered a substitute for a medical professional's advice.


Disclosure: I was compensated by McCormick for my time, however, all opinions are 100% my own.