Tart, fall apples combine with a cinnamon swirl and streusel filled with apple pie spices in this Cinnamon Swirl Apple Coffee Cake! Pair it with your favorite coffee or tea for a perfect start to your morning!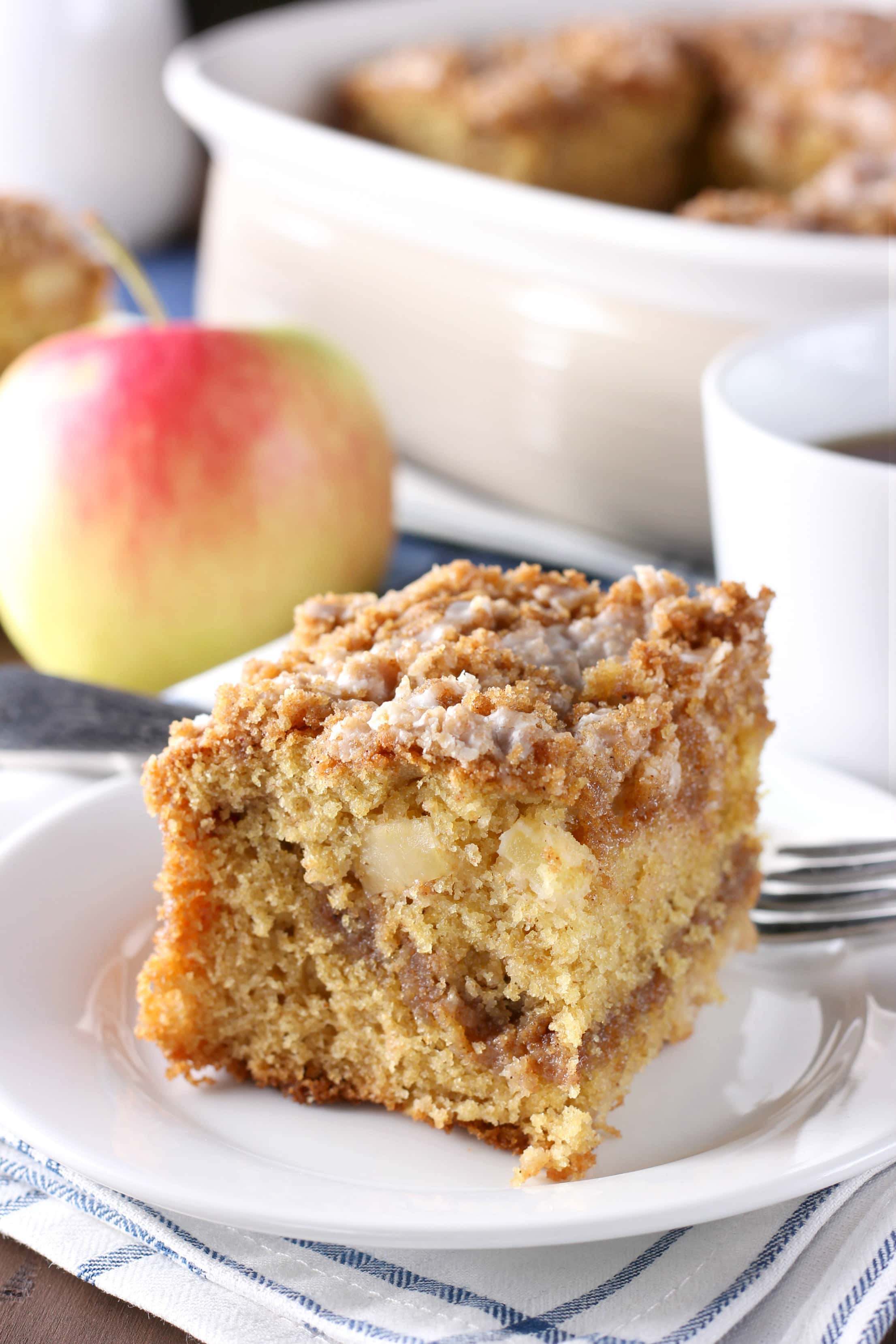 Apple season is upon us! While I love all things pumpkin and pumpkin spice (and eat lots of it!), I really like fall apples. Fall just isn't fall around here without a variety of apples straight from the orchard. This usually means that we end up with pounds and pounds of apples in our kitchen all season long!
We took care of quite a few pounds earlier this week by making and freezing homemade applesauce, and I'm excited for all of the uses that we'll have with fresh applesauce all year long!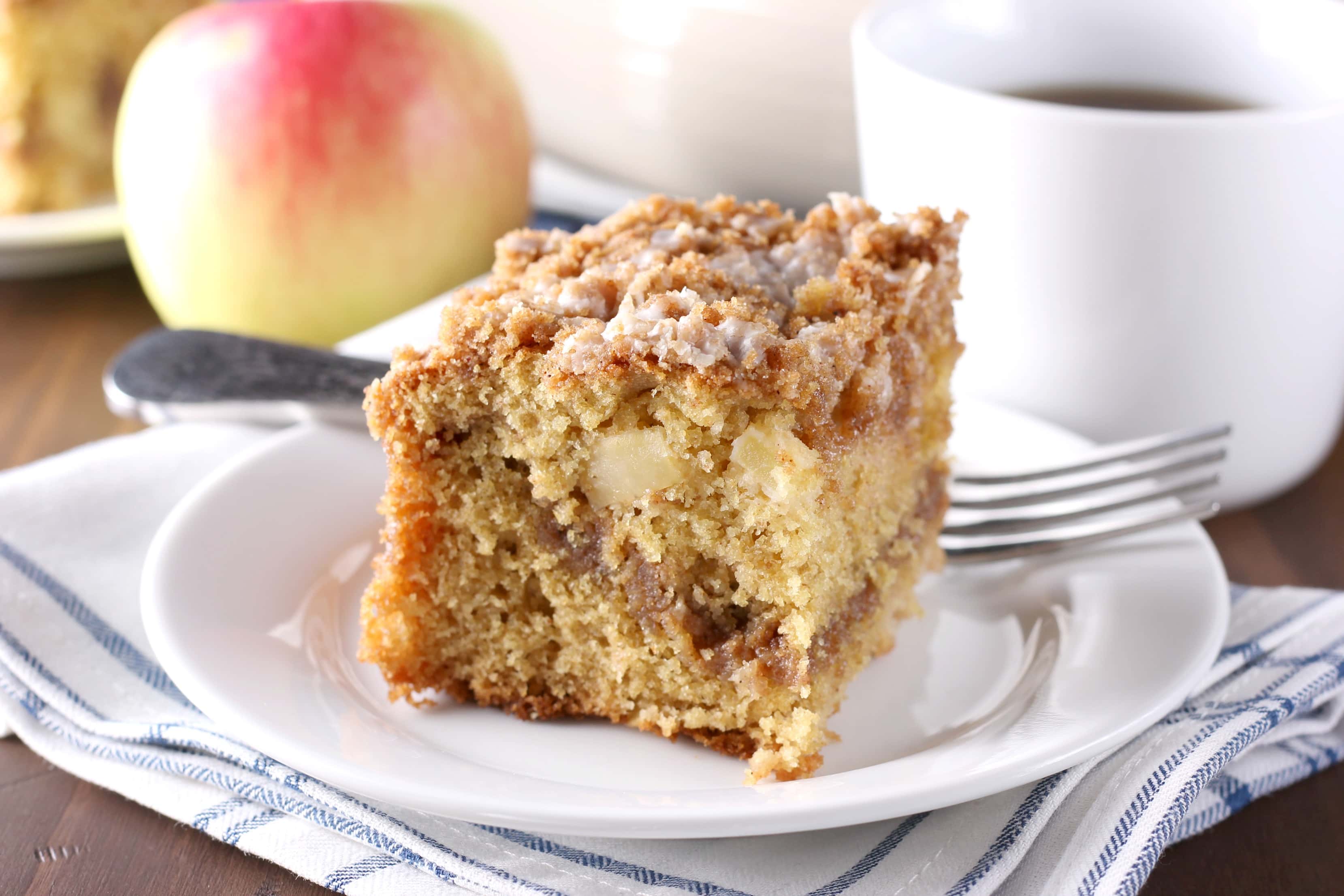 As we were cleaning up, I noticed that we had just a couple apples left after making the applesauce. Obviously I couldn't let them just sit there, so I decided to make an apple version of our cinnamon swirl blueberry coffee cake.
A simple base cake allows the fall flavors to shine through. Tart, fall apples combine with a cinnamon swirl and streusel filled with apple pie spices. The house smelled amazing while it was baking, and breakfast the next morning was delicious!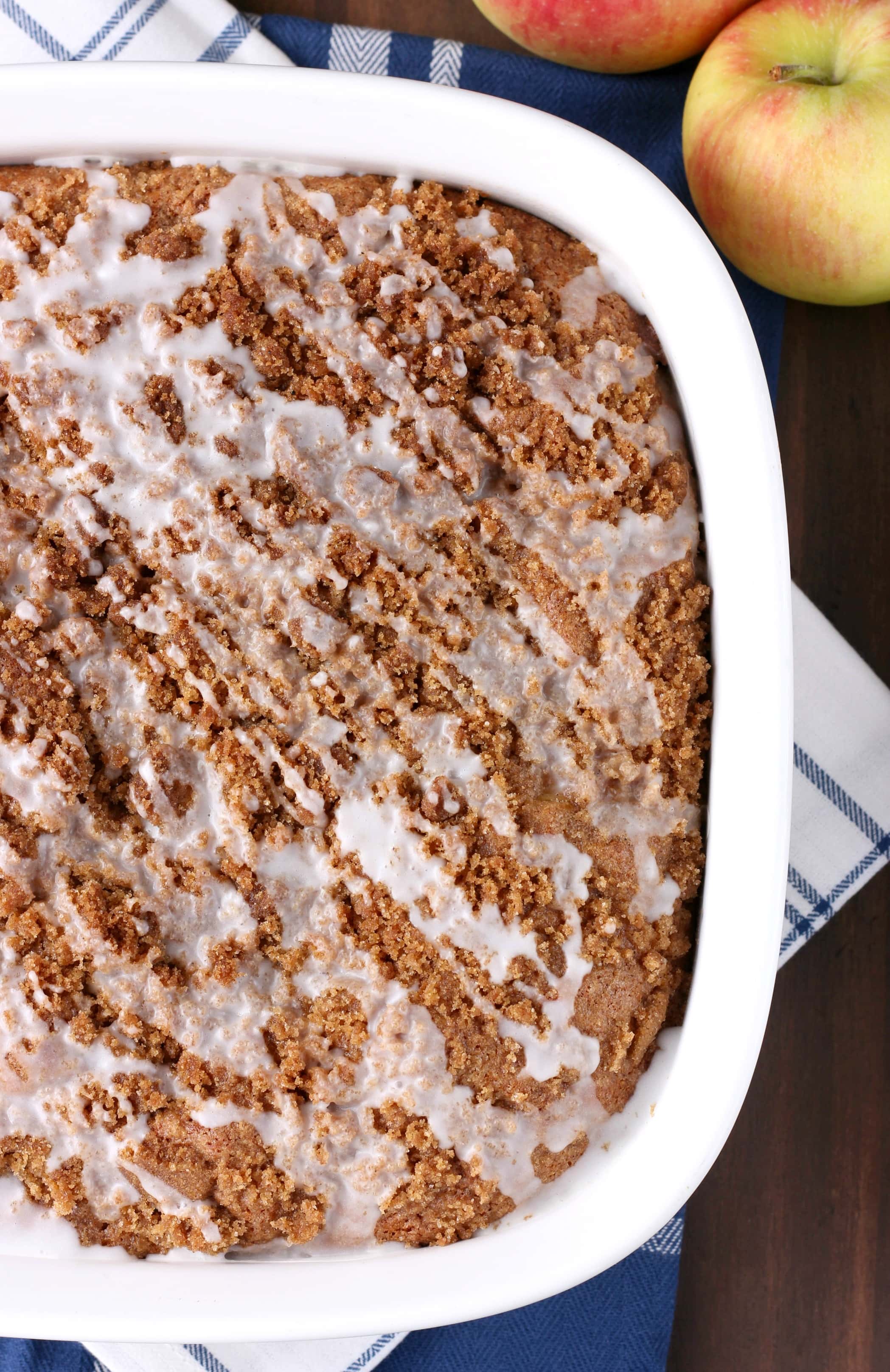 It does dirty a few bowls, but it's worth the couple extra dirty dishes in order to get a layer of cinnamon swirl throughout the middle of the cake and a light layer of cinnamon streusel on top!
Although I'm definitely a fan of thick layers of streusel, this cake has just a light layer to complement the cinnamon swirl. And it's just enough!
This coffee cake is the perfect addition to weekend brunch. Cut a big slice, grab a mug of coffee/tea, and spend a few minutes relaxing this weekend!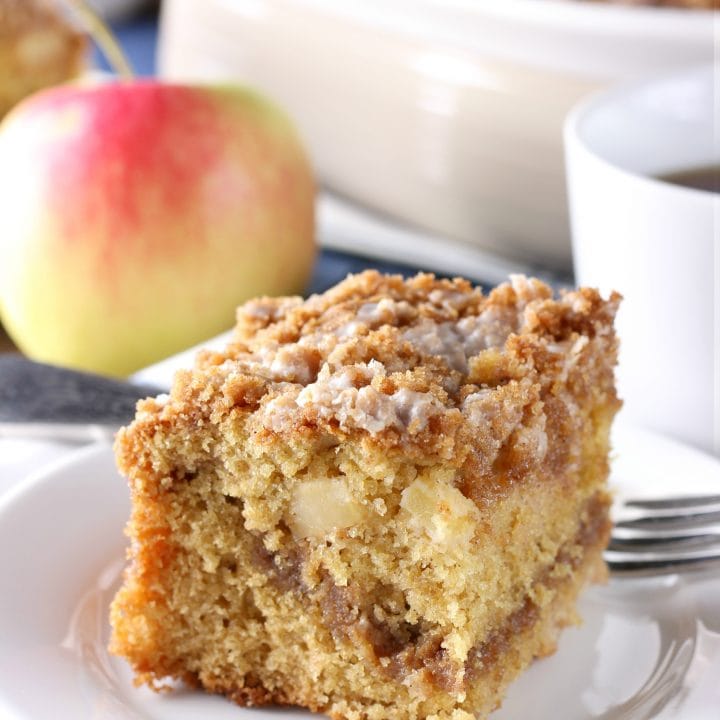 Cinnamon Swirl Apple Coffee Cake
Yield: 16

Prep Time: 15 minutes

Cook Time: 45 minutes

Total Time: 1 hour
Ingredients
For the Cake
2 C white whole wheat flour
1 tsp baking powder
1 tsp baking soda
½ tsp salt
½ C butter, softened
¾ C sugar
2 eggs
1 1/4 C milk
1½ tsp vanilla extract
1 1/4 C chopped apples
For the Cinnamon Swirl/Topping
½ C all-purpose flour
½ C brown sugar
¼ C sugar
2 tsp cinnamon
3/4 tsp nutmeg
1/2 tsp allspice
¼ C butter
For the Glaze
1/2 C confectioner's sugar
1/2 -1 tbsp half & half or milk
Instructions
Preheat oven to 350. Lightly spray a 9x9 inch baking dish** with non-stick cooking spray.

In a small bowl, whisk together flour, baking powder, baking soda, and salt.

In the bowl of a stand mixer, or with an electric mixer, cream together butter and sugar. Add in eggs and beat until creamy. Add in milk and vanilla extract. Beat until creamy. Add dry ingredients to wet ingredients and mix until just combined. Gently stir in chopped apples. Set aside.

In a small bowl, whisk together flour, sugars, cinnamon, nutmeg, and allspice for cinnamon swirl/topping. Cut in butter until mixture resembles coarse crumbs.

Pour half of batter into prepared baking dish. Sprinkle with half of cinnamon sugar mixture. Carefully spread remaining batter over the top. Sprinkle with remaining cinnamon sugar mixture.

Bake for 35-45 minutes or until toothpick inserted in the center comes out mostly clean with just a few crumbs.

Remove to a wire rack to cool. Stir together confectioner's sugar and half & half until smooth. Drizzle over cooled cake. Allow glaze to harden and serve.
Notes
**For a cake that isn't quite as thick, you can make this in a 9x13 inch baking pan. Check the cake at 25 minutes with a toothpick to see how done the cake is. It should take 25-35 minutes.
Recommended Products
As an Amazon Associate and member of other affiliate programs, I earn from qualifying purchases.