These Spice Glazed Caramel Apple Scones are soft and tender and filled with tart fall apples and sweet caramel bits! A simple glaze filled with apple pie spices is drizzled over the top to finish them off!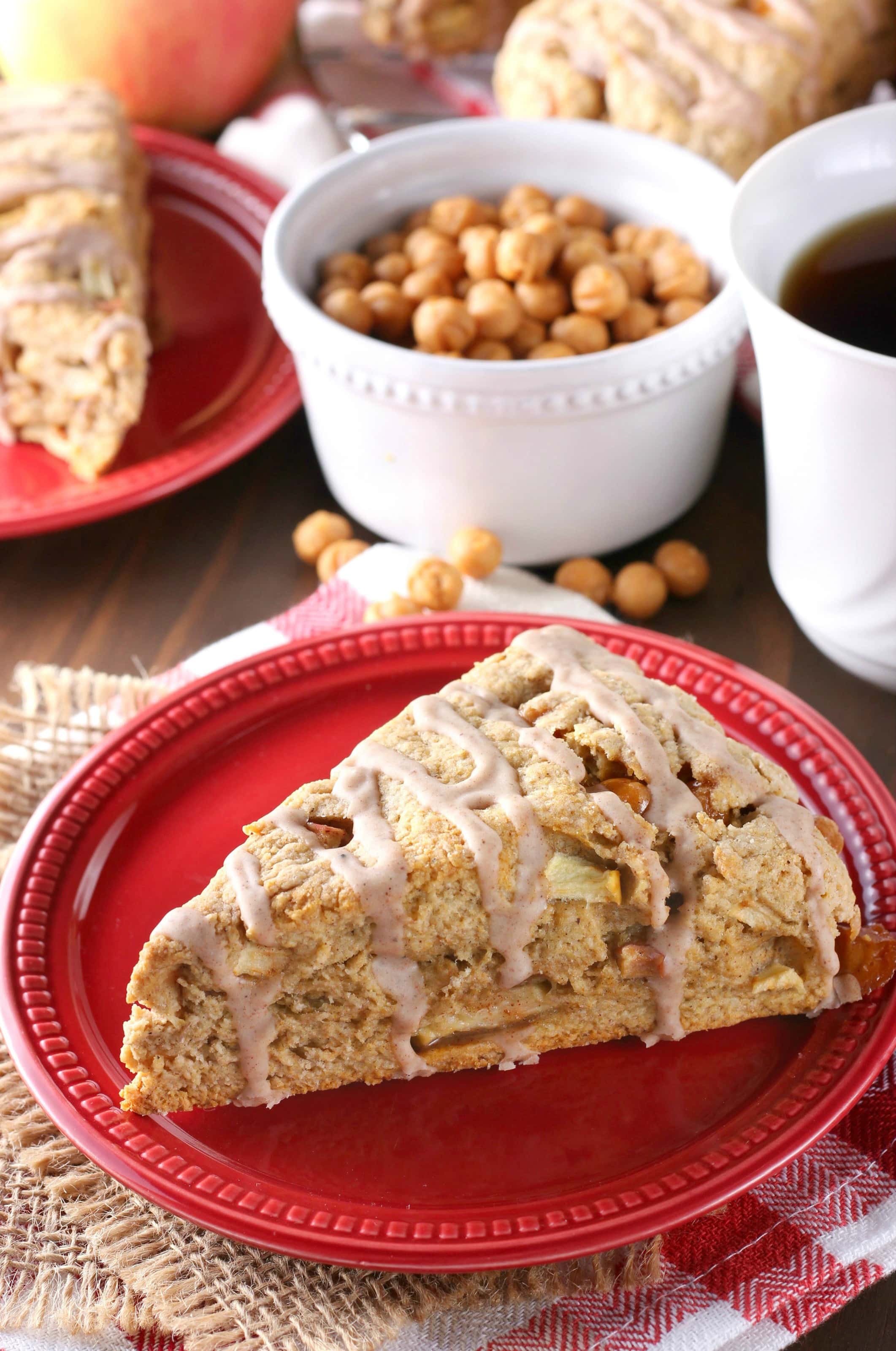 *Recipe and text from 10/17/12. Images updated 09/12/17.
Remember the Cinnamon French Toast Latte from Monday? Well, I couldn't just make that and then have nothing great to eat while sitting and enjoying it! Enter these spice glazed caramel apple scones.
Tender, soft, tart and sweet, a perfect fall breakfast to go with a perfect fall drink.  After recently baking with with caramel bits and liking how they stayed soft, I knew I wanted to try them in more baked goods. They were the perfect fit for this caramel apple combination.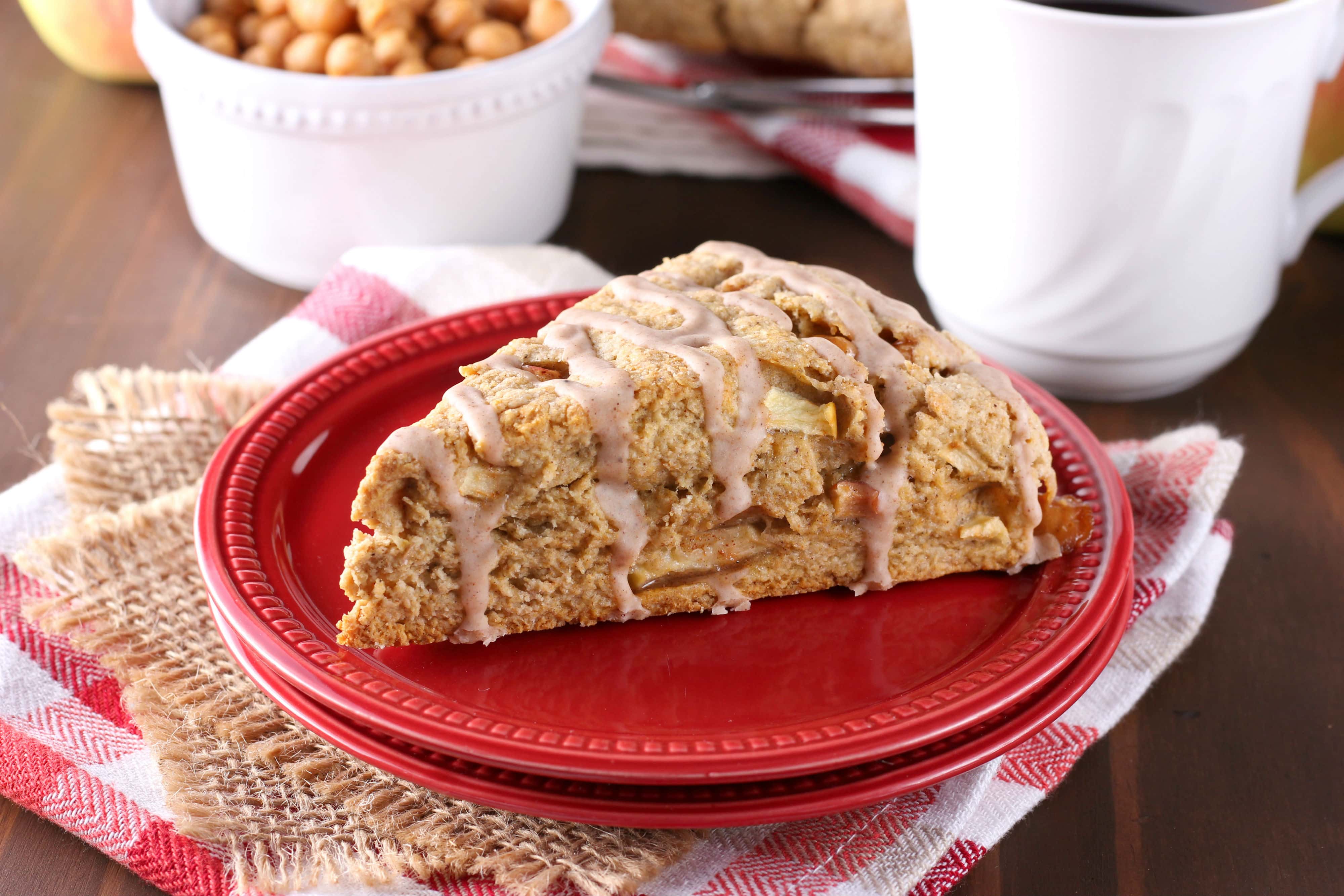 Make sure that you follow the instructions and use parchment paper (these parchment paper sheets are super easy to use!) or a baking mat for these scones. The caramel pieces that are on the edges of the scones do melt and run onto the pan. So, if you don't have your pan lined, it will make a bit of a mess!
I used tart fall apples apples to offset the sweetness of the caramel bits and drizzled each scone with a glaze filled with spices from an apple pie. Nothing ordinary about these scones!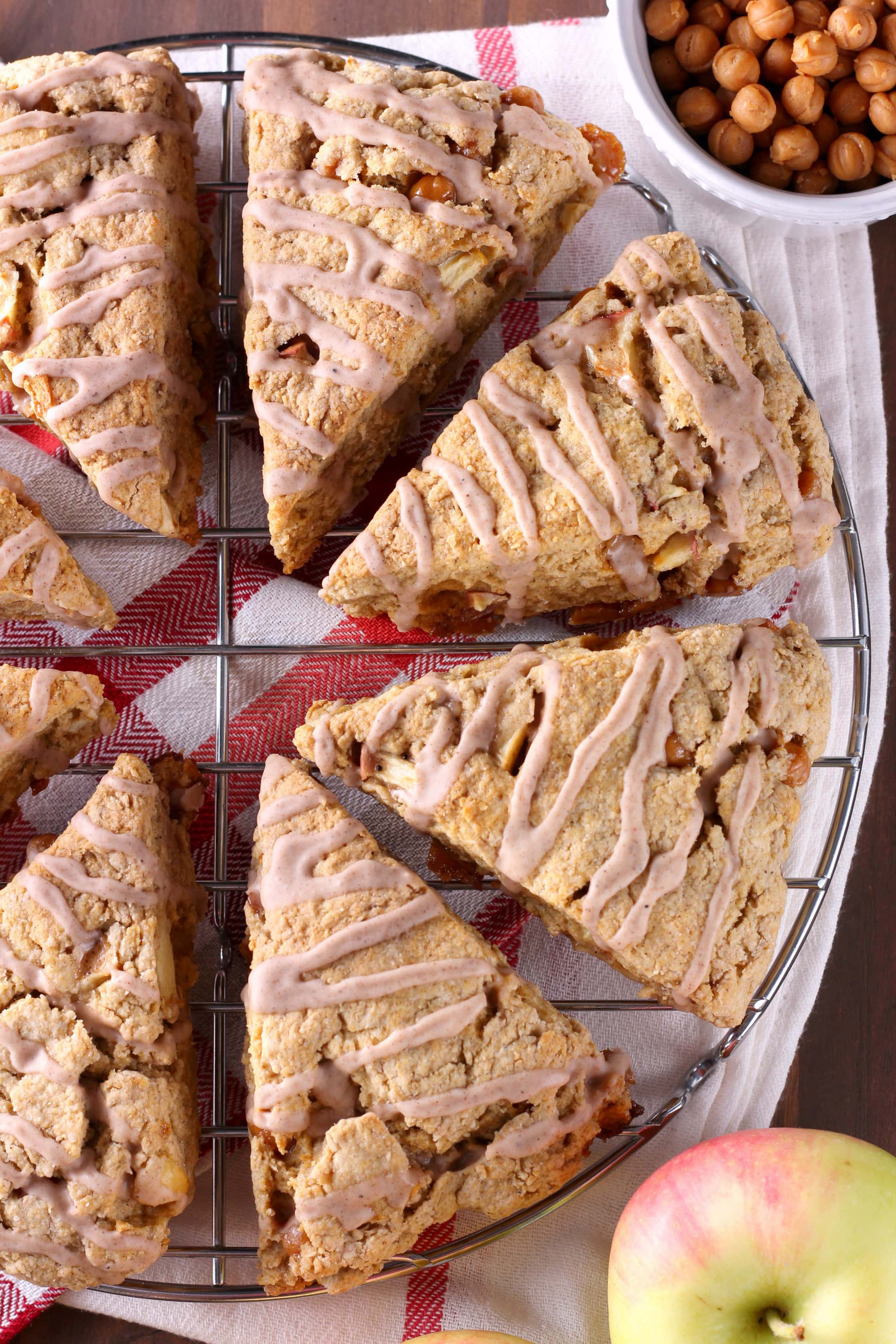 Plus, they baked up soft and big, like those you would find in a bakery. None of that crumbly, dry scone experience here!
These have plenty of flavor without the glaze, so feel free to leave it off if you are looking to cut some calories. So go make these scones, grab yourself some coffee, and enjoy a relaxing fall morning!

Spice Glazed Caramel Apple Scones
Author:
A Kitchen Addiction
Ingredients
For the Scones
1½ C all-purpose flour
1 C white whole wheat flour
⅓ C sugar
1 tsp baking powder
1 baking soda
½ tsp salt
1 tsp cinnamon
½ tsp nutmeg
¼ tsp allspice
⅛ tsp cloves
½ C butter, cold and cut into pieces
½ C plain or vanilla yogurt
1 egg
1½ tbsp milk
1 tsp vanilla extract
⅔ C chopped apples
½ C caramel bits
For the Glaze
½ C confectioner's sugar
½ tsp cinnamon
¼ tsp nutmeg
⅛ tsp allspice
½ - 1 tbsp half & half
Instructions
Preheat oven to 400. Line a baking sheet with parchment paper.
In a large mixing bowl, whisk together flours, sugar, baking powder, baking soda, salt, cinnamon, nutmeg, allspice, and cloves. Cut in butter until mixture resembles coarse crumbs.
In a small bowl, whisk together yogurt, egg, milk, and vanilla extract. Add wet ingredients to dry ingredients until just combined. Stir in chopped apple and caramel bits.
Turn dough out onto floured surface. Gently knead 5-6 times or until dough just comes together. Cut dough into 8 pieces and place on prepared baking sheet.
Bake for 15-18 minutes or until golden brown. Transfer to wire rack to cool.
Stir together ingredients for glaze and drizzle over cooled scones. Allow glaze to harden and serve. Scones best eaten same day but will keep in an airtight container for 2-3 days.
This post contains affiliate links.