Toast is one of my favorite things for breakfast. Sure muffins, scones, cereal, bagels, etc. are nice, but there is just something about a warm piece of toast. One of my favorite breads to toast is cinnamon raisin.
Part of it is that it tastes great and the other part is that it smells so good while toasting!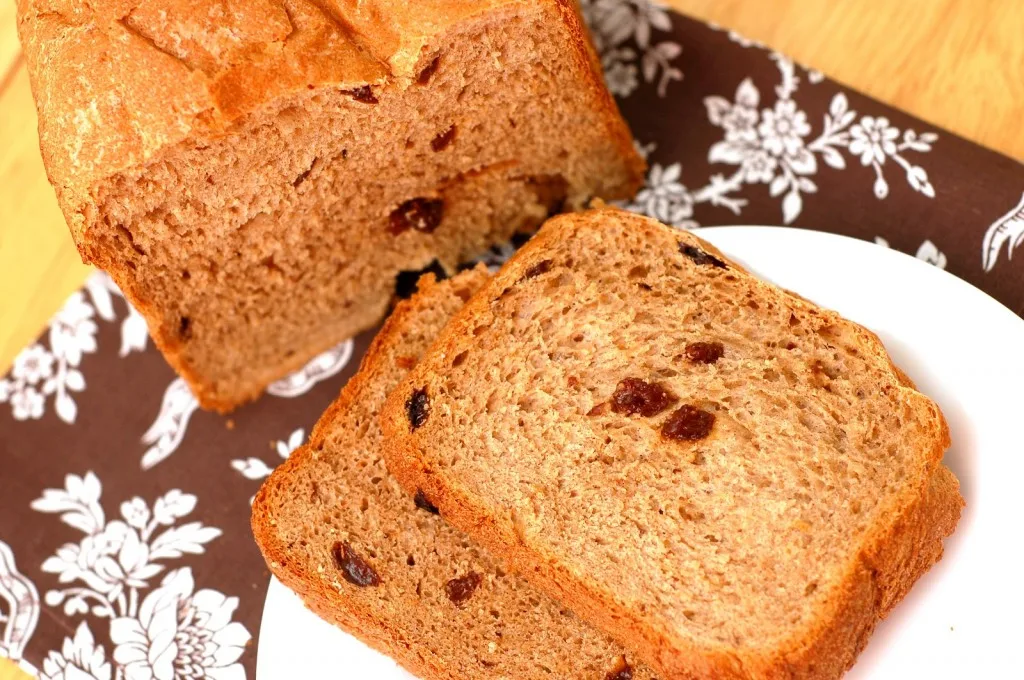 This bread is no different. The cinnamon and nutmeg provide both great flavors and great aromas! In fact, I'm pretty sure I was pacing the kitchen waiting for the last ten minutes of the baking to be finished.
I would go and do something and then come back and check the time on the bread machine and sure enough, it hadn't magically elapsed 10 minutes. In fact, the most it ever changed was two! But it smelled so good!!
This is right up there with the cinnamon swirl bread that I make as far as flavor. The bonus with this bread though, is that it is made in the bread machine and not the oven.
That means I can go about getting things done without having to knead, let it rise, punch it down, let it rise a second time, etc.
This bread is light and fluffy despite containing wheat flour and oats and is perfect plain or with a light layer of butter or whipped cream cheese. This bread is also great toasted (as already mentioned!) or used to make french toast!
Cinnamon Raisin Oatmeal Bread – Bread Machine

Yield: One 1.5 pound loaf
Ingredients
1 C water, warm (about 80 degrees F)
1 1/2 tbsp butter, softened
2 1/2 tbsp brown sugar, firmly packed
1 1/2 tsp salt
2 tsp cinnamon
1/4 tsp nutmeg
1 C white whole wheat flour
1 C all-purpose flour
1/3 C quick oats
2 1/2 tsp instant dry yeast
1/2 C raisins
Directions
Place all ingredients, except raisins, in bread machine according to manufacturer's instructions. Place raisins in bread machine dispenser for fruit and nuts.
Select the Rapid Sweet Bread Course and 1.5lb loaf. Chose your crust option. I use medium for most breads. Press start.
Remove bread pan to a wire rack when finished. Let cool for 10 minutes before slicing. Store bread in an airtight bag or container.