Looking for a rich fudgy cake with peanut butter that bakes its very own chocolate sauce? Because, I have the cake for you! This cake is incredible! And made in a slow cooker. And is super easy. And it tastes incredible! (oh, I think I already mentioned that!)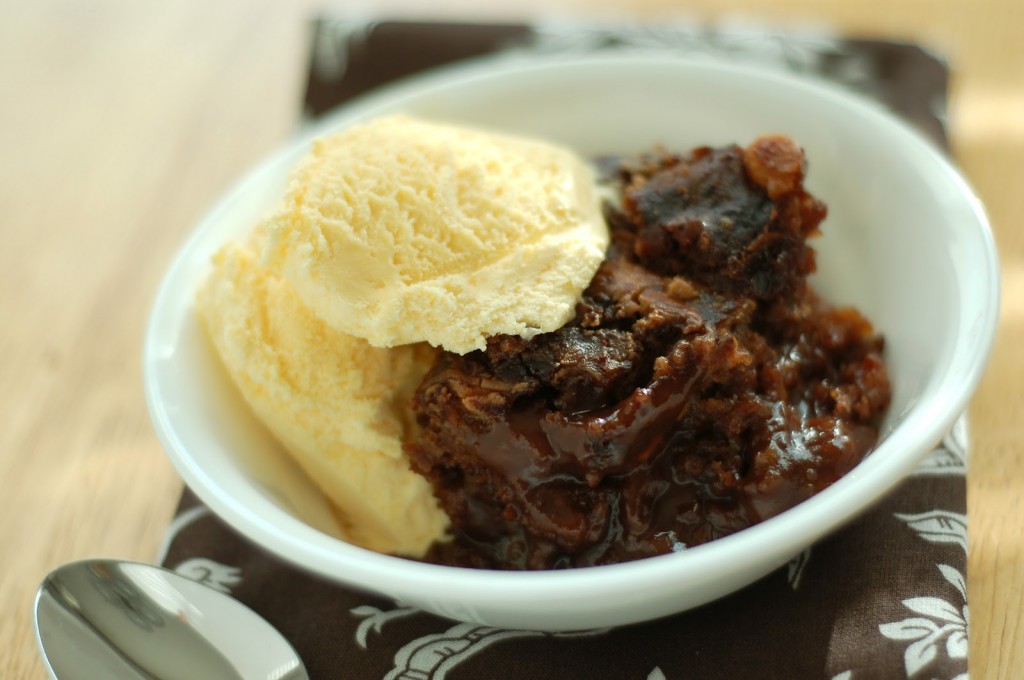 And yes, I did take a spoonful out to taste as soon as it was done. I couldn't wait any longer for it to cool after smelling chocolate and peanut butter for the last hour!
I made this in a 1 1/2 quart crock pot, because this kind of thing is dangerous for me. You see, my husband does not like rich chocolate. . .I know, how is that even possible?! So, when I make something such as this rich chocolate cake. . .I end up eating most of it. Not that I mind, I just probably shouldn't make this regularly. Because it would be easy for me to eat it all, all of the time! The recipes below is double that for a 3 1/2 – 4 quart slow cooker so that you can share it! 🙂
While it may not seem like it's the prettiest cake you have ever made, your first bite will make you forget about looks. This cake bakes up to an almost brownie like top with peanut butter swirled throughout and sits atop a thick chocolate sauce.
Oh, and put a scoop of your favorite frozen yogurt or ice cream on the side and you will be in chocolate bliss!! That is how good it is. Seriously.
Rich Chocolate Peanut Butter Pudding Cake – Slow Cooker Style

Yield: 6-8 servings
Ingredients
For the Cake
1 C all-purpose flour or half whole wheat pastry half all-purpose
2 tbsp granulated sugar substitute
2 tbsp sugar
1 1/2 tsp baking powder
2 1/2 tbsp unsweetened baking cocoa
2 tbsp canola oil
1/2 C non-fat milk
2 tsp vanilla extract
1/3 C peanut butter chips
1/3 C white chocolate chips
3 tbsp creamy peanut butter
For the Sauce
1/4 C granulated sugar substitute
1/2 C sugar
2 tbsp unsweetened baking cocoa
1 1/2 C boiling water
Directions
Spray the inside of a 3 1/2 – 4 quart slow cooker with non-stick cooking spray.
In a medium-sized bowl, stir together flour, sugar substitute, sugar, baking powder, and baking cocoa. Add in the oil, milk, and vanilla. Stir until just combined. Stir in the peanut butter chips and white chocolate chips until evenly distributed. Batter will seem thicker than a normal cake batter.
Spread batter evenly into bottom of slow cooker. Melt peanut butter. Drizzle melted peanut butter over the top of the batter and gently swirl in with a knife.
In another bowl, stir together sugar substitute, sugar, baking cocoa, and boiling water. Slowly stir until sugar is dissolved. Carefully pour hot water mixture over the top of the batter.
Cover and cook on high for 2 -2 1/2 hours or until toothpick inserted in the center comes out clean. Remove crock from slow cooker, if possible, and cool uncovered on a wire rack for 20 minutes.
Spoon dessert into bowls and serve with your favorite frozen yogurt or ice cream. Store leftovers in the refrigerator.