This Caprese Corn Tortellini Salad is a hearty, easy salad that is filled with juicy tomatoes, creamy mozzarella, fresh basil, and sweet corn! Serve it as a main dish or pair it with your favorite grilled meat!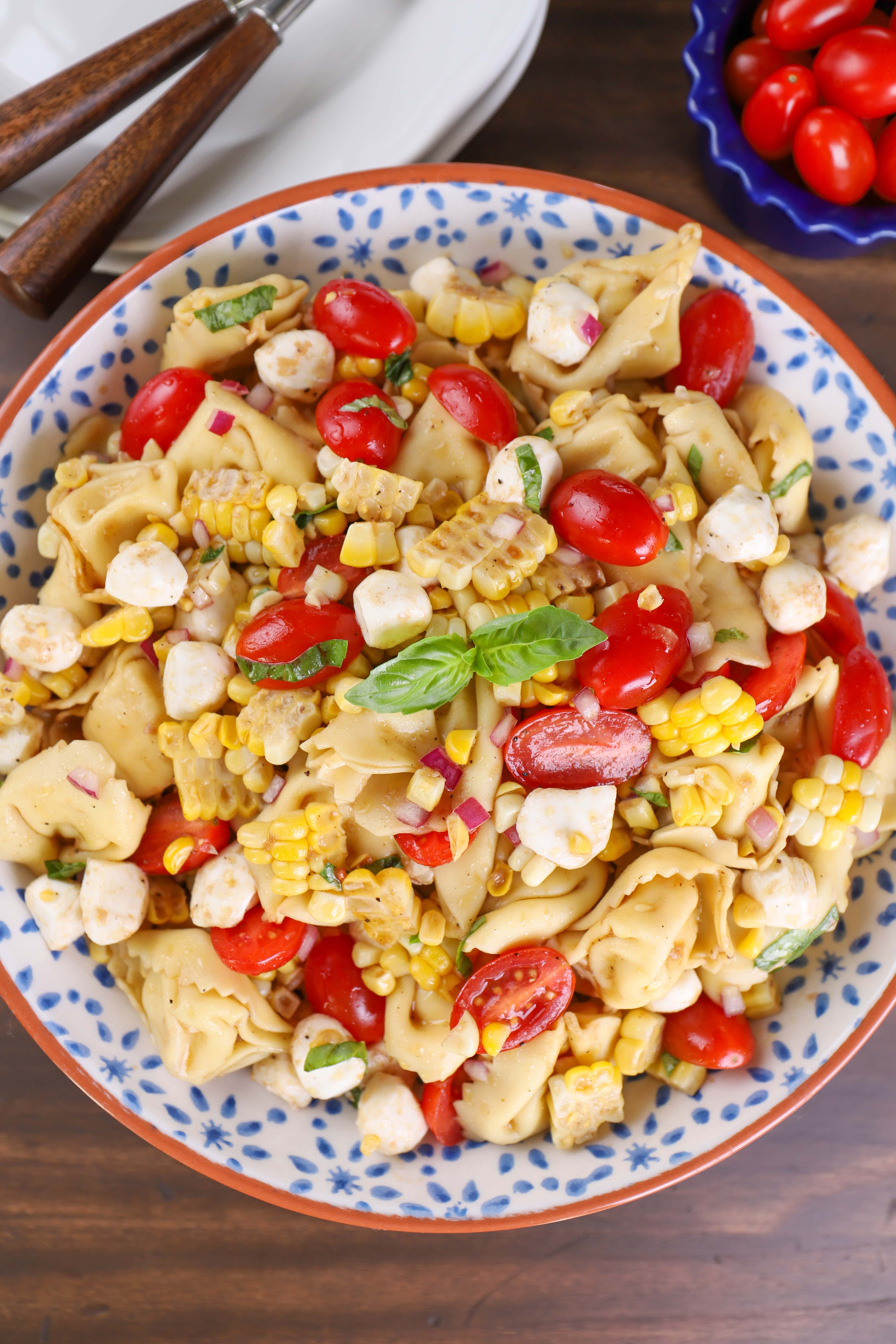 The lake by us was still almost completely iced over the other day on my way home from grocery shopping. Yes, we have ice on our lakes in May. But that didn't stop me from thinking about summer foods while shopping!
I know most of you have been thinking about summer and have had your shorts and t-shirts out for months, but we're just now starting to get a taste of the warmth of summer and all that comes with it!
Caprese equals summer in my mind. Fresh tomatoes and basil from the garden paired with creamy mozzarella is a staple at our house on warm, sunny days.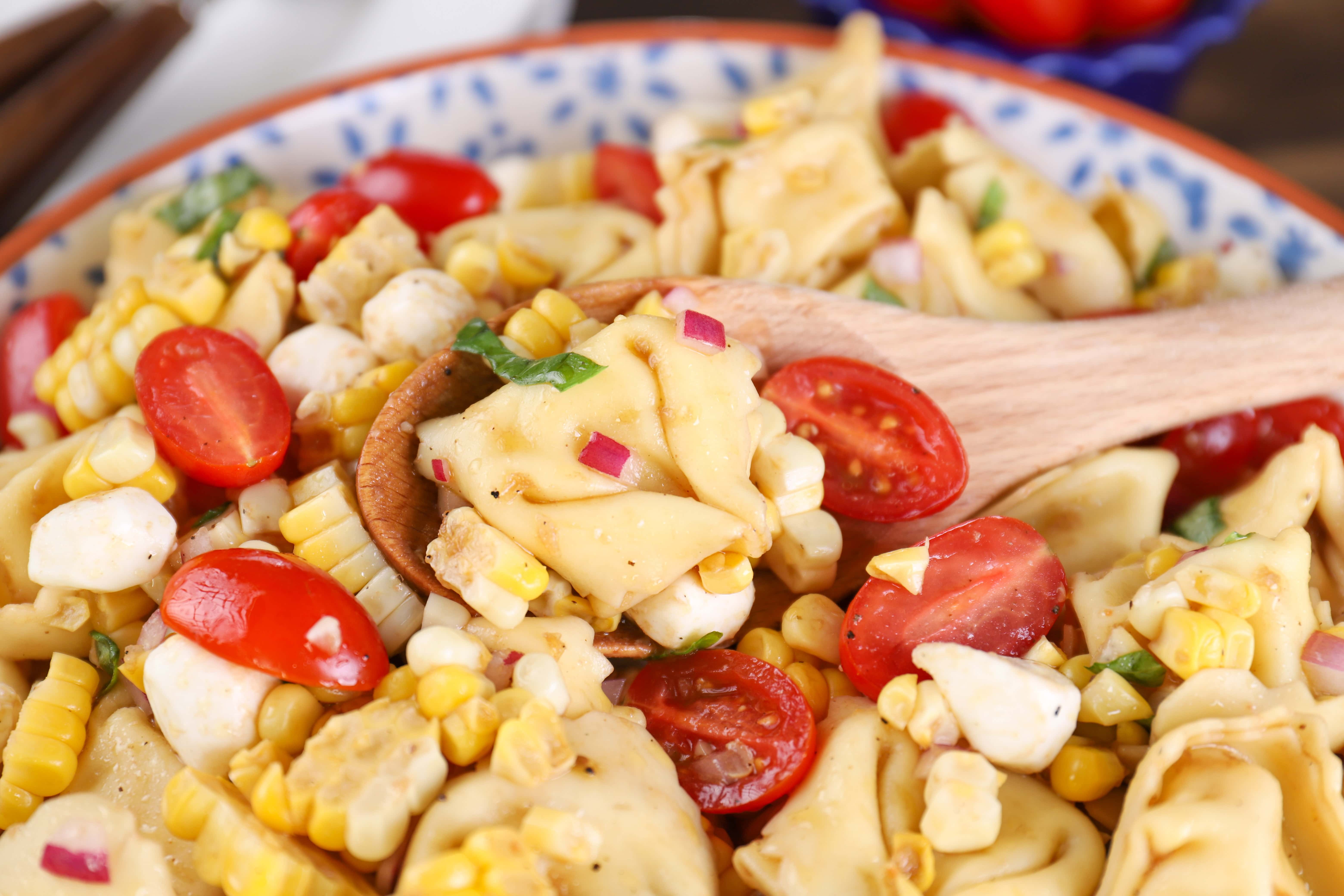 Clearly I'll be waiting awhile for the fresh tomatoes and basil from the garden, but the recent round of warm, sunny days had me thinking about our chicken caprese quinoa salad. And I wasn't going to wait until our garden was ready!
When I went to gather the ingredients to make the quinoa salad, I saw a package of cheese tortellini and knew that I wanted to switch things up!
Tortellini is usually something we have in the house as a last minute meal option. It's both easy to store and easy to make.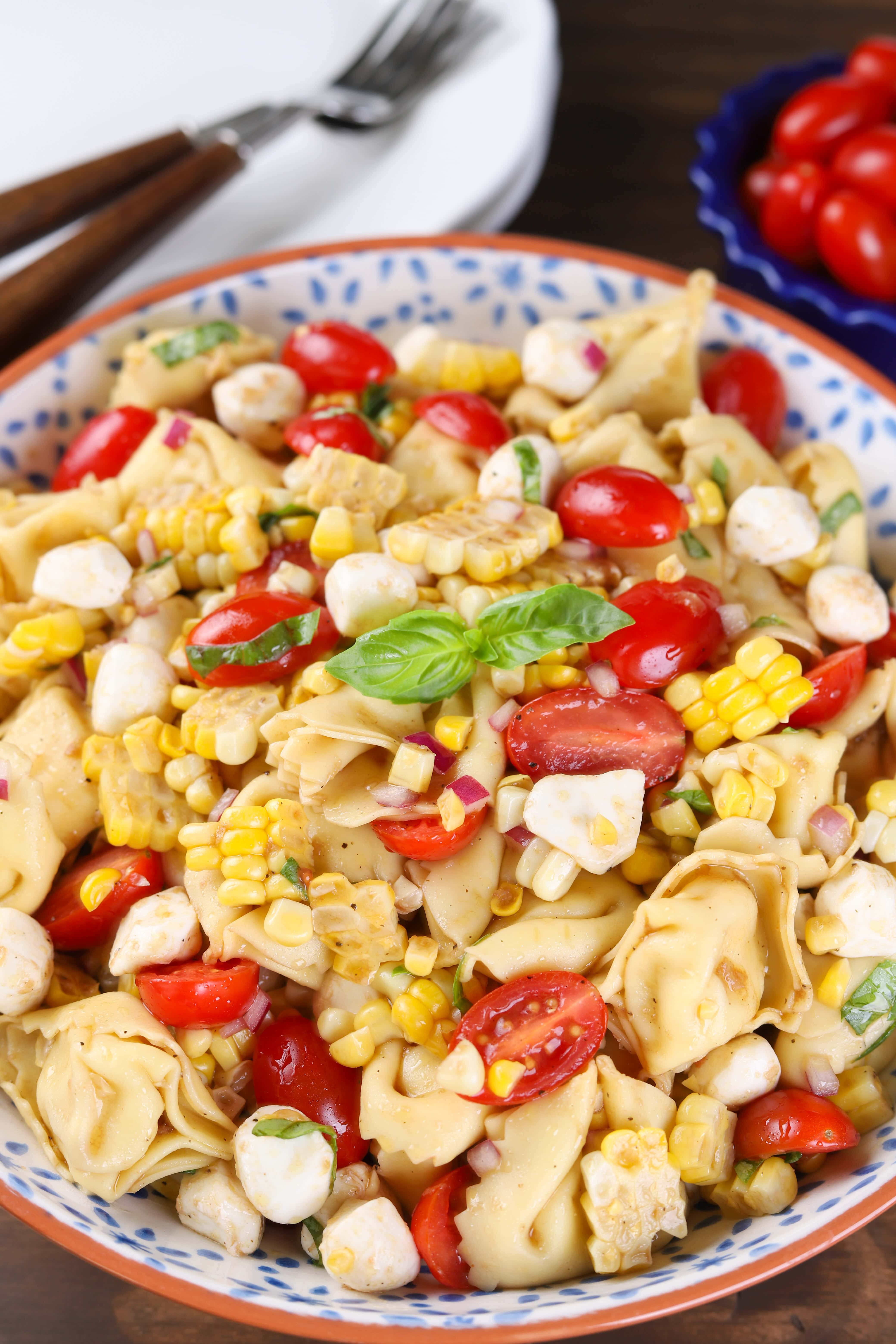 Using tortellini in place of the quinoa cuts down the time it takes for the quinoa to cook and makes this salad a great quick and easy weeknight meal option.
The dressing for both salads is basically the same, there's just a bit more of it for the tortellini salad. Then we swapped out the chicken for some sweet corn.
It was summer in a salad. And I can't wait for it to be summer in a salad from our garden!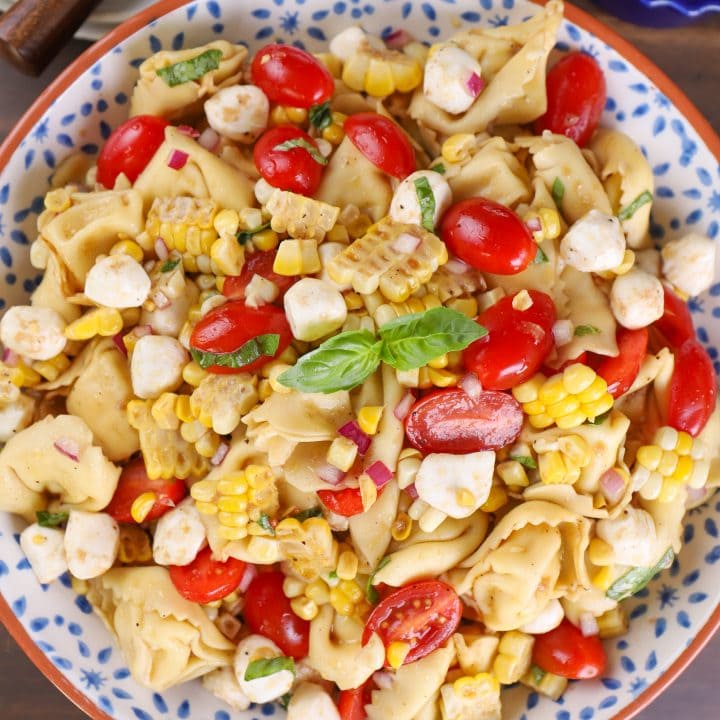 Caprese Corn Tortellini Salad
Yield: 10 servings

Prep Time: 10 minutes

Total Time: 10 minutes
Ingredients
For the Salad
1 (16-20 oz) package cheese tortellini, cooked according to package instructions
3 small or 2 large ears sweet corn, cooked and kernels cut off
1 C cherry tomatoes, halved
8 oz mini fresh mozzarella balls
¼ C fresh basil leaves, torn
¼ C red onion, chopped
For the Dressing
¼ C olive oil
3 tbsp balsamic vinegar
2 tbsp lemon juice
3 garlic cloves, minced
½ tsp salt
¼ tsp black pepper
Instructions
Place cooked tortellini in a large bowl.
In a small bowl, whisk together olive oil, balsamic vinegar, lemon juice, garlic, and salt. Pour over tortellini and toss to coat. Stir in corn, tomatoes, mozzarella balls, basil, and red onion until combined.
Serve immediately or refrigerate until ready to serve.
Notes
We enjoyed this salad best after it had refrigerated a couple of hours and the flavors had a chance to blend.
Recommended Products
As an Amazon Associate and member of other affiliate programs, I earn from qualifying purchases.