Skip the prepackaged cereal bars and make your own! These easy no-bake Trail Mix Cereal Bars are great for a quick breakfast or snack, and you get to control what goes into them!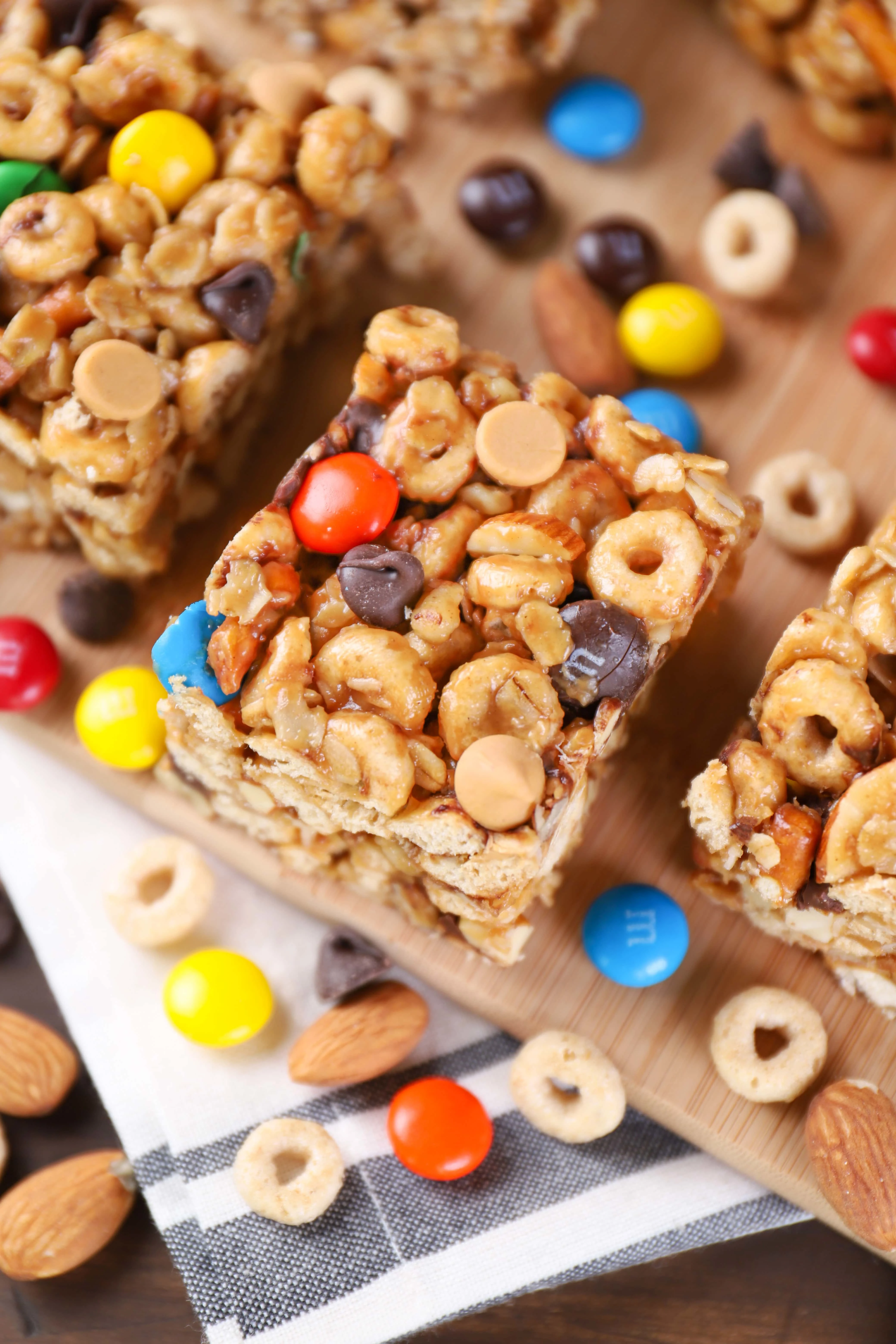 The school year is coming to an end and all of the end of the year programs, tournaments, and graduations are starting to fill up our calendars. Well, if you're in need of a snack or breakfast recipe that can help make your busy life a little easier, I can help. Trail Mix Cereal Bars.
Perfect for a grab-and-go option to have on hand, and you can make them to match your family's and your tastes. These easy no bake trail mix cereal bars were an instant hit around here for both how easy they are to make and how good they taste!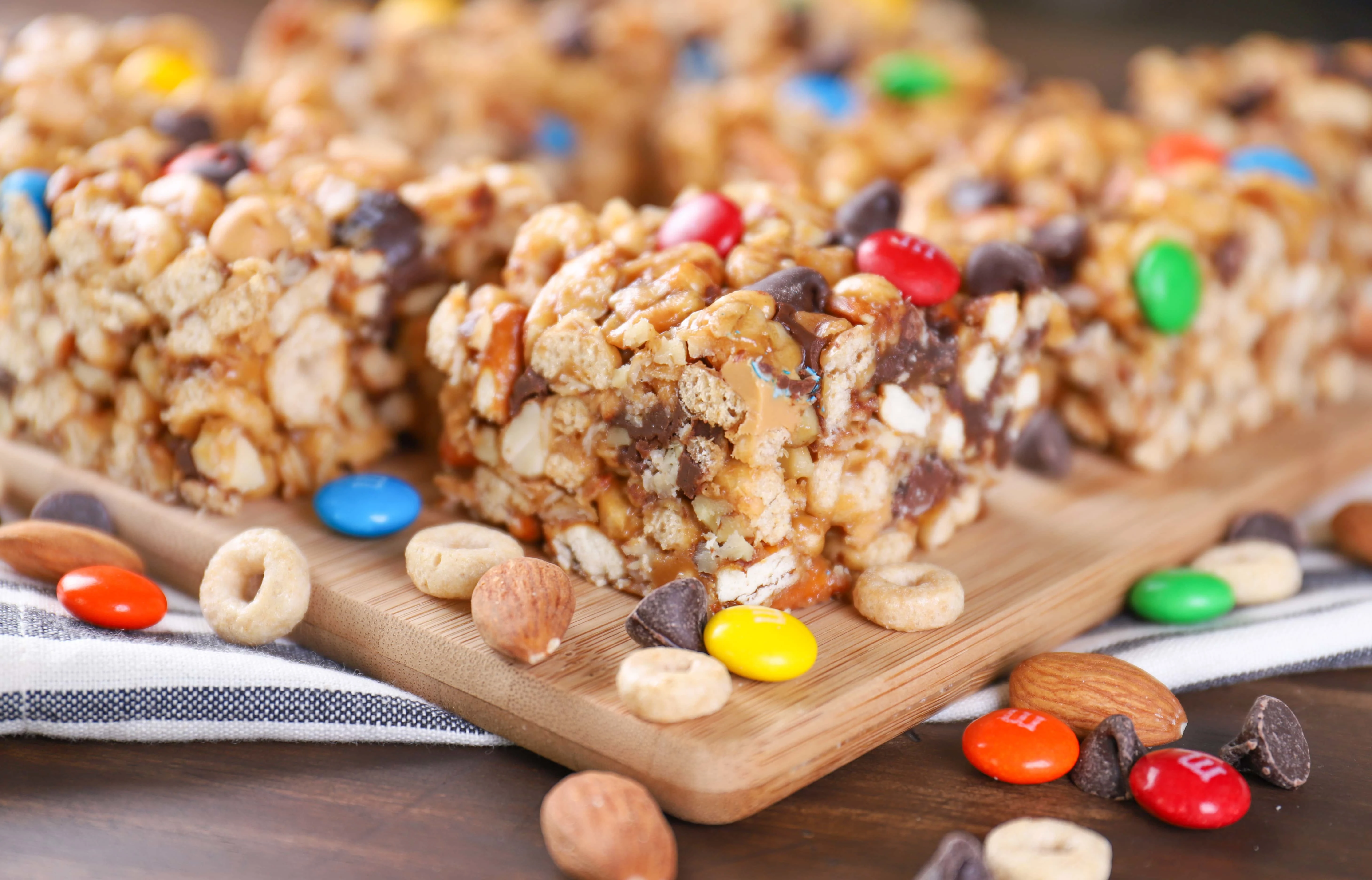 They are really easy to make. You're just mixing ingredients and melting ingredients. Then all you have to do is press everything into a pan and wait for the mixture to cool. Easy. That's easier than jumping in your car to drive in traffic to the store and dodging carts and people to grab a box off the shelf.
The cereal bars are sweetened with coconut sugar and honey, and the peanut butter and coconut oil act as the binding agents. If you want to make them healthier, skip the M&M's and peanut butter chips and just use some good quality dark chocolate chips.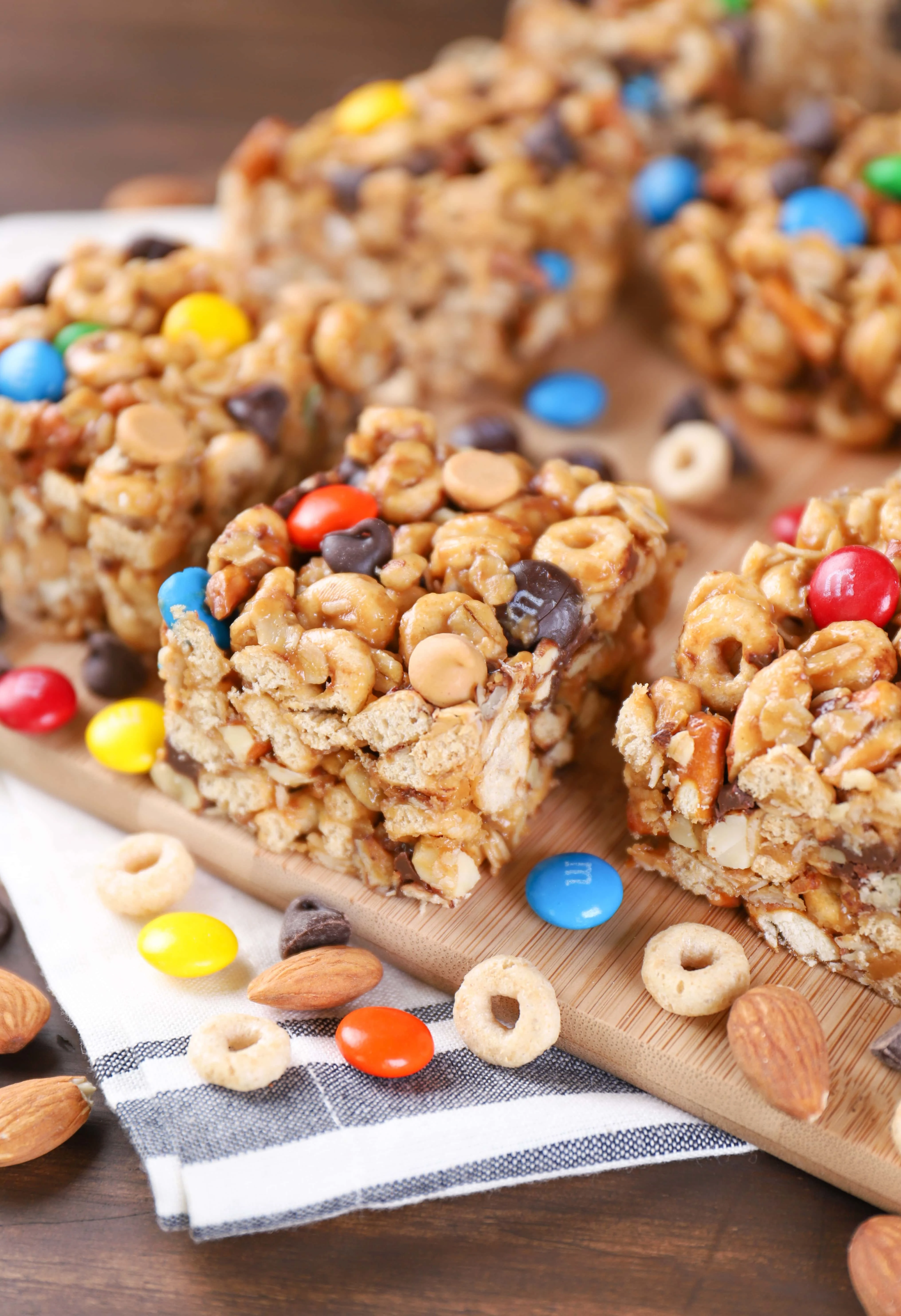 I'd be perfectly content with just the dark chocolate, but my husband prefers a smattering of peanut butter chips to even out the chocolate! I used a combination of almonds, pecans, and walnuts for my mixed nuts, but feel free to use whatever nuts your family likes. It really is a versatile recipe.
The addition of crushed pretzels adds salty pieces that combine with the chocolate chips and create that sweet and salty combination that I can't resist!
We found ourselves grabbing one for a quick snack before working out or snitching one in the afternoon when we wanted something a little sweet. Easy, versatile, delicious. We'll be making another batch soon!
Trail Mix Cereal Bars
Author:
Ingredients
3 1/2 C Cheerios or oat cereal
1 C regular/quick oats
1/2 C crushed pretzels*
1/2 C + 2 tbsp creamy or crunchy peanut butter
1/2 C honey
3 tbsp coconut sugar or granulated sugar
3 tbsp coconut oil, measured in solid state
1 tsp vanilla extract
1/2 C mixed nuts*
1/4 C M&M's or candy coated chocolate pieces
1/4 C dark chocolate chips
1/4 C peanut butter chips
Instructions
Line a 9×9 inch baking dish with aluminum foil and spray with non-stick cooking spray.
In a large, heat safe bowl, combine Cheerios, oats, and pretzels. Set aside.
In a medium saucepan, combine peanut butter, honey, sugar, and coconut oil. Bring to a boil over medium heat. Boil for one minute, stirring constantly to prevent scorching. Remove from heat and stir in vanilla extract.
Carefully pour mixture over the top of the cereal mixture. Stir to coat. Stir in mixed nuts, candy coated chocolate, dark chocolate chips, and peanut butter chips.
Press mixture into prepared baking dish. Refrigerate for one hour or allow to cool completely at room temperature before cutting into bars.
Store in an airtight container. (If your coconut oil is liquid at room temperature, you may need to store the bars in the refrigerator.)
Notes
*The finer you crush the pretzels and nuts, the easier the bars will stay together.