This easy Blueberry Lemon Cream French Toast Bake is bursting with sweet blueberries, swirled with a tart lemon cream, and topped with a crunchy, buttery streusel! Make it the night before for a special breakfast the next morning!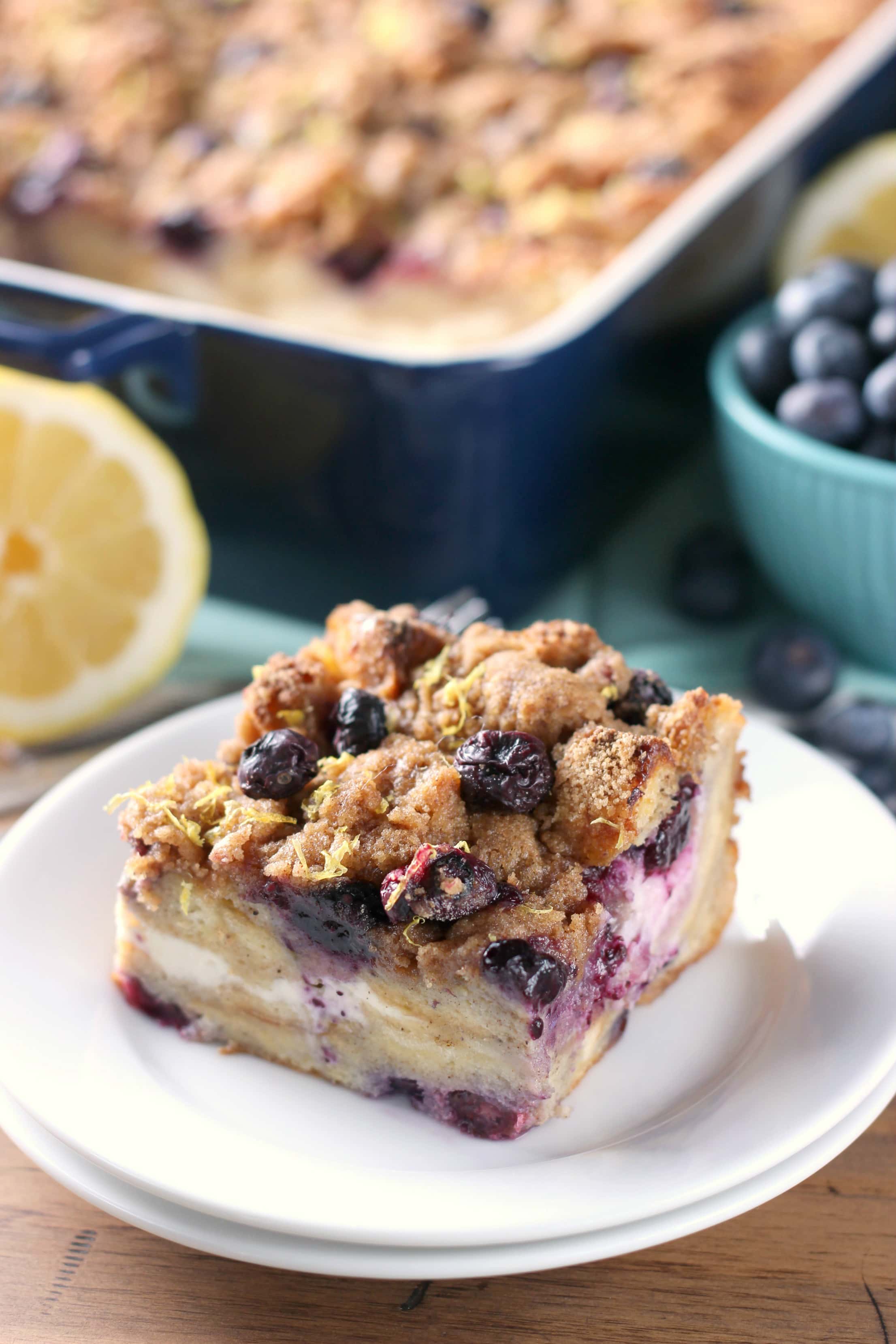 Mother's Day is right around the corner! Do you have your brunch menu planned? If you're still in need of an easy addition, I have the perfect recipe for you!
One that is full of bright, springy flavor and easy! The moms in your life will love this blueberry lemon cream french toast bake.
I've had this raspberries and cream french toast bake on my mind for awhile now and have wanted to make a variation of it. I finally got in the kitchen to switch it up just in time for Mother's Day (or any other spring celebration!).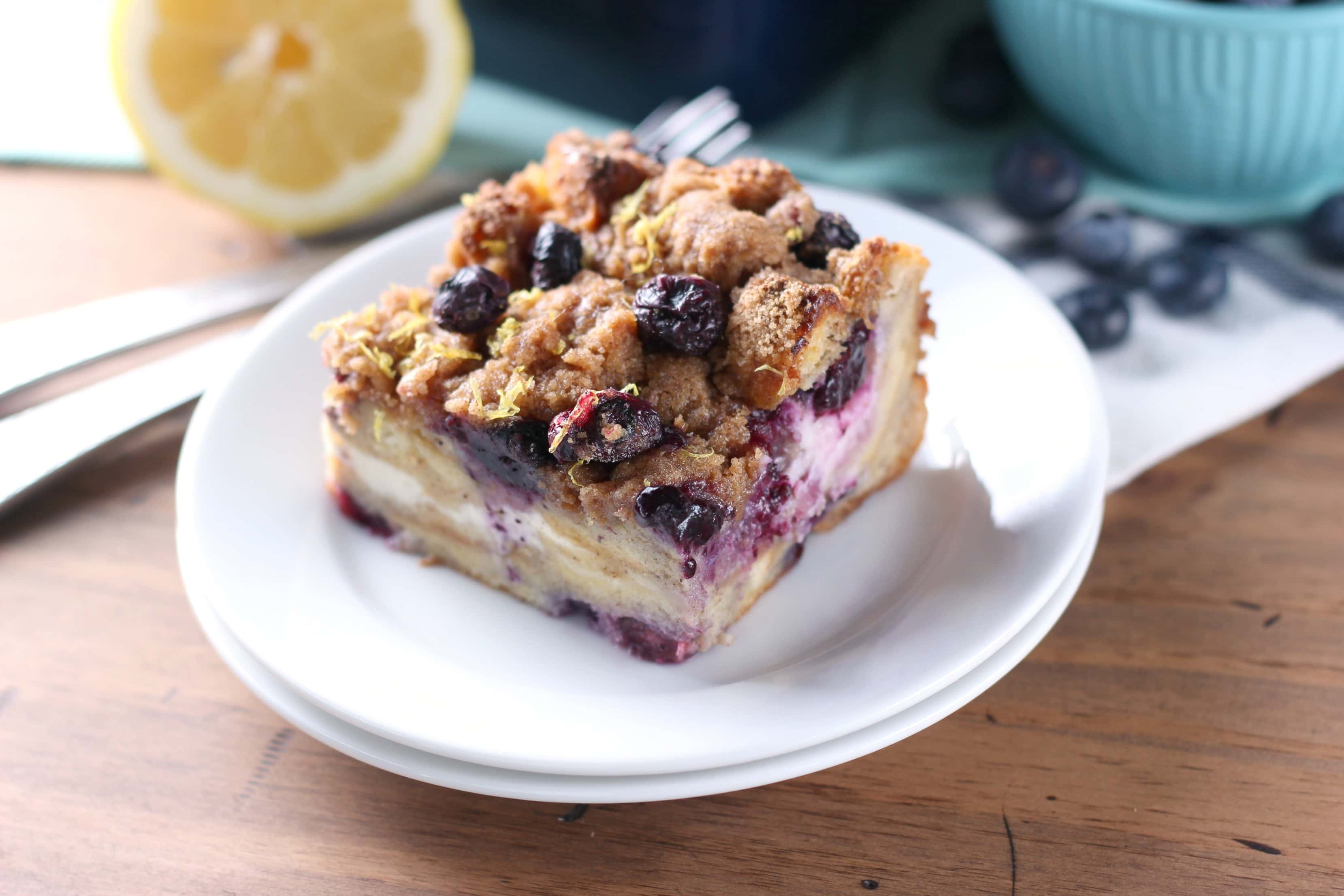 Instead of just cutting up cream cheese and mixing it throughout the french toast bake, the cream cheese is blended with a bit of confectioner's sugar, fresh lemon juice, and fresh lemon zest.
It's then dropped by spoonfuls over half of the bread mixture creating a creamy lemon layer that pairs beautifully with the sweet blueberry french toast.
A light layer of cinnamon streusel tops it off giving you a sweet, buttery crunch in each bite, and a sprinkling of fresh lemon zest is added right before serving to tie together all the layers of flavor.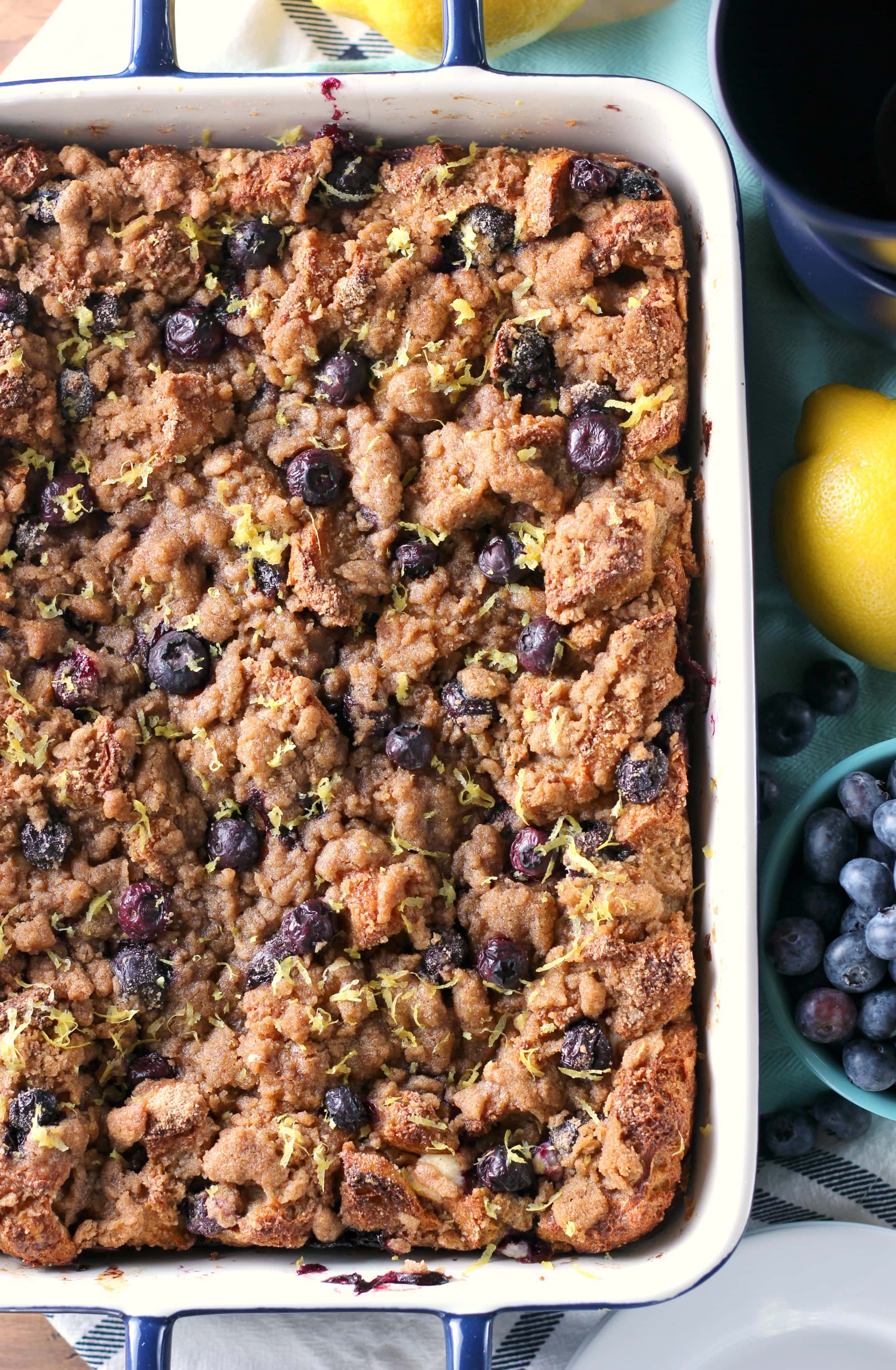 I love how easy french toast bakes are and how you can make most of them the night before. This one is no different. Just mix it all together the night before, stick it in the fridge, and pop it in the oven the next day.
Whether you're in need of a last minute Mother's Day brunch idea or just want something a little extra special for breakfast, this french toast bake is sure to be a crowd pleaser!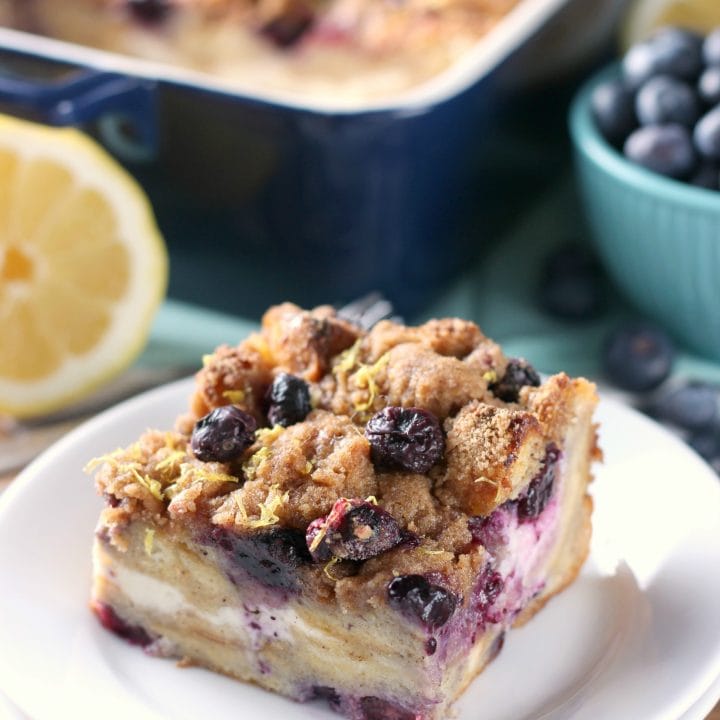 Blueberry Lemon Cream French Toast Bake
Yield: 12 servings

Prep Time: 15 minutes

Bake Time: 1 hour 5 minutes

Total Time: 1 hour 20 minutes
Ingredients
For the French Toast
12 C cubed day old french bread
10 eggs
1/2 C maple syrup
1 1/2 C milk of your choice
1 tbsp vanilla extract
1 tbsp cinnamon
1½ tsp nutmeg
2 C fresh blueberries
1 tbsp fresh lemon zest
For the Lemon Cream
8 oz cream cheese, softened
1/3 C confectioner's sugar
1/8 tsp salt
1 tbsp fresh lemon juice
1 tbsp fresh lemon zest
For the Crumb Topping
¼ C butter, softened
¼ C brown sugar
¼ C all-purpose flour
1½ tsp cinnamon
¼ tsp nutmeg
⅛ tsp salt
1/4 C fresh blueberries
Instructions
Preheat oven to 350. Spray a 9x13 inch baking dish with non-stick cooking spray.
Add cubed bread to a large bowl. Set aside.
n a separate large bowl, whisk together eggs, maple syrup, milk, vanilla extract, cinnamon, and nutmeg. Pour over cubed bread and stir to combine. Gently stir in blueberries and lemon zest.
In a medium bowl, beat together cream cheese, confectioner's sugar, and salt until smooth. Beat in lemon juice and lemon zest until combined.
Pour 1/2 to 2/3 of bread mixture into the bottom of the prepared baking dish. Spoon cream cheese mixture over the top. Top with remaining bread mixture.
In a small bowl, whisk together brown sugar, flour, cinnamon, nutmeg, and salt. Cut in butter until mixture resembles coarse crumbs. Sprinkle over the top. Top with additional 1/4 cup blueberries.
If baking the next day, cover and store in refrigerator until ready to bake. If baking immediately, bake for 55-65 minutes or until topping browns and center is puffed. (Center will deflate as it cools.)
Remove from oven. Top with additional lemon zest, if desired. Allow to cool for 10 minutes before cutting into pieces and serving.
Store leftovers in the refrigerator.
Recommended Products
As an Amazon Associate and member of other affiliate programs, I earn from qualifying purchases.