I customized my coffee using Folgers® to pair with a raspberries and cream french toast bake as part of a sponsored post for Socialstars. #MyIcedCafe All opinions are my own.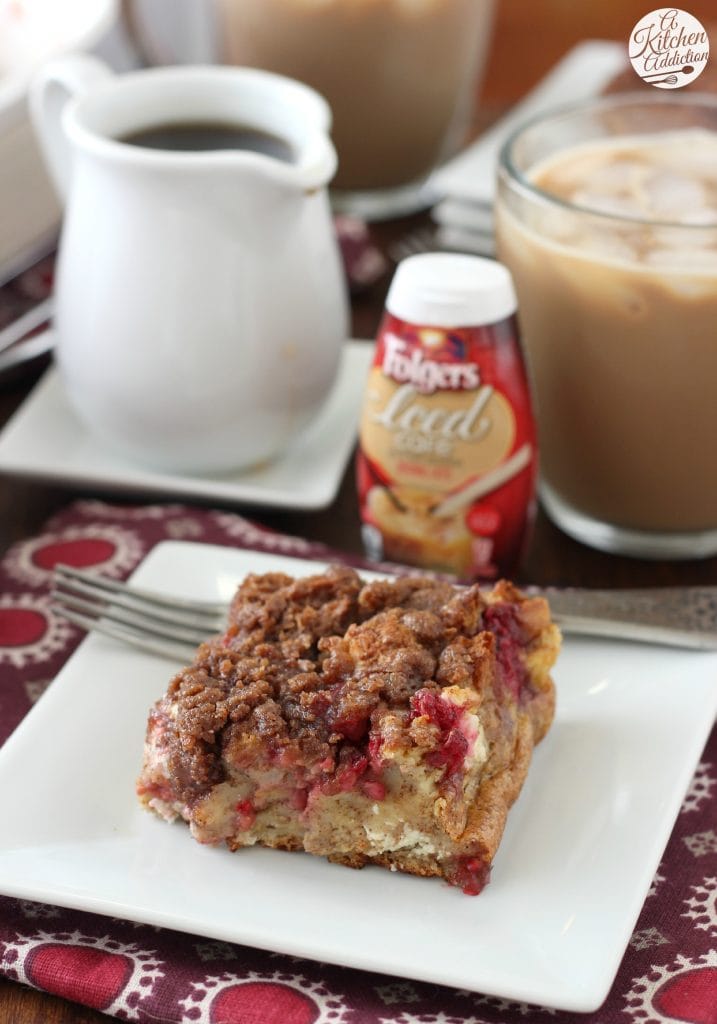 The sun's shining. The snow's melting. It might even hit 60 degrees today! I think spring may finally be here! Along with the arrival of warmth comes the arrival of iced coffee! While I'll eat all kinds of ice cream during the winter months, I can't bring myself to drink iced coffee. But it's time! Mornings at my house are about to be switched up!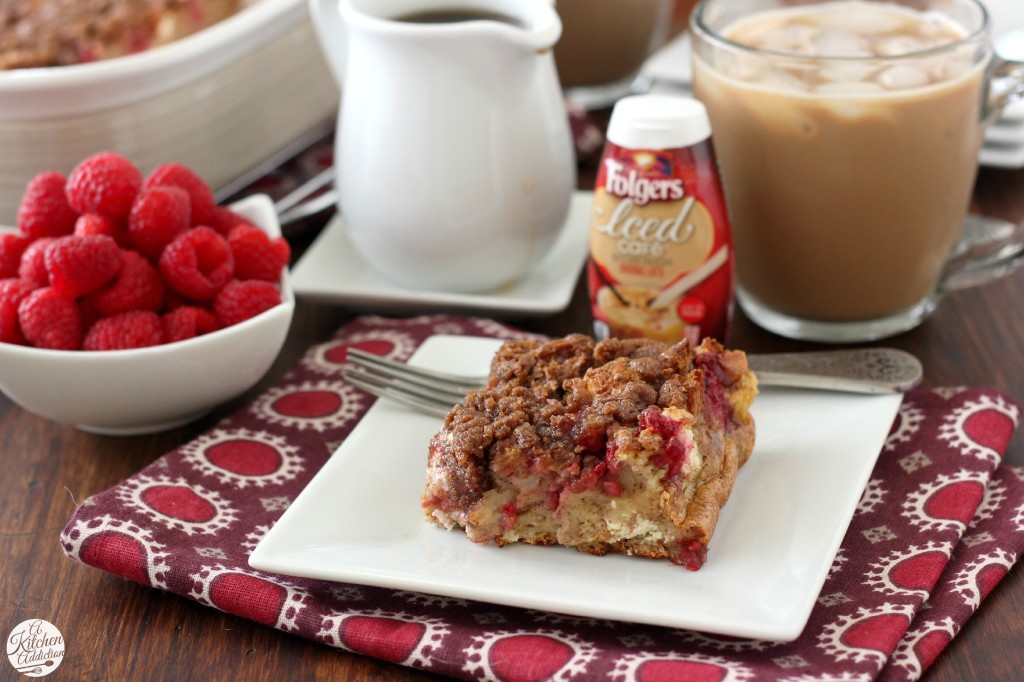 Iced coffees, iced lattes, maybe even an iced mocha, they are all great ways to start off a warm morning. However, it can take awhile to prepare your iced latte in the morning when every minute is precious. (Well, at least it seems that way at our house!) Folgers® just came out with a line of products to help you make the most of your morning while still enjoying your iced coffee. It's their Iced Café coffee drink concentrate that is available in 4 different flavors. The concentrate is made from Mountain Grown® beans with a fresh, consistently satisfying taste.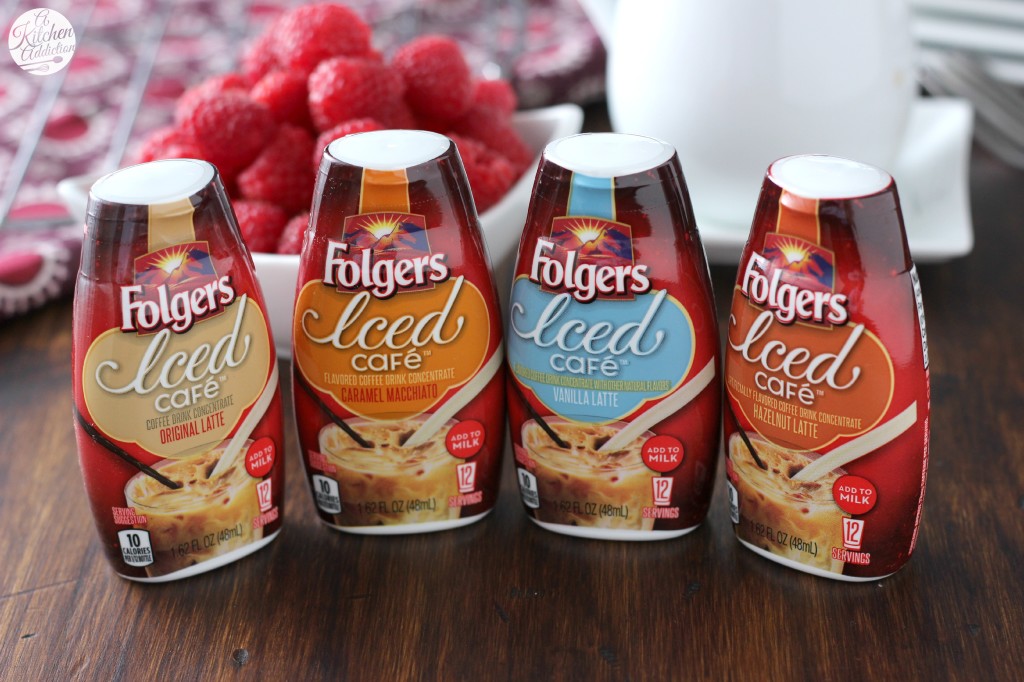 Just stir it into your choice milk, add some ice, and you're good to go. It doesn't get much more convenient than that. They are also small and portable so you can also take it with you if you want to customize your drink while you're on the go!
You know what else makes your morning easier? French toast bake. It's one of my favorite breakfasts to have on hand to quick warm up on a weekday morning. The grocery store recently had raspberries on sale, and I just had to grab a few cartons. Of course we couldn't eat them all before they would go bad, so I combined them with some cream cheese and mixed them into this raspberries and cream french toast bake.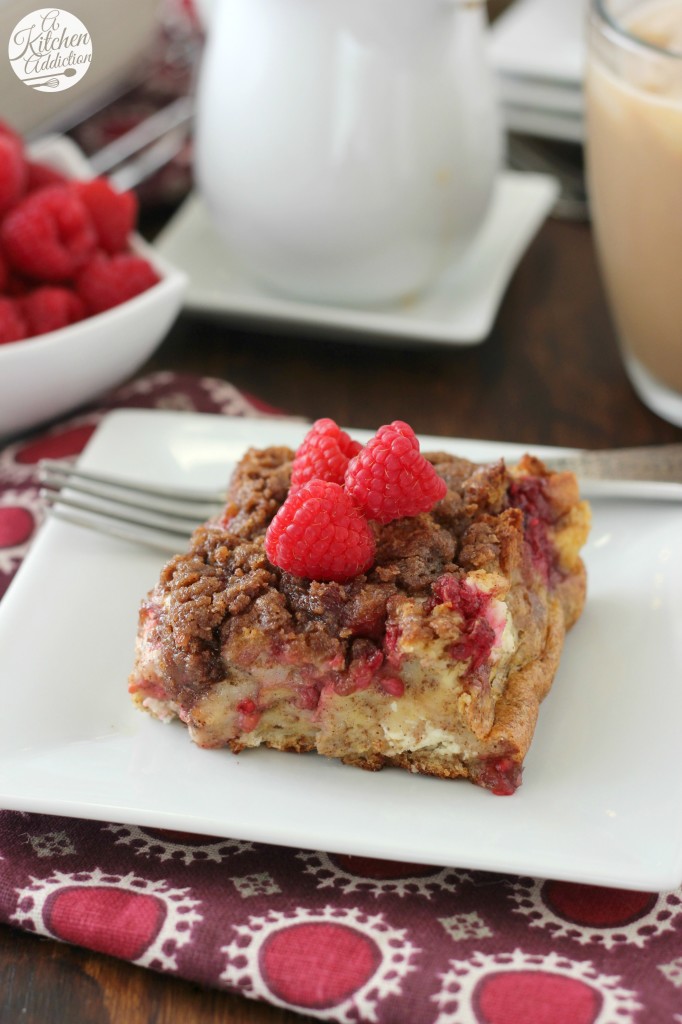 Though this french toast bake would be good enough with the fresh raspberries and sweet cream cheese, I added a streusel topping for good measure! A crunchy, sugar topping is a great addition to this spring breakfast. Just warm up a slice, grab your customized coffee, and your morning is off to a great start!
Be sure to check out Folgers® Iced Café on Facebook and Twitter!

Raspberries and Cream French Toast Bake
Author:
A Kitchen Addiction
Ingredients
For the French Toast
6½ C day old French bread, cubed
5 eggs
¼ C maple syrup
1 C milk
2 tsp vanilla extract
1 tbsp cinnamon
1 tsp nutmeg
1½ C fresh raspberries
4 oz ⅓ of the fat cream cheese, softened and cubed
For the Streusel Topping
¼ C butter, softened
¼ C brown sugar
¼ C all-purpose flour
1½ tsp cinnamon
½ tsp nutmeg
¼ tsp salt
Instructions
Preheat oven to 350. Lightly spray an 8x8 or 9x9 inch baking dish with non-stick cooking spray.
Add bread cubes to a large bowl.
In a medium bowl, whisk together eggs, maple syrup, milk, vanilla extract, cinnamon, and nutmeg. Stir to combine. Pour onto bread cubes. Stir together.
Gently stir in raspberries and cream cheese.
Pour mixture into prepared baking dish. Gently press down with spatula.
In a small bowl, stir together brown sugar, flour, cinnamon, nutmeg, and salt. Cut in butter with a fork. Sprinkle over the top of the bread mixture.
If baking the next day, place in the refrigerator until ready to bake. If baking immediately, bake for 40-50 minutes until topping browns and center is puffed. Center will deflate as it cools.
Remove from oven and allow to cool for 10 minutes before serving with your favorite syrup.
Store leftovers in the refrigerator.