These Coconut Honey Almond Granola Clusters are perfectly sweetened and crunchy! Sprinkle on yogurt, top it with milk, or grab a handful and snack away!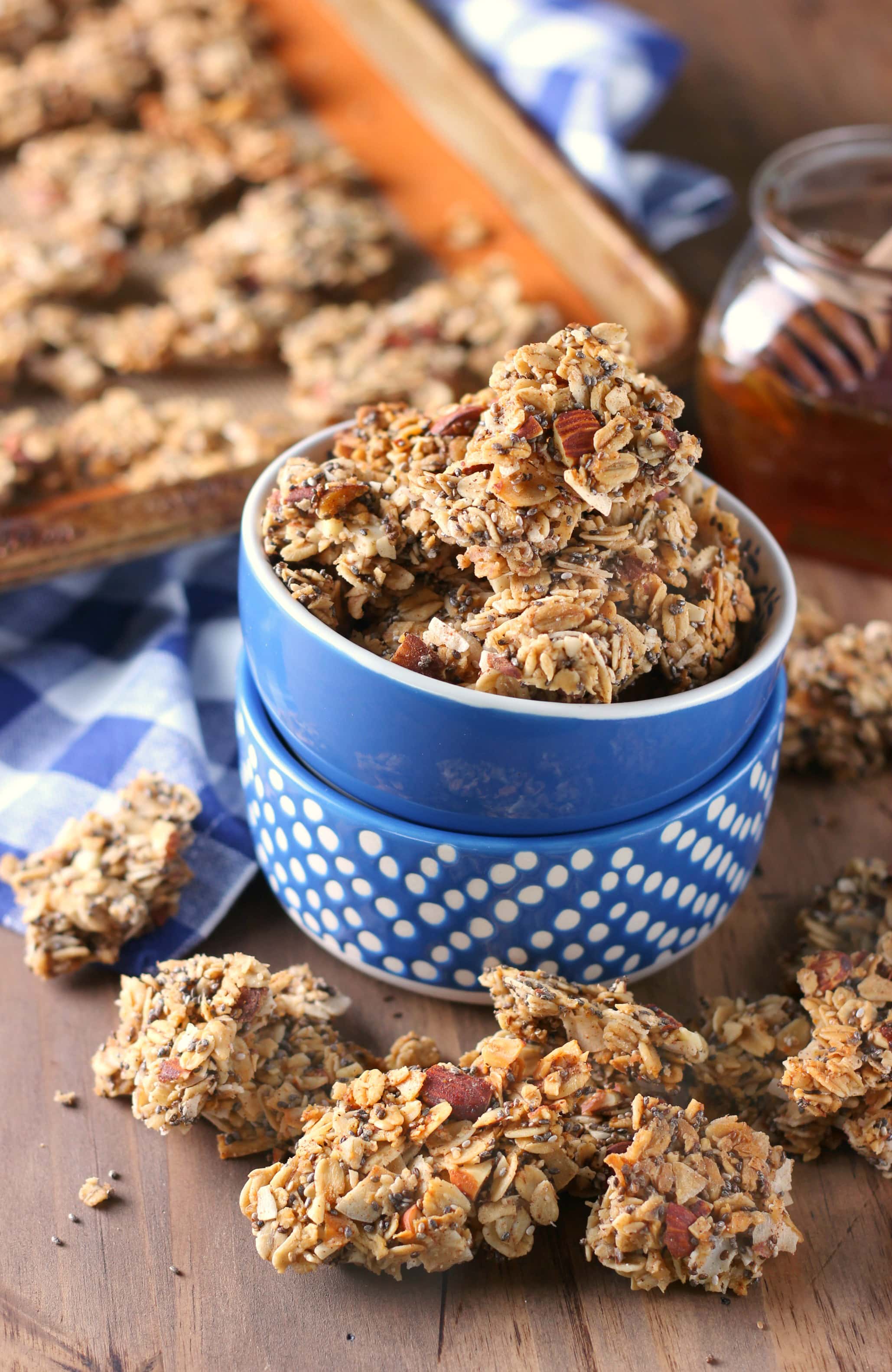 Have you made your own granola before? It's super easy (and cheaper!) to make. Every time I pull a batch out of the oven I wonder why I don't make it more often. It usually disappears in a hurry! This batch was no different.
For me, the chunks of granola are the best part of a bag of granola. I'm always picking out the biggest clusters first if I'm snacking on a handful. Or if I'm eating it on yogurt or with milk!
Since I like them the best, I figured I should just make a batch of granola clusters. No second best pieces, just the best!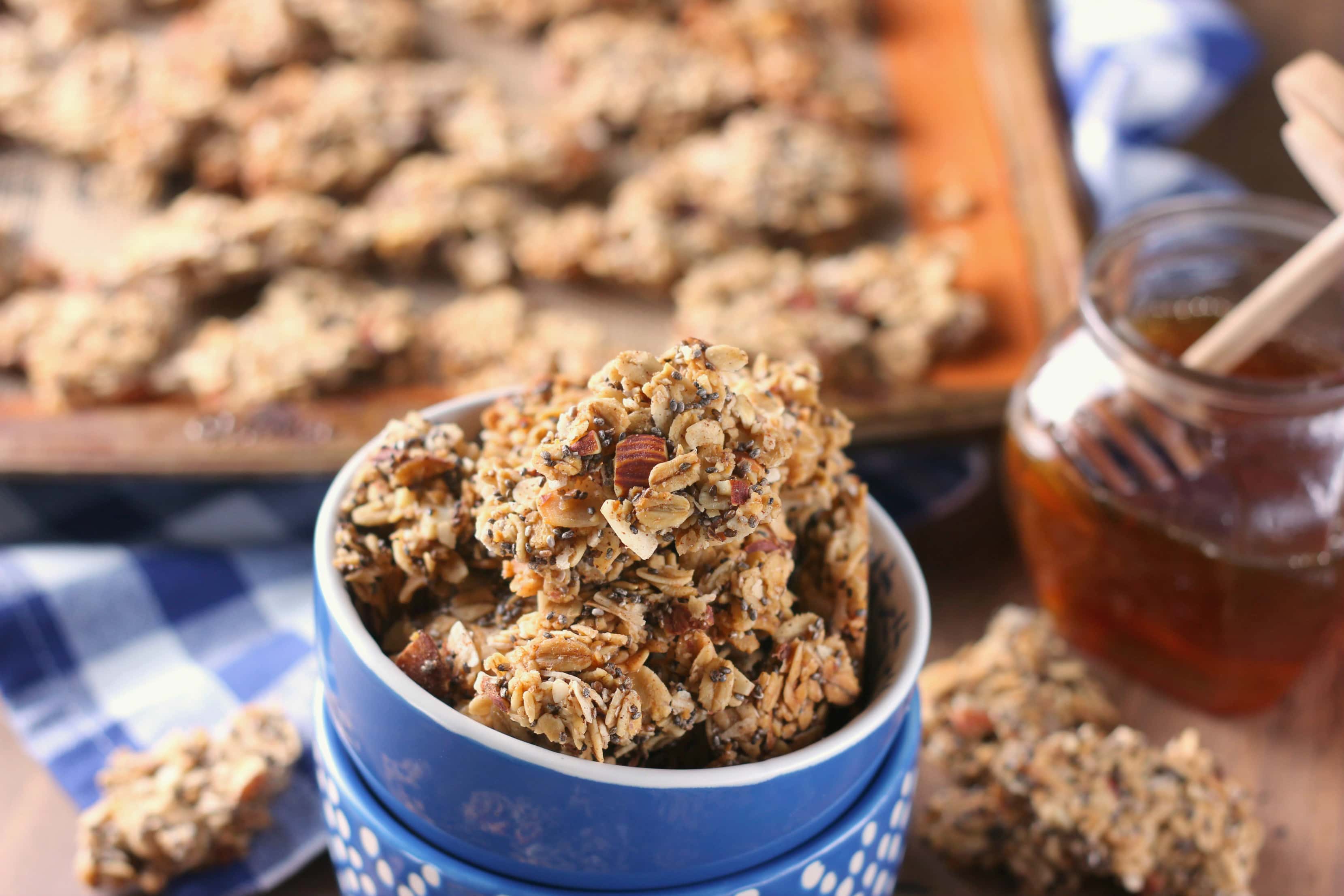 The coconut honey almond combo is one of my favorites when making granola. There's the right amount of sweetness and crunch that I don't tire of.
Honey is the only sweetener in this granola and we found the amount listed below to be the perfect level of sweetness for use. If you like sweet granola though, you may want to up the amount to 3/4 cup.
For a bit of added crunch and nutrition, I threw in some chia seeds. You could swap them out for flaxseed, or just use more oats. That's the great thing about making your own granola. It's super versatile!
Achieving a batch of granola clusters is really simple. Mix the dry ingredients together and stir in the wet ingredients until combined. Let it sit for 10 minutes for the oats and chia seeds to soak up some moisture.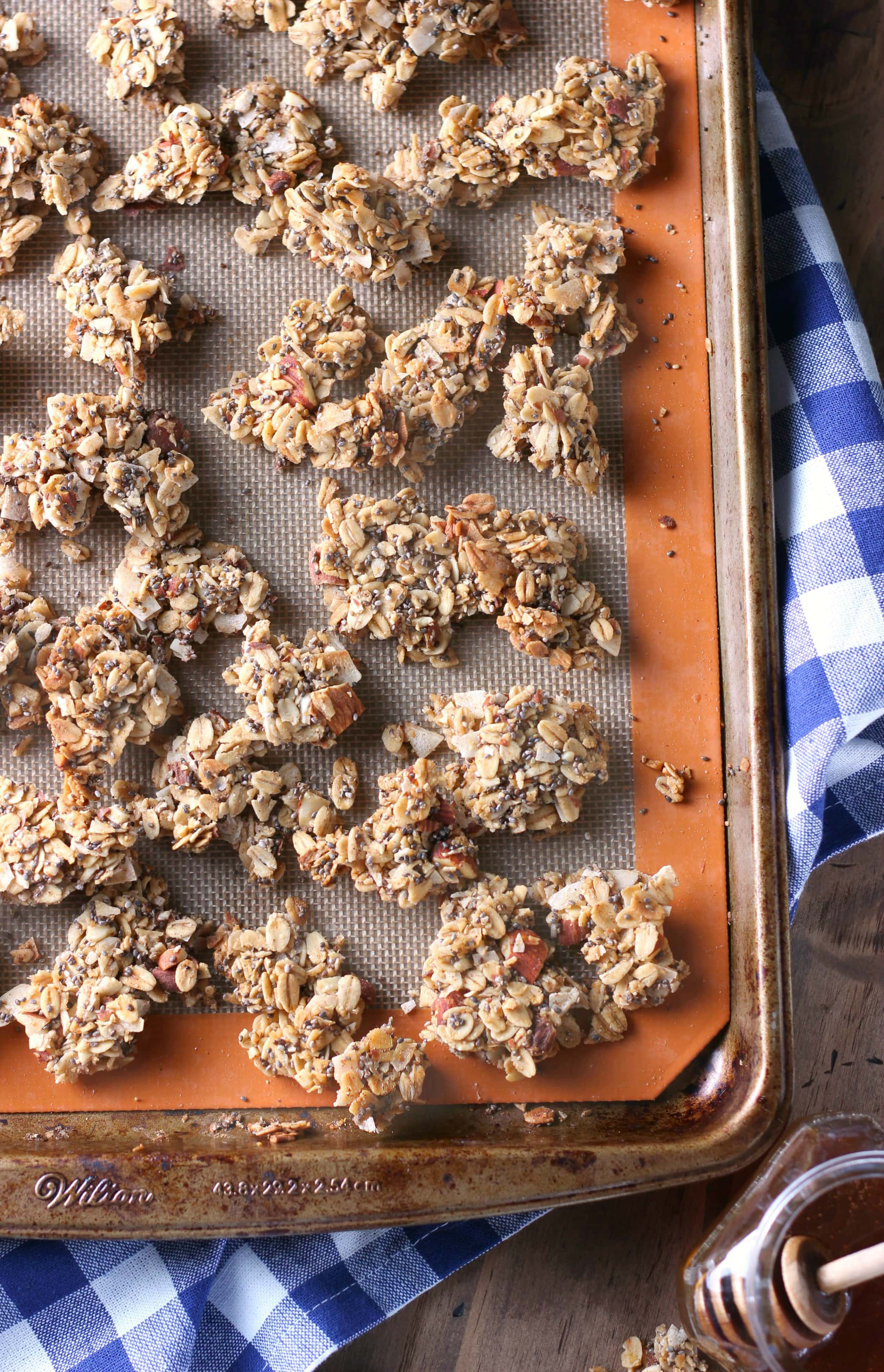 Then instead of just spreading the mixture in the pan and stirring it while it bakes, you press the mixture into the pan. Rotate the pan a few times while the granola bakes and then pull out the pan and allow the granola to cool completely. The last step is the best part.
You get to decide the size of your granola clusters! It's basically one big piece of granola at this point. Break it up into the size that's your favorite.
Then have it for breakfast, take it with you to work to snack on, or munch on for a late night snack!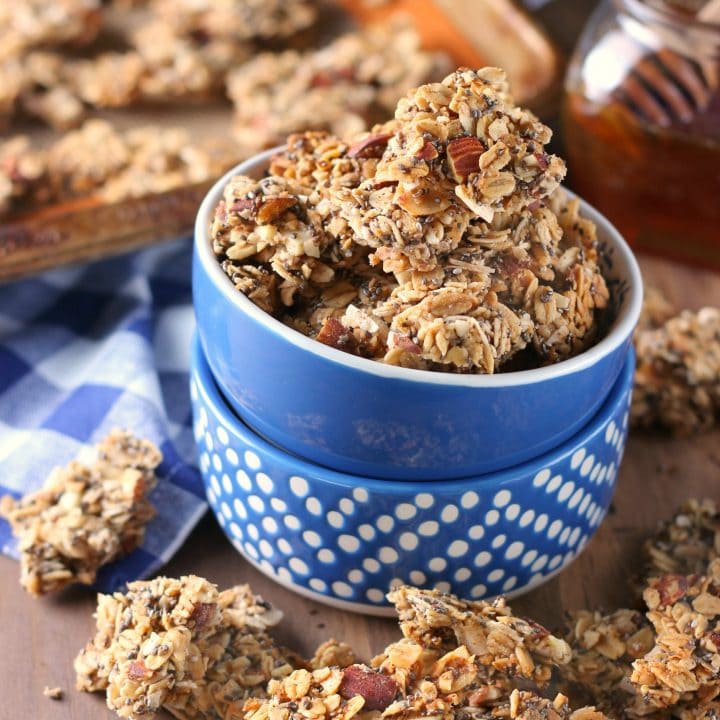 Coconut Honey Almond Granola Clusters
Ingredients
3 C regular oats
1/3 C chia seeds
2 1/2 tsp cinnamon
1 tsp nutmeg
½ tsp salt
1 1/2 C shredded/flaked coconut (I used unsweetened)
1 C almonds, coarsely chopped
2/3 C honey
1/4 C coconut oil. melted
6 tbsp water
1 tbsp vanilla extract
Instructions
Preheat oven to 300 F. Line baking sheet with parchment paper or a baking mat.
In a large bowl, combine oats, chia seeds, cinnamon, nutmeg, salt, coconut, and almonds. Add in honey, coconut oil, vanilla, and 1 tablespoon water and stir until oat mixture is well-coated. If mixture is still dry, add another tablespoon of water.
Let mixture sit for 10 minutes.
Press mixture into prepared baking sheet. Bake for 40-45 minutes or until granola starts to evenly turn golden brown, rotating the pan every 10-15 minutes.
Remove pan to wire rack and cool completely. Break granola into clusters and store in an airtight container.
Recommended Products
As an Amazon Associate and member of other affiliate programs, I earn from qualifying purchases.