This Caprese Roasted Red Pepper Hummus Crostini is an easy vegetarian appetizer that comes together quickly and is loaded with fresh flavor!
This post is sponsored by Sabra as part of an ongoing partnership. All opinions are my own. Thanks for supporting brands that make A Kitchen Addiction possible!
It's that time of year again when we turn to lighter, fresh flavors for our meals, snacks and appetizers.
Here in Minnesota we can finally start thinking about getting in our gardens and planting! I can't wait to be able to walk to the garden and grab fresh produce for meals!
One combination of flavors that we enjoy during the summer months is the caprese salad combo of fresh mozzarella, tomatoes, and basil.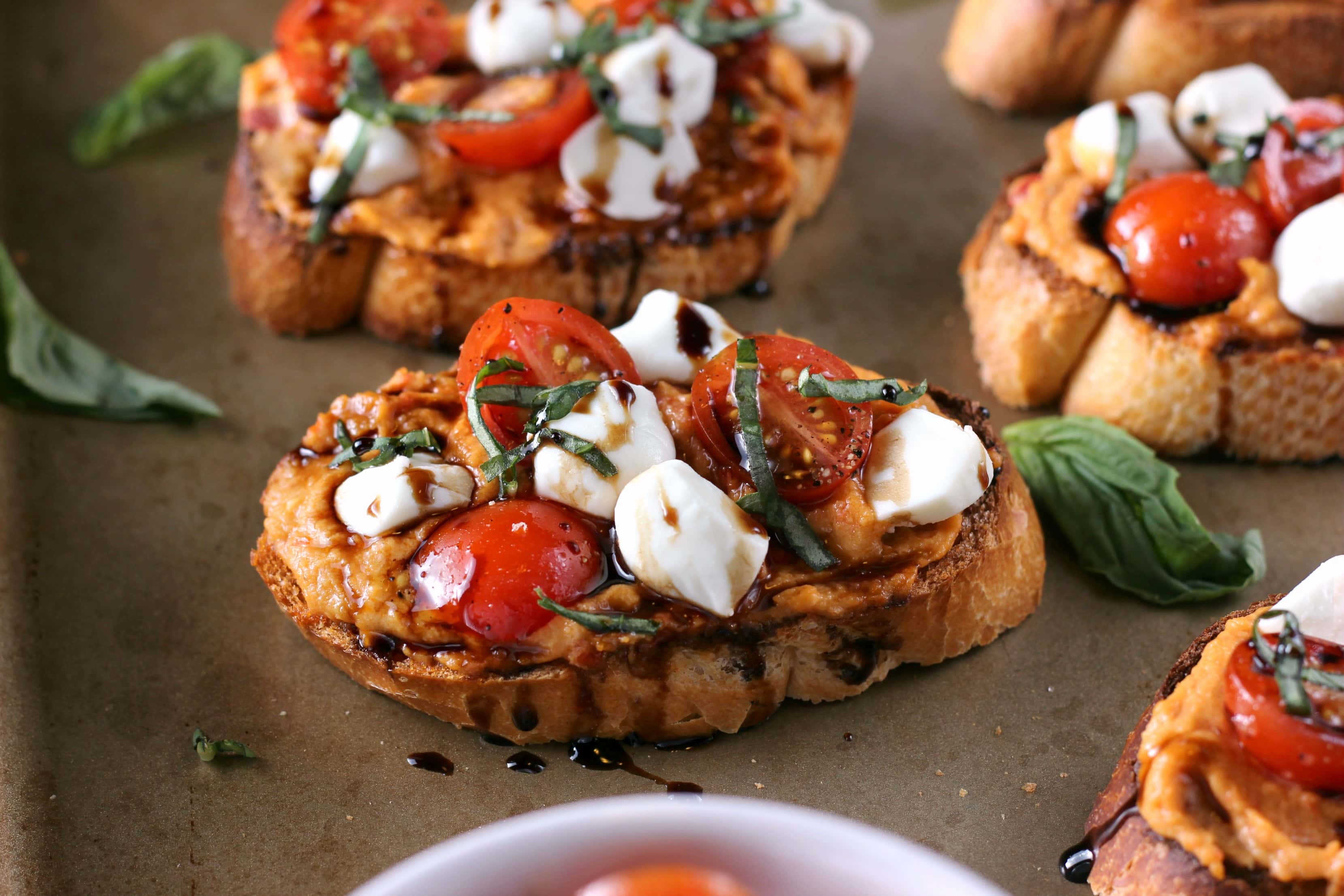 All we have to do is keep fresh mozzarella on hand and then head to the garden for the rest. Unfortunately, getting the produce from our garden isn't going to happen for awhile.
However, that doesn't stop us from enjoying it!
Thanks to some help from Sabra, we're thinking about all of the fresh produce to come and snacking away on a few of these caprese roasted red pepper hummus crostini.
Just in time to celebrate National Hummus Day (which is May 13th!)! That's one food holiday that we can't let pass without celebrating!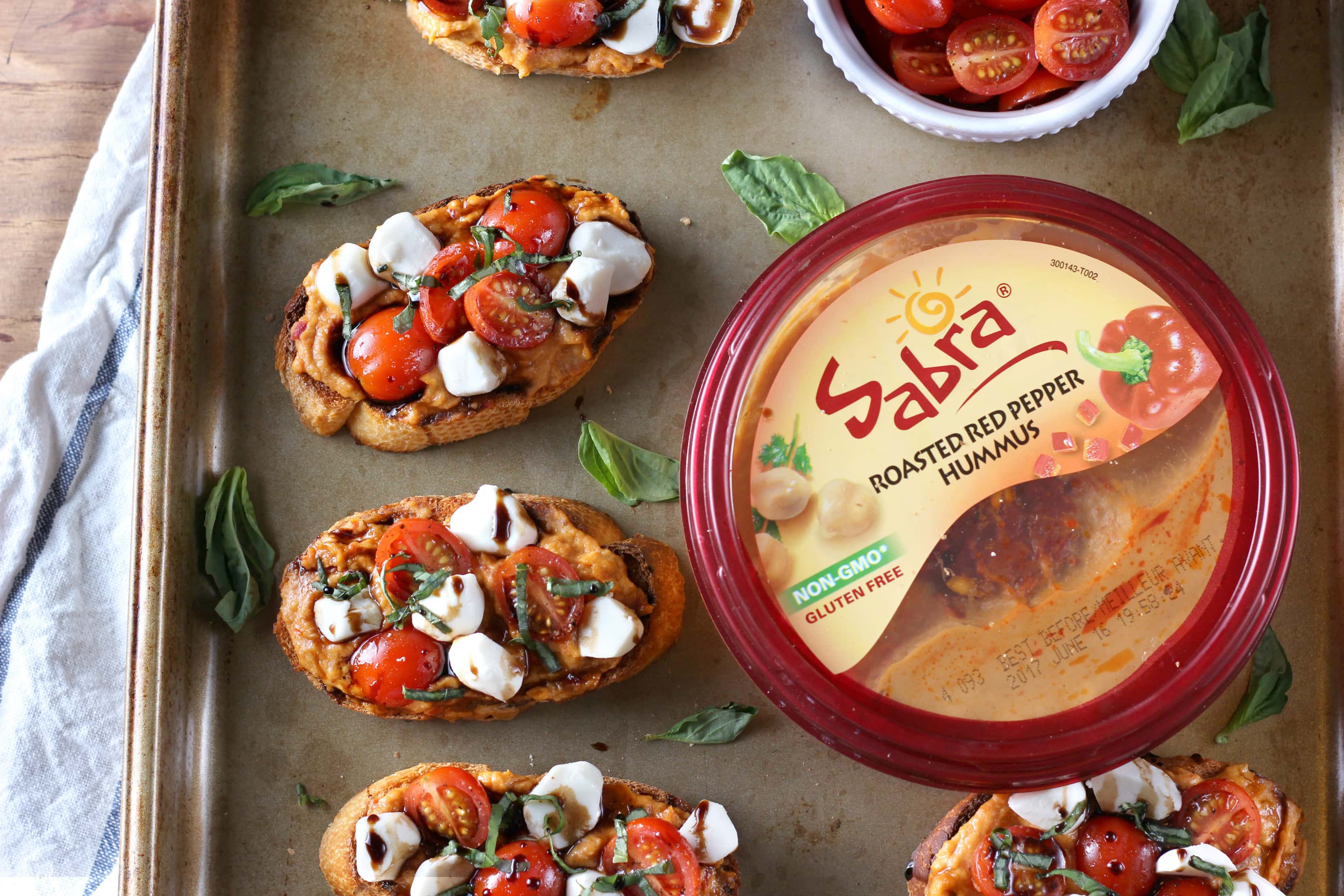 The base of the crostini is Sabra's plant-based hummus, in my favorite flavor, roasted red pepper. The toppings include the classic tomato, basil, and fresh mozzarella combination.
To add a bit more flavor, there's an easy balsamic glaze that's drizzled over the crostini right before serving (making it way too easy to eat more than a couple!).
While these crostini make a great vegetarian appetizer, we found ourselves turning them into an "unofficial meal" the day I took pictures.
What's an unofficial meal? Well, it's that pre-dinner snack/appetizer that everyone snacks on after coming home from work to hold your over until dinner is ready.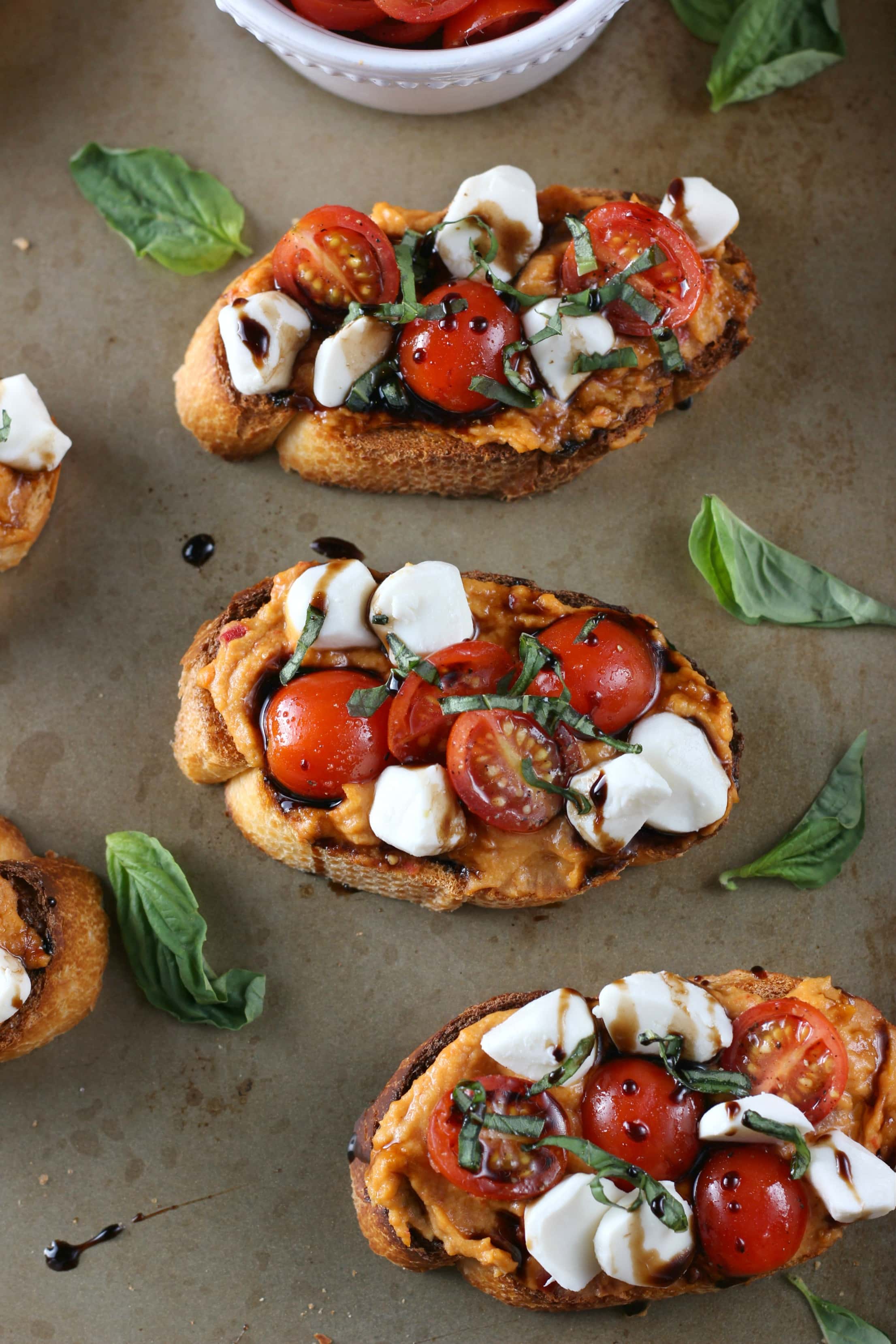 We find ourselves having an unofficial meal frequently, especially after a busy few days and dinner just isn't going to be on the table anytime soon!
You can easily throw together a few of these crostini to hold you over until dinner is ready. Both the tomato mixture and the balsamic glaze can be made ahead of time and stored in the fridge.
Just warm up the glaze or stir in a bit of warm water right before using.
Then all you have to do is toast a few slices of bread, spread on the hummus, top with the tomato mixture and mozzarella, sprinkle with basil, drizzle the glaze, and dig in!
Caprese Roasted Red Pepper Hummus Crostini
Author:
Ingredients
1/2 C balsamic vinegar
2 tbsp brown sugar
16-20 slices french bread (depending on size of french bread), about 1/2 inch thick
1 container [url href="http://sabra.com/hummus.html" rel="nofollow" target="_blank"]Sabra Roasted Red Pepper Hummus[/url]
1/3 C thinly sliced fresh basil
1 C chopped tomatoes (I used halved grape tomatoes)
1 1/2 tbsp olive oil
1/2 tsp salt
1/4 tsp ground black pepper
4 oz mozzarella pearls, halved
Instructions
In a small saucepan, combine balsamic vinegar and brown sugar over medium heat. Bring to a simmer and allow to simmer for 10-15 minutes, or until mixtures reduces to about half. Remove from heat and set aside.
In a small bowl, stir together tomatoes, olive oil, salt, and pepper. Set aside
Toast bread slices until light golden brown.
Stir hummus until combined. Spread a generous layer of hummus on each slice of toasted bread. Top with tomatoes mixture. Add a few mozzarella pieces. Sprinkle with sliced basil. Drizzle with balsamic glaze.
Serve.