These Banana Snickerdoodle Scones are filled with the comforting flavors of banana bread and snickerdoodle cookies! A crackly cinnamon sugar topping adds more of the classic snickerdoodle flavor! This simple recipe is sure to become a family favorite!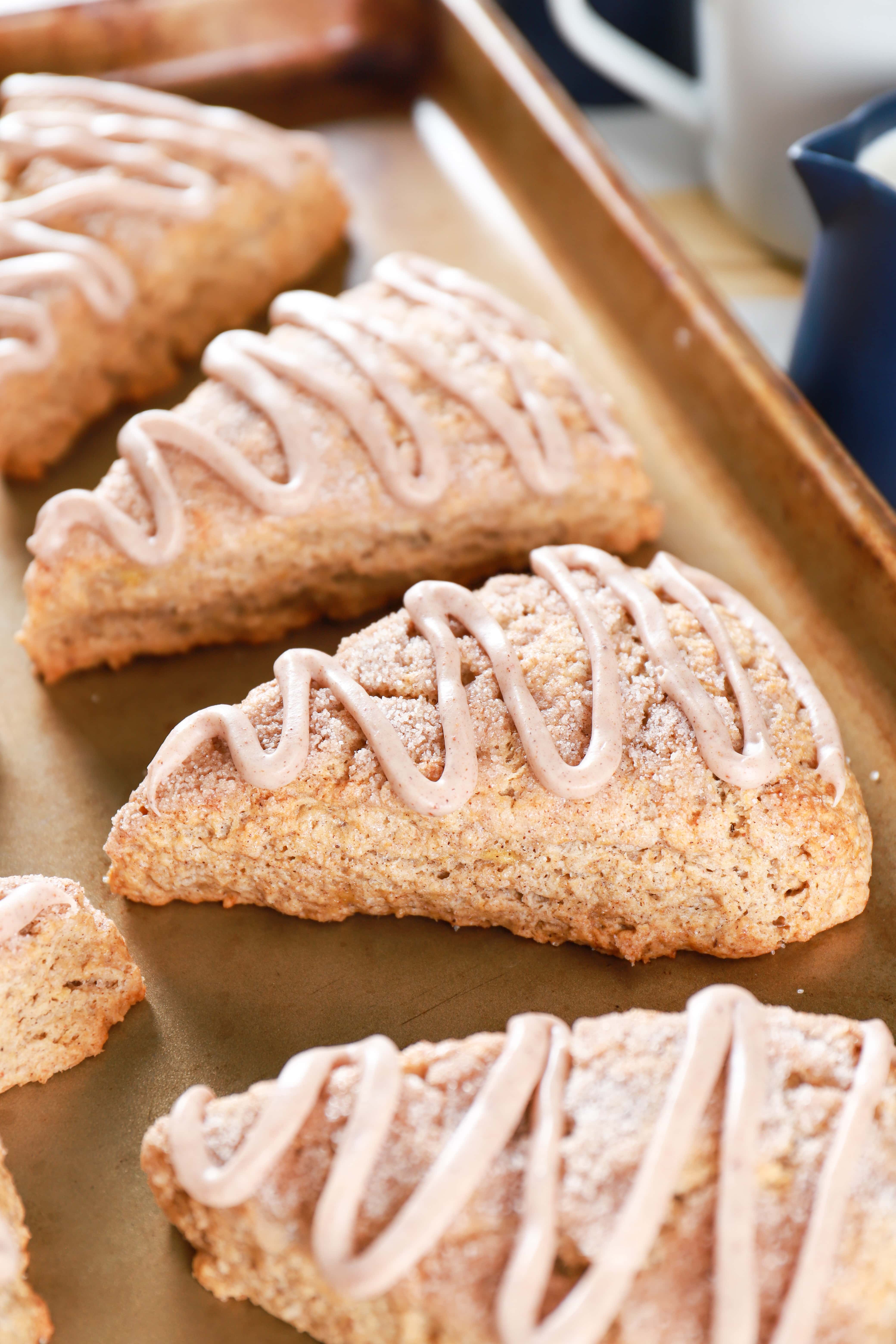 There's something about banana bread that says "comfort food" to me. The smell of it baking just makes the house seem cozier. Throw in the comforting spices of cinnamon and nutmeg, and I can't resist.
These Banana Snickerdoodle Scones have the same affect! Bananas, cinnamon, and a bit of nutmeg give the scones a hint of banana bread flavor, and cinnamon sugar and cream of tartar give the scones that classic, tangy cinnamon snickerdoodle flavor.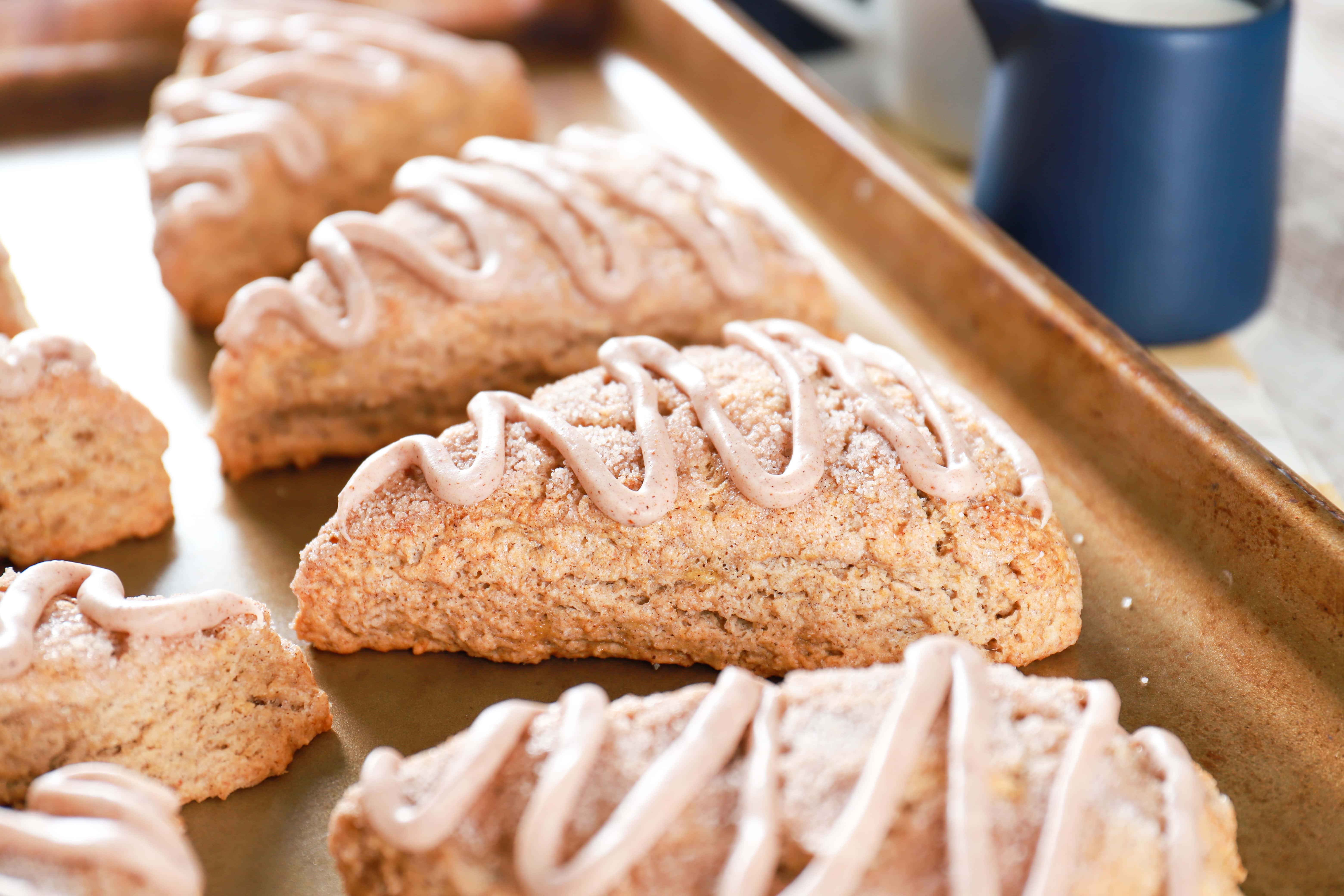 Just like with snickerdoodle cookies, a crackly, cinnamon sugar topping gives the scones an extra boost of snickerdoodle flavor! A light cinnamon sugar drizzle adds a bit more decadence, but feel free to skip that step if you can't wait. They'll still taste great!
You can't go wrong with a breakfast that tastes like dessert!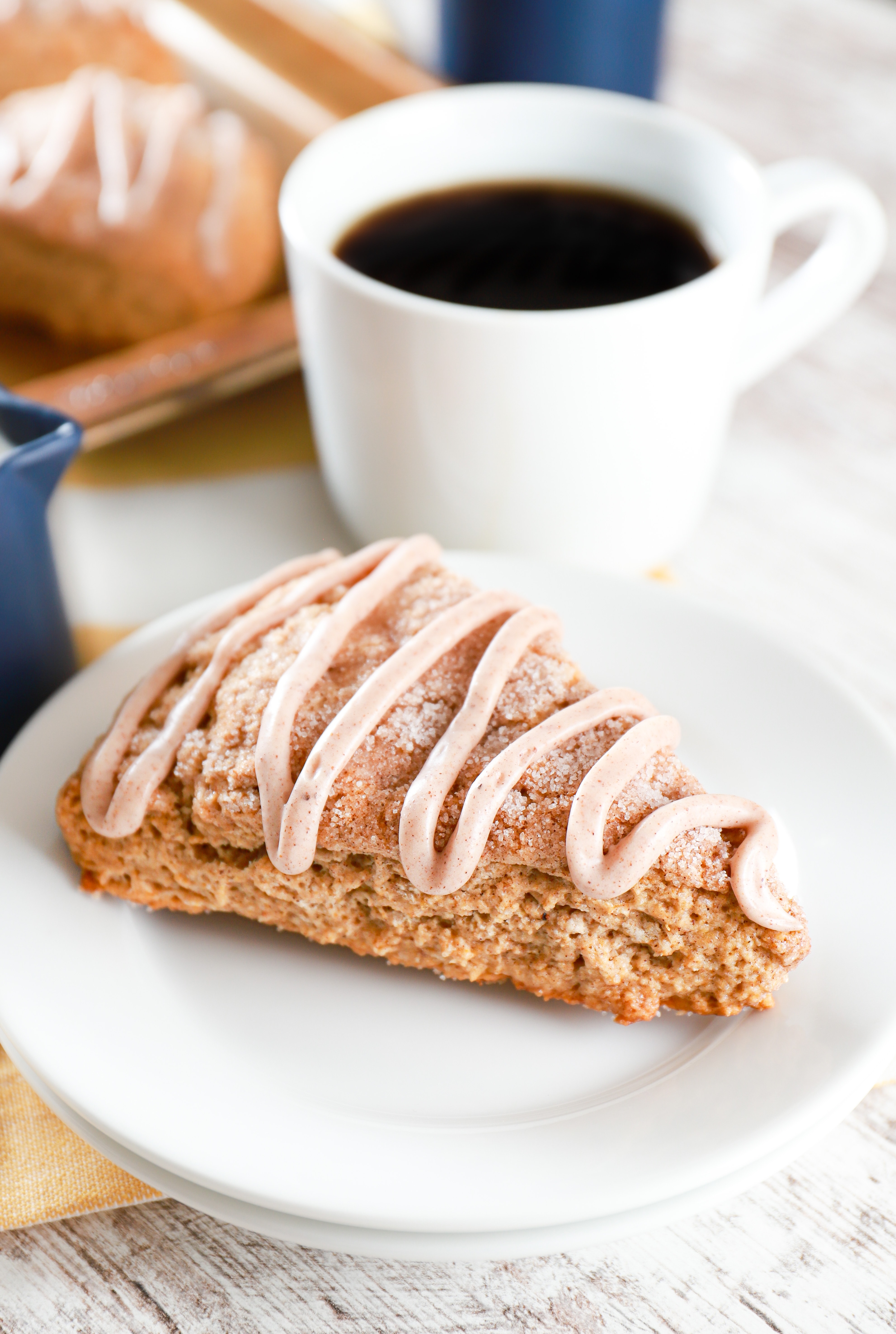 Tips for Making Banana Snickerdoodle Scones
You can use all-purpose flour in place of white whole wheat flour. Just make sure that your surface for kneading is well-floured as the dough will soak up more flour as you knead it.
Do not over-knead the dough. It is okay for the dough to look shaggy and it bit messy. Kneading the dough too much will cause the scones to be tough.
I like to use a dough scraper for cutting the scones and transferring them to the baking sheet. It makes it easy to both get even pieces and to keep the pieces together when moving them!
The more ripe the bananas are that you use, the sweeter the scones will be.
More recipes to use up overripe bananas: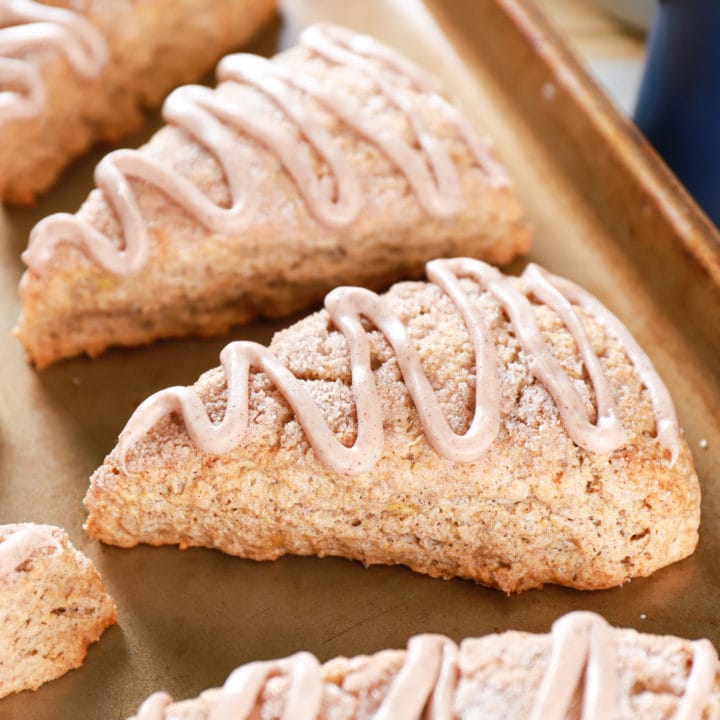 Banana Snickerdoodle Scones
Yield: 8 Scones

Prep Time: 15 minutes

Bake Time: 18 minutes

Total Time: 33 minutes
Ingredients
For the Scones
1 1/4 Cups all-purpose flour
1 Cup white whole wheat flour
1/3 Cup sugar
2 teaspoons cinnamon
1/2 teaspoon nutmeg
1 teaspoon baking powder
1/2 teaspoon baking soda
1/2 teaspoon salt
1/2 teaspoon cream of tartar
1/2 Cup unsalted butter, cold and cut into pieces
1 Cup mashed ripe banana
1 egg
For the Cinnamon Sugar Topping
1 Tablespoon water
2 Tablespoons sugar
1/4 teaspoon cinnamon
For the Glaze
1/2 Cup confectioner's sugar
1/2 teaspoon cinnamon
1/4 teaspoon nutmeg
2-4 teaspoons milk
Instructions
Preheat oven to 350 degrees Fahrenheit. Line a baking sheet with parchment paper or a silicone baking mat.
In a large bowl, whisk together all-purpose flour, white whole wheat flour, sugar, cinnamon, nutmeg, baking powder, baking soda, salt, and cream of tartar.
Cut in cold butter until mixture resembles coarse crumbs. Stir in mashed bananas and egg until just combined.
Turn dough out onto a floured surface. Dough will be soft and somewhat sticky. Gently knead 5-6 times until dough comes together.
Spread into a 8 inch circle. Brush top of dough with water. Stir together sugar and cinnamon for topping, and sprinkle over the top. Cut into 8 pieces, and place on prepared baking sheet.
Bake for 15-18 minutes or until light golden brown. Transfer to a wire rack to cool.
In a small bowl, whisk together confectioner's sugar, cinnamon, nutmeg, and 2 teaspoons milk until smooth, adding additional milk if necessary. Drizzle over scones. Allow glaze to harden and serve.
Scones best eaten same day but can be kept in an airtight container for 2-3 days.
Nutrition Information:
Yield: 8 Serving Size: 1
Amount Per Serving: Calories: 330Total Fat: 13gSaturated Fat: 8gTrans Fat: 0gUnsaturated Fat: 4gCholesterol: 54mgSodium: 285mgCarbohydrates: 51gFiber: 3gSugar: 21gProtein: 5g

Nutrition information shown is an estimate provided by an online calculator and may not always be accurate. It should not be considered a substitute for a medical professional's advice.