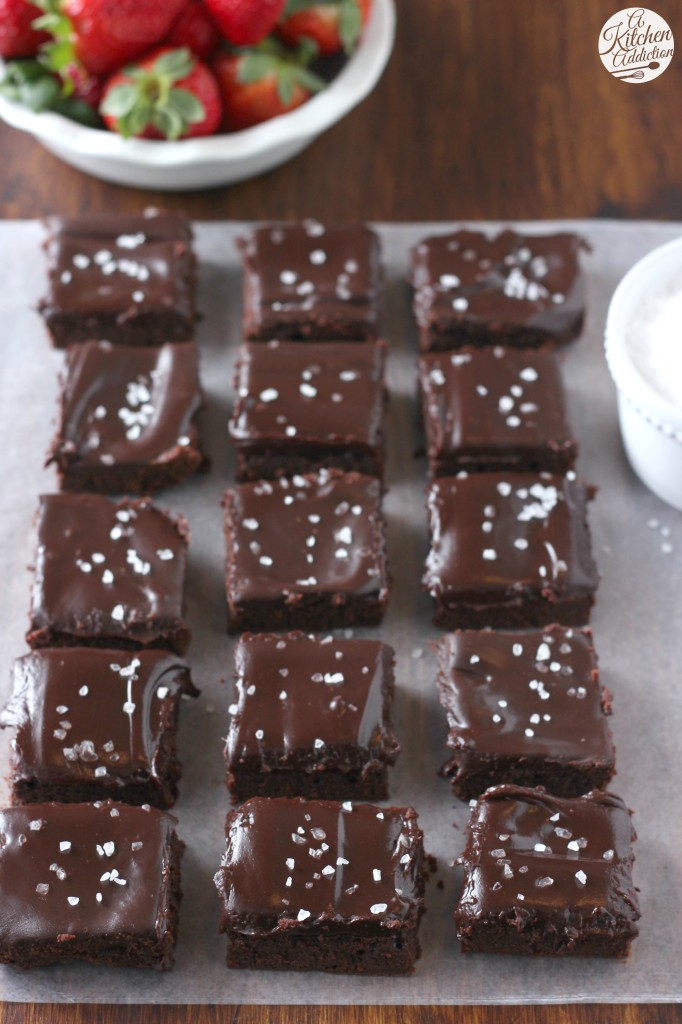 It's that time of year again! Time for all things chocolate! At least that's what all the stores seem to be telling me. Pink and red have taken over the stores, and you can buy chocolate in all kinds of shapes and flavors.
But I have something better than the chocolate wrapped up in the pink and red wrappers. Fudgy flourless brownies topped with creamy ganache and a sprinkling of sea salt. So good.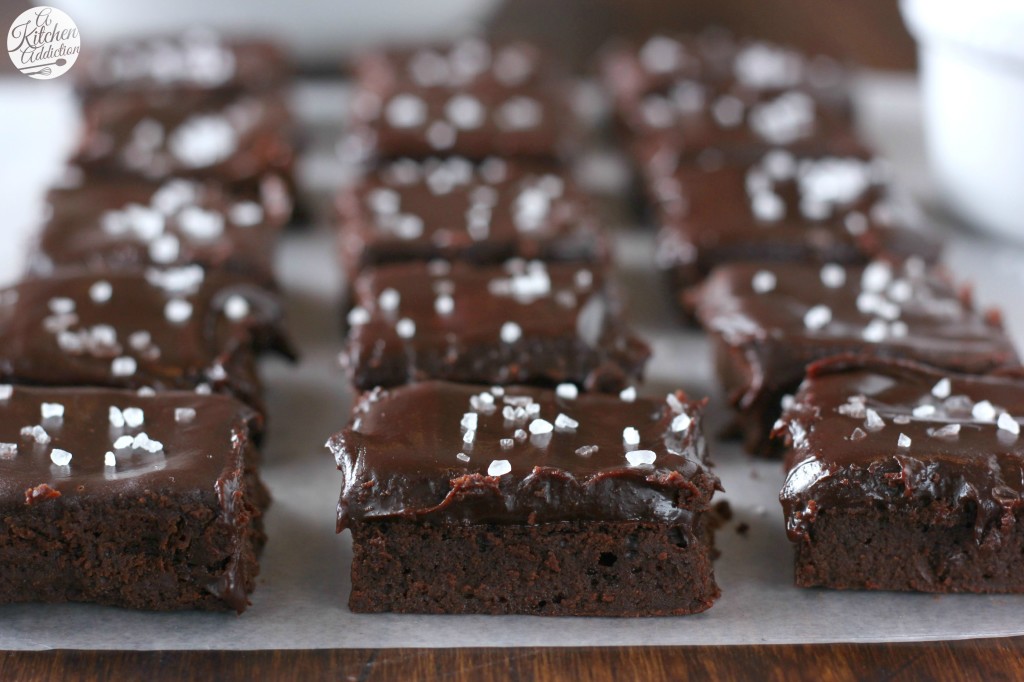 Dessert doesn't get much better than this. The brownies are rich in flavor and fudgy in texture. You can't tell because of the ganache layer, but the brownies have that perfect crackly top when they come out of the oven!
The ganache is a simple combination of chocolate and half and half. To make it even better, a sprinkling of sea salt is added to give you that sweet & salty combo and an even richer chocolate flavor.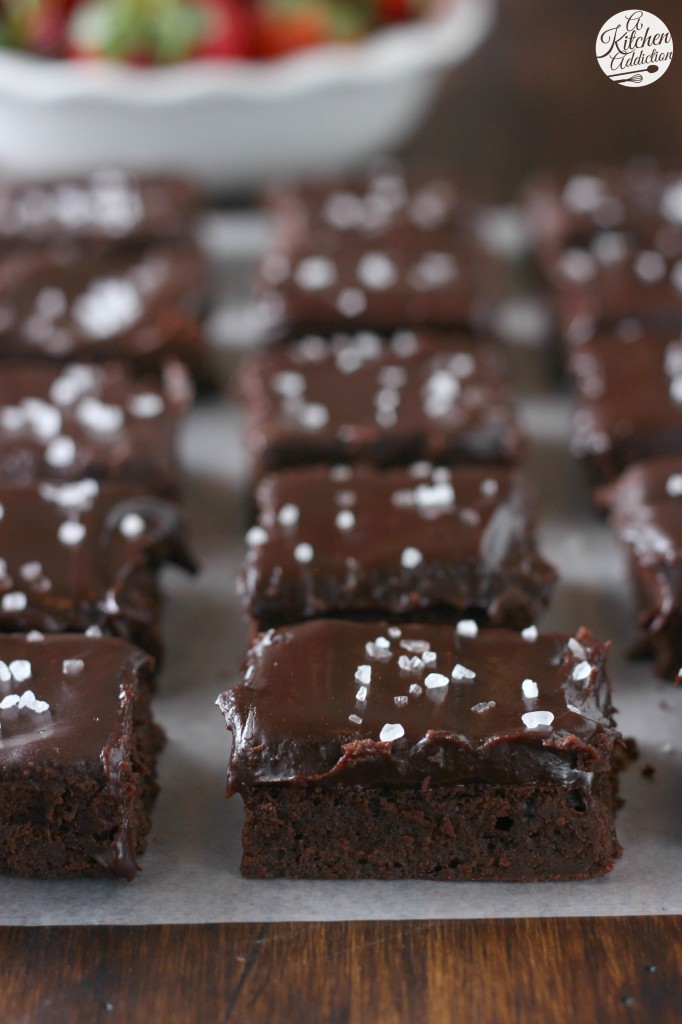 I used dark chocolate (surprise, surprise!) in both the brownies and ganache because I like the intense chocolate flavor. The great thing about these is you can use semi-sweet (or even milk chocolate if you want) if you like your brownies and chocolate sweeter.
Whatever chocolate you use, these brownies are sure to be a hit! No pink or red needed!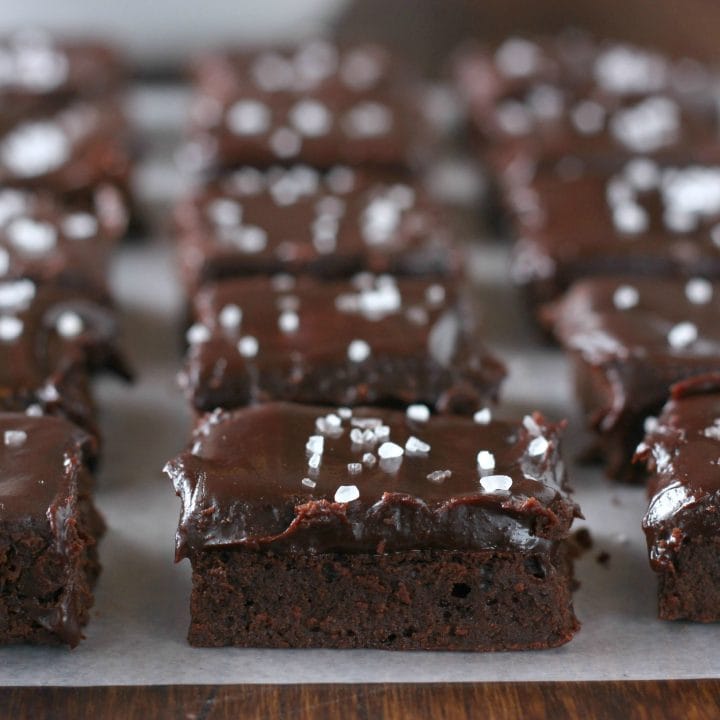 Fudgy Flourless Brownies
Ingredients
For the Brownies
1/2 C butter
1 1/3 C dark or semi-sweet chocolate, chopped
1/4 C unsweetened baking cocoa
1/2 C sugar
3 eggs, room temperature
1 tsp vanilla extract
1/4 tsp salt
For the Ganache
1 C chopped dark chocolate or semi-sweet chocolate
1/3 C half & half or heavy whipping cream
coarse sea salt
Instructions
Preheat oven to 325. Line a 9x9 inch baking dish with aluminum foil and lightly spray with non-stick cooking spray.
In a medium saucepan, melt butter and chocolate together over medium-low heat. Stir constantly to prevent scorching. Stir in baking cocoa until smooth. Remove from heat.
In a small bowl, whisk together sugar and eggs for a minute. Stir egg mixture into chocolate mixture. Stir in vanilla extract and salt.
Pour into prepared baking dish. Bake for 18-22 minutes or until toothpick inserted in the center comes out mostly clean.
Remove to a wire rack to cool completely.
While brownies are cooling, melt together chopped chocolate and half & half over low heat until smooth.
Spread ganache over the top of cooled brownies. Sprinkle with sea salt. Refrigerate until ganache is set about 30-40 minutes.
Recommended Products
As an Amazon Associate and member of other affiliate programs, I earn from qualifying purchases.