It's the week of St. Patrick's Day and I am trying out different Irish "staples." Though I am not Irish, I enjoy learning about and trying out different foods that are so popular around this time. One of the most common is Irish Soda Bread, so I couldn't pass it up! I'm glad that I didn't. This moist, hearty bread is delicious! Not only does it taste good, but it is also super easy to make!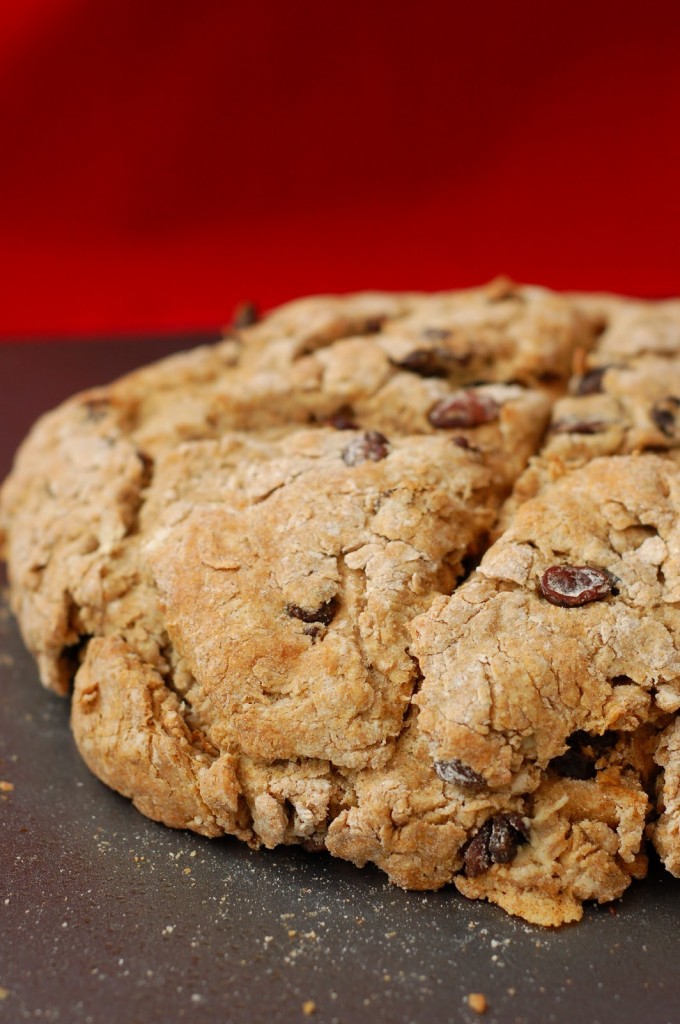 Thick and delicious, oh and it creates a wonderful aroma while baking!
Tear off a big chunk and enjoy!


Irish Soda BreadPin It
Serving Size: One 8-inch round
Ingredients:
2 C all-purpose flour
2 C whole wheat flour
2-3 tbsp sugar (depending on your desired sweetness)
2 tsp baking soda
1 tsp salt
4 tbsp butter, chilled
1 C raisins
1 1/2 C non-fat buttermilk
Directions
Preheat oven to 350.
In a large bowl, combine all dry ingredients.
Cut in butter until it is pea-sized. I like to use my pastry fork for this type of work. It works beautifully as you have more control than with a pastry blender. (They are somewhat hard to find and have a couple of different names, check out the links to see the difference.) Stir in buttermilk and raisins.
Turn the dough onto a floured surface. Knead with hands for about one minute. If dough is sticky, add in a little flour but do not over knead. The bread will become tough.
Shape into a round loaf. The dough will probably still be sticky and it will look shaggy.
Place on baking sheet, cut an X into the top, and bake for 40-50 minutes or until it turn golden brown and the bottom sounds hollow when tapped.
Remove and let bread sit on sheet for 5-10 minutes. Transfer to rack and let cool for another 5 minutes.
Best eaten warm. 🙂