This Irish Soda Bread is an easy quick bread recipe that requires no yeast! Filled with plump raisins, this hearty bread is perfect spread with butter or your favorite preserves!
Making Irish Soda Bread is a lot like making scones. Super easy. Whisk the dry ingredients together. Cut in butter. Stir in wet ingredients just until dough forms. Turn dough out onto floured surface and knead until dough forms. Shape, bake, enjoy!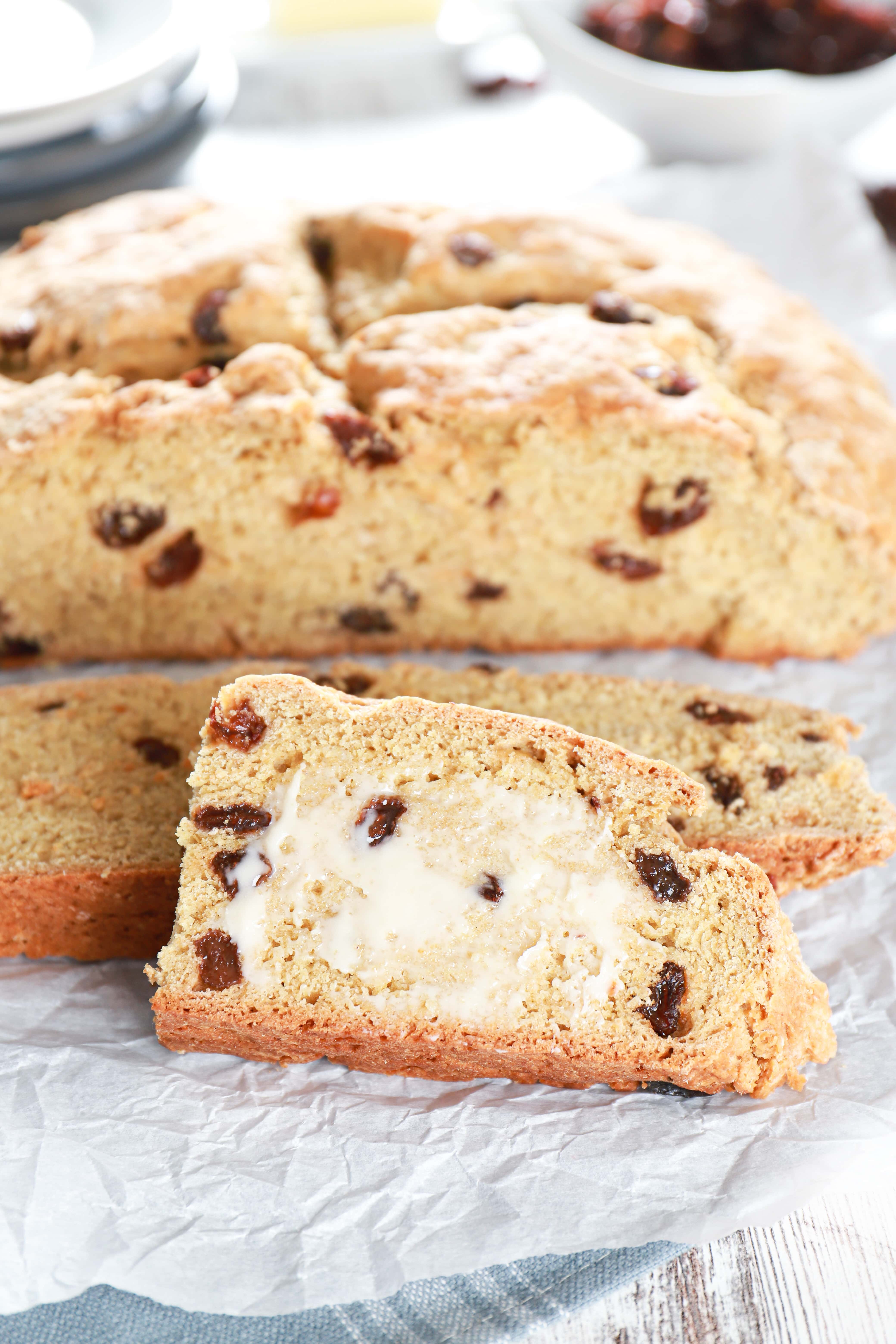 One of the great things about Irish soda bread is you don't have to worry about getting yeast to rise. The only leavening agent in this simple bread is baking soda. Also, no need to wait for the bread to rise before baking!
The kneading of the dough is much simpler, too. Just knead the ingredients together until you can form the dough into a shaggy ball. Don't worry if the ball of dough doesn't look smooth.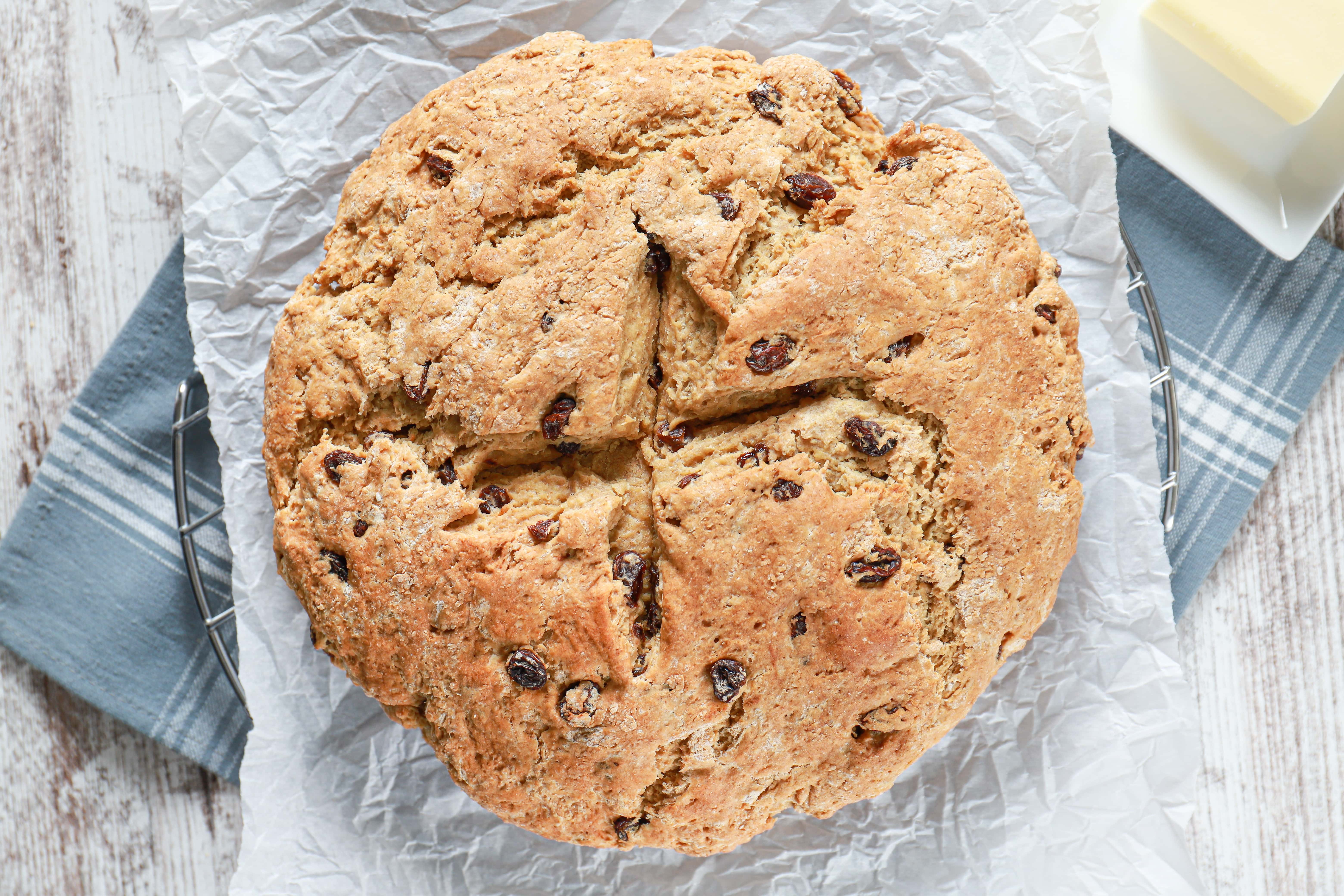 The result is a rustic, hearty bread that you can slice into pieces or tear off in chunks that you slather with good butter or top with your favorite jam.
We like it best served warm and within 2-3 days of baking for optimal freshness.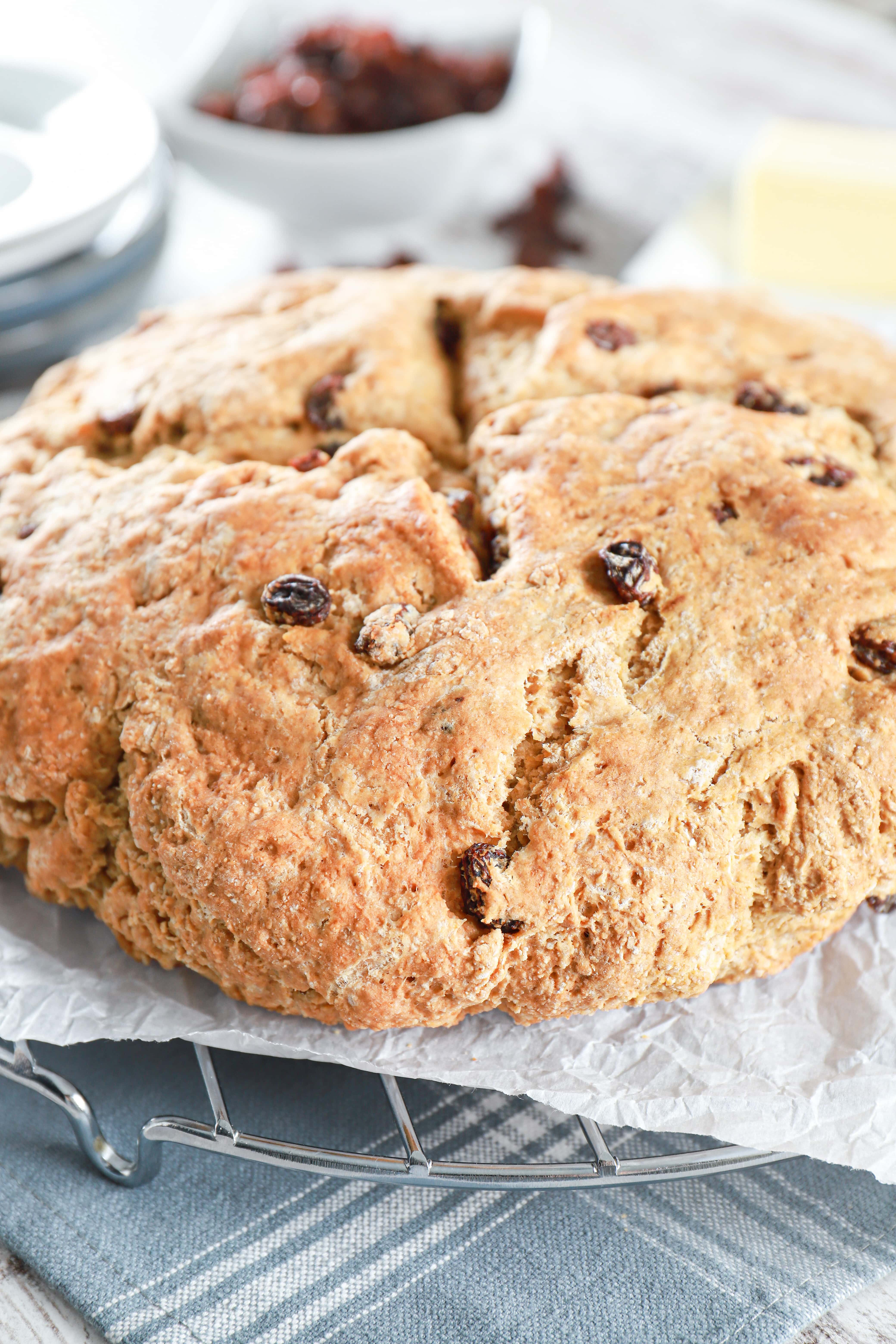 Tips for Making Irish Soda Bread
Do not knead the dough too much. It will make the bread tough. It's okay for the dough to be shaggy after you shape it!
If the top of the bread is starting to look too dark without the center being done, top with a sheet of aluminum foil for the remainder of the cooking time.
Make sure to use cold butter. This will keep the dough from being too sticky and the bread to have a tender texture.
You can use all-purpose flour in place of the white whole wheat flour. Just make sure that you flour the surface that you are kneading the dough on as the dough will be stickier than if you used the white whole wheat flour.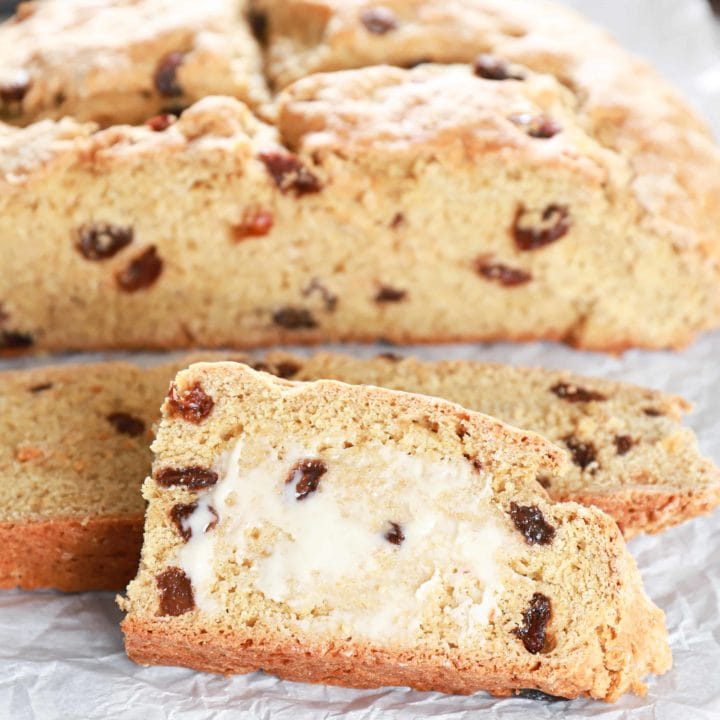 Irish Soda Bread
Yield: One 8 Inch Round

Prep Time: 15 minutes

Cook Time: 40 minutes

Total Time: 55 minutes
Ingredients
2 Cups all-purpose flour
2 Cups whole wheat flour
3 Tablespoons sugar
2 teaspoons baking soda
1 teaspoon salt
4 Tablespoons cold butter
1 3/4 Cups buttermilk
1 Cup raisins
Instructions
Preheat oven to 350 degrees Fahrenheit. Line a baking sheet with parchment paper or a silicone baking mat.
In a large bowl, whisk together all-purpose flour, whole wheat flour, sugar, baking soda, and salt. Cut in butter until mixture resembles coarse crumbs. Stir in buttermilk and raisins.
Turn dough out onto a well-floured surface. Knead for 30-45 seconds working the dough into a ball. If dough is really sticky, add a little more flour. Do not overknead as this will result in tough bread.
Transfer ball of dough to prepared baking sheet. Gently pat into an approximate 8 inch circle. Score an "X" into the top of the dough, about 1/2 inch deep.
Bake for 40-50 minutes, or until golden brown and toothpick inserted in the center comes out clean. If the top seems to be getting too dark before the center is done, cover with a piece of aluminum foil.
Remove from oven and allow to cool 10-15 minutes before cutting into pieces and serving.
Store leftovers in an airtight container.