These tender Banana Bread Scones are filled with the comforting flavors of banana bread and topped with a dusting of cinnamon sugar and a simple brown sugar glaze!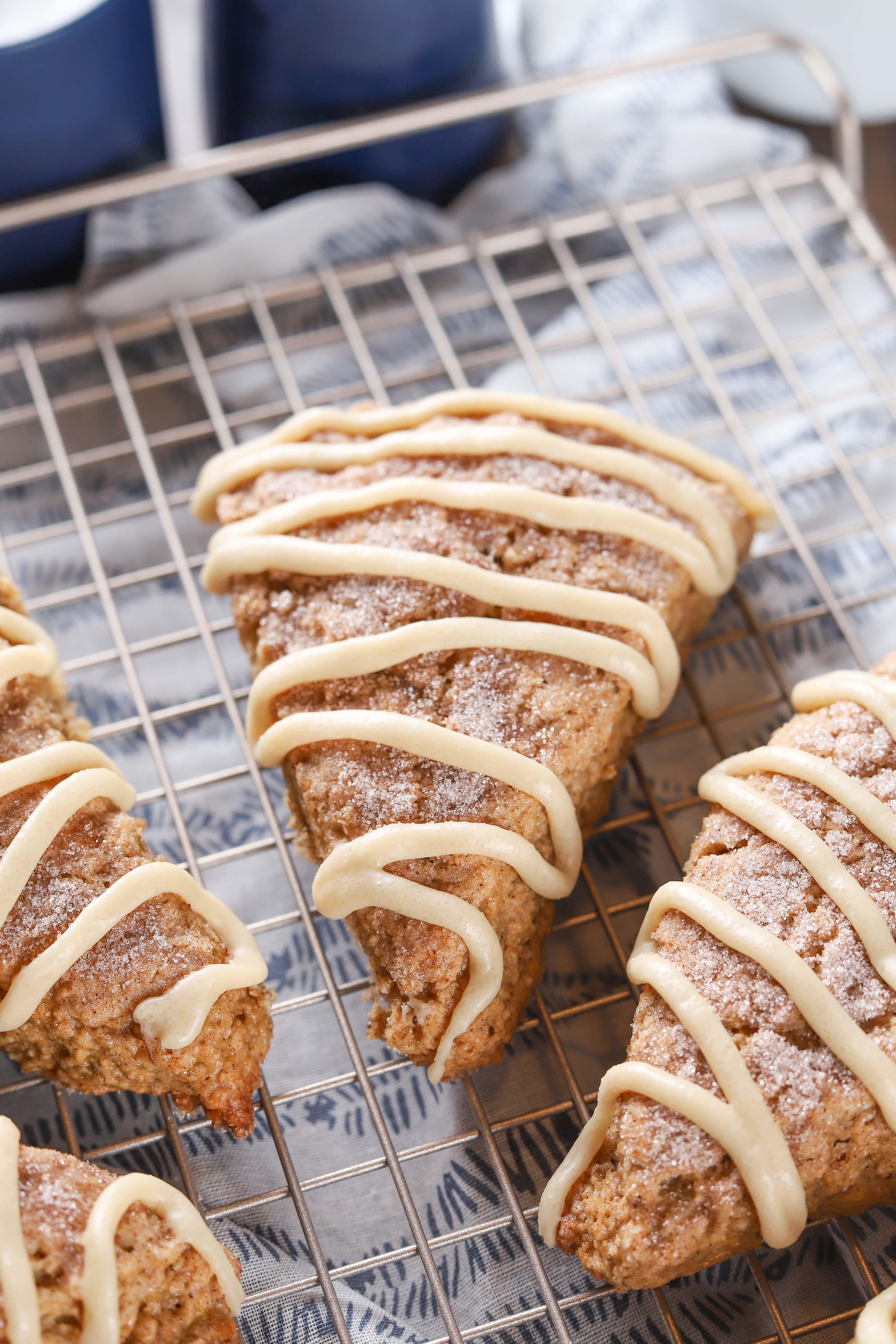 Earlier this month, I mentioned that you shouldn't be surprised if banana bread scones made an appearance on the blog soon. Well, here they are!
After making those banana bread cinnamon rolls, I couldn't help but whip up a batch of banana bread scones. (With the recent addition of new banana bread recipes in our house, I've actually purchased bananas just so I could have them go bad!)
*Post from 10/25/13. Updated 6/11/19.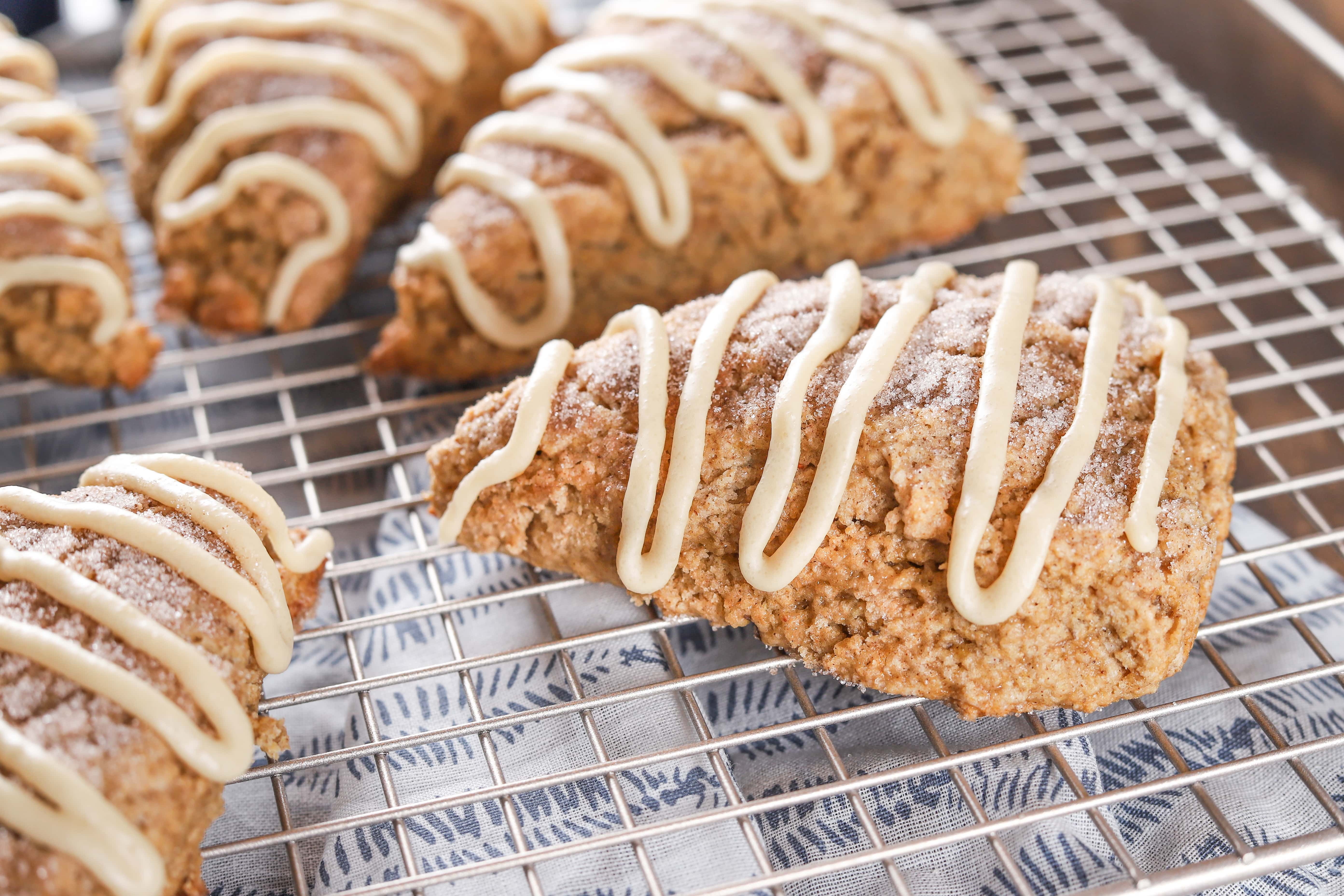 These scones are just what you would expect out of a baked good that has banana bread in the description. The flavor is just like that of banana bread, just in a tender scone.
Lots of banana and cinnamon flavor shine through with a hint of warmth from a little nutmeg.
When I mashed the bananas, I made sure to leave a few chunks because I like being able to have actual bites of banana in the scone. This makes the the texture more dense than your normal scone, so if you want more of the tender texture, make sure you mash the bananas well.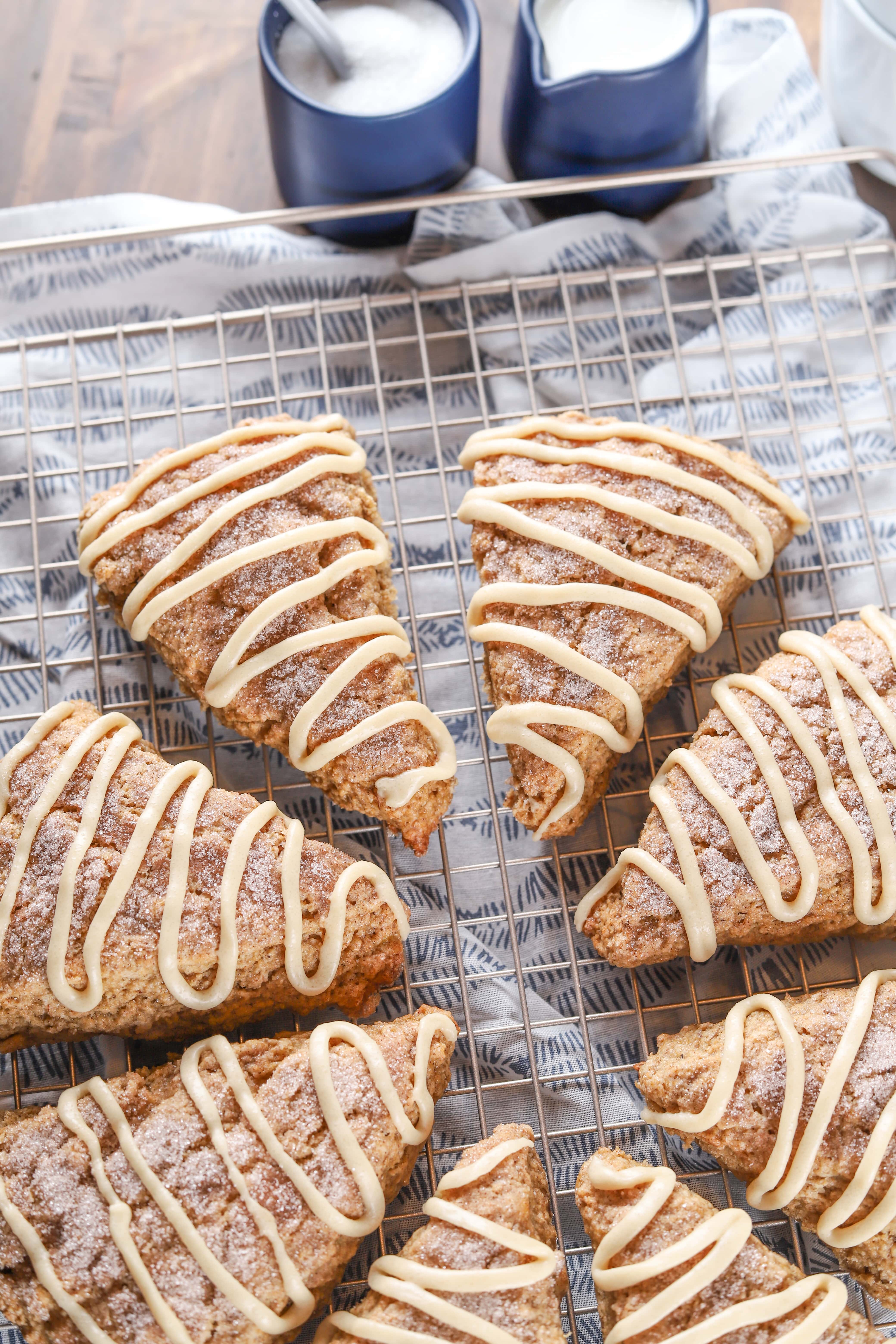 A light cinnamon sugar dusting is sprinkled on before baking and a simple confectioner's sugar glaze with brown sugar is drizzled on the cooled scones to add just the right amount of sweetness without going overboard.
Definitely a good reason to go buy some bananas and let them go brown!
Tips for Making Banana Bread Scones
The dough will appear dry when you first stir it together. Don't worry. When you start kneading the dough together, it will become wet and almost sticky.
Do not over-knead the dough. It is okay for the dough to look shaggy and it bit messy. Kneading the dough too much will cause the scones to be tough.
I like to use a dough scraper for cutting the scones and transferring them to the baking sheet. It makes it easy to both get even pieces and to keep the pieces together when moving them!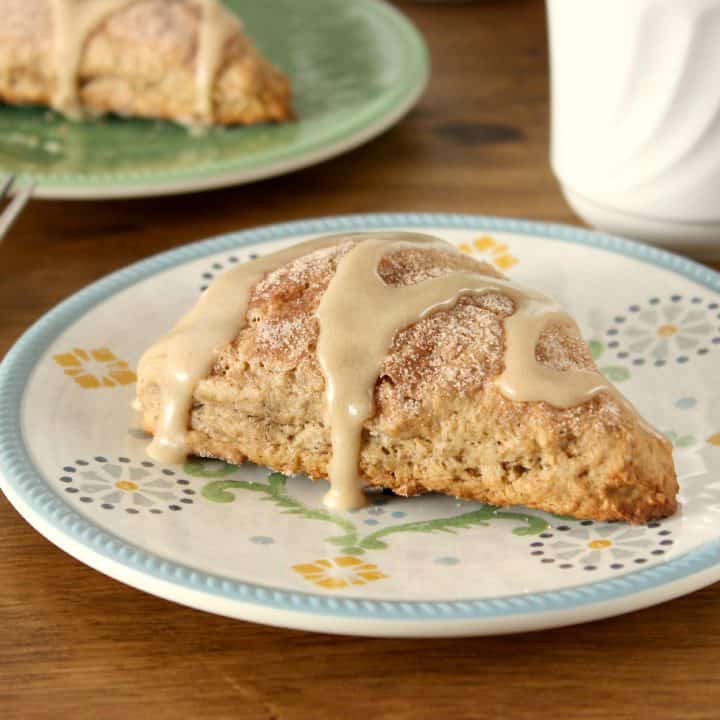 Banana Bread Scones
Ingredients
For the Scones
1 C white whole wheat flour
1 1/4 C all-purpose flour
1/3 C brown sugar
1 tsp baking powder
1/2 tsp baking soda
1/2 tsp salt
1 1/2 tsp cinnamon
1/2 tsp nutmeg
1/2 C unsalted butter, cold and cut into pieces
2 ripe bananas, about 1 cup mashed
1 egg. lightly beaten
For the Cinnamon Sugar Topping
1 tbsp water
2 tbsp sugar
1/4 tsp cinnamon
For the Brown Sugar Glaze
1/2 C confectioner's sugar
2 tbsp brown sugar
1/2 tsp vanilla extract
2-3 tsp milk
Instructions
Preheat oven to 350. Line a baking sheet with parchment paper or a baking mat.
In a large bowl, whisk together flours, brown sugar, baking powder, baking soda, salt, cinnamon, and nutmeg.
Cut in butter with a pastry blender or two forks until mixture resembles coarse crumbs. Stir in mashed banana and egg. Stir until just combined.
Turn dough out onto well-floured surface. Dough will be soft and somewhat sticky. Knead 5-6 times until dough comes together.
Shape into an 8-inch circle. Brush top of dough with water. Stir together sugar and cinnamon for topping and sprinkle over the top. Cut into 8 pieces and place on prepared baking sheet.
Bake for 15-18 minutes or until light golden brown. Transfer to wire rack to cool.
In a small bowl, whisk together sugars. Add in vanilla and 2 tsp milk. Add another tsp milk if you want a thinner glaze. Drizzle over cooled scones. Serve.
Store leftovers in a loosely covered container.
Recommended Products
As an Amazon Associate and member of other affiliate programs, I earn from qualifying purchases.