Switch up your grilling routine with this recipe for Grilled Caprese Stuffed Turkey Tenderloin! The classic caprese flavors combine with turkey to create an easy meal that's loaded with flavor!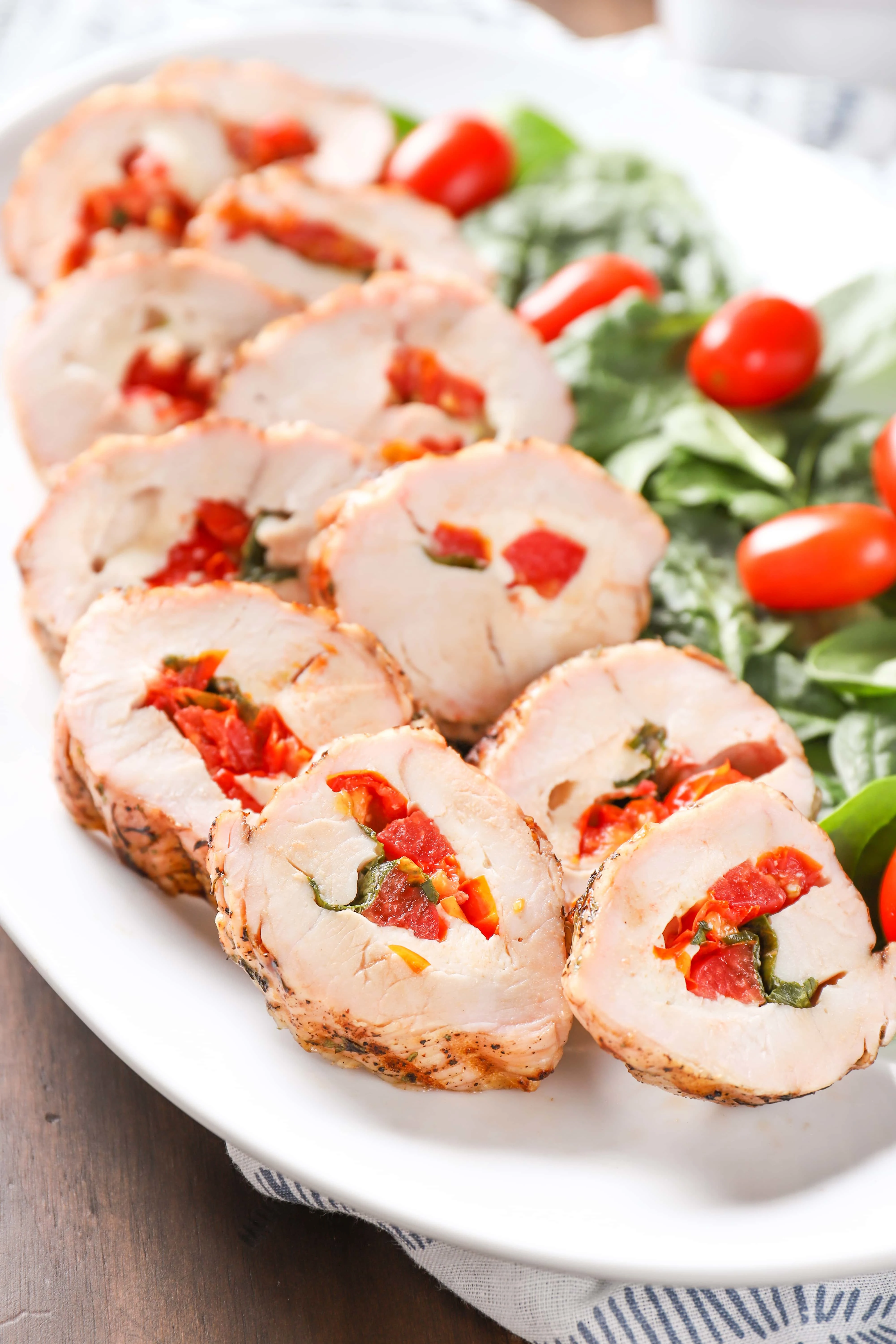 *This post is sponsored by the Minnesota Turkey Growers Association. As always, all opinions are my own.*
Summer has officially started, and if you're like us, that means that you try to soak up as much of the long days as possible. Spending time being active outside. Or just relaxing in the hammock. And, of course, eating outside as much as possible!
Most of those meals eaten outside are grilled, because who wants to turn on the oven?! We have our usual quick and easy meals that we turn to on busy weeknights, but we also like switching up our routine with some of our favorite cuts of turkey!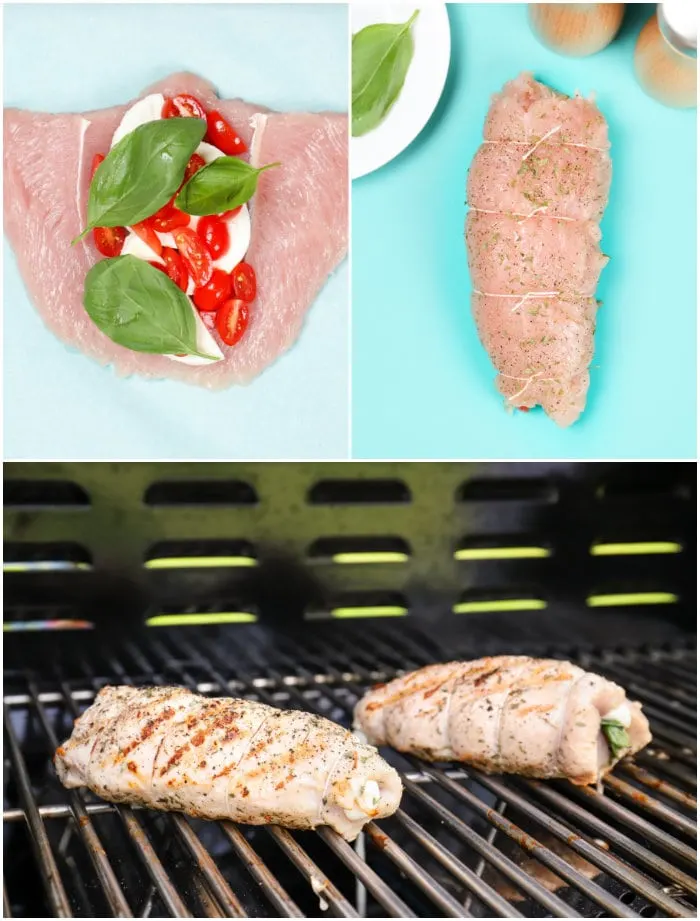 Along with June being the official start of summer, June is also Turkey Lovers' Month! This year, as in the two previous years, we're celebrating with Minnesota Turkey by grilling up one of our favorite cuts of turkey! Turkey tenderloin is super versatile and perfect for grilling.
Last year I shared these Grilled Chili Lime Turkey Tenders that used the tenderloin cut up into small pieces for easy dipping. It's still one of our favorite ways that we like to prepare turkey because of how quickly the whole meal comes together. Lots of flavor, little mess, short grill time!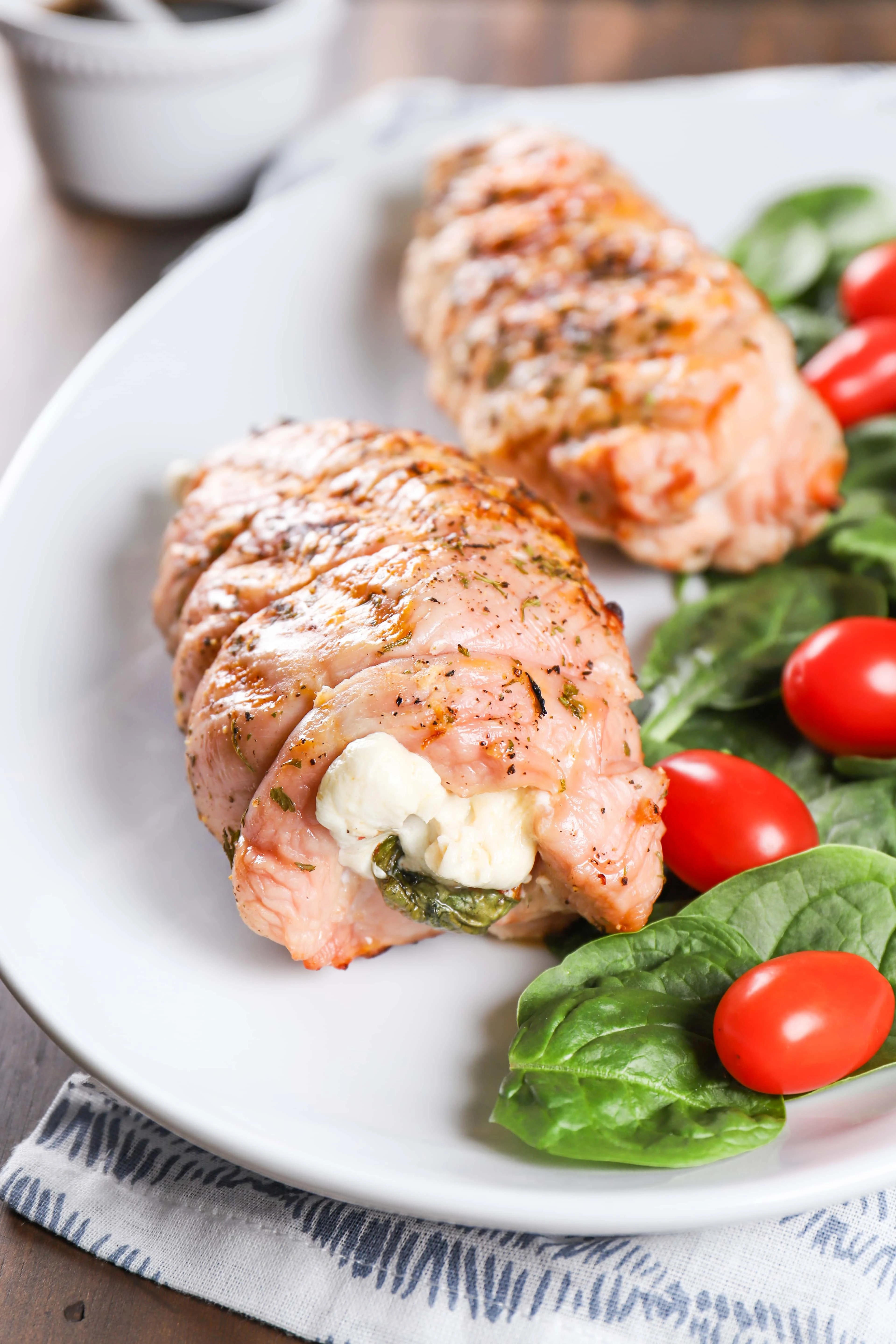 This year we're sharing a recipe that takes a few extra steps but is well worth the effort! A lot like the Spinach Feta Stuffed Grilled Turkey Tenderloin from a couple of years ago, this Grilled Caprese Stuffed Turkey Tenderloin takes the classic caprese flavor combination and pairs it with turkey.
The tomato, mozzarella, and basil combination makes a frequent appearance in our house since we find ourselves with all kinds of tomatoes and basil to use up from our garden by the time July rolls around!
You usually see caprese paired with chicken, but it tastes just as great (if not better!) with turkey! The tender, juicy turkey is a perfect pairing to the fresh caprese flavors!
The tenderloin is filled with three simple ingredients of fresh mozzarella, fresh basil, and grape or cherry tomatoes. Roll it up, and season it with a bit of salt, pepper, and dried parsley. After grilling, drizzle with a simple balsamic glaze, slice, and serve!
Tips for Making Grilled Caprese Stuffed Turkey Tenderloin
When flattening the turkey tenderloin, place the turkey on a piece of parchment paper and then top the turkey with a piece of parchment paper. This will keep the mess down and help keep the turkey from tearing.
Check how strong the flavor of your basil is. If the flavor is light, you may want to add an additional leaf of basil so the flavor still shines through!
You will need kitchen twine to tie the tenderloin together. If you do not tie the meat, it will fall apart, and you'll end up with a mess in your grill.
Make sure that your grill grates are lightly oiled to prevent the meat from sticking!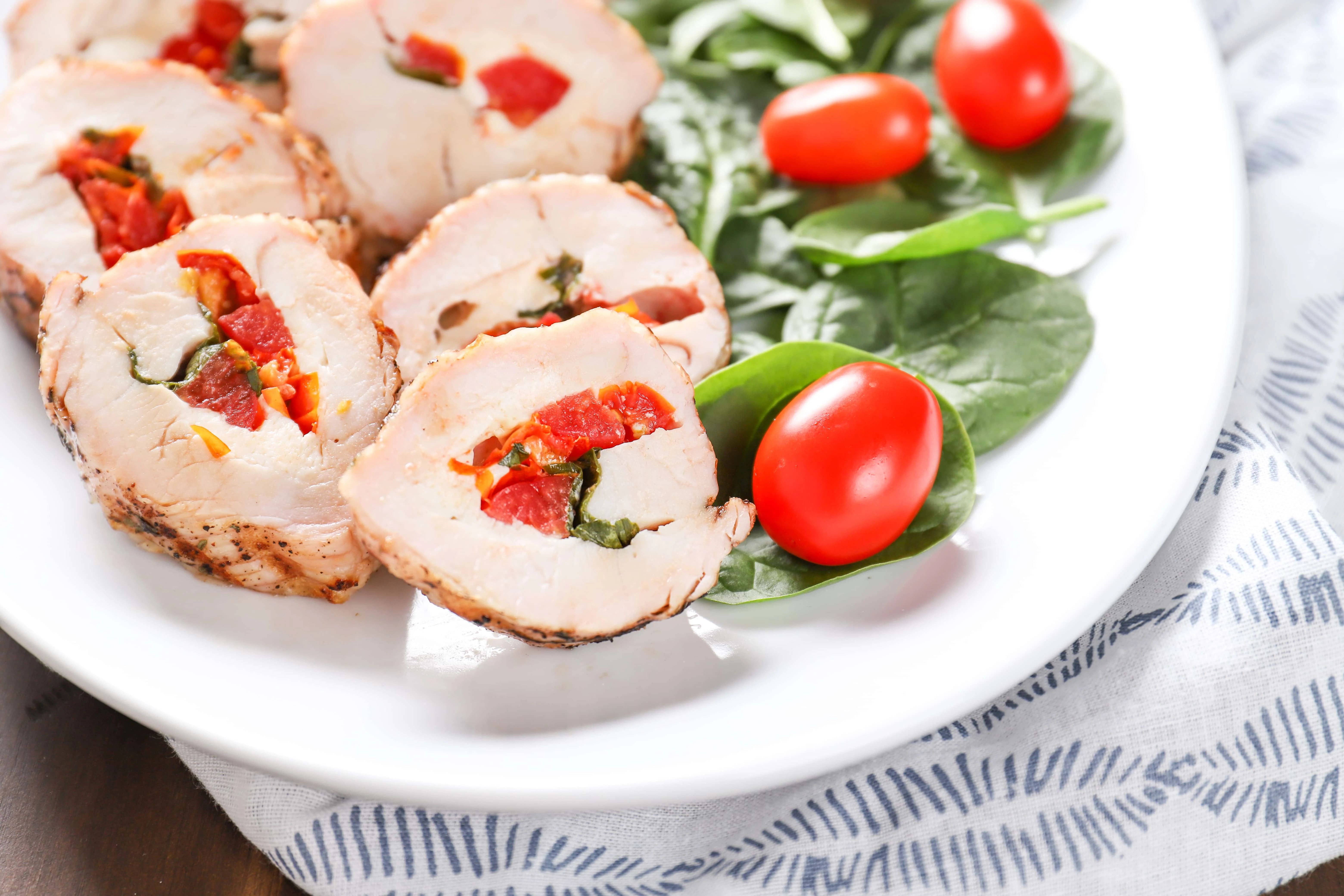 Minnesota turkey is celebrating its 80th anniversary this year! To celebrate turkey farming in the state during Turkey Lovers' Month, meet Minnesota turkey farming families who have been raising turkeys in many for generations in a special video project in partnership with Minnesota Soybean.
General Tips for Grilling Turkey
Reduce sticking by lightly coating your unheated grill with non-stick vegetable cooking oil.
Turkey will brown quickly, so keep and eye on it and make sure that the meat has reached a correct internal temperature. Always cook turkey tenderloins, cutlets, breast, bone-in, burgers and sausages to the internal temperature of 165°F and drumsticks and thighs to the internal temperature of 175°F according to a food thermometer.
Use tongs and spatulas! Piercing the turkey meat causes flavorful juices to escape.
Apply sauces or glazes containing sugar during the last 10-15 minutes to avoid burning.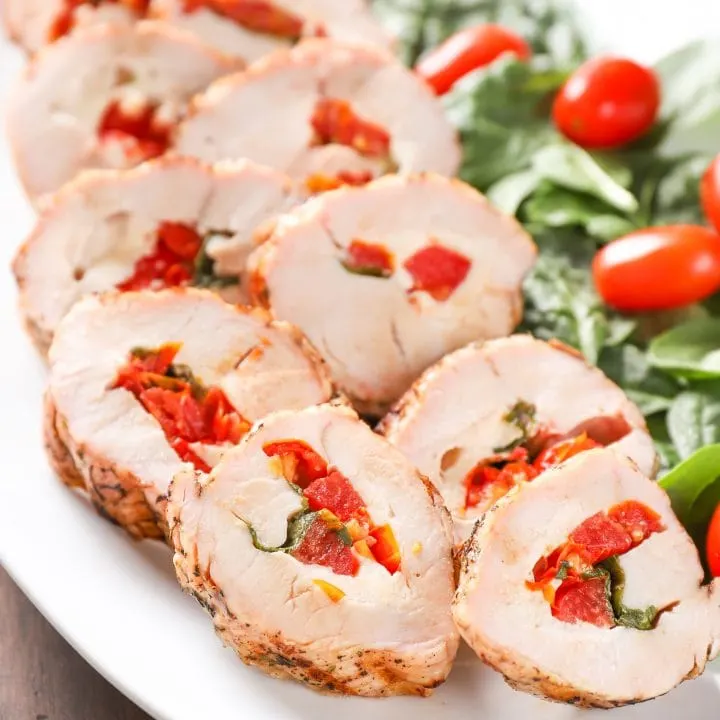 Grilled Caprese Stuffed Turkey Tenderloin
Ingredients
For the Stuffed Turkey Tenderloins
2 (.75 lb) turkey tenderloins
4 ounces fresh mozzarella, cut into 3 slices and halved. (So you end up with side halves of cheese)
6 tablespoons halved (or quartered if the tomatoes are large), grape or cherry tomatoes
6 medium to large fresh basil leaves
1 tsp olive oil
1 tsp dried parsley
1/2 tsp salt
1/2 tsp ground black pepper
For the Optional Balsamic Glaze
1/2 Cup balsamic vinegar
2 tablespoons brown sugar
Instructions
Butterfly each turkey tenderloin by cutting lengthwise from one side almost to, but not through, the opposite side and place on a parchment paper lined cutting board. Top with another piece of parchment paper and flatten to about 1/3" - 1/2" thickness. (You don't have to use parchment paper, but it helps keep the mess down.) Don't pound the meat too hard as the meat will tear.
Top the each tenderloin with 3 halves of fresh mozzarella cheese, 3 tablespoons grape/cherry tomatoes, and 3 basil leaves.
Roll up each tenderloin, starting at the long edge. Tie each tenderloin with a few pieces of kitchen twine a couple of inches apart.
Rub each tenderloin with olive oil. Sprinkle with parsley, salt, and pepper.
Lightly coat grill grate with non-stick cooking oil. Heat to medium-high heat.
While grill is heating up, start to prepare optional balsamic glaze. Combine balsamic vinegar and brown sugar in a small saucepan. Bring to a boil over medium-high heat, stirring occasionally to avoid burning. Lower heat to medium-low and allow to simmer 8-10 minutes or until glaze reduces to about half. Remove from heat and allow to cool while turkey is grilling.
Place turkey tenderloins on grill and turn 3 times to sear all sides. Continue grilling until internal temperature reaches 165 degrees F, about 20-25 minutes.
Remove from heat and allow to rest for 5-10 minutes.
Remove and discard kitchen twine. Drizzle with optional balsamic glaze. Cut into pieces and serve.
Immediately refrigerate any leftovers
Notes
*Don't have a grill and still want to make this recipe! Here are the instructions for baking in the oven.
Preheat oven to 375 degrees F. Line a baking sheet with parchment paper or a silicone mat.
Prepare the tenderloin as instructed. Instead of placing on grill, place tenderloins on prepared baking sheet. Bake for about 30-35 minutes or until a meat thermometer reads 165 degrees F in the thickest part of the stuffed tenderloin.
Recommended Products
As an Amazon Associate and member of other affiliate programs, I earn from qualifying purchases.
Did you know that Minnesota ranks No. 1 nationally in turkey farming? They provide the best care possible for their flocks to ensure that the turkeys are healthy and safe. Turkeys live in free-roaming (never in cages) barns to protect them from the weather and predators and where they always have access to fresh food and water. In fact, all turkeys in the U.S. are raised without any added growth hormones and steroids.
Be sure to follow the Minnesota Turkey Growers Association on Facebook, Twitter, andPinterest for more turkey tips and tricks! Feel free to join the conversation using #ServeTurkey and #TryTurkey!