These Carrot Cake Blondies are an easy blondie recipe that lets you enjoy the flavor of carrot cake in a chewy cookie bar form!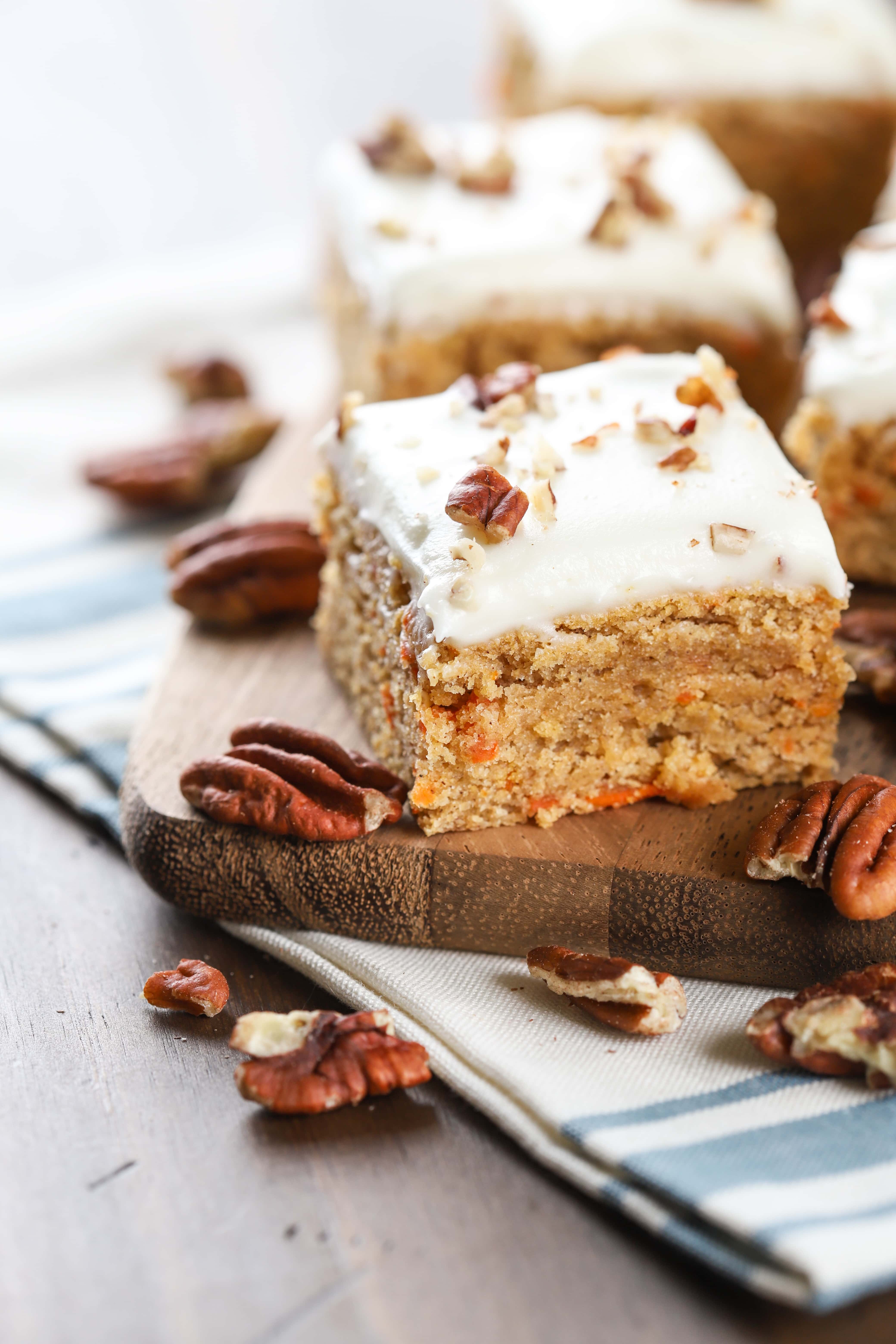 What is your favorite way to enjoy the carrot cake combination? There are so many options and ways to enjoy the classic carrot cake combination out there that it seems like one more way probably isn't necessary.
But let me tell you, there really is one more way you should enjoy that classic combination. In the form of carrot cake blondies!
When it comes to carrot cake, I am of the mindset that simpler is better. I like it best without all of the added nuts, raisins, coconut, pineapple, etc. You've probably been able to figure that out from the other carrot cake recipes on the blog!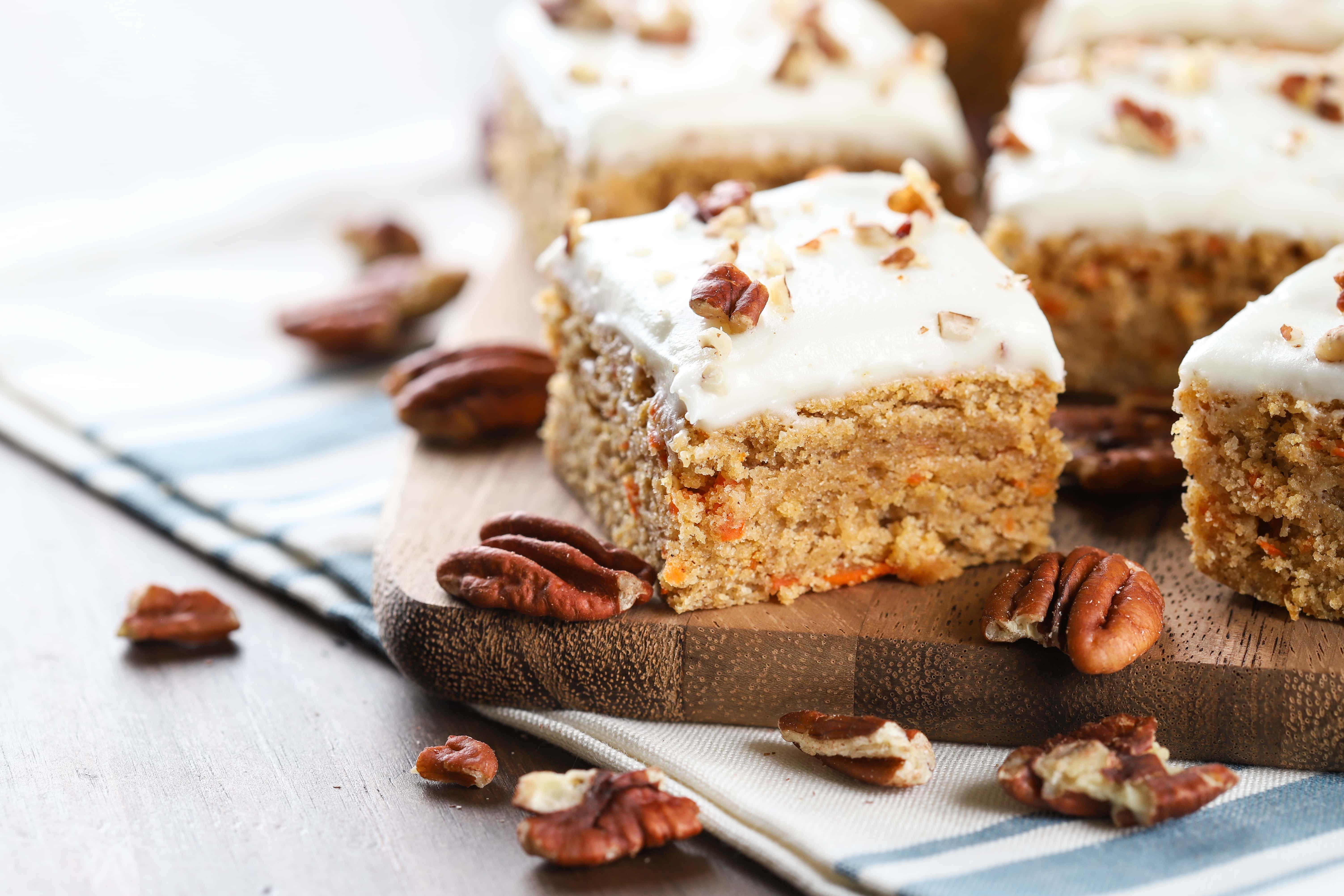 So when it came time to make carrot cake blondies, the same mindset prevailed. Keep it simple. If you do like nuts in your carrot cake, you can feel free to throw a handful in.
When it comes to the frosting, I like to sprinkle a bit of chopped pecans (because I like them better than walnuts, but once again, feel free to use what you like best!) on top of the frosting for just a bit of crunch.
These carrot cake blondies use the base of the whole wheat almond joy blondies that are one of my favorite whole wheat recipes. The texture isn't too dry or tough and you can't taste that they're whole wheat.
Topping off the blondies? Cream cheese frosting, of course! That is a must for me and carrot cake. A simple light layer that gives you the tangy sweetness that is the perfect parring to carrot cake!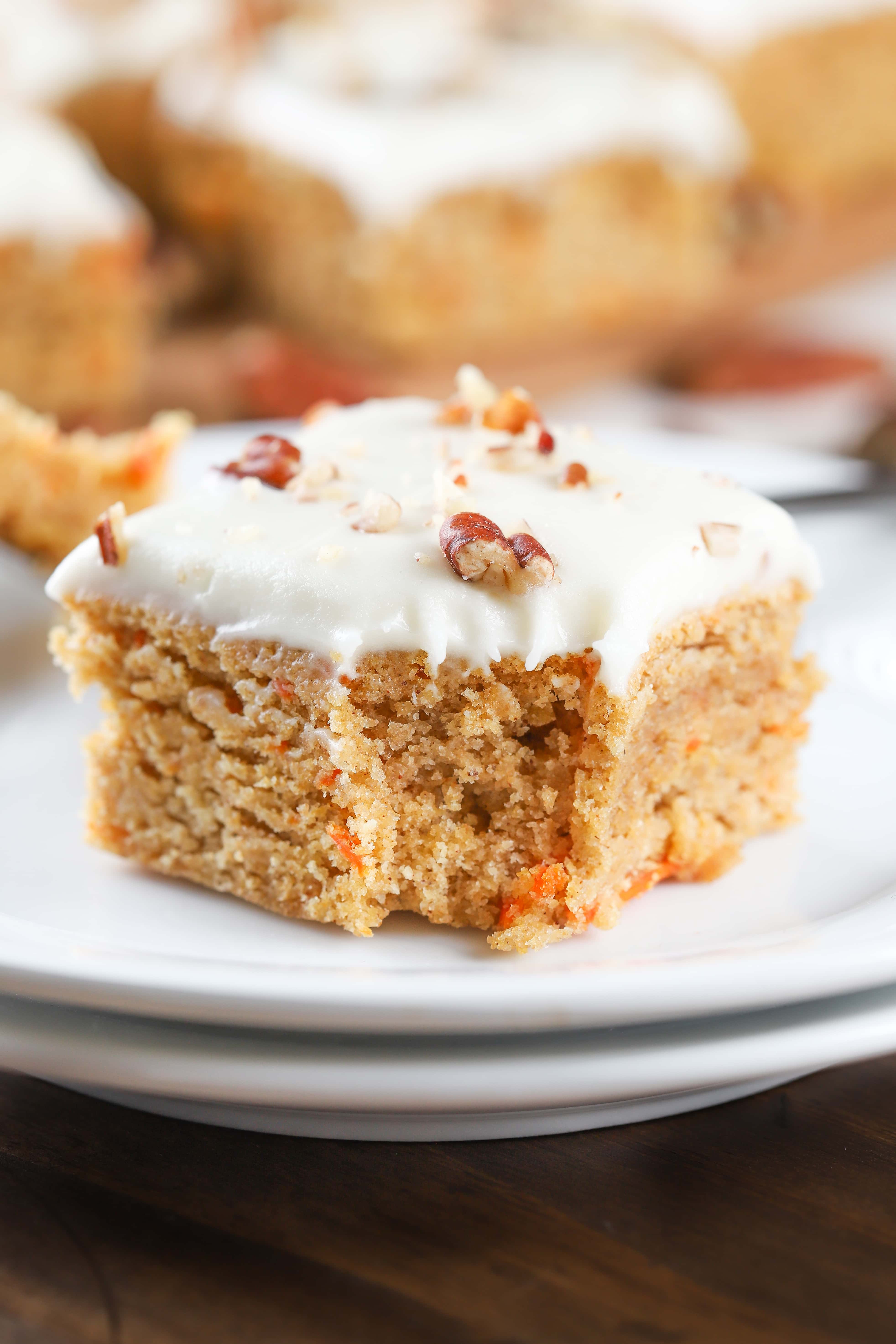 Tips for Making Carrot Cake Blondies
If you prefer a more "cake-like" texture, bake the blondies for the entire bake time. If you prefer a chewier texture, bake the minimum amount of time.
While you can make these bars using whole wheat flour, the texture will be lighter and the flavor will be less noticeable if you stick with white whole wheat flour.
If you like nuts in your carrot cake, feel free to throw in a handful into the batter of the blondies!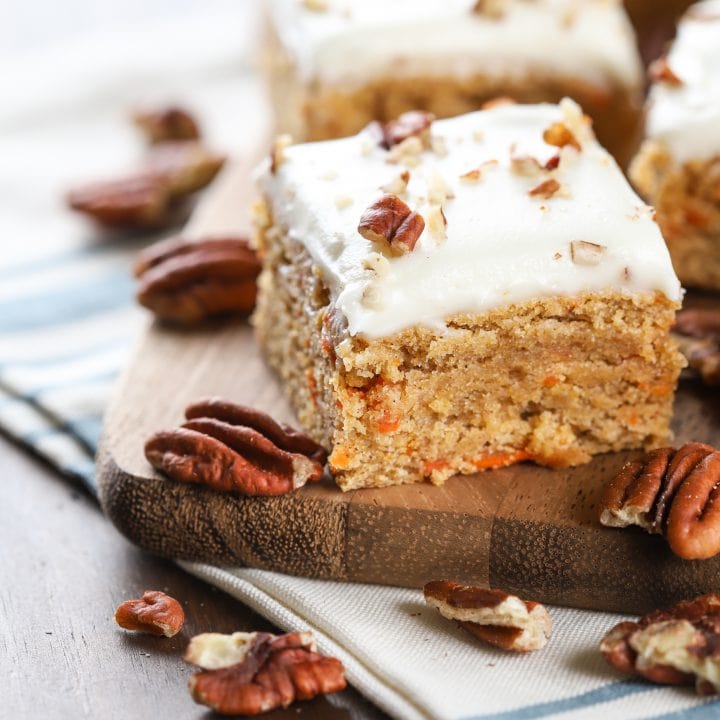 Carrot Cake Blondies (Whole Wheat)
Ingredients
For the Bars
1/2 Cup butter, softened
3/4 Cup brown sugar
1/4 Cup sugar
2 eggs
1 1/2 teaspoons vanilla extract
1 1/2 Cups White Whole Wheat Flour
1/2 teaspoon baking powder
1/4 teaspoon salt
1 teaspoon cinnamon
1/2 teaspoon ginger
1/4 teaspoon nutmeg
1/8 teaspoon cloves
1 Cup grated carrot**
For the Frosting
4 oz. cream cheese, regular or 1/3 of the fat
2 tablespoons butter, room temperature
1 Cup confectioner's sugar
1/2 teaspoon vanilla extract
chopped pecans or walnuts for garnish, optional
Instructions
Preheat oven to 350 degrees F. Spray a 9x9 inch baking pan with non-stick cooking spray or line pan with parchment paper.
In the bowl of a stand mixer, cream together butter and sugars. Add in eggs and vanilla extract. Beat until creamy.
In a medium bowl, whisk together white whole wheat flour, baking powder, salt, cinnamon, ginger, nutmeg, and cloves.
Add dry ingredients to wet ingredients and beat until combined. Stir in grated carrot.
Spread batter into prepared baking dish. Bake for 22-25 minutes or until edges start to brown. Remove to a wire rack to cool completely.
Prepare frosting while blondies are cooling. Beat together cream cheese and butter until smooth. Beat in confectioner's sugar and vanilla extract until creamy and fluffy.
Spread frosting over completely cooled bars. Sprinkle with chopped pecans, optional. Cut into pieces and serve.
Notes
**Grate the carrots onto a paper towel and allow the grated carrot to dry while preparing the rest of the recipe.
Recommended Products
As an Amazon Associate and member of other affiliate programs, I earn from qualifying purchases.