Ever since making banana bread waffles, I've wanted to try banana bread pancakes. We always seem to have a couple of bananas that are too ripe or just starting to get too ripe. So the other night (Yes, night. That's when we have time to make breakfast food!), I decided it was about time I give them a try.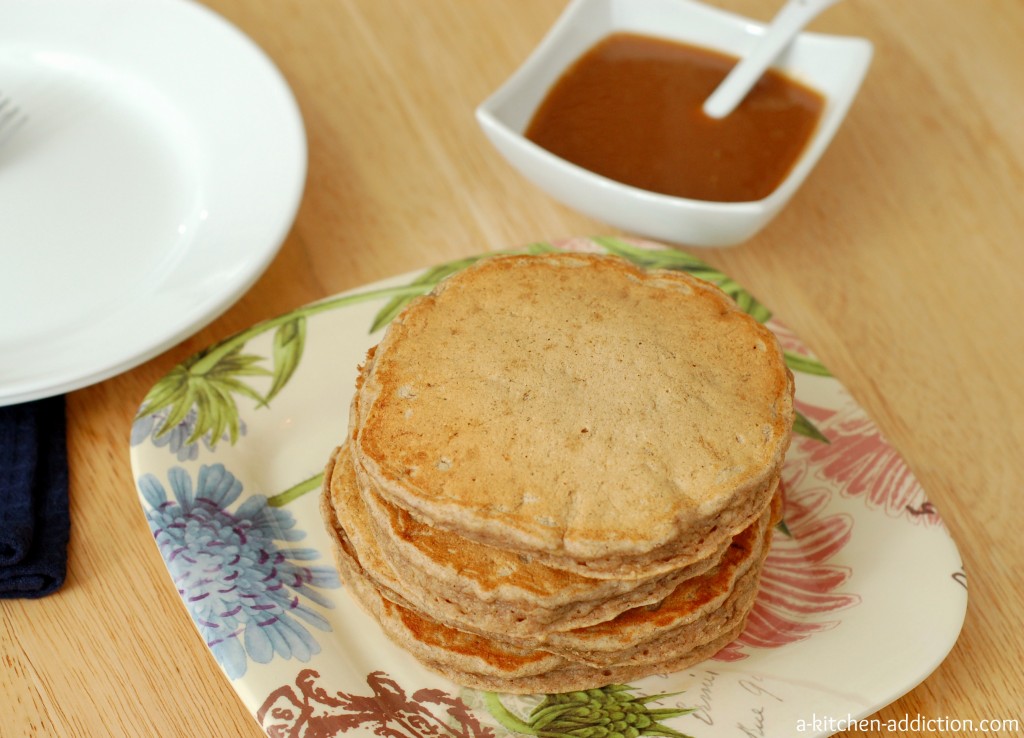 These pancakes are loaded with chunks of banana and lots of cinnamon and nutmeg. All of the banana makes these slightly denser than your average pancake, but the result is a pancake that tastes a lot like a warm, thick slice of banana bread. Using whole wheat flour and non-fat buttermilk makes these a healthy option for breakfast, lunch or dinner!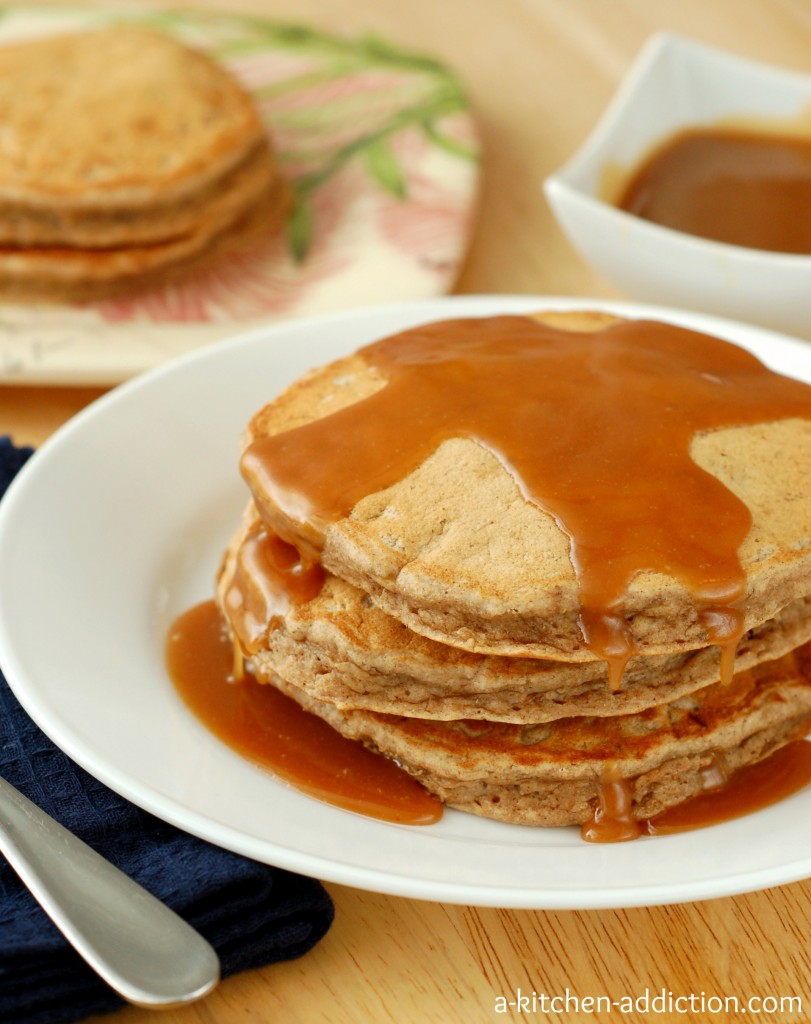 I knew right away that I wanted to top these pancakes with a simple peanut butter syrup. I already put peanut butter and a little syrup on my pancakes, so I figured I may as well mix them together with a little vanilla extract. So good! You may just find yourself pouring the syrup over more than just pancakes. . .

Banana Bread Pancakes with Peanut Butter Syrup
Ingredients
For the Pancakes
1 C whole wheat flour
1 C all-purpose flour
¼ C brown sugar
2 tsp baking powder
½ tsp baking soda
1½ tsp cinnamon
½ tsp nutmeg
¼ tsp salt
3 large bananas, very ripe
1⅓ C buttermilk
2 tsp vanilla extract
2 tbsp butter, melted and cooled
For the Syrup
½ C maple syrup
¼ C creamy peanut butter
¼ tsp vanilla extract
Instructions
In a large bowl, whisk together flours, sugar, baking powder, baking soda, cinnamon, nutmeg, and salt until well-combined.
In a medium bowl, mash bananas. Add in milk, vanilla extract, and butter. Stir until blended.
Add wet ingredients to dry ingredients and stir until just combined.
Bring a skillet or griddle to medium heat. Spray with non-stick cooking spray.
Pour ⅓ cup of batter onto hot skillet. Using measuring cup, lightly spread out batter in a circular form. Cook until bubbles begin to appear on the surface, about 2-3 minutes and flip. Cook for another 1-2 minutes. Serve with peanut butter syrup.
To make the Peanut Butter Syrup: In a microwave safe bowl, stir together maple syrup, peanut butter, and vanilla extract. Microwave for 30 seconds and then in 5-10 second intervals until mixture is warm, runny.
This recipe is loosely adapted from
How Sweet It Is
 and is linked with
Strut Your Stuff Saturday
,
Time to Sparkle
, 
Weekend Potluck
,
What's Cookin' Wednesday
, 
What's in Your Kitchen Wednesday
.