Ever since making banana bread waffles, I've wanted to try banana bread pancakes. We always seem to have a couple of bananas that are too ripe or just starting to get too ripe. So the other night (Yes, night. That's when we have time to make breakfast food!), I decided it was about time I give them a try.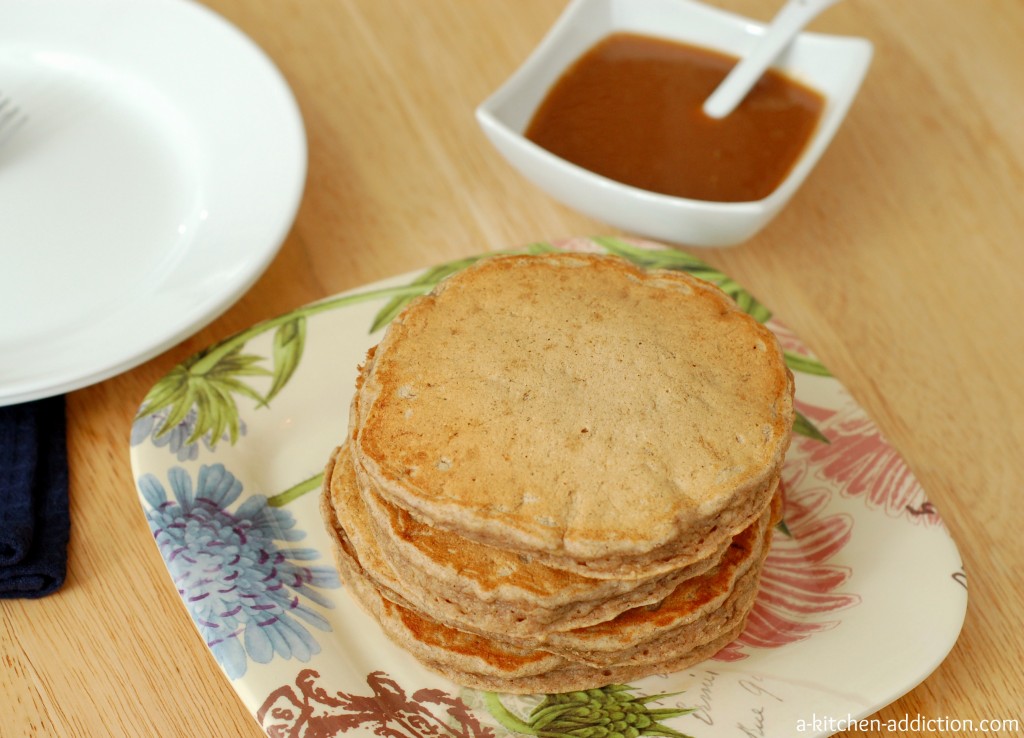 These pancakes are loaded with chunks of banana and lots of cinnamon and nutmeg. All of the banana makes these slightly denser than your average pancake, but the result is a pancake that tastes a lot like a warm, thick slice of banana bread. Using whole wheat flour and non-fat buttermilk makes these a healthy option for breakfast, lunch or dinner!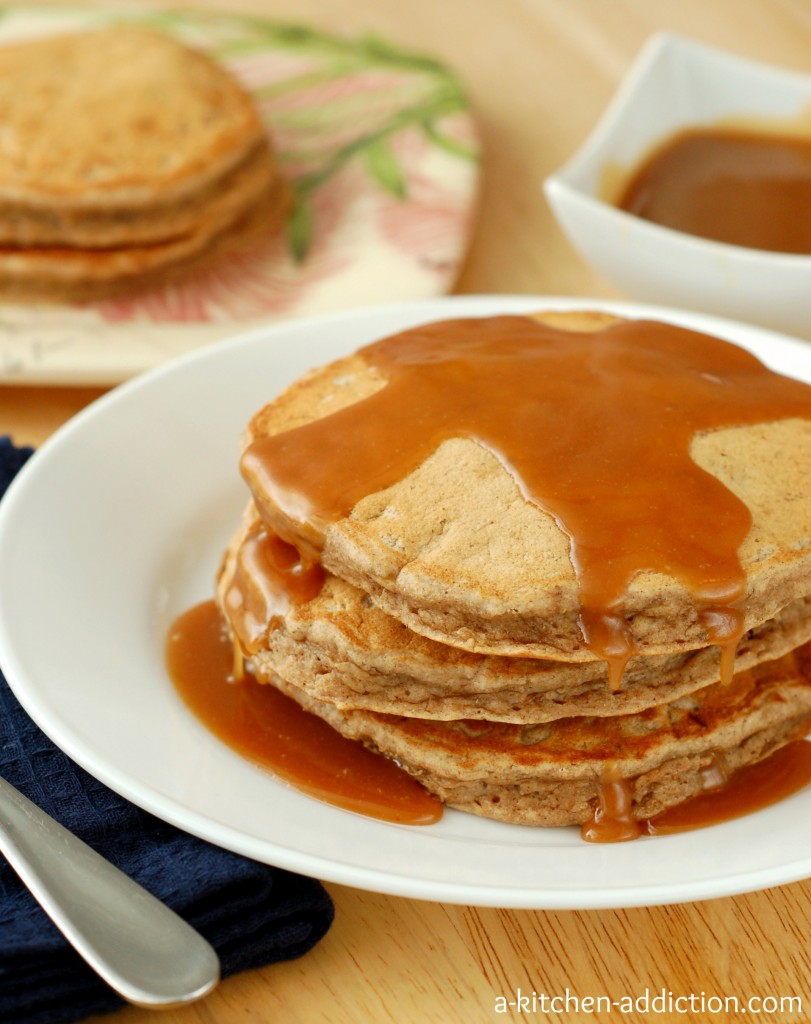 I knew right away that I wanted to top these pancakes with a simple peanut butter syrup. I already put peanut butter and a little syrup on my pancakes, so I figured I may as well mix them together with a little vanilla extract. So good! You may just find yourself pouring the syrup over more than just pancakes. . .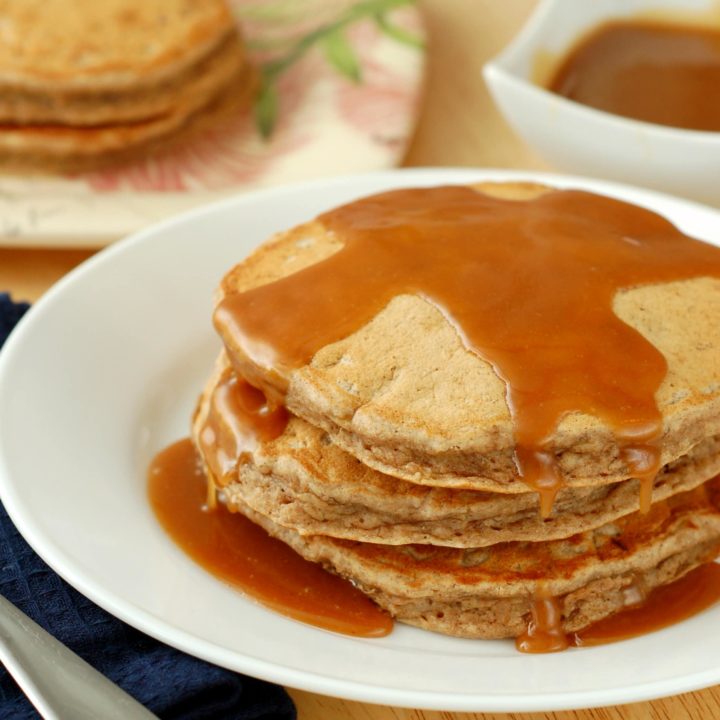 Banana Bread Pancakes with Peanut Butter Syrup
Yield: 4 servings

Prep Time: 10 minutes

Cook Time: 5 minutes

Total Time: 15 minutes
Ingredients
For the Pancakes
1 Cup whole wheat flour
1 Cup all-purpose flour
1/4 Cup brown sugar
2 teaspoons baking powder
1/2 teaspoon baking soda
1 1/2 teaspoons cinnamon
1/2 teaspoon nutmeg
1/4 teaspoon salt
3 large bananas, very ripe
1 1/3 Cups buttermilk
2 teaspoons vanilla extract
2 Tablespoons butter, melted and cooled
For the Syrup
1/2 Cup maple syrup
1/4 Cup creamy peanut butter
1/4 teaspoon vanilla extract
Instructions
In a large bowl, whisk together flours, sugar, baking powder, baking soda, cinnamon, nutmeg, and salt until well-combined.
In a medium bowl, mash bananas. Add in milk, vanilla extract, and butter. Stir until blended.
Add wet ingredients to dry ingredients and stir until just combined.
Bring a skillet or griddle to medium heat. Spray with non-stick cooking spray.
Pour 1/3 cup of batter onto hot skillet. Using measuring cup, lightly spread out batter in a circular form. Cook until bubbles begin to appear on the surface, about 2-3 minutes and flip. Cook for another 1-2 minutes. Serve with peanut butter syrup.
To make the Peanut Butter Syrup: In a microwave safe bowl, stir together maple syrup, peanut butter, and vanilla extract. Microwave for 30 seconds and then in 5-10 second intervals until mixture is warm, runny.
Recommended Products
As an Amazon Associate and member of other affiliate programs, I earn from qualifying purchases.
Nutrition Information:
Yield: 4 Serving Size: 1
Amount Per Serving: Calories: 645Total Fat: 16gSaturated Fat: 6gTrans Fat: 0gUnsaturated Fat: 8gCholesterol: 19mgSodium: 821mgCarbohydrates: 117gFiber: 8gSugar: 53gProtein: 15g

Nutrition information shown is an estimate provided by an online calculator and may not always be accurate. It should not be considered a substitute for a medical professional's advice.


This recipe is loosely adapted from How Sweet It Is and is linked with Strut Your Stuff Saturday, Time to Sparkle, Weekend Potluck, What's Cookin' Wednesday, What's in Your Kitchen Wednesday.