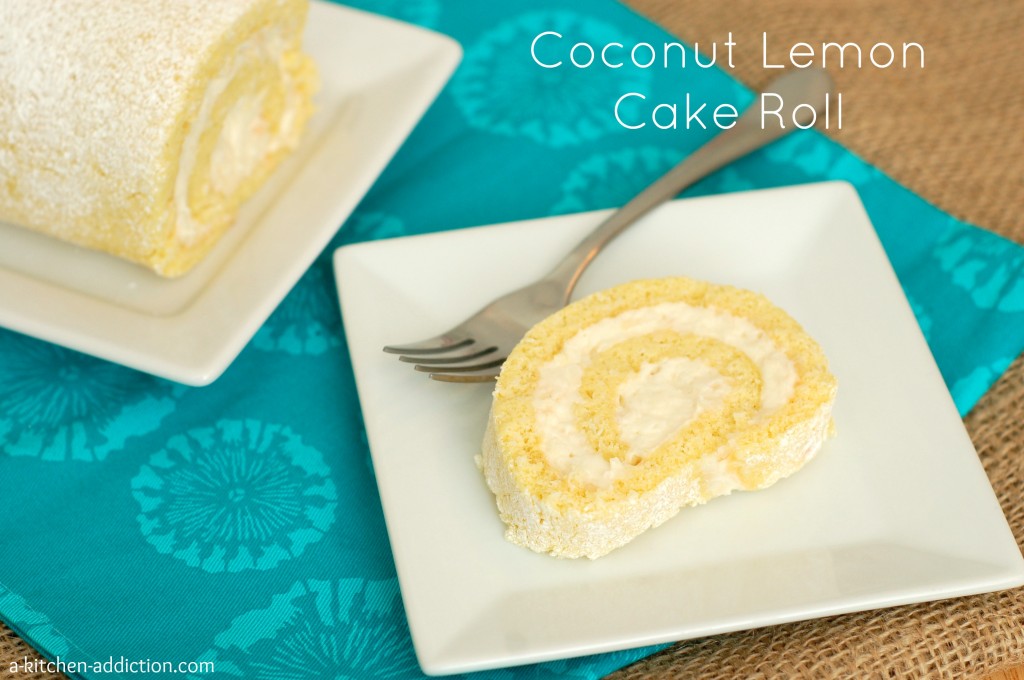 Sometimes recipes don't turn out like they are supposed to. . .not even close to how they are supposed to. Take a couple of days ago for instance. I was planning on making a coconut cake and it didn't rise at all. I followed the directions, didn't leave out any ingredients, and it still didn't rise. Well, I wanted to salvage it somehow, so I immediately thought of a cake roll. (That's how flat the cake was!) It tasted great but it wasn't the prettiest dessert I've ever made! That got me thinking that I should make a coconut cake roll that was actually meant to be a coconut cake roll!
I wanted a spring version of the favorite fall pumpkin roll that used light flavors. So, I added in some lemon extract to the coconut and coconut extract in the cake. The result was a light coconut lemon flavor that blended with the cream cheese filling perfectly. Toasted coconut is added to the filling to give it even more coconut flavor. If you close your eyes and take a bite, you can almost imagine that you are someplace warm!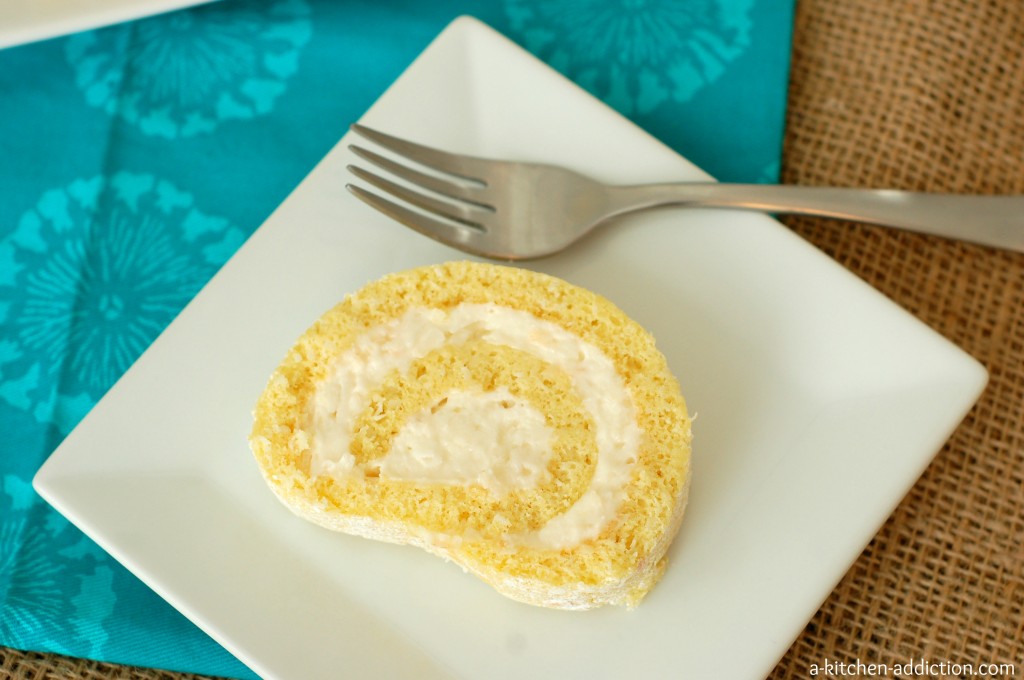 Notes: Make sure to liberally cover your towel with powdered sugar to prevent your cake from sticking. Do not over bake the cake as it will become somewhat chewy. Also, feel free to add more coconut or lemon extract to the filling. I wanted to keep the flavors light, so I just used vanilla extract in the filling.
Coconut Lemon Cake Roll
Ingredients
For the Cake
3 eggs
3/4 C sugar
1/2 tsp vanilla extract
1 tsp lemon extract
1 tsp coconut extract
3/4 C all-purpose flour
1 tsp baking powder
1/4 tsp salt
1/2 C sweetened shredded coconut, packed
For the Filling
8 oz 1/3 of the fat cream cheese
1/4 C butter, softened
1 1/2 C confectioner's sugar, sifted
1/2 C sweetened shredded coconut, toasted
1/2 tsp vanilla extract
Instructions
Preheat oven to 350. Line a 15×10 jelly roll pan with parchment or wax paper. Lightly spray with non-stick cooking spray.
In the bowl of a stand mixer, beat eggs until foamy, about 3-4 minutes. Beat in sugar, vanilla extract, lemon extract, and coconut extract until blended.
Add in flour, baking powder, and salt and beat until just combined. Stir in coconut. (If you do not want large pieces of coconut in your cake, put the coconut in a food processor and pulse until fine.)
Pour batter into prepared jelly roll pan.
Bake for 10-12 minutes or until edges just start to turn golden brown.
While cake is baking, sprinkle a clean towel liberally with powdered sugar. Turn out warm cake onto prepared towel. Starting at the narrow end, roll up cake and towel. Cool on wire rack.
While cake is cooling, start to prepare filling. Beat together cream cheese and butter until creamy. Add in confectioner's sugar and vanilla and beat until smooth.
Stir in toasted coconut.
Once cool, unroll cake. Spread filling over the top. Reroll cake and wrap in plastic wrap. Refrigerate for 1 hour or until ready to serve.
Sprinkle with confectioner's sugar before serving.
Store leftovers in the refrigerator.
This recipe is linked with Strut Your Stuff Saturday, Time to Sparkle, Weekend Potluck.