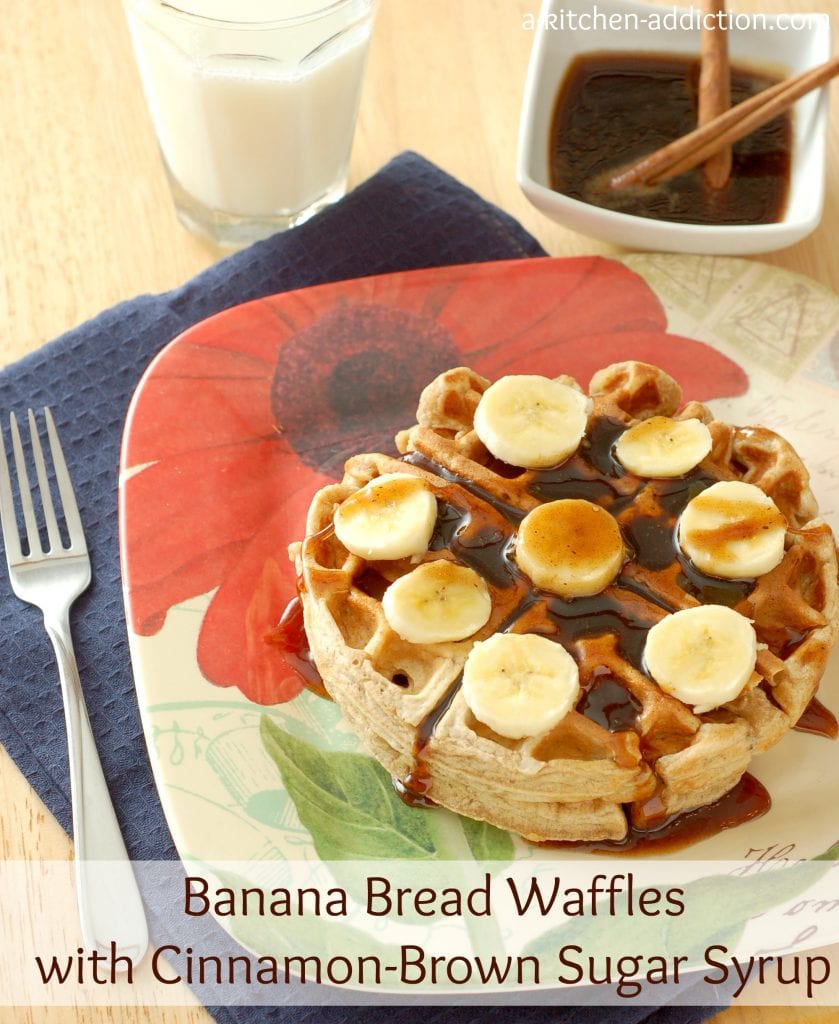 I don't know about you but weekday mornings aren't the time for big, sit down breakfasts. In my perfect world they would be because I love breakfast food. 🙂 However, that is not reality. Around here, we usually have quick breakfasts such as yogurt and granola, oatmeal, fruit and muffins, etc. So, when Saturday rolls around, I like to prepare a nice breakfast that consists of more than just grab and go options.
One breakfast food that we have been eating more of recently is waffles. There are just so many variations that I want to try! These banana bread waffles were one of those variations. If you like banana bread, then you will love these waffles. With chunks of banana scattered throughout and lots of cinnamon and nutmeg, these waffles taste just like banana bread with a crispy outside and a soft inside.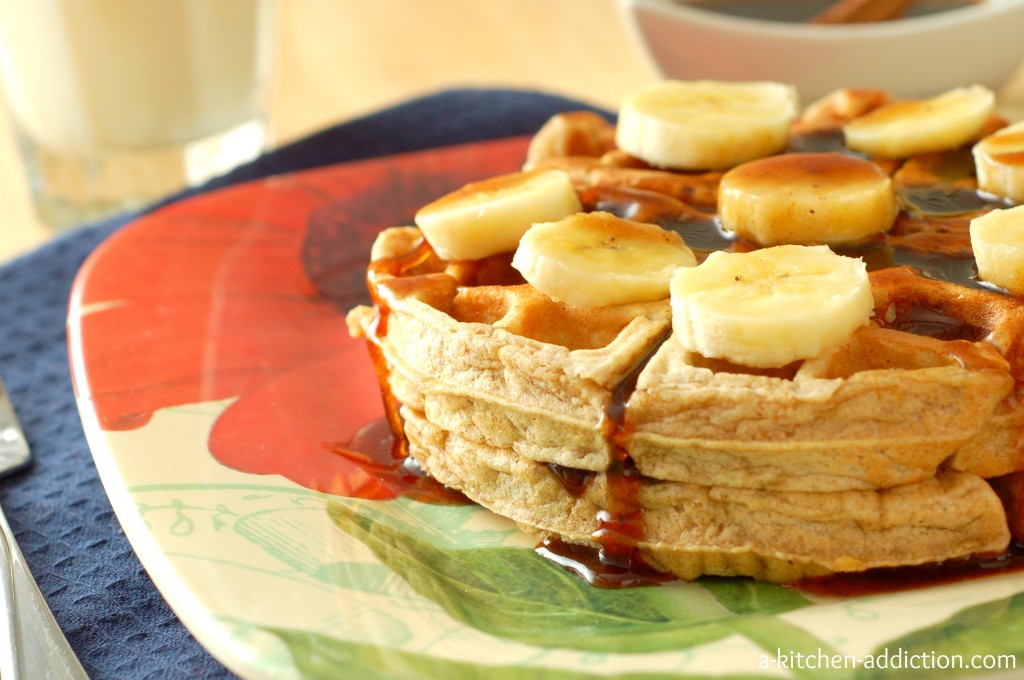 Top it off with some warm homemade cinnamon-brown sugar syrup and you'll be wishing that it were Saturday morning every morning. . .oh wait. . .I think we already do that! 🙂
Banana Bread Waffles with Cinnamon-Brown Sugar Syrup
Yield: 5 waffles
Ingredients
For the Waffles
3/4 C all-purpose flour
1/2 C whole wheat flour
2 tbsp brown sugar
2 tsp baking powder
1 tsp cinnamon
1/2 tsp nutmeg
1/4 tsp salt
1 1/2 large ripe bananas, mashed
3 tbsp butter, melted and cooled
2 eggs, beaten
1 C non-fat milk
1 tsp vanilla extract
For the Syrup
3/4 C brown sugar
2/3 C water
1 tsp vanilla extract
1 tsp cinnamon
1/2 tsp nutmeg
additional bananas for garnish, optional
Directions
In a large bowl, whisk together flours, sugar, baking powder, cinnamon, nutmeg, and salt. In a small bowl, whisk together bananas, melted butter, eggs, milk, and vanilla extract until well-combined. Add wet ingredients to dry ingredients and stir until just combined.
In a small saucepan, whisk together brown sugar, water, vanilla, cinnamon, and nutmeg. Bring mixture to a boil over medium heat, stirring occasionally to prevent scorching. When mixture reaches a boil, turn heat to low and stir occasionally until ready to serve.
Pour 1/3 -1/2 C of batter (depending on the size of your waffle maker) onto hot, greased waffle maker. Cook to your desired crispness.
Serve with warm cinnamon-brown sugar syrup and additional banana slices.
This recipe is linked with Strut Your Stuff Saturday, Weekend Potluck, What's Cookin' Wednesday, What's in Your Kitchen Wednesday.