This easy recipe for Bakery Style Pumpkin Muffins is filled with an entire can of pumpkin and warm pumpkin pie spices! The perfect pairing to your favorite fall drink!
Based off of our Classic Pumpkin Bread, these muffins also use an entire can of pumpkin. No trying to figure out how to use that last little bit of pumpkin up before it goes bad!
They also contain only a small amount of oil, so no getting a thin sheen of oil on your fingers and mouth! (You can actually swap out the oil for yogurt, if you want no oil at all. Just know that the texture will be slightly different.)
Just a lot of real pumpkin flavor with hints of pumpkin pie spices!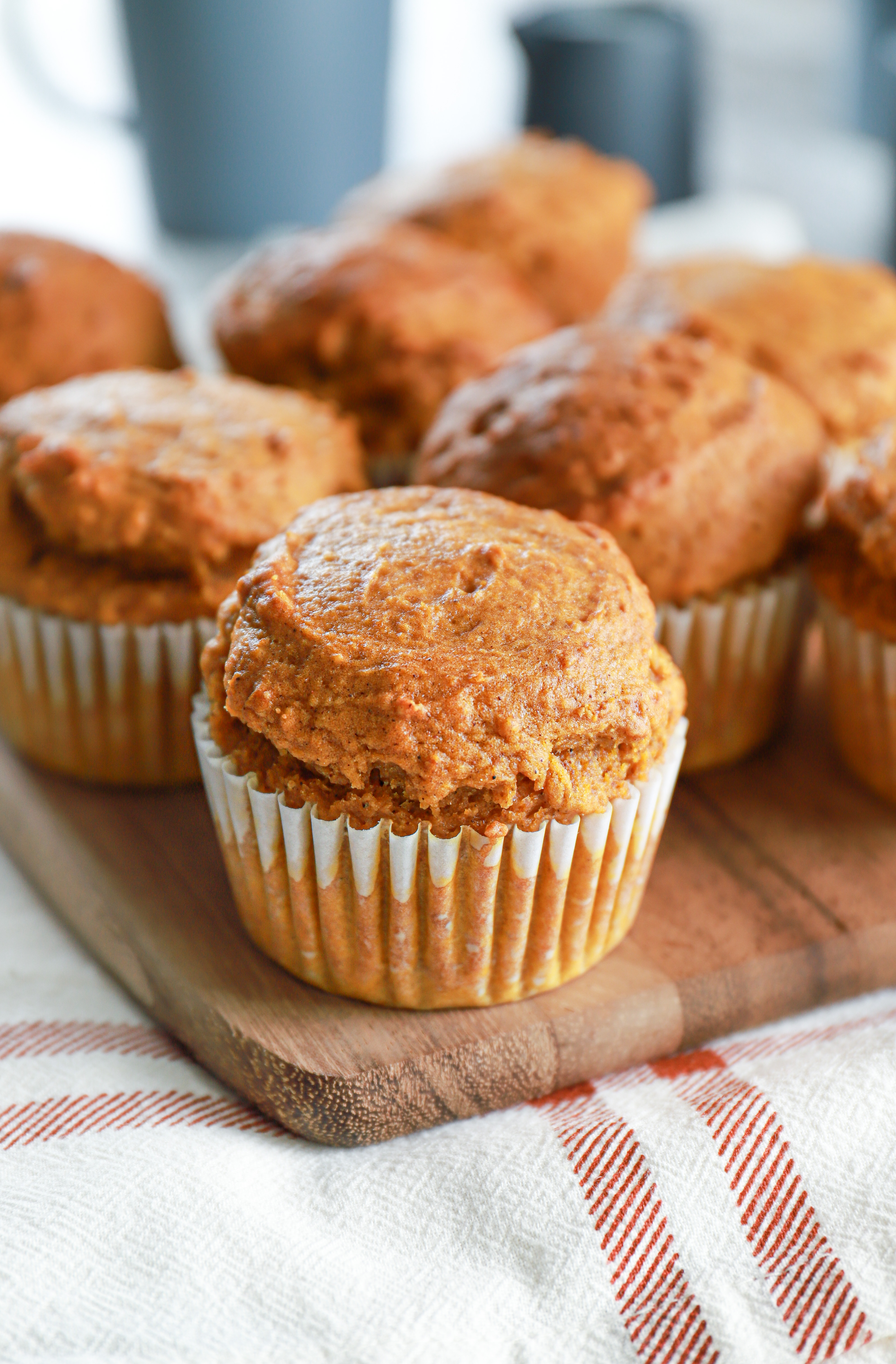 These aren't your typical dense, oily muffins that leave a thin layer of oil coating your fingers and mouth after you're done eating and make you wonder just how unhealthy the muffin was that you consumed.
We actually tried a few different variations using no oil, both oil and yogurt, and then just a bit of oil with no yogurt.
We found that we liked the texture and flavor of the variation that had just a bit of oil in it. Not nearly enough to make them seem oily though.
They also aren't a pumpkin spice flavor. The emphasis is on the pumpkin with a hint of spice, instead of the other way around.
The result is soft, tender muffins loaded with real pumpkin flavor and hints of warm pumpkin pie spices!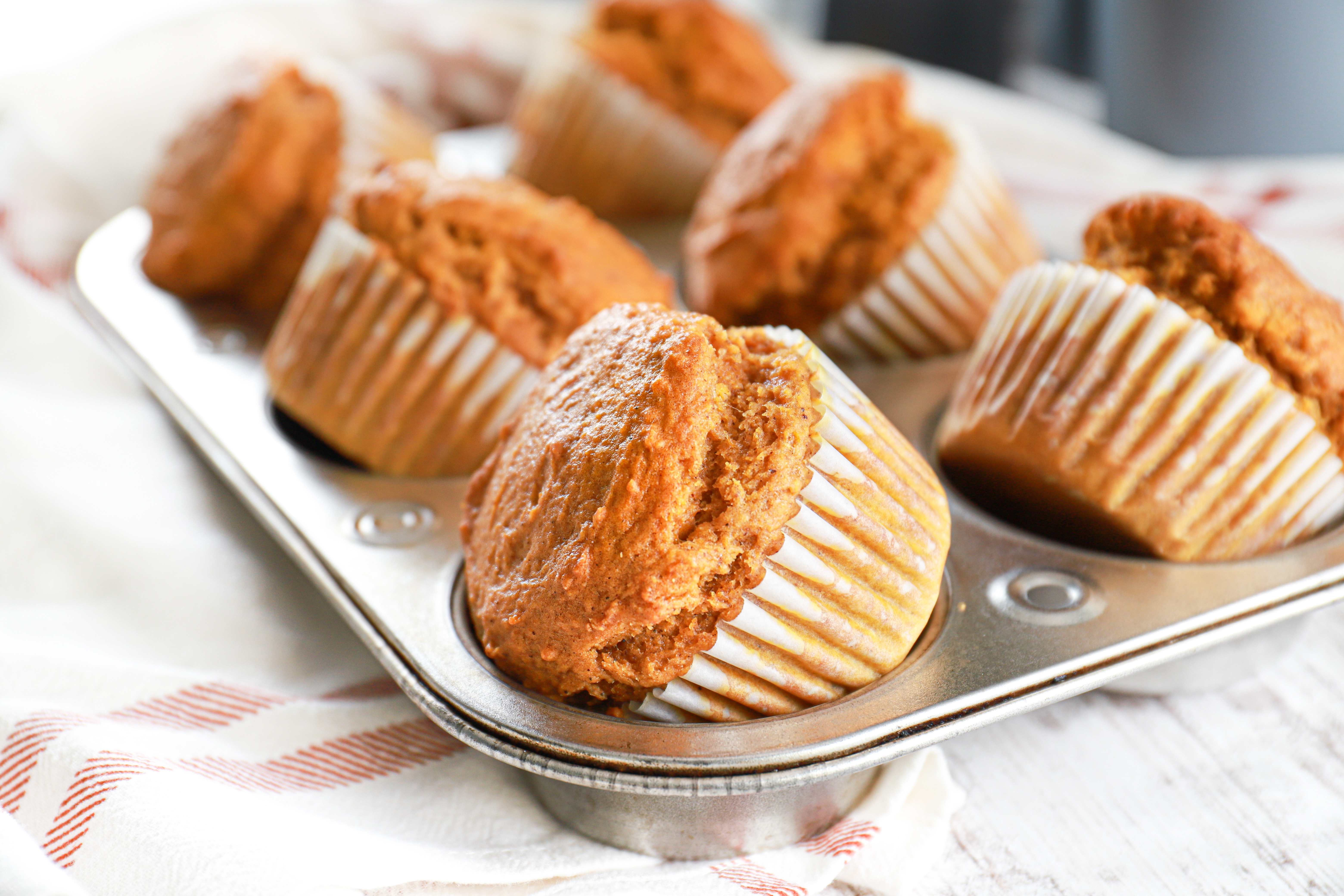 How to Make Easy Pumpkin Muffins
These muffins are a simple recipe where you combine the dry ingredients in one bowl and the wet ingredients in another bowl.
Then add the wet ingredients to the dry ingredients. Stir until just combined.
Evenly divide your batter into 12 cups of a muffin tin. An ice cream scoop works well for this!
Bake until a toothpick inserted in the center comes out clean. Then enjoy warm or allow to cool and dig in!
You will want to store any leftovers in an airtight container.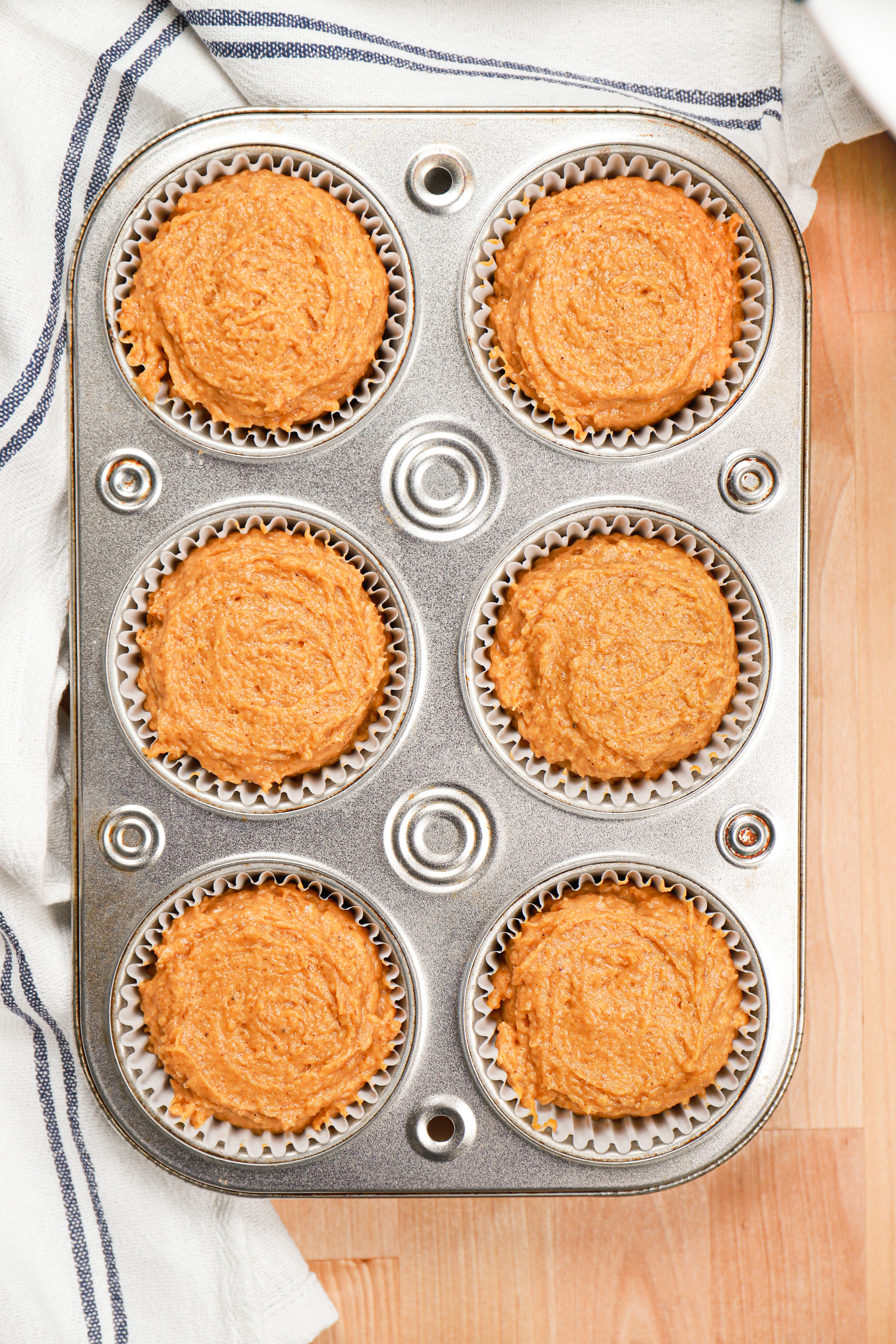 Tips for Making Bakery Style Pumpkin Muffins
All-purpose flour or white whole wheat flour will give you the best texture.
You can swap out the melted coconut oil for melted and cooled butter, vegetable oil, or plain yogurt. Just know that if you use yogurt, the texture of your muffins will be a bit more "spongy."
Don't have all of the individual spices listed? Swap them out for 1 teaspoon ground cinnamon and 1 teaspoon pumpkin pie spice.
Add a bit of a crunch to your muffins by stirring in a 1/2 cup of chopped pecans, walnuts, or pepitas. Sprinkling the batter with coarse sugar right before baking also gives a nice crunch to the muffins.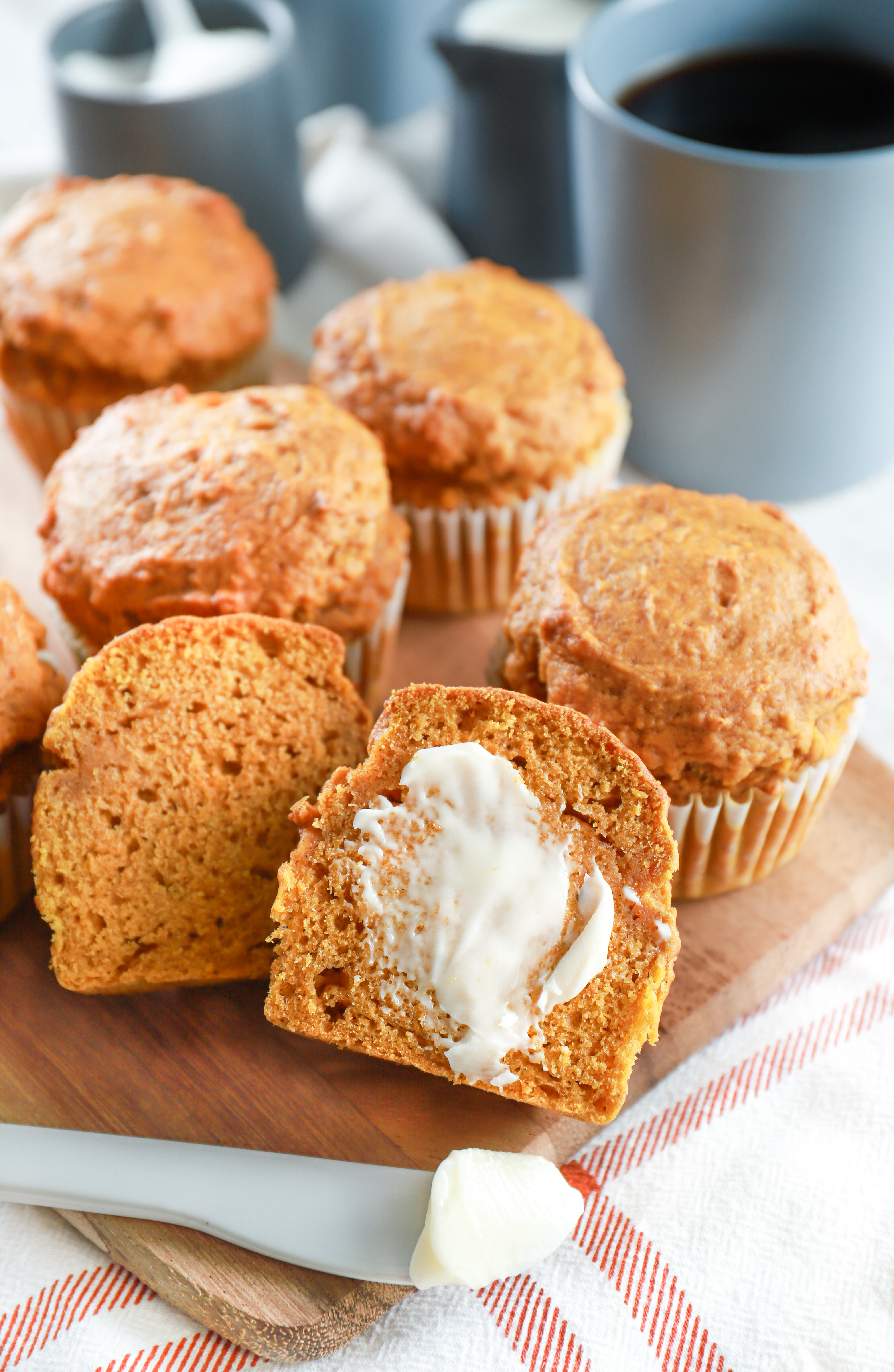 Love Bakery Style Muffins? More easy muffin recipes to try!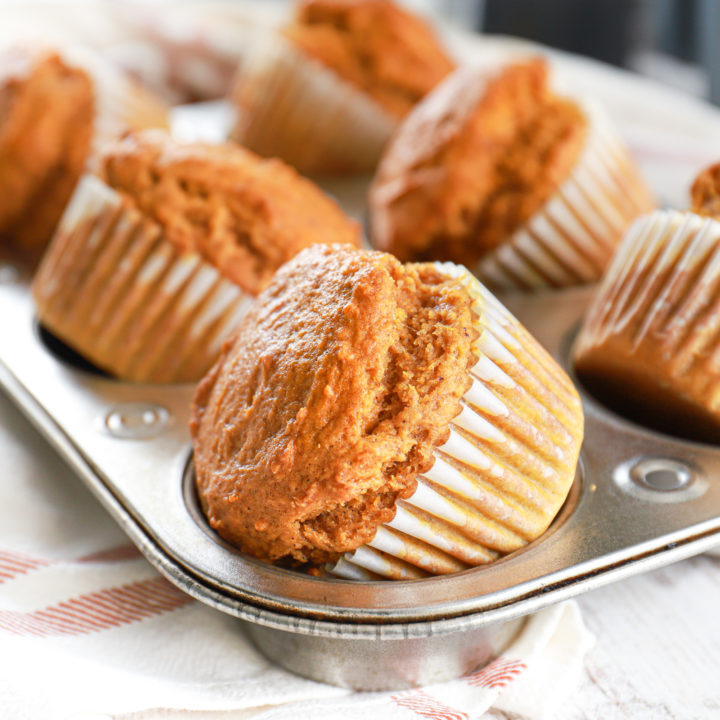 Bakery Style Pumpkin Muffins
This easy recipe for Bakery Style Pumpkin Muffins is filled with an entire can of pumpkin and warm pumpkin pie spices!
Ingredients
2 1/4 Cups white whole wheat flour or all-purpose flour
2/3 Cup brown sugar
1/4 Cup sugar
1 teaspoon baking powder
1 teaspoon baking soda
1/2 teaspoon salt
1 1/2 teaspoons cinnamon**
1/2 teaspoon nutmeg**
1/4 teaspoon allspice**
1/4 teaspoon ginger**
1/8 teaspoon cloves**
1 (15 ounce) can pumpkin puree (not pumpkin pie filling)
1/4 Cup melted coconut oil (measured in its melted state) ***
2 eggs
1 teaspoon vanilla extract
Instructions
Preheat oven to 425 degrees Fahrenheit. Spray a muffin tin with non-stick cooking spray, or line with cupcake liners.
In a large bowl, whisk together flour, brown sugar, sugar, baking powder, baking soda, salt, cinnamon, nutmeg, allspice, ginger, and cloves. Set aside.
In a separate bowl, whisk together pumpkin puree, melted coconut oil, eggs, and vanilla extract until creamy.
Add wet ingredients to dry ingredients, and stir until just combined.
Divide batter into prepared muffin tin. (I like to use an ice cream scoop to easily scoop out the batter.) Depending on the size of the muffin tin, each cup will be 3/4 full to almost completely full.
Bake for 5 minutes then reduce heat to 350 degrees Fahrenheit. Bake for an additional 10-15 minutes or until a toothpick inserted in the center comes out clean.
Remove to a wire rack to cool. Store leftovers in an airtight container.
Notes
**If you don't have these individual spices you can use 1 teaspoon cinnamon and 1 teaspoon pumpkin pie spice in their place.
***You can use 1/4 Cup melted butter, 1/4 Cup vegetable oil, or 1/4 Cup plain yogurt in place of the melted coconut oil.
Recommended Products
As an Amazon Associate and member of other affiliate programs, I earn from qualifying purchases.
Nutrition Information:
Yield:

12
Serving Size:

1
Amount Per Serving:
Calories:

231
Total Fat:

6g
Saturated Fat:

4g
Trans Fat:

0g
Unsaturated Fat:

1g
Cholesterol:

31mg
Sodium:

250mg
Carbohydrates:

41g
Fiber:

3g
Sugar:

15g
Protein:

5g
Nutrition information shown is an estimate provided by an online calculator and may not always be accurate. Nutrition values can vary greatly based on brand used. It should not be considered a substitute for a medical professional's advice.