Pumpkin and maple combine with a cinnamon swirl layer and crunchy, streusel topping filled with pumpkin pie spices in this Cinnamon Maple Pumpkin Coffee Cake! Pair it with your favorite coffee or tea for a perfect start to your morning!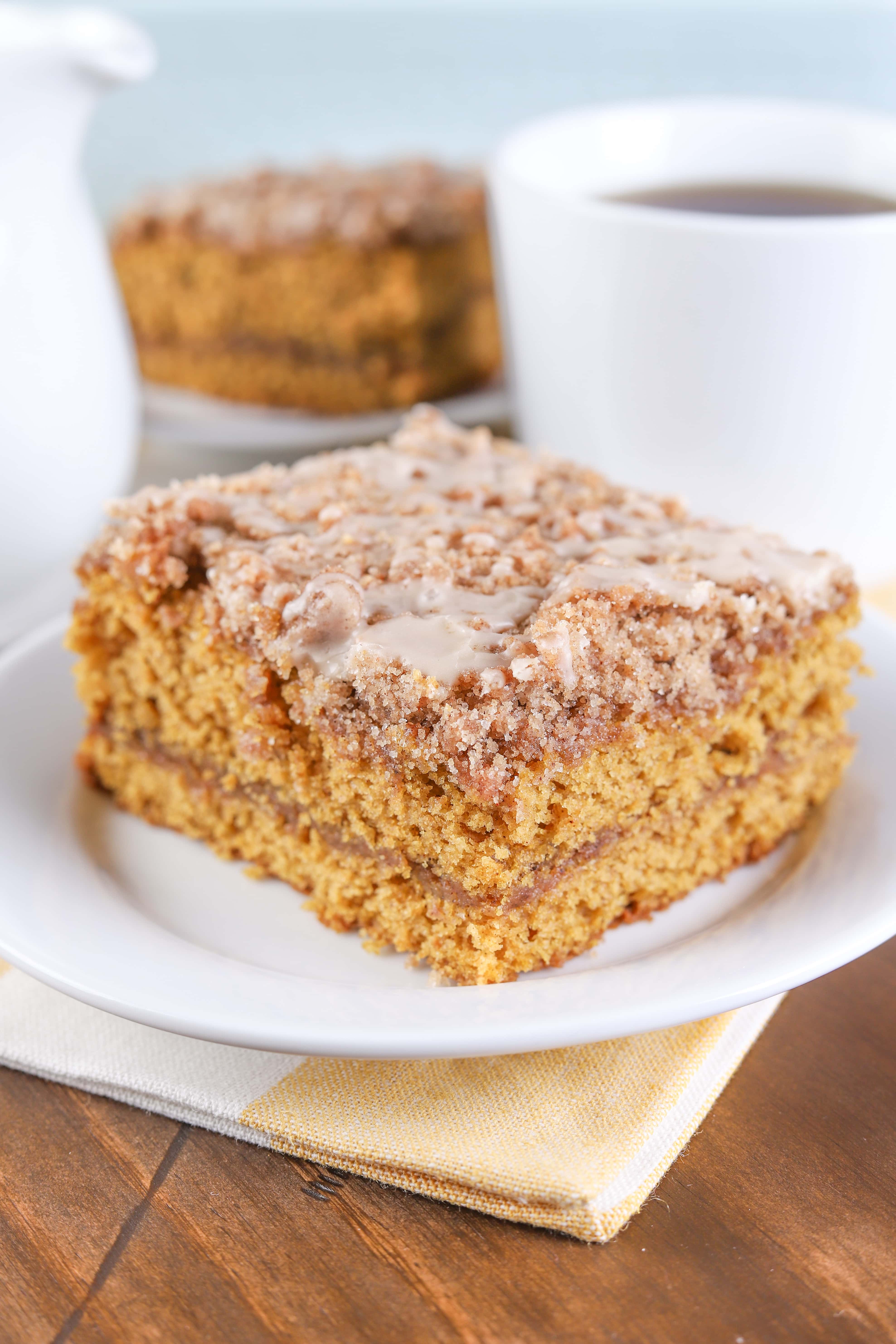 If you have been following A Kitchen Addiction for awhile now, you've probably noticed something about a lot of my pumpkin recipes. They usually contain some element of maple.
Pumpkin and maple go hand-in-hand around here. If pumpkin is going to make an appearance, chances are maple will be close by!
It's one of my favorite flavor combinations, and I can't get enough of it once the weather cools and the leaves start to turn. It's been in fritters, muffins, bread, scones and donuts. So it only seems natural that it would appear in a coffee cake!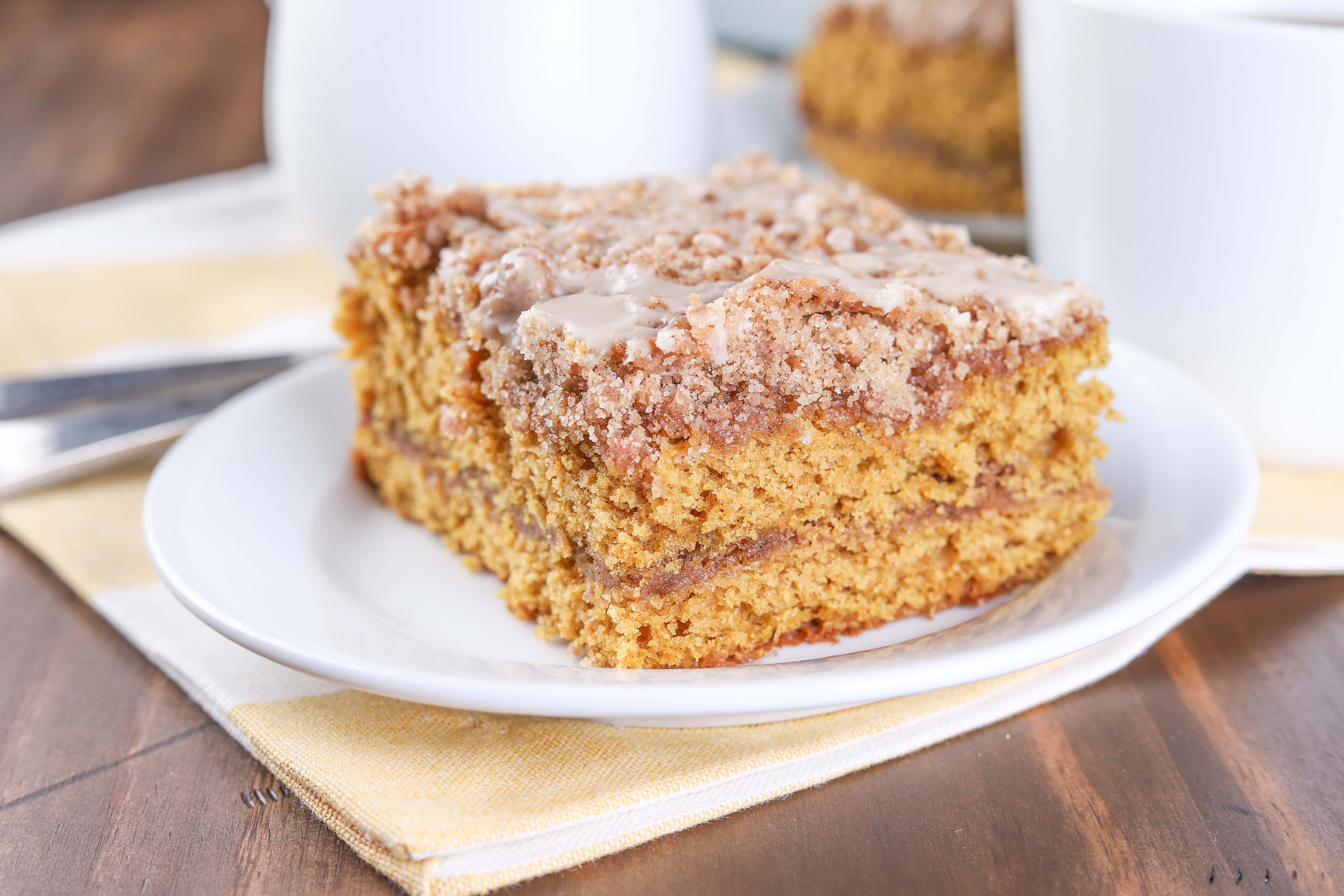 Don't let the long list of ingredients scare you off. A lot of the ingredients are either spices or are found in both the streusel layers and cake. The instructions are simple, too.
You're basically combing the dry ingredients together in one bowl and the wet ingredients in another. Then you combine the two. Stir in the pumpkin, and you're done. Make a simple streusel and layer the batter and streusel. Bake.
Because I like a lot of cinnamon and streusel in my coffee cakes. I couldn't settle for just a streusel topping. A middle layer of cinnamon was also needed!
But if you want to cut down on the amount of butter and sugar in the cake, you could always cut the ingredients in half and just have a streusel topping. Though I highly recommend you stick with both layers!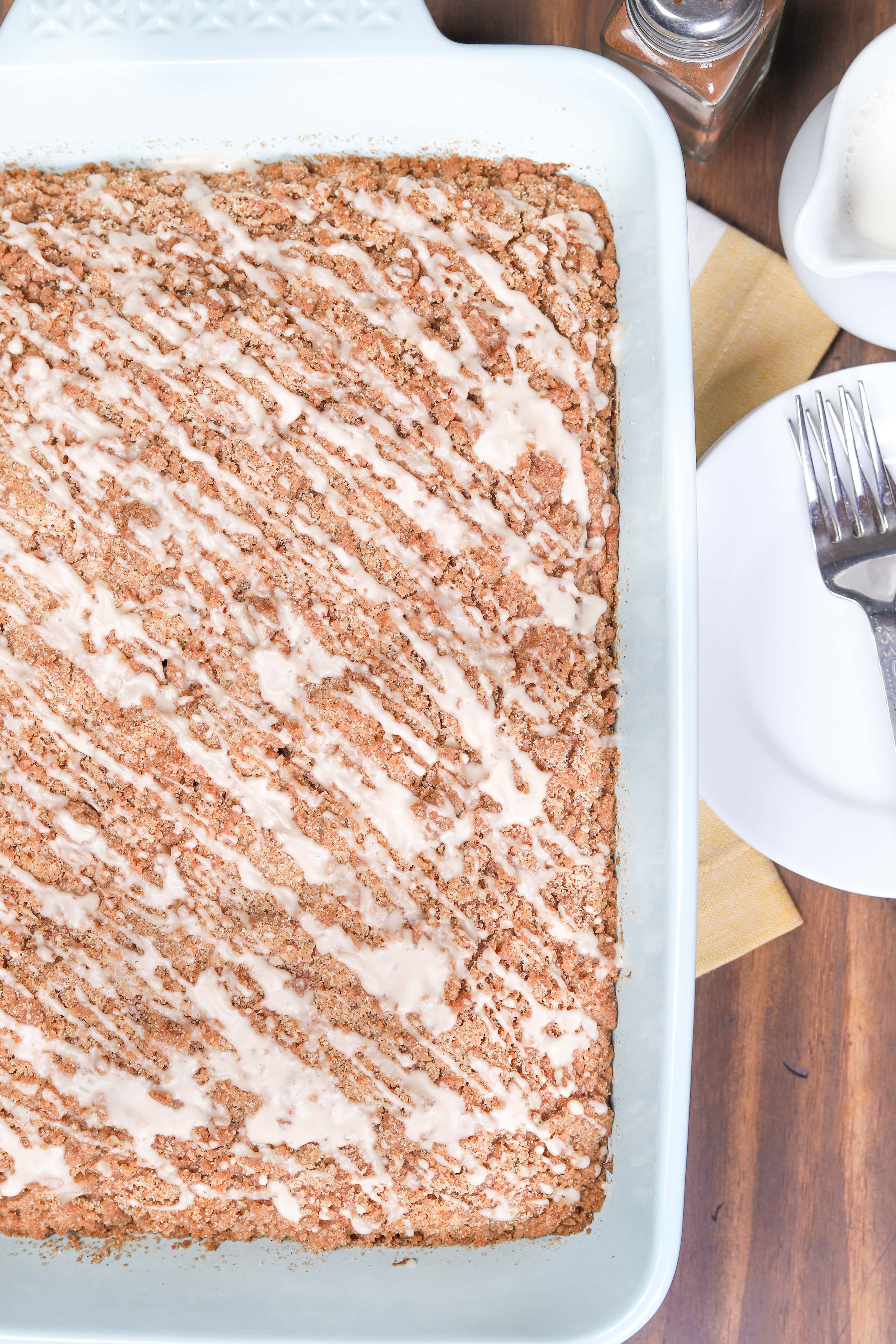 Tips for Making Cinnamon Maple Coffee Cake
Like a lot of streusel topping on your coffee cake? Only use 1/3 of the mixture for the middle layer and use the remaining 2/3 for the top. This will give you a nice crunchy topping. This is what I have done for the cake in the pictures.
Feel free to swap out the maple extract for vanilla in both the cake and the glaze if you aren't a fan of the flavor.
Try not to over-stir the batter when you are combining the wet and dry ingredients, so you get a tender coffee cake.
Store the leftover coffee cake tightly covered. This will help it last longer.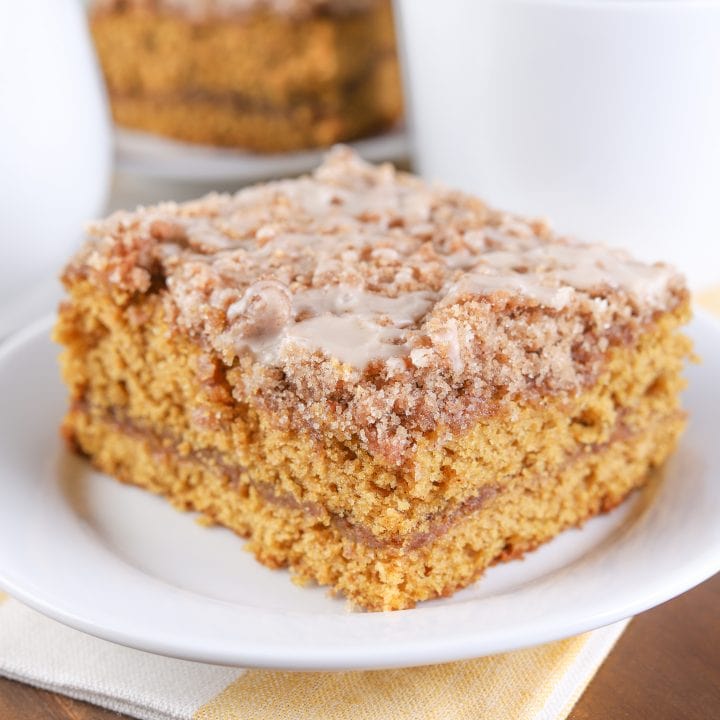 Cinnamon Maple Pumpkin Coffee Cake
Ingredients
For the Cake
2 C white whole wheat flour or all-purpose flour
1 tsp baking powder
1 tsp baking soda
1 tsp cinnamon
1/2 tsp nutmeg
½ tsp salt
½ C butter, softened
¾ C sugar
2 eggs
1/2 C milk
1 1/2 tsp maple extract
1 C pumpkin puree
For the Cinnamon Swirl/Topping
3/4 C white whole wheat flour or all-purpose flour
3/4 C brown sugar
6 tbsp sugar
1 tbsp cinnamon
1 tsp nutmeg
1 tsp ginger
1/2 tsp cloves
6 tbsp butter
For the Glaze
1/2 C confectioner's sugar
2-3 tsp half & half or milk
1/2 tsp maple extract
Instructions
Preheat oven to 350. Lightly spray a 9x13 inch baking dish with non-stick cooking spray or line the bottom with parchment paper.
In a small bowl, whisk together flour, baking powder, baking soda, cinnamon, nutmeg, and salt.
In the bowl of a stand mixer, or with an electric mixer, cream together butter and sugar. Add in eggs and beat until creamy. Add in milk and maple extract. Beat until creamy. Add dry ingredients to wet ingredients and mix until just combined. Gently stir in pumpkin just until combined. Set aside.
In a small bowl, whisk together flour, sugars, cinnamon, nutmeg, ginger, and cloves for cinnamon swirl/topping. Cut in butter until mixture resembles coarse crumbs.
Spread half of batter into prepared baking dish. Sprinkle with 1/3-1/2 of cinnamon sugar mixture. Carefully spread remaining batter over the top. Sprinkle with remaining cinnamon sugar mixture.
Bake for 28-32 minutes, or until toothpick inserted in the center comes out mostly clean with just a few crumbs.
Remove cake to a wire rack to cool. While cake is cooling, whisk together confectioner's sugar, half & half, and maple extract together until smooth. Drizzle over warm cake.
Allow glaze to set and serve.
Store the leftover coffee cake tightly covered. Best eaten in 1-3 days.
Recommended Products
As an Amazon Associate and member of other affiliate programs, I earn from qualifying purchases.