These Maple Glazed Apple Peanut Butter Bars are soft, chewy, and perfect for snacking on any time of day!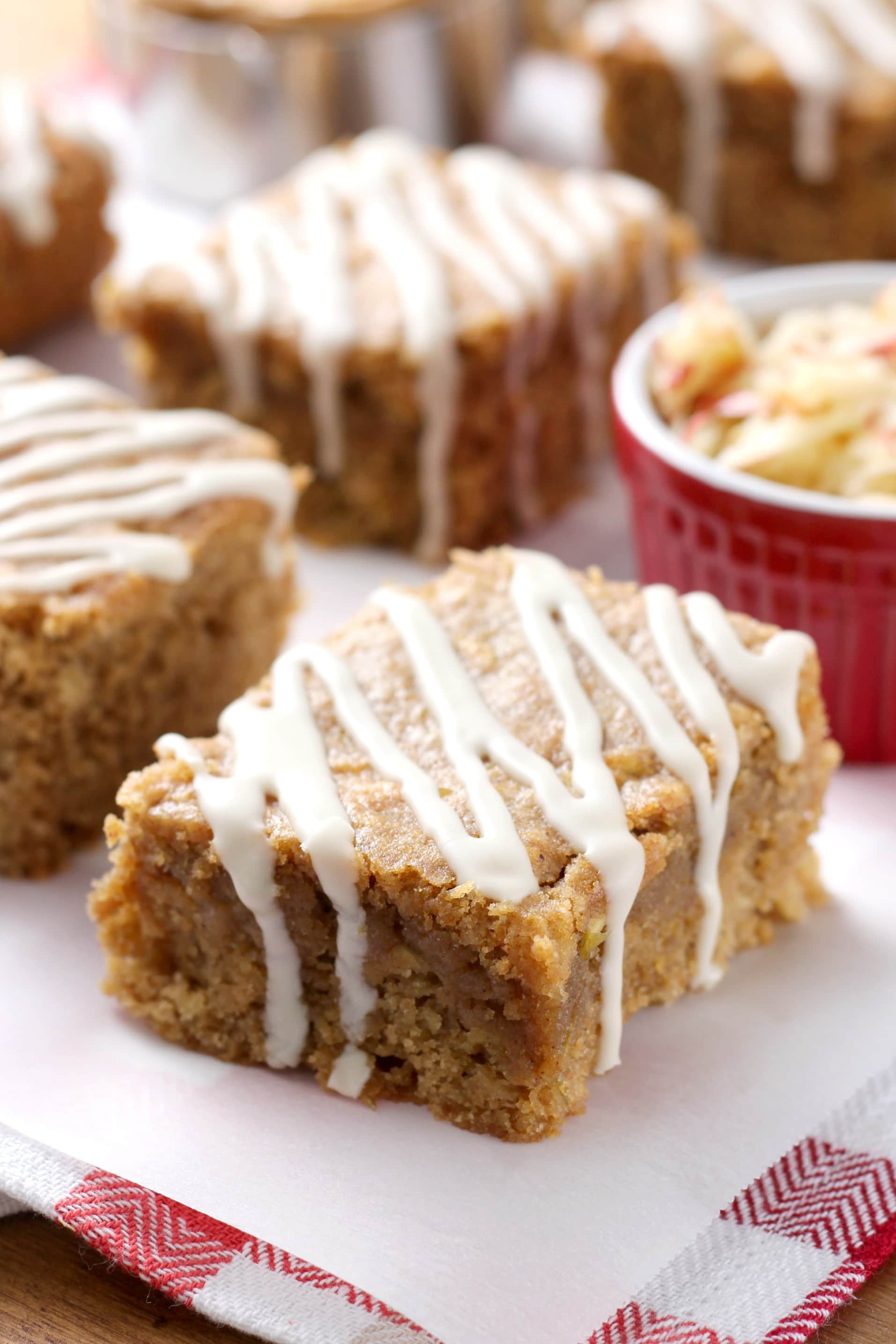 I had to sneak in another apple recipe before fall disappeared and everyone started thinking about all things peppermint, gingerbread, and eggnog! Fall apples are my favorite, and I probably end up eating twice as many apples in the fall than I do any other time of year!
I also do way more baking with them and am always experimenting to see what new ways I can use them in some of our favorite baked goods. These chewy maple glazed apple peanut butter bars were an instant hit.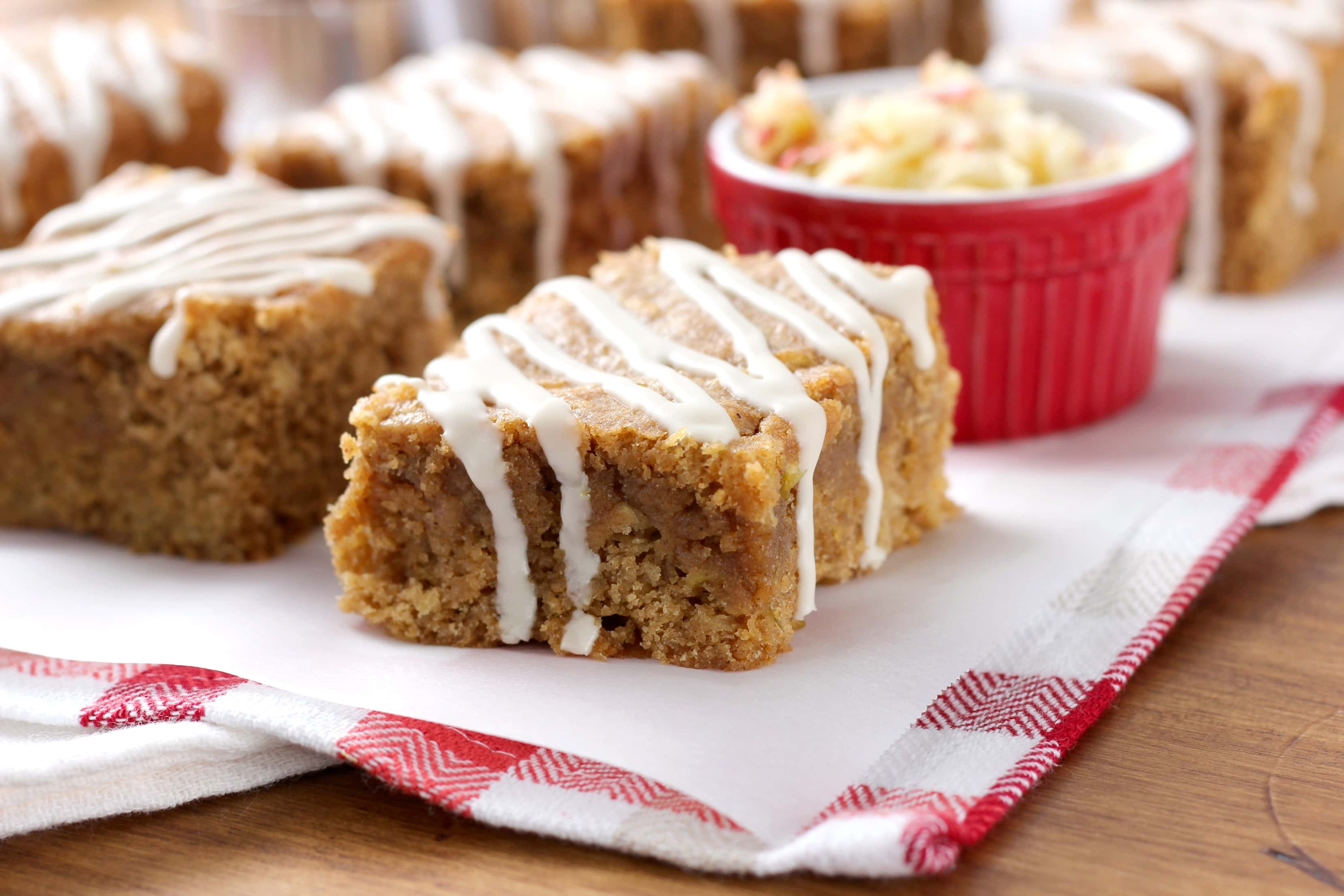 Apples and peanut butter go so well together both just for snacking and in baking. But a drizzle of maple is what makes that combination even better! There's a hint of maple extract in the bars themselves and then in the glaze. I was a little worried that the addition of maple to the peanut butter might make those flavors overpower the apple flavor, but the maple extract is just enough to give a hint of flavor without being too strong.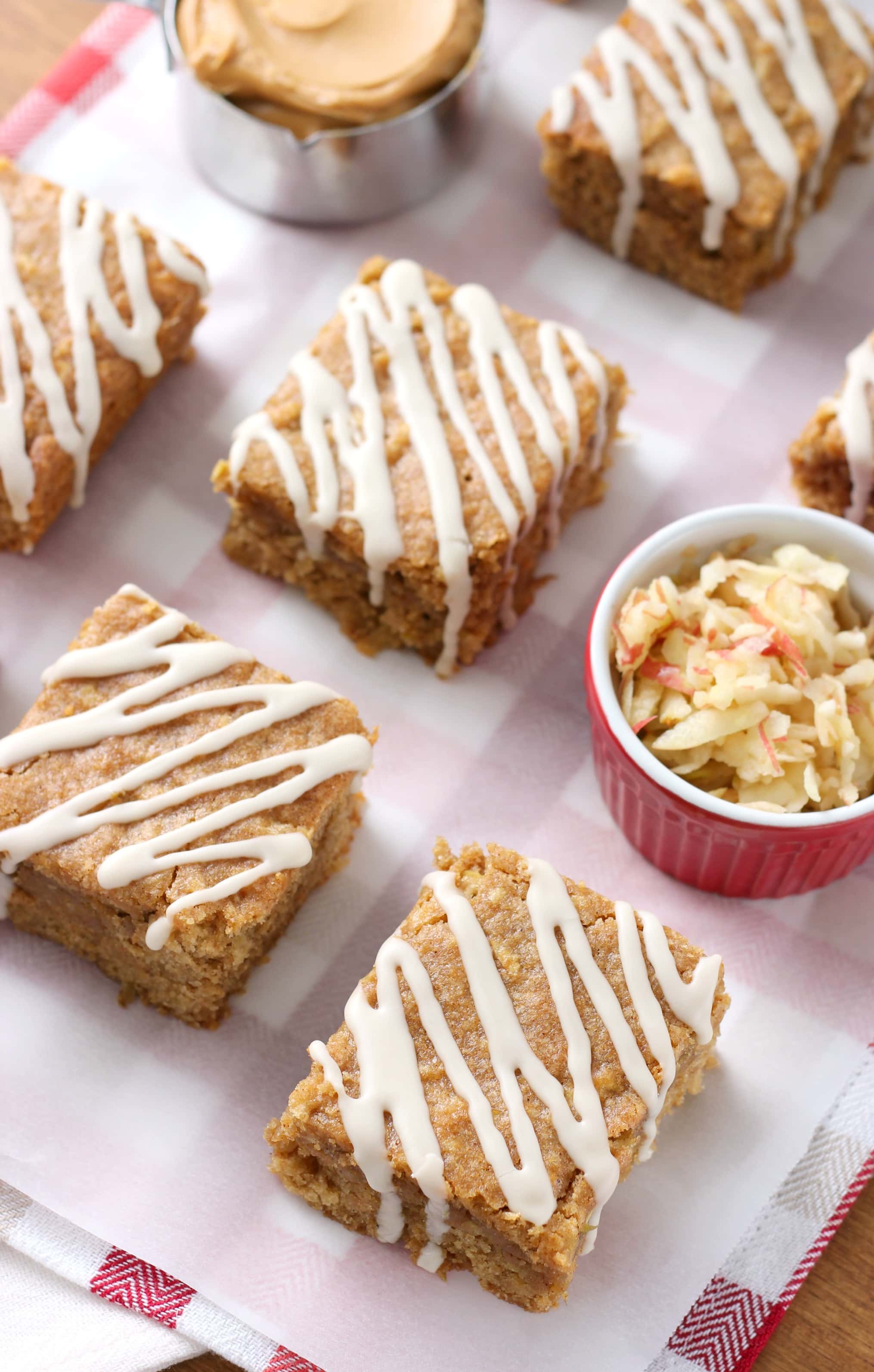 You'll notice that this recipe calls for shredded apple instead of chopped apples. I've done this before with apple cookies and love the results. I've found that shredded apple helps spread the flavor more evenly instead of having chunks of apple. They also seem to give a bit more moisture to the baked goods.
Soft, chewy and loaded with 1 1/2 cups of shredded apple and lots of peanut butter, these apple bars will soon become your new go-to fall recipe for last minute gatherings, late night snacking, and after school munching!
Maple Glazed Apple Peanut Butter Bars
Author:
Ingredients
For the Bars
2 C white whole wheat flour
1 1/2 tsp baking powder
1/2 tsp baking soda
1/2 tsp salt
1 tsp cinnamon
1/2 tsp nutmeg
1/8 tsp cardamom
1/2 C butter, softened
3/4 C brown sugar
1/2 C sugar
2 eggs
2 tsp maple extract
1/2 C no-stir creamy peanut butter
1 1/2 C shredded apple
For the Glaze
1/2 C confectioner's sugar
1 – 1 1/2 tbsp milk
1 tsp maple extract
Instructions
Preheat oven to 350. Spray a 9×9 or 9×13 inch baking dish with non-stick cooking spray. (The bars pictured were made in a 9×9 inch dish.)
In a large bowl, whisk together flour, baking powder, baking soda, salt, cinnamon, nutmeg, and cardamom. Set aside.
In the bowl of a stand mixer, or with an electric mixer, beat together butter, brown sugar, and sugar until creamy. Beat in eggs and maple extract. Beat in peanut butter until combined.
Add dry ingredients to wet ingredients and stir until combined. Stir in shredded apple.
Spread batter in prepared baking dish.
Bake for 20-25 minutes for a 9×13 inch baking dish and 25-30 minutes for a 9×9 inch baking dish, or until a toothpick inserted in the center comes out mostly clean. For more cake-like bars, bake until toothpick inserted in the center comes out completely clean.
Remove to a wire rack to cool.
Stir together all ingredients for the glaze until smooth. Drizzle over cooled bars. Allow glaze to harden and serve. Or, cut into bars. Drizzle glaze over bars. Allow glaze to harden and serve.