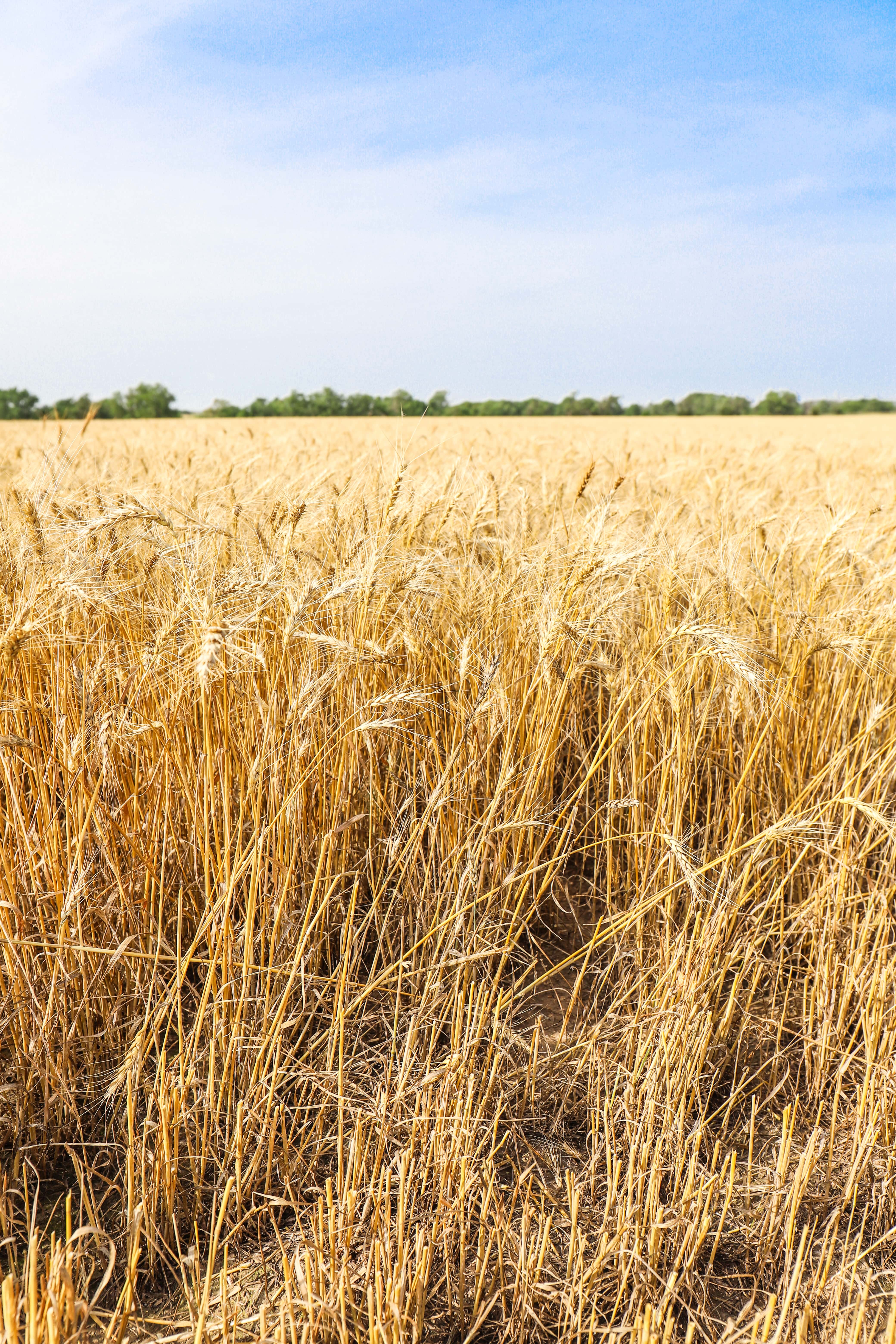 This trip was in partnership with Kansas Wheat and Red Star Yeast.
A couple of weeks ago, I had the privilege of taking a trip to Kansas to learn about all things wheat. As you know, I love learning more about where my food comes from. There is so much information out there from all different sides, so it is nice to go straight to the source and see it for myself. One thing that I was curious about was the different types of wheat and how they are grown. And as you'll see below, I definitely got that question answered!
Also on the trip was Sally from Sally's Baking Addiction, Stefani from Cupcake Project, Lori from The Kitchen Whisperer, Kristin from Baker Bettie, Abby from Heart of a Baker, Adriana from Adriana's Best Recipes, and Jamie from Love Bakes Good Cakes.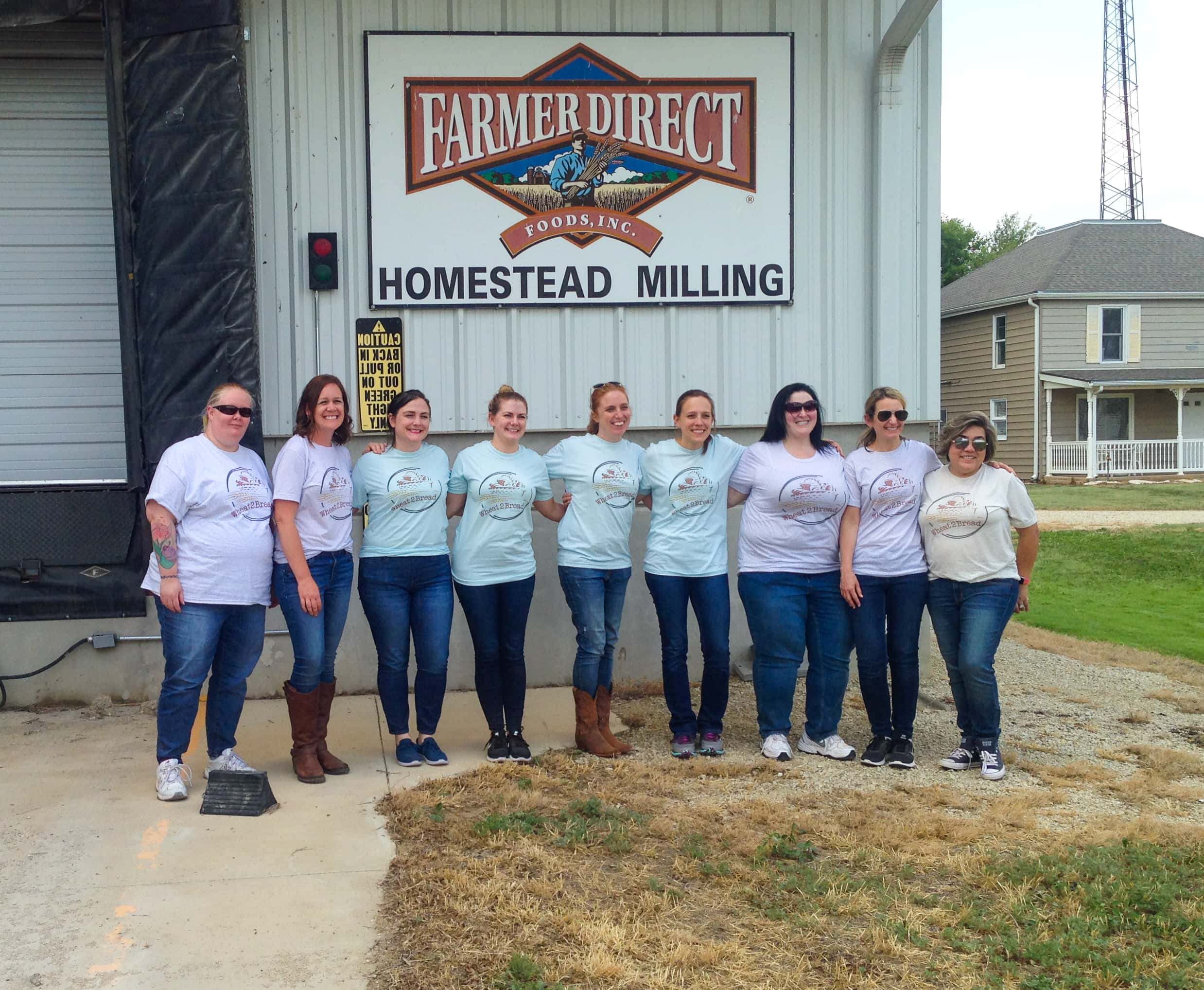 Throughout the course of the trip we visited a wheat farm, toured a stone-ground flour mill, heard from farmers about their passions, successes, and struggles with growing wheat, toured the Kansas Wheat Innovation Center, spent an afternoon learning about different doughs and bread baking techniques from aZoë François, of Artisan Bread in 5 Minutes a Day, and Julene DeRouchey, from Kansas Wheat, and, of course, ate a lot of good food that was made using Kansas wheat!
It was a full trip and I can't wait to share some more of the hands-on learning with you throughout some of my next yeast dough recipes! But first, here is a recap of what we learned.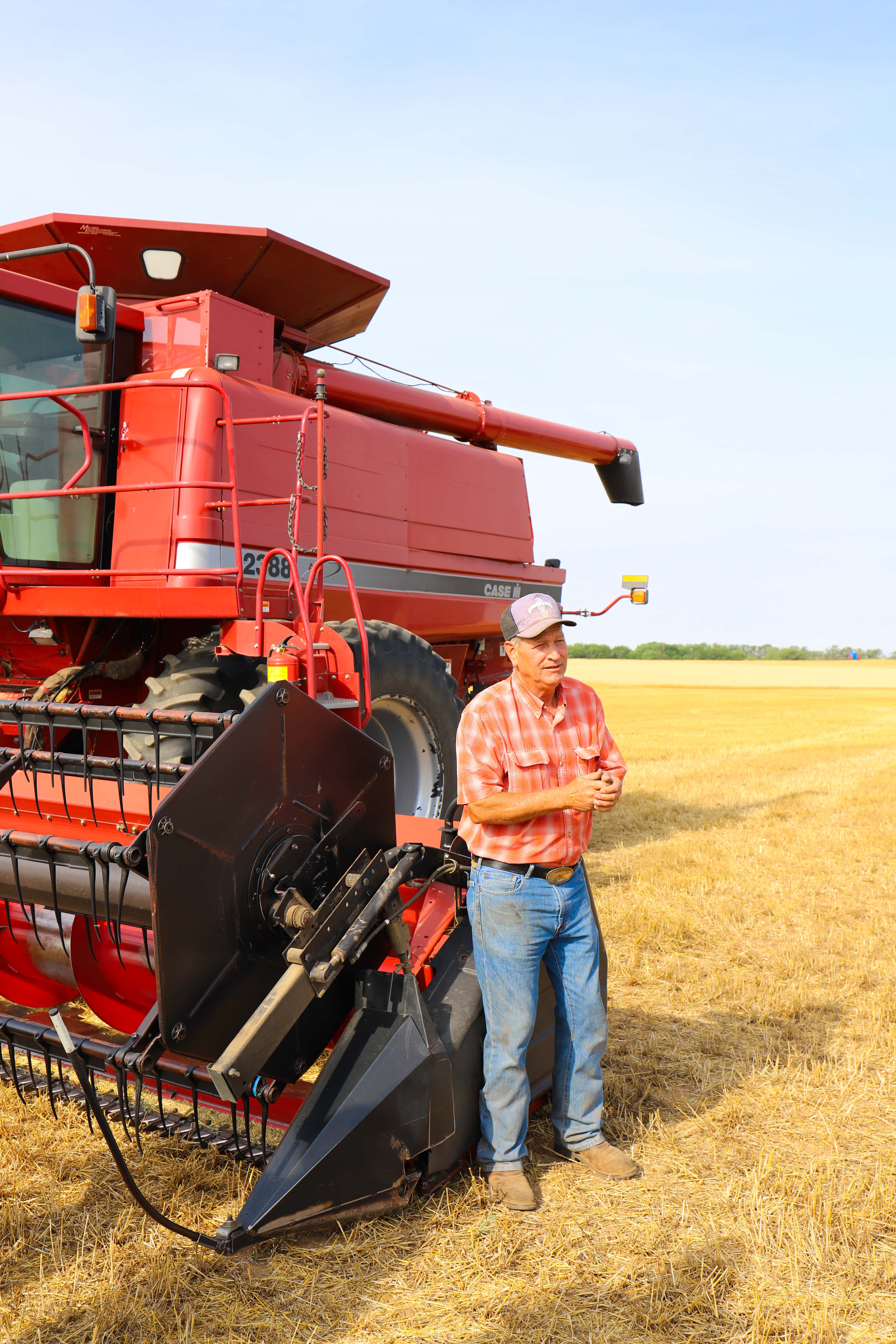 The first full day we were there, we visited Scott VanAllen's farm in Sumner County and saw first hand what it is like to grow and harvest wheat. While this wasn't my first time to a field, this was my first time in a wheat field, and it was beautiful. The sun was shining and the golden color of the wheat made it easy to see why Scott enjoyed spending so much time in his fields.
While on his farm, we learned about the different types of wheat that grow in Kansas (more on that later), how the farmers choose what types of wheat to grow based on yield, resiliency, etc., and saw the hard red winter wheat that he grows.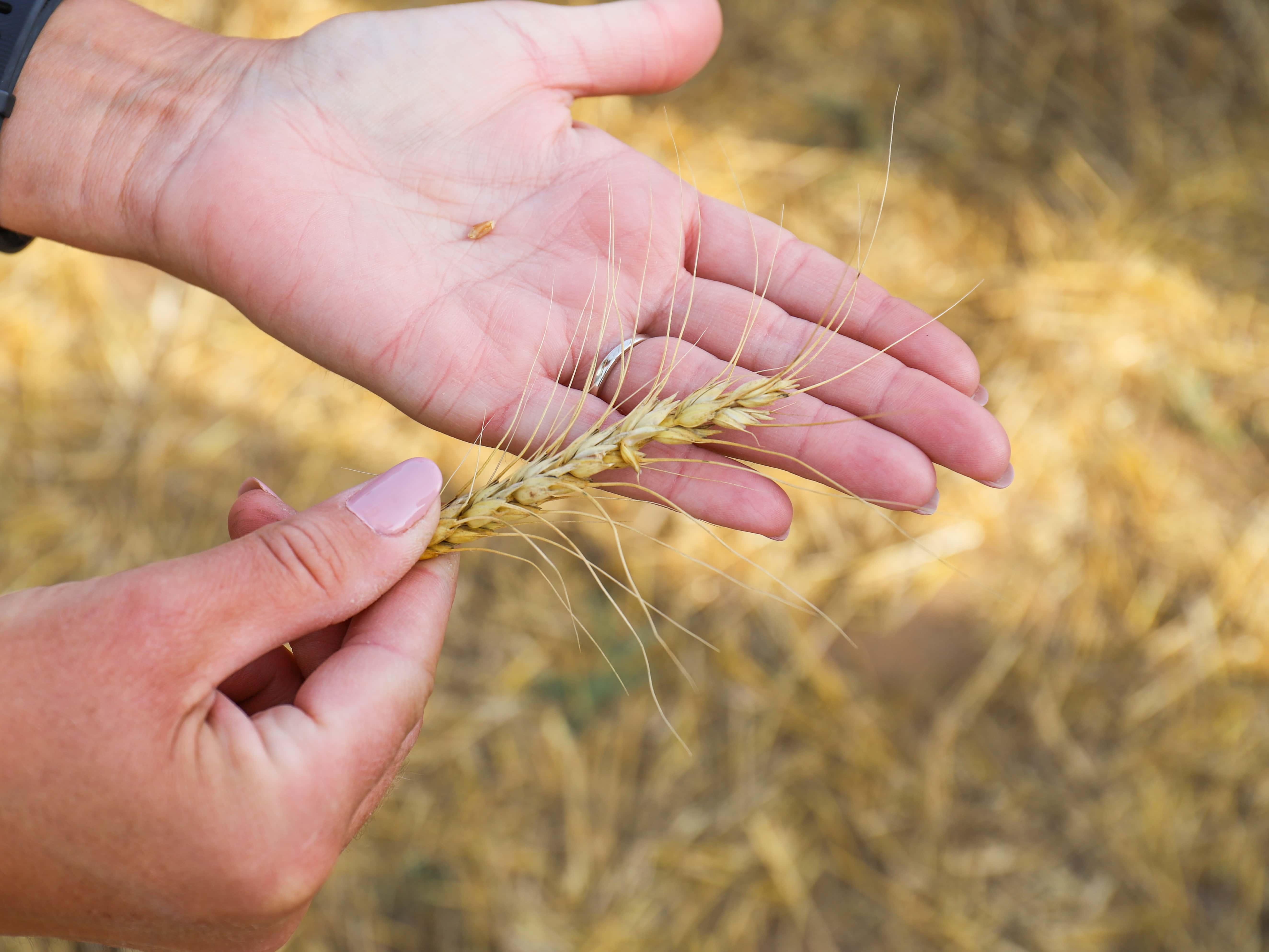 We also learned ways in which technology has helped them have larger, more productive yields such as larger combines and better capability of knowing the soil composition and wetness. At the end we were able to climb up in the combine and do a bit of harvesting with him.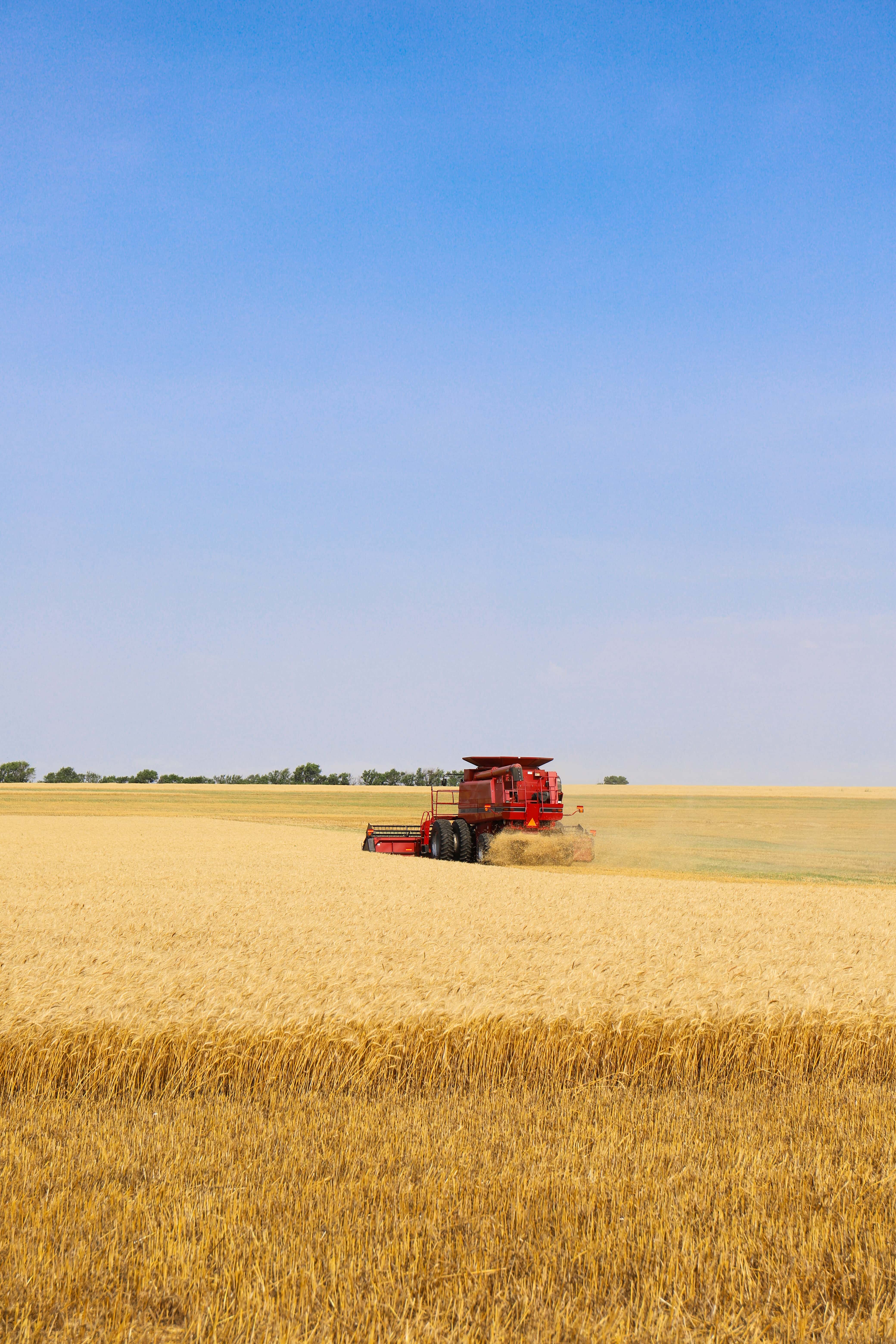 After a lunch at a local cafe that uses Kansas wheat in their fresh made breads, we toured Farmer Direct Foods, a stone ground flour mill. Here they do some private label flours as well as King Arthur Flour white whole wheat.
Their flour can be traced all the way back to the grower. So, if an illness were to break out, they can go straight to the source and figure out what's wrong.
The next day after a great breakfast at Radina's Bakehouse (I want to go back for another scone!), we headed to the Kansas Wheat Innovation Center. It is located on the campus of Kansas State University and is home to the Wheat Genetics Resource Center (spoiler alert: all wheat is GMO free). The center was built with funds from Kansas farmers and is home to greenhouses, high-tech labs, and a library of modern and ancient varieties of wheat to name a few things.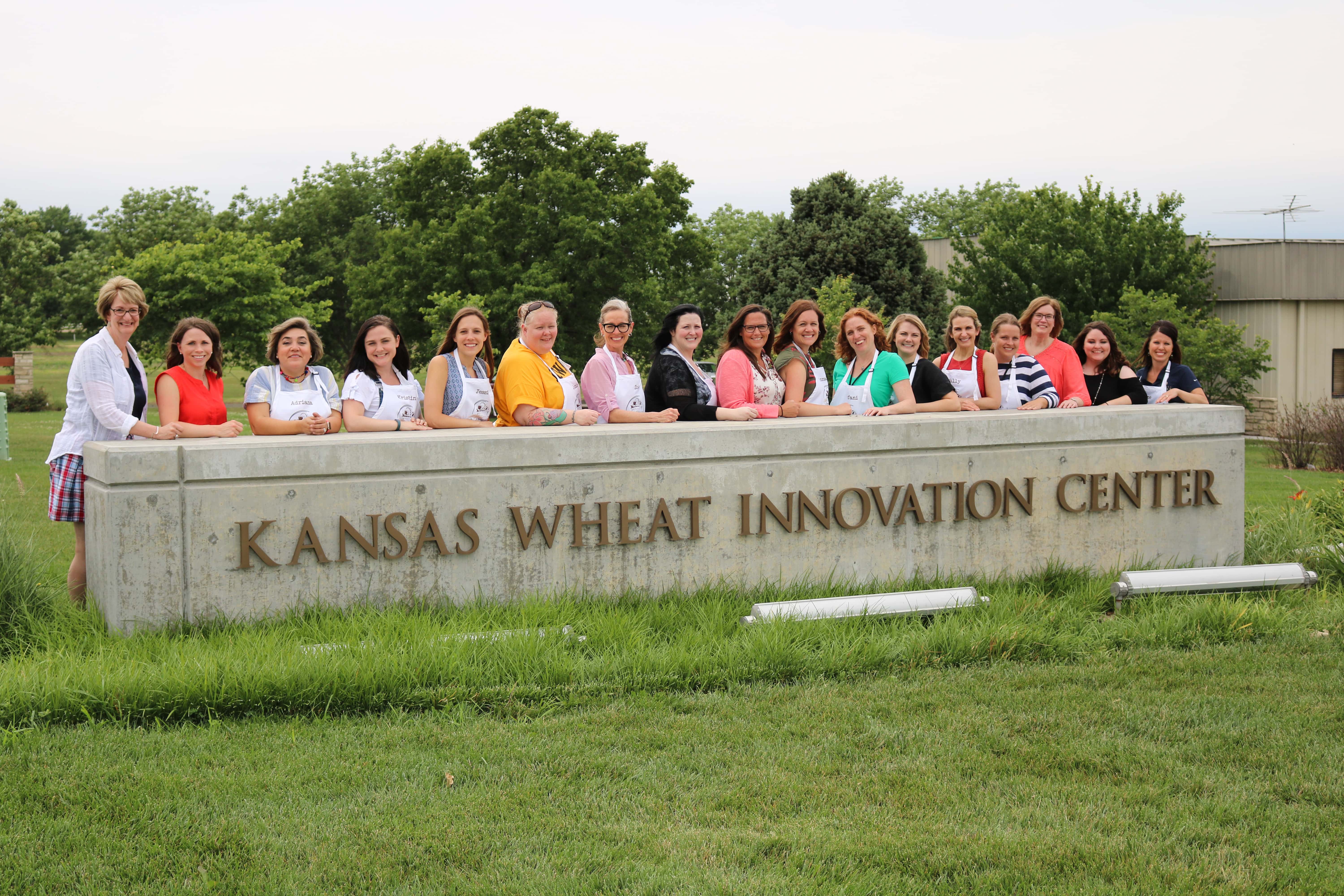 Some Facts About Wheat:
There are 6 Classes of Wheat

Hard Red Winter Wheat: Super versatile, good for bread and all-purpose flour
Soft Red Winter Wheat: Good for cookies, crackers, pretzels, and pastries
Hard Red Spring Wheat: Good for artisan breads, bagels, and croissants
Hard White Wheat: Good for Asian noodles such as ramen, also good for tortillas
Soft White Wheat: Good for cakes, pastries, and flatbread
Duram Wheat: Good for pasta and couscous

Winter wheat is planted and sprouts in the fall, becomes dormant in the winter, then grows again in the spring and is harvested in early summer. This is the wheat we harvested on Scott VanAllen's farm.
One 60 pound bushel of wheat produces 42 pounds of all-purpose flour.
Studies have shown that ancient grains and "modern" wheat have basically the same nutritional value. It has adapted over time to withstand the changing climates and soil makeup.
Probably the biggest difference between ancient wheat and what you see in the fields today is the height. Wheat use to be head high and would fall over under its own weight and make it difficult to harvest efficiently. Wheat now days has been bred (not genetically modified) to be shorter making it easier to harvest.
Wheat is self-pollinating — Each kernel pollinates itself
The United States is the #5 producer of wheat in the world
To get more specifics about wheat be sure to check out the Kansas Wheat resources page and the Wheat Genetics Resource Center page. <— So much good information!
There also was a test kitchen there were we spent the second part of the day learning about yeast and baking techniques from Red Star Yeast, Zoë François of Zoë Bakes, and Julene DeRouchey from Kansas Wheat.
Julene showed us an easy and versatile enriched (dough made with eggs, milk, or butter) dough recipe, and Zoë showed us how to use that dough to create all kinds of sweet breads. Pictured below are a few ways that we used it!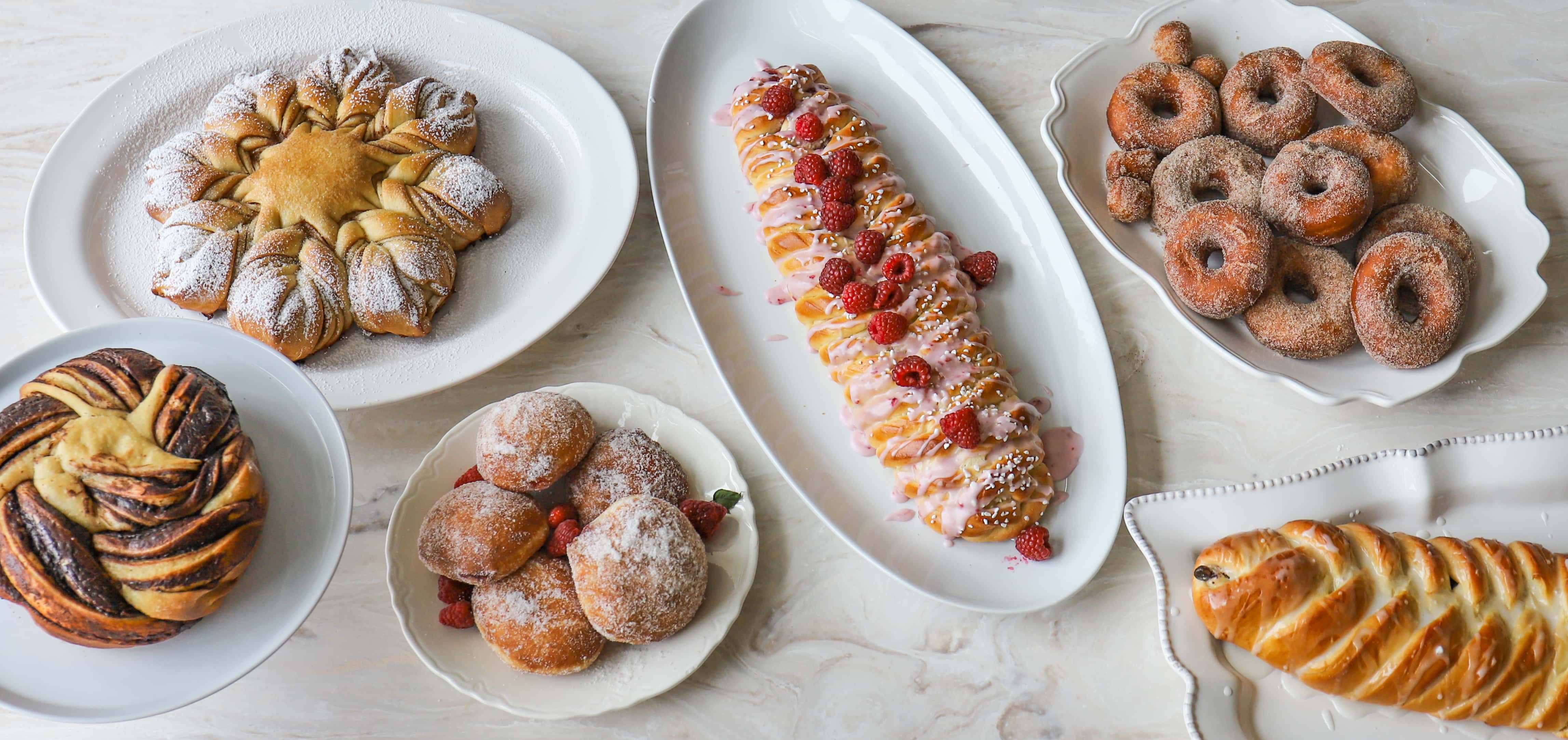 Zoë also showed us her simple, freezer-friendly lean dough that all you have to do is mix, refrigerate, shape, and bake. She discusses more about this method on her blog Artisan Bread in Five Minutes a Day and her cookbooks (that I highly recommend you check out!).
All of these breads were made with her lean dough recipe: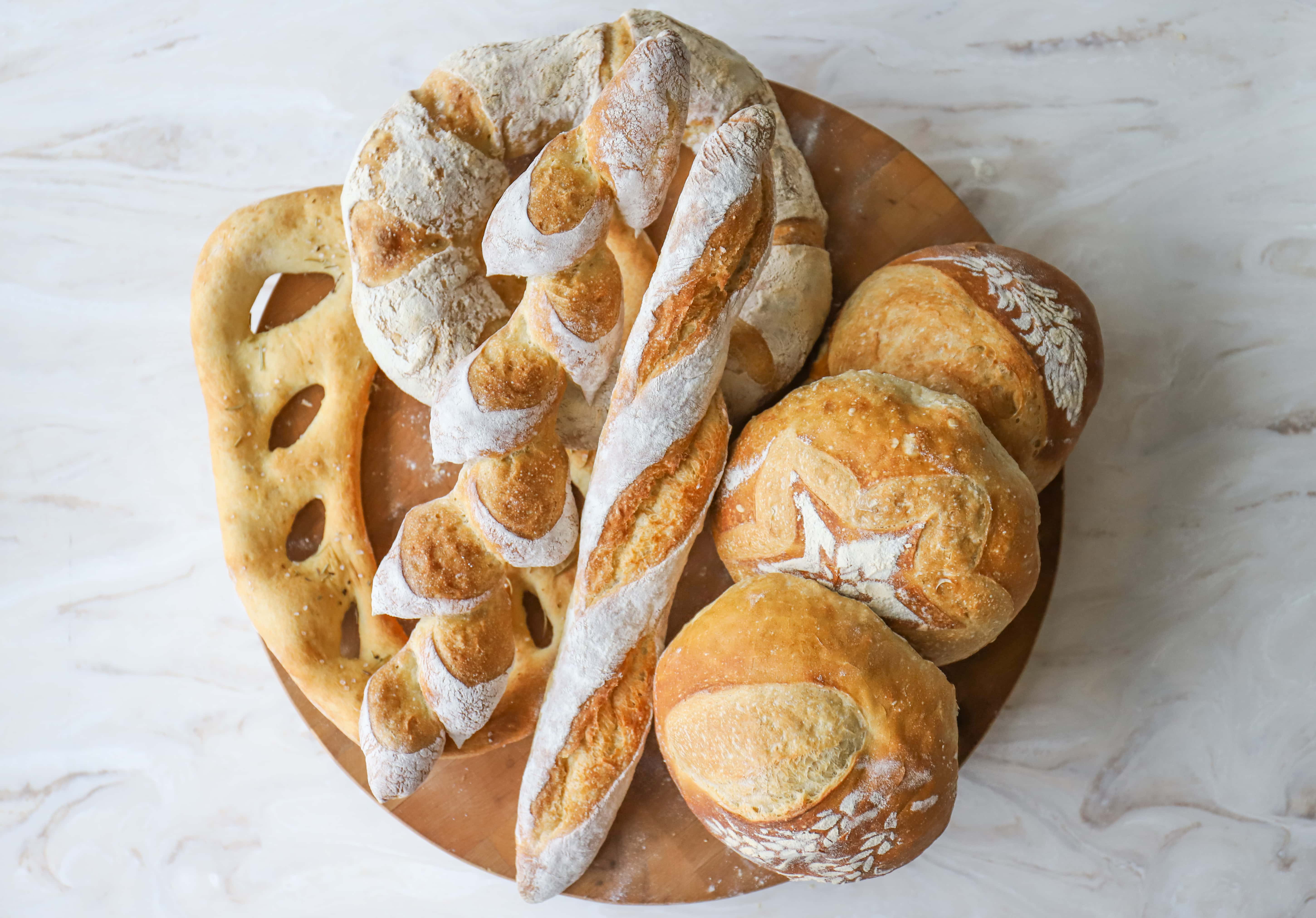 Some Quick Tips for Baking with Yeast:
Yeast is living, whether dry or fresh/wet.
While the ideal temperature for yeast is 110-120 depending on the type you're using, you can use cool water and still activate the yeast. It will take a lot longer for the dough to rise, but it will work.
140 degrees will kill the yeast, so as mentioned above err on the side of having the water too cold.
You can use active dry yeast and instant dry yeast interchangeably, active dry yeast typically requires a longer rise time.
Lots of sugar in a dough will also slow the yeast down and require a longer rise time.
Platinum yeast (which you know is my favorite if you've been a reader for any length of time!) contains dough enhancers that improve dough tolerance to variations on kneading, temperature, etc., and increase the "spring" of the bread in the final product.
Yes, you can store yeast in the freezer! Store it away from the door so that it doesn't get exposed to the temperature fluctuations when the door opens and closes.
Because dry yeast is perishable, you want to store any opened packages in an airtight container in the refrigerator or freezer. It will keep in the refrigerator up to 4 months and in the freezer up to 6 months.
The bran and germ layers of wheat don't have dough forming properties, they're dead weight. So adding whole wheat flour to dough weakens it.
Check out Red Star Yeast's FAQ for more answers to your questions!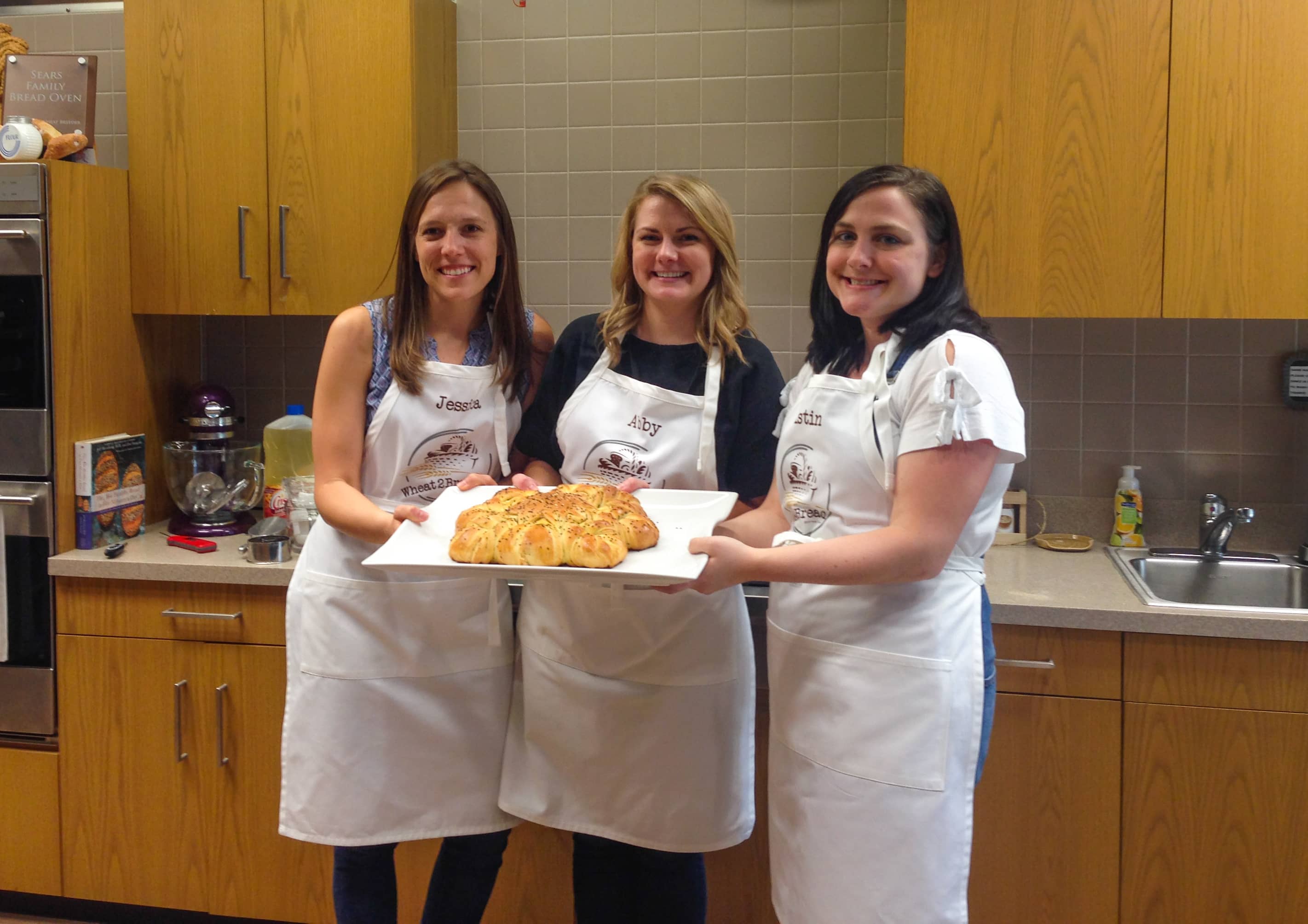 (Abby, from Heart of a Baker, Kristin, from Baker Bettie, and I made an amazing Olive Oil Sea Salt Za'atar Star Bread — So good!)
It was so fun to spend time with the people at Red Star Yeast and learn more ways to take the intimidation out of yeast breads along with the people at Kansas Wheat to learn more about the wheat industry! Have any questions of your own about wheat or yeast? Be sure to ask!