These Peach Snickerdoodle Scones are filled with the warm spices of a snickerdoodle cookie and chunks of fresh, sweet peaches!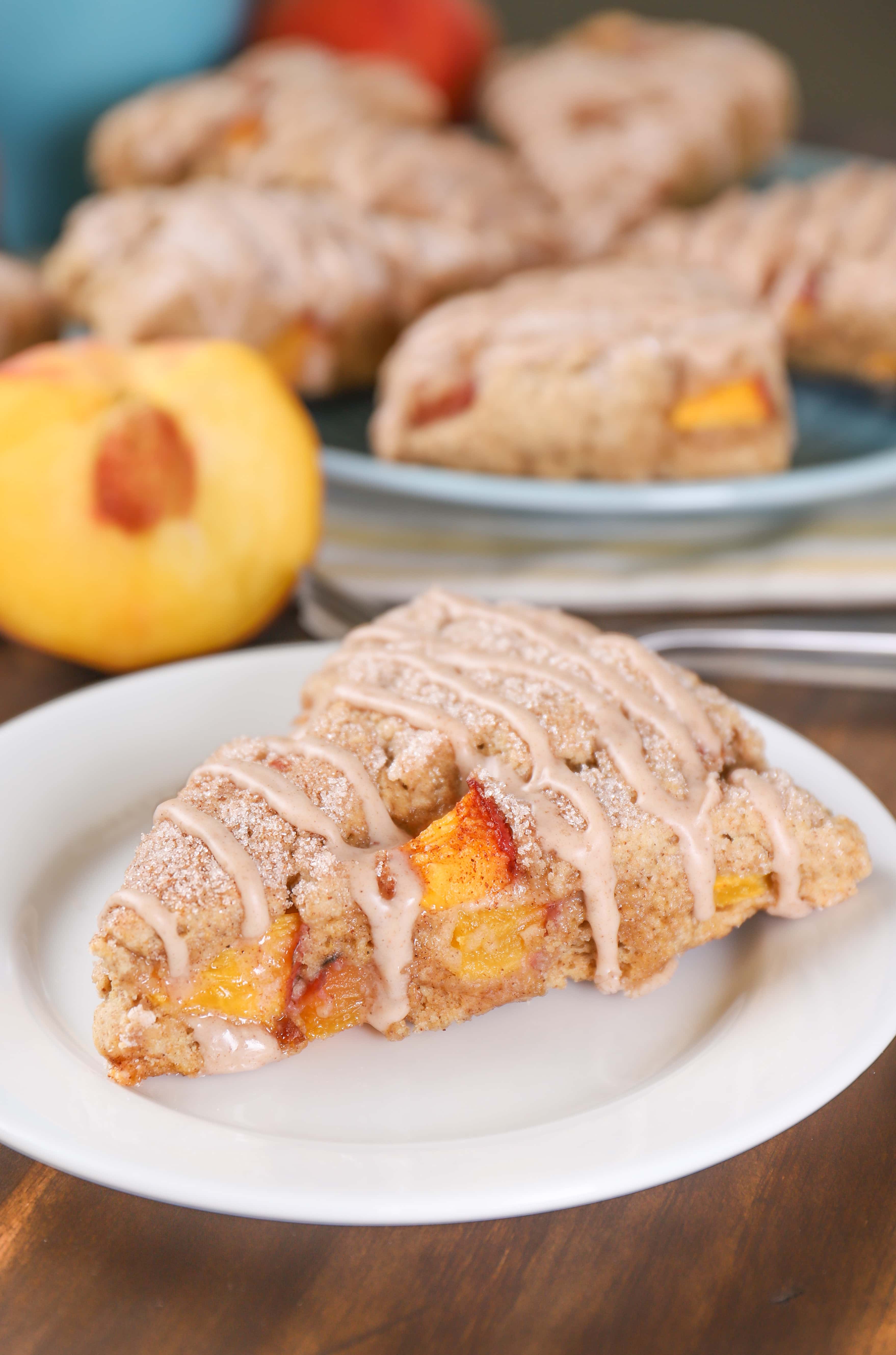 *Post and recipe from 08/13/14. Updated 07/17/18.
I'm sure you've noticed that peaches have kind of taken over the blog lately. I just can't stop eating them. This year they seem especially good around here.
However, my husband and I can't keep up with eating all of pounds of peaches I manage to buy. That means you get more peach recipes!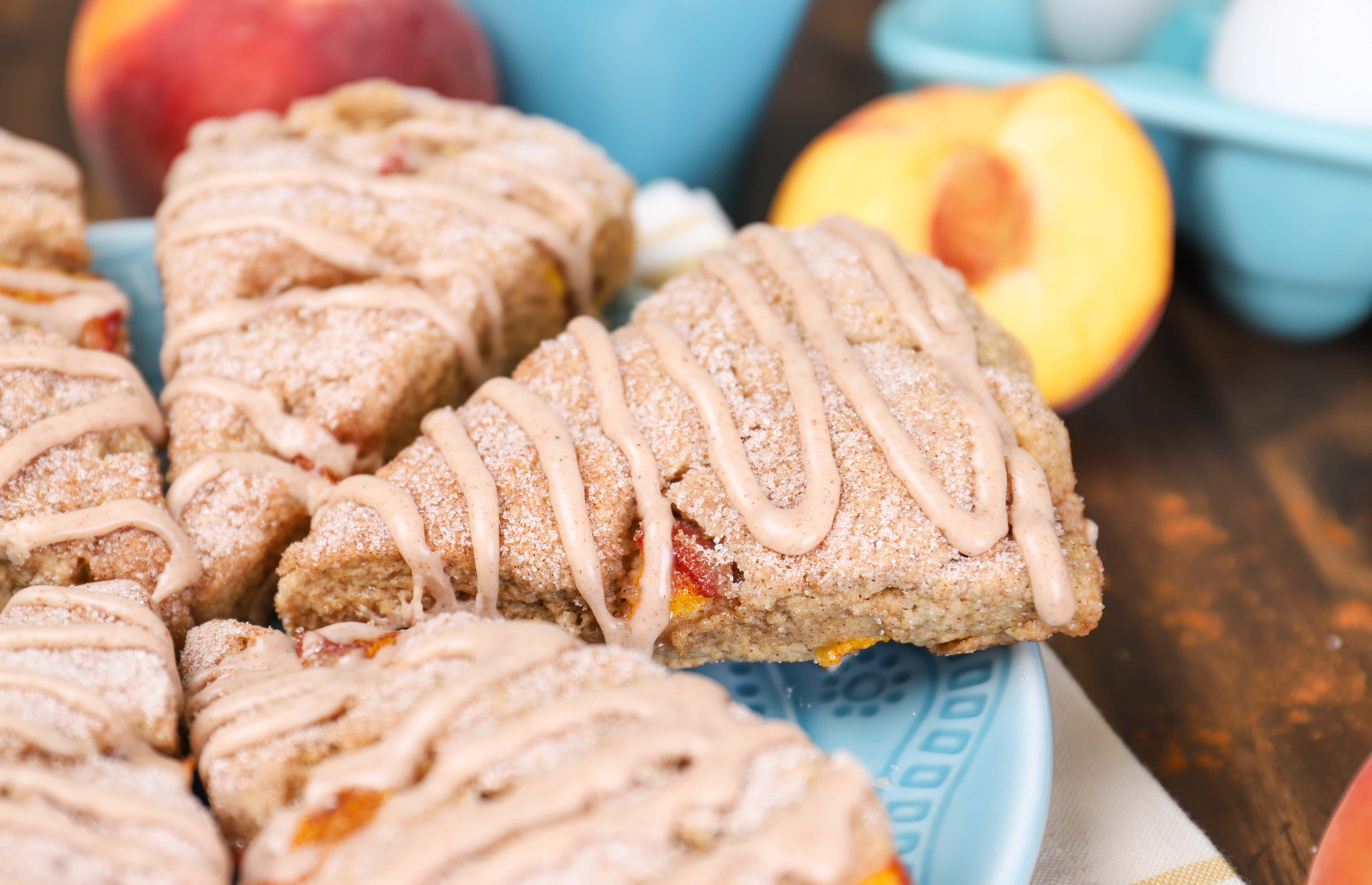 If you find yourself in the same situation with more fresh fruit than you can eat, these peach snickerdoodle scones are a great way to use up some of your fresh peaches! Snickerdoodle scones have been my favorite for a long time.
I love having them for breakfast, especially when enjoyed with a fresh cup of coffee. Fresh peaches seemed like a logical addition to them.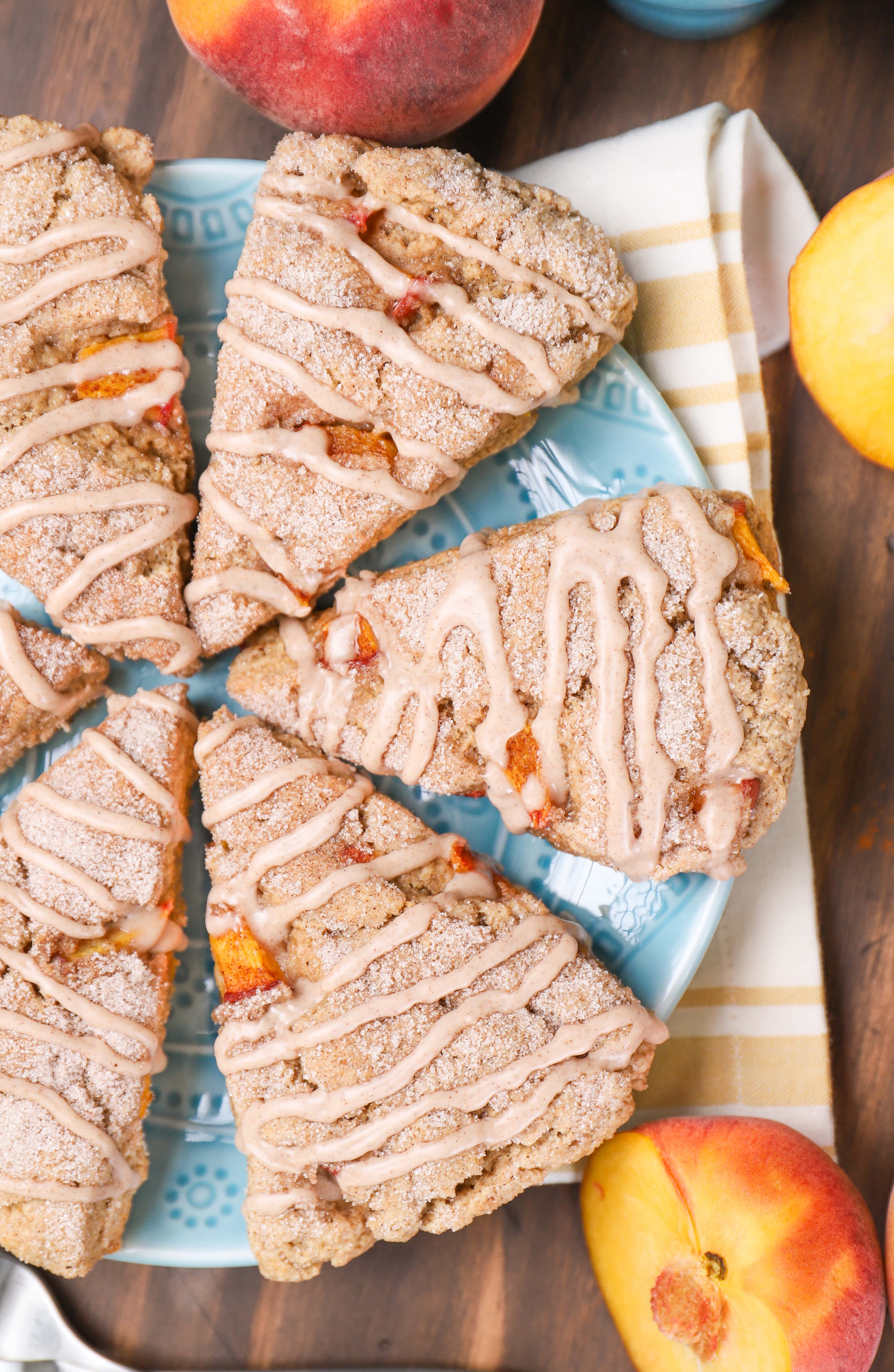 The insides of these scones are tender and filled with the warm spices of cinnamon and nutmeg. The crackly topping of cinnamon sugar adds more of the snickerdoodle flavor and look to these scones. Chunks of fresh peach add a bit of sweetness and moisture.
All you need is your favorite cup of coffee or tea and you have the makings of a great start to your day!
Peach Snickerdoodle Scones
Author:
Ingredients
For the Scones
1 C white whole wheat flour
1 C all-purpose flour
1/3 C sugar
2 tsp cinnamon
1 tsp baking powder
1/2 tsp baking soda
1/2 tsp nutmeg
1/2 tsp salt
1/4 tsp cream of tartar
1/2 C unsalted butter, cold and cut into pieces
1/3 C milk
1 egg
1/2 C ripe peaches, chopped
For the Cinnamon Sugar Topping
2 tbsp sugar
1/4 tsp cinnamon
For the Drizzle
1/2 C confectioner's sugar
1/2 tsp cinnamon
1/2 tsp nutmeg
2-4 tsp milk
Instructions
Preheat oven to 350. Line a baking sheet with a baking mat or parchment paper.
In a large bowl, whisk together flours, sugar, cinnamon, baking powder, baking soda, nutmeg, salt and cream of tartar.
Cut in butter with a pastry blender or knives until mixture resembles coarse crumbs.
Add milk and egg to dry mixture and stir until just combined. Stir in chopped peaches.
Turn dough out until a well-floured surface. Knead 5-6 times until dough comes together.
Shape into an 8 inch circle. Stir together sugar and cinnamon. Sprinkle over the top. Cut dough into 8 pieces and place on prepared baking sheet.
Bake for 15-18 minutes or until golden brown. Transfer to a wire rack to cool.
Stir together ingredients for glaze, adding milk until desired consistency is reached. Drizzle over the top of cooled scones. Allow glaze to harden and serve. Best eaten same day. Store leftovers in the refrigerator.